Home

Next National Reunion: June 9-11, 2023
To Be Held in Southwestern Pennsylvania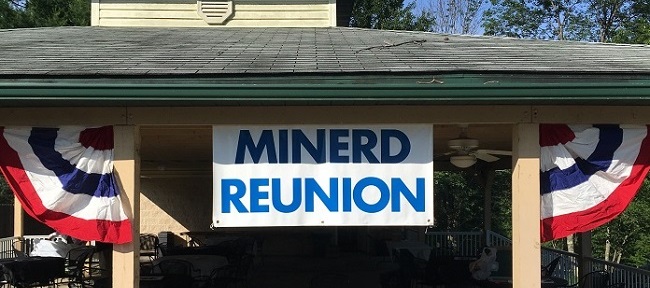 The next national reunion of the clan will be held in southwestern Pennsylvania the weekend of June 9-11, 2023.
Check back for details about the location and theme.
Be sure to see our 2019 reunion highlights.
~ Why the Pittsburgh Region? ~
Southwestern Pennsylvania and Pittsburgh are the epicenter of our clan's growth and development in the United States of America following the American Revolution. In 1791, patriot and war veteran Jacob and Maria (Nein) Minerd Sr. settled there near Maple Summit on the mountainous border of Fayette and Somerset Counties. They produced a dozen children, who in turn spawned 87 grandchildren, 469 great-grandchildren and 1,344 great-great grandchildren, for a total of 1,912 lives, virtually all born before the year 1900. Today, their descendants and spouses number an estimated 50,000 or more, scattered all over the world. Regardless of your homeplace today, your roots are here.
Above: beautiful view of downtown Pittsburgh and its rivers. Below: original Jacob and Maria (Nein) Minerd Sr. farm, straddling Springfield and Stewart Townships, on the mountaintop border of Fayette and Somerset Counties, PA, dating to 1791, from whence their dozen children scattered far and wide into Pennsylvania, Ohio and West Virginia. This historic site is about 60 miles from Pittsburgh as the crow flies.

Your Reunion Advisory Committee:
President: Mark A. Miner, Beaver, PA
Treasurer: [Open]
Secretary: [Open]
At Large: Sharon (Sheldon) Hershey Kern, Findlay, OH
At Large: Barbara (Holly) Minerd, Lemont Furnace, PA
At Large: Jill (Channing) Aird, Williamsburg, VA
At Large: Doris (Sands) Hawker, Morgantown, WV
At Large: Kristen (Murphy) Krieg, Lowell, MI
At Large: Wendy (King) Zeller of Manchester, MD
At Large: Tracy (King) Sanner of Markleton, PA
Past Reunions:
See recaps of reunions in 2019 - 2017 - 2015 - 2013 - 2011 - 2009 - 2008 - 2007 - 2006 - 2005 - 2004 - 2003 - 2002 - 2001 - 2000 - 1990s - 1980s - 1910s-1930s
Map Your Route Latest Weather in Donegal, PA
Burgh Nation: Pittsburgh's Enduring Legacy of Innovation
What to Do and See in Nearby Pittsburgh

VisitPittsburgh.com is the promotional sponsor of this page
Copyright © 2023 Mark A. Miner