Home

2006 National Reunion
Features 'The Art of
Creativity,' Draws 90 Cousins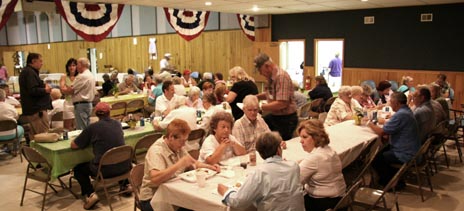 The large, indoor and air conditioned community center was the perfect site for our new home -- with plenty of food, fellowship and connections. Photo by Sid Miller.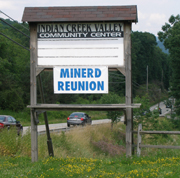 Sign beside Rt. 381

In a new, air-conditioned location, and with a crowd of 90 cousins, the national Minerd- Minard- Miner- Minor Reunion celebrated "The Art of Creativity" during the weekend of July 8-9, 2006 in Western Pennsylvania. Our first year in the Indian Creek Valley Community Center was perfect.

The group came from 21 Pennsylvania communities and eight states, including as far south as Florida, and as far west as Indiana.

A rich variety of artistic creations from 20-plus cousins was displayed and enjoyed by all. These ranged from oil paintings to historic photographs to afghans, cross-stitching and music.

Images of these priceless items will be added to the family's new, Online Museum of Creativity, much like last year's launch of the Online Quilt Museum. This museum will be built in August, so plan to check it back then.

Saturday's Picnic and Exhibit of Creations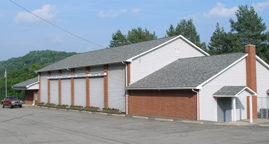 Indian Creek Valley Community Center

The Saturday picnic relocated this year to the Indian Creek Valley Community Center near Indian Head, PA, from the Kingwood Picnic Grove where we had been since 1986. By acclamation, we will renew the facility again for next year.

The Center offers a variety of benefits: fully indoors and thus protection from weather; new, modern restroom and kitchen facilities; flat, hardwood floor for ease of walking and movement by elderly and infirm cousins; and cool air conditioning during the hot day.

While the Center is five times the cost of our former grove, the expense was more than covered by generous donations of cousins during the passing of the hat, drawings for prizes, and purchases of gift magnets.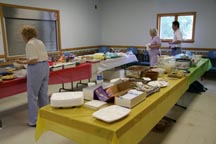 Bountiful food buffet

There was more food than could be imagined, or consumed, laid out on buffet tables (seen at left) which were decorated with colorful tablecloths. The "good eats" ranged from delicious meat and vegetable dishes to tasty side dishes and desserts, washed down by cold drinks.

After lunch, the group was photographed by cousin Sid Miller, followed by a short business meeting led by president Mark Miner.

It was agreed that while our format traditionally has been to hold the reunion on the second Saturday of July, the date's proximity to the Fourth of July prevents a significant number of cousins from attending. Thus, with the freedom to change this format in future years, your committee has decided that the dates for next year will be Sat.-Sun., June 16-17, 2007, with the theme of celebrating our German heritage. Mark your calendar!

Sid also presented reunion president Mark Miner with an official, engraved wooden gavel for conducting meetings.

L-R: John Minor, Jim Minor, Bill Shriver and Donald Minor, cousins who hadn't seen each other for decades, or had never met at all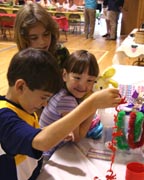 Kids' games

Fun games were held for children, including a piñata and blowing bubbles, and a boxful of toys, led by reunion vice president Peg (Grimm) Mansberry.

The creations and family artifacts were displayed on a ring of tables. The following cousins brought items and lovingly explained their significance: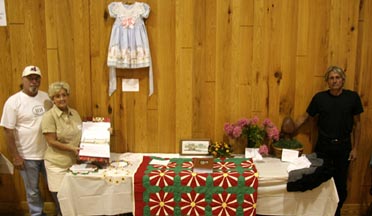 Creations by Dave and Peg Mansberry and Kerry Grimm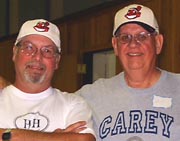 Indians fans in enemy territory

Recorded music was played throughout the day, featuring the steel drum performance of Joseph Minor; and Jack and Carol (Surber) Lewis of the Oriskany Strings in Oriskany, VA.

Despite being deep in the heart of Pittsburgh Pirates country, Dave Mansberry and Bill Carey, meeting for the first time, learned that they shared a love for the Cleveland Indians baseball team. Despite numerous threats, Dave and Bill wore their enemy ballcaps for a photo, striking a fairly defiant pose for the photographer.

For the second time, two families attended from Indiana, whose ancestor John Minerd Jr. left Fayette County, PA, circa 1817, and settled in eastern Ohio before pushing west and settling in Indiana in 1844. The first of their family branch to return to their ancestral homeland after the passage of more than 150 years were John and Arlene Minerd of Monroeville, IN; and Bill and Gloria Carey of Fort Wayne.

Following the reunion, a group went to the Indian Creek Baptist Church in nearby Mill Run, to view the Revolutionary War grave marker of the "father of us all," Jacob Minerd Sr. The marker was dedicated at our reunion in 2003. The group also studied the monument at the church honoring all of its members, including many of our cousins, who have served in the U.S. Armed Forces during wartime.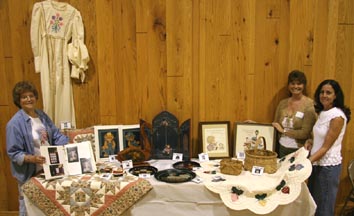 Doris Hawker's table of creations, with daughters Lisa Janoske and Connie Gibson
Sunday's Show and Tell and Web Tour
On Sunday, a group of 12 gathered at the Days Inn Motel in Donegal, PA, for a display of antique family creations and tour of the Minerd.com website by reunion president and website founder Mark Miner. Among the items featured were sheet music of cousin Annette Hanshaw, who sang with the Dorsey brothers and Benny Goodman in New York in the late 1920s and early '30s; the book 'Tis the Set of the Sails, authored by Mary McGirk; the book Fixed Mix Seeks Same by Dean Minerd; the book John Winebrenner by Dr. G. Richard Kern; the book Portrait Painting for Beginners by John W. Pratten; the Ohio Farmer newspaper produced in the late 1800s by William H. Lawrence and his brothers; The Messenger community newspaper published in Fayette County, PA by Ferne (Minerd) Work and others to raise local morale during World War II; the book Memoirs of Ludwig Zychlinski, translated into English by Eugene Podraza; and a variety of poems, songs, sketches and painted objects by the "Mountain Poet" of Mill Run, the late Allen Edward Harbaugh.
Copyright © 2006 Mark A. Miner. Photographs by Sid Miller, Peg Mansberry and Mark Miner.