Albert Sheppard Minerd
(1887-1970)
Albert Sheppard Minerd was born on Oct. 12, 1887, in Alverton, near Mt. Pleasant, Westmoreland County, PA, the son of Rev. Isaac Herschel and Margaret Jane (Sheppard) Minerd.
Albert was a machinist and an automobile mechanic whose skills helped the family stay solvent during the Great Depression of the 1930s.
On Christmas Day 1908, at the age of 21, Albert married 19-year-old Ethel Buchanan (July 29, 1886-1967), daughter of James Buchanan of Normalville, Fayette County. The ceremony was held at the home of Ethel's uncle, James Dickens, and was performed by the Rev. G.E. Letchworth, assisted by Albert's father. Ethel "wore a beautiful soft white silk dress and carried white roses," said a newspaper. "The decorations were in mountain pine, mistletoe and white roses, carrying out the colors, green and white. After the ceremony there was an elegant course dinner … after which the bride and groom were escorted to the 4 o'clock train and sent off for a short trip with all the proper rites…."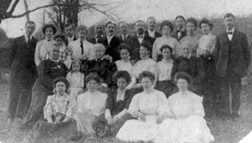 Wedding day in 1908
The wedding gave the Minerds an opportunity to interact with some of their distant cousins from Normalville who were friends of Ethel's and were involved in the ceremony – Nettie (Miner) Brooks, Agnes (Miner) Miller and Edward C. Miner. A photograph taken that day, seen here, shows the two families intermingled in a group. This event may have sowed the seeds of the first Minerd Reunion, which was organized by members of both branches just five years later, in 1913.
Albert and Ethel had two children – Everett Sheldon "Lefty" Minerd and Margaret Elizabeth Daw Chadwick.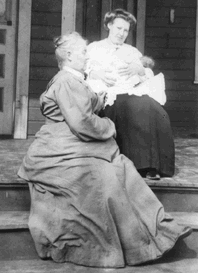 Ethel with baby Margaret (on porch) and mother in law Margaret Minerd
In the photo seen here, Ethel holds baby Margaret, with her mother in law seated in profile in the foreground, circa 1911.
The Minerds first made their home near Albert's parents on Coffee Street in Uniontown. Two years later, in 1910, they moved to nearby Scottdale, Westmoreland County, PA, settling on Pittsburgh Street. In 1911, at the birth of their elder child Margaret, they made their home at 332 East Main Street in Connellsville, Fayette County, where he worked as machinist.
Later still, when his parents moved to Pittsburgh, Albert and Ethel moved there also. They resided in a variety of places in the Homewood and Wilkinsburg sections of the city. They were members of the Rosedale United Methodist Church.
Albert registered for the World War I military draft in 1918, and stated his occupation as a machinist with the Beacon Lighting Company.
In 1921, Albert worked as a repairman with the Lange Motor Truck Company of Pittsburgh, and is listed in the Pittsburgh City Directory. Within two years, he had switched jobs, and was managing the Braddock Avenue Garage.
Albert later joined the famed Mesta Machine Company in West Homestead, near Pittsburgh, from which he retired in 1955. Mesta was a massive plant along with Monongahela River, producing machinery for the steel industry. Among them was a 50,000 ton forging press tower, five stories tall, installed at the Aluminum Company of America (Alcoa) in Cleveland. Mesta also sold equipment to customers in Australia, England, France, India, Italy and Japan, among others. In 1959, Soviet Union premier Nikita S. Khrushchev made a highly publicized visit to the plant.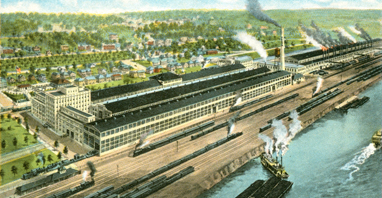 Sprawling Mesta Machine Works in Pittsburgh's West Homestead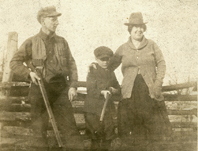 Albert, Ethel and Lefty hunting
The family enjoyed spending time together in outdoors activities such as hunting and camping. In the snapshot seen here, Albert and Ethel and son Everett "Lefty" dressed for the hunt and bearing shotguns.
In the 1930s and '40s, while residing in Wilkinsburg, the Minerds helped raise two of their grandchildren after their father had died young.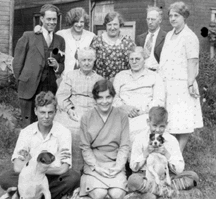 Three generations of Minerds
In the photo seen here, taken later in life, Albert and Ethel stand second and third from right. Others, standing, left to right: Anton Beck, Margaret Daw-Chadwick, Bess Beck. Seated, middle, l-r: Margaret (Sheppard) Minerd, Jennie Baily. Seated, front, L-R: Everett "Lefty" Minerd, Grayce Beeman, James Baily.
Albert allowed no swearing or drinking in the household, but is said to have had a very hot temper. A good example of his wrath occurred after Albert's sister Bess died in the summer of 1953. A few months later, Bess's widower remarried. Albert was so infuriated that he is said to have called the Homewood Methodist Church and "read the riot act" to the minister who performed the ceremony. Later, Albert is said to have quit the church in protest, and joined the Rosedale United Methodist Church in Pittsburgh.
In August 1954, Albert and Ethel retired and moved to Cambridge Springs, Crawford County, PA, where they bought a 113-acre farm.
Ethel was burdened in her final years with diabetes and a severe infection in her urinary tract, known as "pyelonephritis." She died on June 10, 1967, at the age of 78. Her funeral arrangements were handled by the Kenneth M. Downs Funeral Home, followed by a funeral led by Rev. Richard Downing of the Teppelville Methodist Church, and then burial at Carmel Cemetery in Cussewago Township, Crawford County.
Albert outlived Ethel by three years, and died at his farm on Aug. 9, 1970 after a long illness. He was buried with his wife at Carmel Cemetery.
~ Daughter Margaret "Peg" (Minerd) Daw Chadwick ~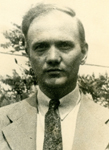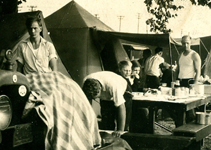 Left: Peg and her first husband, Leonard Daw. Right: Leonard, standing at far left, at a camping picnic with his in-laws
Daughter Margaret Elizabeth "Peg" Minerd (1911-1999) was born on Nov. 18, 1911 in Connellsville.
She was married twice. Her first husband was Leonard Daw (May 29, 1907-1949), son of Frederick William and Mary Jane (Mansell) Daw and an immigrant from England.
Homer with livestock on his farm
Together, the couple produced a family of three children -- Fred Daw, Alberta "Boots" Norton and Merle Daw.
Their son Fred is known to have been born in Virginia in 1932, with the other two offspring born in or near Pittsburgh. When the federal census enumeration was made in 1940, the Daws lived next to Margaret's parents in Penn Township, with Leonard employed as an electrician in a machine company.
Leonard's employer in 1949 was Mesta Machine Company. The family's address at that time was 739 Mifflin Road in Pittsburgh.
Having suffered from rheumatic heart disease, Leonard was stricken by a heart attack and passed away on June 15, 1949, at the age of 42. The remains were interred in William Penn Memorial Cemetery.
Later, Peg married Homer Chadwick (1907-1986), and they made their home in Saegertown and Cambridge Springs, Crawford County.
Homer passed away in 1986.
Peg outlived him by 13 years, residing in a nursing home in her final years. She died two days after her 88th birthday, on Nov. 20, 1999. They rest together for eternity beside Peg's parents in the Carmel Cemetery.
Son Fred Daw (1932- ? ) was born in 1932 in Virginia. He married Shirley ( ? - ? ) and had six children.
Daughter Alberta Jane "Boots" Daw (1935-2023) was born in about 1935. She married Vance Norton ( ? - ? ) and produced two children -- Linda Bishop and Gary Norton. They made a longtime home in the Penn Hills section of Pittsburgh. The Nortons, along with Merle and Carol Daw, rarely missed a Minerd Reunion in the 1990s and 2000s. Vance regularly had lunch in Pittsburgh with the founder of this website during the late 1990s. Sadly, Alberta passed into the arms of the angels at the age of 88 on March 9, 2023. Interment of the remains was in William Penn Gardens Of Remembrance in Churchill.
Granddaughter Linda Norton wed Thomas Bishop.
Grandson Gary Norton married Lynn.
Son Merle J. Daw (1936-2017) was born in about 1936. He was joined in the bonds of wedlock with Carol Cook ( ? - ? ). They made a home for years in Penn Hills near Pittsburgh. The three children born to this union are Kimberly O'Malley, Kevin Daw and Karen Daw. For 31 years, Merle was employed at Turners Dairy, driving a milk delivery truck. They hosted a visit to their residence by the founder of this website in the early 1990s and regularly attended our national family reunions. The Daws won the award at the 2003 reunion as the longest-married couple. At the 2006 reunion, held in Indian Head, PA, he brought to show a piano chair crafted by his great-grandfather, Rev. Isaac Herschel Minerd, which Merle had restored, removing 10 separate coats of paint. A photograph of that chair is featured in the Minerd.com Online Museum of Creativity. Sadly, Merle passed away at the age of 81 on Nov. 25, 2017. His memorial service was held at Zion Lutheran Church of Penn Hills. An obituary in the Pittsburgh Post-Gazette noted that he was survived by eight grandchildren and six great-grandchildren.
Granddaughter

Kimberly Daw married (?) O'Malley

.
Grandson Kevin Daw

wed Gina.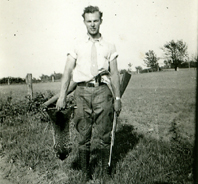 Everett "Lefty" Minerd
~ Son Everett Sheldon "Lefty" Minerd ~
Son Everett Sheldon "Lefty" Minerd (1913-1992) was born on May 23, 1913 in Uniontown.
He was married twice, first on Dec. 26, 1936 to Margaret E. "Peggy" Kramer (1917- ? ), the daughter of William and Mary (Baker) Cramer of Wilkinsburg, a suburb of Pittsburgh. He was age 23, and she 19, at the time of marriage.
His second wife was Georgeanna Evans Rock (1929-2017), daughter of Roy L. and Helen (Evans) Rock and stepdaughter of Mary Catherine (Roush) Rock. A native of Norfolk, VA, Georgeanna grew up in Enola, PA.
The couple went on to produce two children, Sandra Hicks and James William Minerd.
He was a longtime employee of Sealtest, from which he ultimately retired. He also was an expert maker of knives and leather sheaves, and often gave them away as gifts for loved ones. Some of his handiworks were on display at our national reunion in 2006. (Click to see the examples.)
Georgeanna was employed for many years with the Chesapeake and Potomac Telephone Company and retired from this work.
The Minerds eventually established a home in Virginia Beach.
In later years, Lefty suffered from cancer, and died at the age of 79 on July 14, 1992. He was laid to rest in Princess Anne Memorial Park following a funeral service led by Rev. Warren Wilson.
Georgeanna survived another quarter of a century after Lefty's death. She maintained their home in Virginia Beach. She died at the age of 87 on Jan. 14, 2017. funeral services were held on March 11, 2017 in the Lynnhaven Colony Congregational Church in Virginia Beach, with an obituary appearing in the Virginian Pilot.
Daughter Sandra Jean "Sandy" Minerd (1955- ? ) was born on Oct. 12, 1955. She has been twice married. Her first spouse, whom she wed at the age of 19 on June 7, 1975, was 19-year-old Ray Everton Barnes (1956- ? ), son of Ray Everton and Suzanne (Wilber) Barnes Sr. After a divorce, she made a home in Chesapeake, VA. Then on Aug. 22, 1987, at the age of 24, she married Scottish immigrant Daniel Earl Hicks Jr. (1963- ? ). Rev. Lowe A. Norman Jr., of the Green Run Baptist Church, led the nuptials. Sandra made her home in Chesapeake in 1992 and in Elizabeth City, NC in 2017.
Son James William Minerd (1952- ? ) was born on Jan. 20, 1952. As a young adult, his home was at 2725 Broad Bay Road in Virginia Beach. He has been married twice. On July 1, 1972, at the age of 20, in Virginia Beach, he was joined in wedlock with 18-year-old Diane Angela Caminiti (1953- ? ), daughter of Anthony Joseph and Lucy Susan (Paternite) Caminiti of Virginia Beach. Their wedding ceremony was held at St. Gregory the Great Church, led by Rev. Alfred Grotzinger. The couple divorced in June 1980. Diane went on to marry a second time, on March 31, 1984, to Nicholas Charles Cocking (1963- ? ). James has resided over the years in DeKalb and Meridian, MS.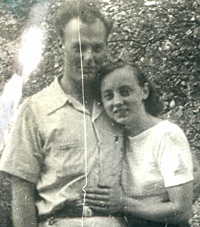 Lefty and his first wife Margaret "Peggy" (Cramer).
Copyright © 2001, 2004, 2010, 2017-2018, 2021 Mark A. Miner