Home

Jacob Minerd Weekend Draws
Large Reunion Crowd
Group Dedicates Revolutionary War Grave
Marker, Celebrates 90th Anniversary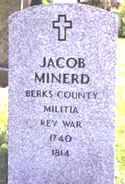 The new marker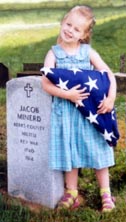 Fiona Minich

KINGWOOD AND MILL RUN, PA – A crowd of 130 at the July 2003 National Minerd- Miner- Minor Reunion celebrated "Jacob Minerd Weekend" – the dedication of a new Revolutionary War grave marker for the "father of us all" and the 90th anniversary of its first reunion in 1913.
Fiona Minich, the patriot's seventh great- granddaughter, was photographed holding a folded U.S. flag beside the newly consecrated grave marker.
The two-day event, held in Kingwood and Mill Run, PA, drew cousins from 32 Pennsylvania towns and 10 states. In recognition, Mayor James Sileo and the Uniontown (PA) City Council unanimously issued an official proclamation declaring the two day-affair as "Jacob Minerd Weekend" in the city.
On Sunday, at Indian Creek Baptist Church in Mill Run, a special service was held to consecrate a grave marker for Jacob Minerd Sr., a 1791 pioneer of Fayette/Somerset Counties who served in a Berks County militia during the Revolutionary War. Until now, his grave at the church had never been marked.
The new granite memorial was provided by the U.S. Department of Veterans Affairs, and the cost of installation was covered through family donations. The number of known descendants is 15,000 and counting, with the actual number estimated at 40,000.
Crowd gathered for the Sunday morning grave marker unveiling
At the grave consecration, Rev. John Davis of the church led the group in prayer. The Daughters of the American Revolution, Col. Lynn Chapter of Uniontown, performed a graveside ceremony directed by regent Sonia Cesarino and chaplain Donna Savage.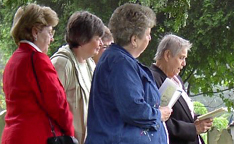 L-R: Rev. John Davis in prayer, and the DAR leads its stirring service



L-R: speakers Marilyn Prinzing, Kenneth Minerd, Doris Hawker
Speakers included Doris Sands Hawker of Morgantown, WV, reunion treasurer; Marilyn Jenkins Prinzing of Libertyville, IL, Jacob Minerd gravestone chair; and Kenneth T. Minerd of Uniontown, PA, Jacob Minerd Weekend chair. Marilyn paid tribute to cousin Alice (Lange) Jacobs, of Oklahoma, who is the first known cousin to have joined the DAR based on Jacob Minerd's service, thus paving the way for others.
Above, left: the shrouded marker prior to unveiling. Right: the reunion committee lifts the shroud to reveal the beautiful new marble stone. The older stone immediately to its left marks the grave of the veteran's daughter, Martha (Minerd) Harbaugh.

Above, the 21-gun salute, and Bob Prinzing playing taps
Led by post adjutant Don Burkholder, the American Legion Post of Connellsville and the Veterans of Foreign Wars of Donegal fired a 21-gun salute in memory of Minerd and to honor 21 Minerd descendants who lost their lives in wartime military service. Cousin Robert Prinzing of Libertyville, IL, played taps.
The American Legion also performed a flag folding ceremony and presented the flag to the group as honorary next of kin. Reunion president Mark Miner of Beaver, PA, accepted it on behalf of the family, and pledged to have it framed in glass for future reunions. In concluding the ceremony, Miner urged the crowd to take a stand in the "war on families" even as our nation fights a "war on terror."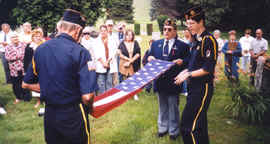 Above, left: American Legion Post 301 performs its traditional flag folding. Right: VFW Post Adjutant Don Burkholder presents the folded flag to Reunion President Mark Miner, accepting on behalf of the family as collective next of kin.
Among the attendees were the families of Gloria Moennig Carey of Fort Wayne, IN, and John C. Minerd of Monroeville, IN, the first members of their immediate family to return to Western Pennsylvania in 186 years. In 1817, their branch left Fayette County to become pioneer settlers of Ohio and later, in 1844, of Indiana.
Afterward, our group attended worship services at the church. Cousins Melvin and Bonita (Work) Warrick were greeters, and Bonita later displayed her talents as church organist. Rev. Davis, and the printed church bulletin, acknowledged the dedication of the Minerd marker. Following the service, we had a brown bag lunch together in the church's shady grove.




Above, L-R, original 1913 reunion officers: Rev. Isaac H. Minerd, Martin Miner, Esther (Barnhouse) Freed, Roy Sheppard Minerd and Allen Edward Harbaugh. All were direct descendants of Revolutionary War patriot Jacob Minerd Sr.

Harbaugh's history

Donald Harbaugh

On Saturday at our traditional picnic at Kingwood, the clan celebrated the 90th anniversary of its first reunion in Western Pennsylvania in 1913. Each of the five original reunion committee members was honored -- the late Rev. Isaac Herschel Minerd (President), Martin Miner (Vice President), Esther Barnhouse Freed (Treasurer), Roy Sheppard Minerd (Secretary) and Allen Edward Harbaugh (Historian) -- and their living descendants stood to be recognized.

Donald L. Harbaugh (seen here) of Oberlin, OH, recited a family history prepared for the 1913 reunion by his great-grandfather, Allen Harbaugh, the famed "Mountain Poet" of Mill Run. Printed copies of the speech were distributed to all attendees.

Guests brought either a meat dish, side dish or dessert as "pot luck." The day started with plenty of blue skies and sunshine, at least for awhile, until two rounds of mid-afternoon rain showers "dampened" things a bit.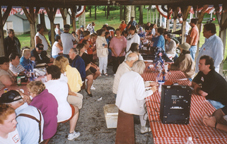 Food and friendship in abundance at the Saturday picnic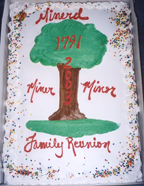 Cake from Theresa Charnovich

Special prizes were awarded to George Santmyer of Scottdale, PA, as the oldest person in attendance; William Metts II of Lonaconing, MD, as the youngest; Charles and Jackie Minerd of San Diego, CA, for traveling the furthest; and co-winners Merle and Carol Daw of Pittsburgh, and Ralph and Rhoda Kinkead of Greensburg, PA, as the longest married.

Alvin and Pauline Ream Leslie of Fort Hill, PA, donated bottles of their home-produced "Somerset County Honey" as door prizes, and Theresa Minerd Charnovich of New Salem, PA, provided a specially decorated cake (seen here) showing a colorful " family tree" featuring all three primary spellings of the clan name.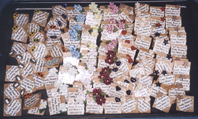 Pins from Wendy Zeller

Wendy King Zeller of Dunnellon, FL, handcrafted an entire tray full of special "90th Anniversary-Jacob Minerd" pins as favors.
Jill Channing Aird of Williamsburg, VA, won a quilted blanket, and "Minerd Reunion" magnets were awarded. Doris Hawker led children's games.
A moment of silence was observed in memory of two reunion volunteers, Dorothy Arehart Miner of Elgin, IL, and Arthur Denver Miller of Waynesboro, PA, who died since last year, as well as 170 other extended family members who have passed away since July 2000.
Cousin Craig Adams (seen here) of New Jersey brought a fragile old chalk portrait of his great- great- great grandparents, Civil War veteran Thomas M. Miner and his wife Maletha.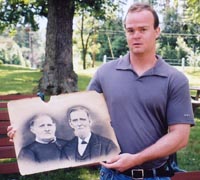 Craig Adams with photograph of his great-great-great grandparents

This year's reunion theme is part of ongoing research to measure the long-term impact of the Minerd- Miner- Minor clan on society. Previous reunions have honored the family's pioneer settlers; coal, coke and steel laborers; and military veterans and educators, and have envisioned what future families will be like. The clan's reunion began in 1913 and continued until the Great Depression. After a layoff of 50 years, the reunion was re-established in 1986. The current reunion was the family's 18th annual gathering.

Members of the reunion committee include president Mark A. Miner of Beaver, PA; vice president Sidney E. Miller of Mont Alto, PA; treasurer Doris Sands Hawker of Morgantown, WV, and secretary Rosella Resh Miner of Grantsville, MD.

Click to see the remarkable story by a Kansas cousin whose reunion-visit to Western PA in 2002 was the first by her branch in 116 years.

Copyright © 2003-2004 Mark A. Miner. Photos by Sharon (Sheldon) Kern,
Denise (Kessler) Miner, Mark A. Miner, Donna K. Minich and Dawn (Ream) Shultz.