2005 Reunion Highlights
'A Legacy of Quilting'
24 Wonderful Quilts Lovingly Displayed ~
Crafted By Cousins Past and Present
Group Votes to Relocate to New, Enclosed and
Air Conditioned Indian Creek Valley Site Next Year
Tour the New Online Quilt Museum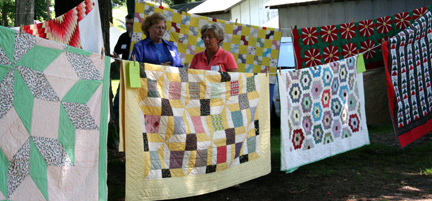 Bernetha Pritts, left, and Peg Grimm Mansberry view the impressive display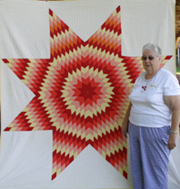 Shirley King and heirloom quilt

KINGWOOD AND HOPWOOD, PA - A sun-splashed display of 24 wonderful quilts made by cousins past and present highlighted the 2005 National Minerd-Minard-Miner-Minor Reunion, held the weekend of July 9-10 in Somerset and Fayette Counties, PA. A crowd of 80 people attended from 10 states and 25 Pennsylvania towns.

Each of the quilts was photographed by cousins Sid Miller and Mark Miner, with able help from Timothy Minerd and Jim Enos, for publication on the new "Online Quilt Museum" of our award-winning Minerd.com website. Photographs of more than 15 additional quilts were sent by out-of-town cousins unable to attend.

At left, cousin Shirley (Sanner) King with a beautiful red and yellow star pattern quilt crafted many years ago by her mother, the late Lilly Blanche (Miner) Sanner, of Kingwood.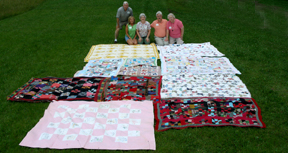 Layout of Armena Miner's quilts

Descendants of the late Armena (Cain) Miner Marshall of Washington, PA brought a variety of 11 quilts, and spread them out for all to see -- the collage is seen here. Armena's grandson, Doug Schultz Sr., proudly told the group that she had put love into every stitch, and he proclaimed often that "Armena rocks!"

As well, a major decision was made by the group to move the reunion next year to a new facility – the Indian Creek Valley Community Center near Normalville and Indian Head, Fayette County, PA. The ICVCC is a fully enclosed modern building that features air conditioning, modern men's and women's restrooms, a modern kitchen with refrigeration, plenty of electrical outlets, and a meeting room larger than a basketball court.

Somerset Daily American story

The ICVCC is within a 15-minute drive of the Pennsylvania Turnpike exit at Donegal, with plenty of shopping, amusement parks, hiking and biking, camping and other opportunities for fun.

Click here for a wide range of activities in the local Laurel Highlands region. For spouses who may not want to attend the reunion, the "Steel City" of Pittsburgh is just a 90-minute drive from the ICVCC, and offering Pirates baseball, world-class museums and other cultural and tourist activities.

Our quilting theme caught the attention of the Somerset (PA) Daily American, which ran a story – " 'A Legacy of Quilting' Reunion's Theme."

Next year's reunion will be held at the ICVCC the weekend of July 8 and 9, 2006. Mark your calendar now!

Saturday Picnic Features Awesome Quilt Display

Legacy quilts for all to enjoy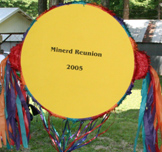 Reunion pinata

The 24 quilts on display came from a wide variety of branches of the family tree. It's hoped that more quilts can be shared at future reunions, and for our Online Quilt Museum.

Also on display again at the Saturday picnic was a special wood and glass flag case containing a triangle-shaped folded flag presented to us at the 2003 dedication of the Jacob Minerd Sr. Revolutionary War grave marker.

The case also includes the shell casings from the 21-gun salute by the Veterans of Foreign Wars (VFW) and American Legion, as well as photographs of the grave marker and ceremony. The case is intended to be brought every year in perpetuity for all cousins to see and appreciate.
Jasmine Miner takes a mighty swing

For the second straight year, Peg (Grimm) Mansberry led children's games, including a colorful yellow piñata, with purple, teal, orange and red decoration, dangling from a tree.

Seen here, young Jasmine Miner, daughter of Randy and Cindy Miner of Accident, MD takes a mighty swing with a plastic ball bat, among other younger cousins who tried with gusto to break it open.

Lunch included a wide variety of amazingly delicious main dishes, side dishes and desserts brought by our cousins. We are so grateful for everyone who prepares a food dish for our reunions each year. If anyone went away hungry, shame on them!

The famed "chow line"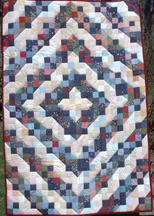 Lap quilt by Doris Hawker

Reunion treasurer Doris (Sands) Hawker led a raffle and door prizes to help raise funds to offset our costs. Her Somerset County Honey produced by Alvin and Pauline (Ream) Leslie.

After lunch, a group photo was taken by Cousin Sid, who is a longtime photographer with the Waynesboro (PA) Record-Herald.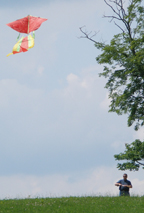 Warren Crawfis' kite

Seen at right, in a grassy bluff above our picnic grove, cousin Warren Crawfis of Fort Wayne, IN flies a special kite he obtained recently during a church mission trip to China. He did well with the kite despite only an intermittent wind.
Prizes were awarded to the following:
Youngest – Brooklyn Miner, daughter of Randy and Cindy Miner of Accident, MD – 13 months
Oldest – Helen (Basili) Minerd of Uniontown, PA (we won't tell!)
Longest Married – Jim and Margaret Minerd of Dunnellon, FL – 55 years
Shortest Married – Bill and Priscilla Shriver of Cortland, OH
Furthest Traveled – Francis and Selma Minerd of Whittier, CA - 2,475 miles

Furthest-traveled: Francis and Selma Minerd of Whittier, CA; descendants of 1880s California pioneer Luther Minerd Sr.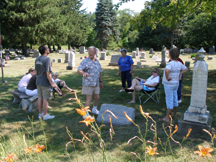 Hopwood Cemetery tour

Sunday Tour of the Hopwood Cemetery
On Sunday, a group of 15 toured the historic Hopwood Cemetery near Uniontown, PA.
Among the ancient graves visited were those of Henry Minerd (1856), James Minerd Sr. (1877), Perry G. White (1886), sisters Sabina (1915) and Margaret Minerd (1917), Civil War veterans Andrew (1905) and William Minerd (1919), Joseph B. White (1873) and Haley P. Cross (1925), World War I casualty Raymond G. White (1918) and Korean War casualty James W. Minerd, II (1950).
Henry Minerd's 1856 marker is the third-oldest known grave in Fayette County.
Afterward, our group enjoyed lunch in a local restaurant to conclude the weekend's activities.
A Legacy of Reunion Themes
This year's reunion theme is part of an ongoing research to measure the long-term impact of the family on society. Previous reunions have honored the family's Fallingwater connection; Revolutionary War service and pioneer settlers; coal, coke and steel laborers; and military veterans and educators; and have envisioned what future families will be like. The clan's reunion began in 1913 and continued until the Great Depression. After a layoff of 50 years, the reunion was re-established in 1986. The 2005 reunion was the family's 20th annual modern outing.




The reunion committee, left to right: president Mark A. Miner; vice president Peg (Grimm) Mansberry; treasurer Doris (Sands) Hawker; and secretary Rosella (Resh) Miner.
Copyright © 2005 Mark A. Miner. Photographs courtesy of Sid Miller,
Sharon (Sheldon) Kern, Doris (Sands) Hawker and Mark A. Miner.