Home

Mariah (Minerd) White
(1833-1894+)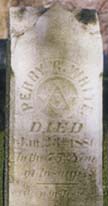 Perry's grave,
Hopwood Cemetery
Mariah (Minerd) White was born in 1833 in Wharton Township, Fayette County, PA, the daughter of Henry and Hester (Sisler) Minerd. Her husband and sons made their living for many years on the National Highway (now US Route 40) when it was our nation's major east-west road and required a high degree of regular maintenance.
Evidence suggests that in 1854, when she was 21, Mariah gave birth to a daughter whom she named "Nancy J. Minerd." The identity of the child's father is unknown.
In the late 1850s, Mariah married widower Perry Green White (1812-1886), who was almost 20 years her senior. He was a native of Cumberland, Allegany County, MD, but also is said to have been born in Frederick, Frederick County, MD. (This is not yet confirmed.) Another of their daughters thought that he had been born in Ireland.
Perry and his first bride Charlotte (McClatchy) White ( ? - ? ), resided in Somerset County, PA circa 1845 and by 1850 were in Hopwood, North Union Township, Fayette County.
Perry was a farmer and apparently also was employed as a tax collector at one time.
With her marriage, Mariah became an instant step-mother to Perry's seven children -- John Irving White, Mary Frances Turner, Thomas J. White, Joseph B. White, Charlotte I. Ingles, Robert Marshall White Sr. and Nancy McDonald. Two of these children -- Thomas and Nancy -- did not live in the White home, but instead were taken to Iowa to be raised by an uncle and aunt, Charles M. and Martha McClatchey, in the town of Pella, Marion County.
Mariah and Perry went on to have five children of their own: Sarah "Annie" Hopwood, George H. White, Hannah Wortman, Emily Hester Goff and possibly one other who died young. In total, Mariah and Perry had 13 children between them.
When the Civil War broke out, three stepsons went off to serve -- John, Thomas and Joseph. Tragedy struck in 1863 when John died in the battle of Fort Monroe, South Carolina. Having enlisted in the army in September 1862, John was severely wounded and evacuated for treatment to the post hospital at Morris Island. Sadly, he died of his wounds four days later on Aug. 31, 1863. The worry the Whites must have felt about the fate of their son must have been overwhelming. John's obituary in the Uniontown Genius of Liberty said he had left "behind an aged and loving father, and kind brothers and sisters, [who] took his departure to assist in sustaining the honor of the nation."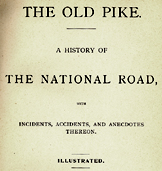 Book naming Perry White
Sadness struck again in 1873 when stepson Joseph, a Civil War veteran, was "very much troubled with cough, had a severe hemorrhage of the lung and sunk rapidly after that," dying at Hopwood, leaving a wife and baby son.
Perry's primary employment, however, was as a contractor for construction and maintenance of the National Highway, (sometimes known as the Cumberland Road), America's first federally funded interstate highway. He is named twice in the landmark 1894 book, The Old Pike: A History of The National Road, authored by Thomas B. Searight. The title page of the volume is seen here.
In the book, Perry is named among a long list of men who were "contractors for work on the original construction of the road." During the period from May 1, 1843 to Dec. 31, 1844 -- before he married our Maria -- Perry is known to have worked on the Western Division of the National Road under the supervision of William Searight, Commissioner of the Cumberland Road in Pennsylvania. He was paid $116.06 for his labors.
At some point, Perry was digging at the Turkey's Nest -- a steep spot along the Pike where a large stone wall was built to support a bridge -- when he discovered a box that had been buried there years earlier. In opening the box, he found "a great number" of coins, including a gold dollar. He apparently sold the lot to collector C.W. Sailor of Ohio Pyle, Fayette County. The incident was related many years later, in a January 1905 story in the Connellsville Courier, when Sailor deposited "in one of the savings banks of the county what is probably the greatest collection of coins in the state. The collection consists of coins of almost every nation on earth."
In 1850, Perry joined the Free and Accepted Masons of Pennsylvania as an apprentice, and has been noted in a memoir by a granddaughter as "the first Mason in Monroe (Hopwood)." He was a member of the Fayette Lodge 228 of the Masons for 40 years. His membership was suspended but later, in 1862, he was reinstated, and remained in good standing for the rest of his life. He was so proud of his affiliation with the Masons that he later had its symbol carved into his grave marker.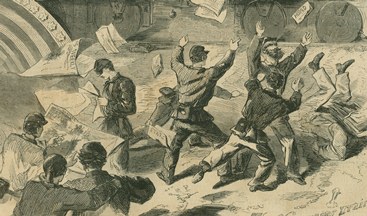 "News from the War," by Winslow Homer, captures the sense of frantic anxiety the Whites and other families at home must have felt in relying on newspapers and letters to know the fates of their loved ones away at war. Harper's Weekly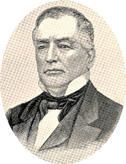 Sebastian Rush
Continued the memoir:
Everyone knew and respected Brother White. He was a real devout Christian, belonging to the old stone Methodist church on the cemetary hill, which has been torn down for so long now. I have heard my mother (Hessie Goff) tell how when the minister called on Brother White for prayer, in the church, he would pray the 90th Psalm. He was always "ready" for the Lord.
In about 1864, after his second marriage, Perry and Mariah moved to the village of Monroe, now known as Hopwood. The booklet The National Road - Commemorative Pictorial History says that Hopwood is famed today for having "the largest number of extant colonial stone buildings of any town on the National Road."
Said the Uniontown Republican Standard, "When the late Sebastian Rush was first appointed superintendent of the National road, about twenty-five years since, he put [White] in charge of the Monroe gate and he continued to hold such ever since up to the time of his death." Perry's work provided him with "general satisfaction," said the Genius of Liberty. A portrait of Sebastian Rush is seen here.
Perry was a church member about 50 years, mostly of the Methodist Church, and a Sunday School leader. In 1876, he served the public as auditor of South Union Twp.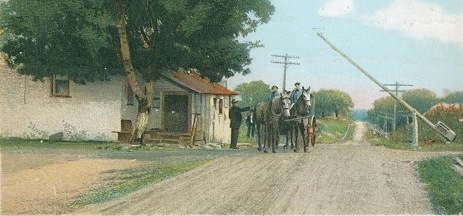 Typical toll gate of that era
In 1879, Perry and his brother in law Andrew Minerd testified on behalf of their nephew, Isaac F. Minerd, stating that they had both known Isaac before the war and that he was free of illness at that time, although his health had been badly affected during the hardships of service.
Uniontown Genius of Liberty
On Jan. 22, 1886, Perry went to work at the gate as per usual. He came home at 4 p.m. and "fell into a stupor, from which he could not be aroused, and continued in that condition until his death" two days later, said the Uniontown Genius of Liberty. "Before becoming unconscious..., he experienced strong and lively hopes of a glorious immortality." Another description of his death states that after coming home and having his dinner, "he said, 'Mother, I think I will go upstairs and rest a bit.' So, after a while she thought he had been up there long enough, and when she went up he had passed away in his sleep." He was laid to rest at Hopwood Cemetery.
Mariah's fate is unknown. Her last known whereabout was in September 1894, when she lived in Uniontown and her step-daughter Charlotte came to pay a visit. It's assumed that when Mariah died, she was buried near her husband at Hopwood Cemetery, but while Perry has a grave marker, she rests anonymously.
The Whites are mentioned in the 1912 book by John W. Jordan and James Hadden, Genealogical and Personal History of Fayette and Greene Counties.
Copyright © 2000-2006, 2010, 2014, 2016, 2020 Mark A. Miner
Sebastian Rush portrait originally published in The Old Pike: A History of The National Road (Thomas B. Searight, 1894)