Sarah 'Annie' (White) Hopwood
(1858-1932)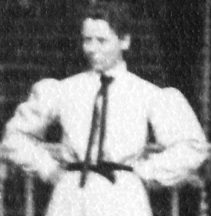 Annie and Joseph Hopwood
Sarah "Annie" (White) Hopwood was born on April 19, 1858 in Fayette County, PA, the daughter of Perry G. and Mariah (Minerd) White.
In 1877, at the age of 19, Annie was united in the bonds of holy matrimony with 23-year-old Joseph M. Hopwood (1854-1929), son of Moses and Mary (McClain) Hopwood.
They produced two daughters, Bessie LaClair and Della Guyton.
Joseph was a farmer who spent virtually his entire life in Hopwood. He was a member of the Knights of Pythias and played the drums with the Hopwood Band. Among other members of the band were Annie's brother in law Simeon Thomas Goff and his daughter Lea Ray Phillips Guyton, Tommy Hair (who was blind), Joseph Goff and Frank Goff, among others.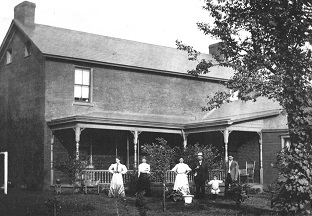 The Hopwood home along the National Road in Hopwood. L-R: Annie, Della Guyton, Bessie LaClair, Joseph, Joseph LaClair and Frank LaClair, circa 1905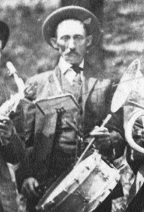 Joseph, Hopwood Band, 1905
Known locally as "Aunt Annie," she was a lifelong and "well-beloved resident" of Hopwood. She was a member of the Hopwood Methodist Protestant Church. Their home on one-half acre of ground was on the north border of the National Highway (today U.S. Route 40).
When the federal census was taken in 1900, Annie and Joseph were living in Hopwood along with their daughter Bessie and Joseph's unmarried sister, 49-year-old Louisa Hopwood. Joseph was listed as a farmer.
The 1910 census shows their home along the National Road (Main Street) in Hopwood, with the Hopwoods owning their own farm. Joseph's 59-year-old unmarried sister Louisa continued to reside with them. By 1920, Joseph was laboring as a teamster in addition to his farming.
In the 1920s or early '30s, grand-nephew Holbert White (son of Arthur Earskin White and grandson of George H. White) would come for visits. Annie and the boy's other aunt, Mollie Daugherty, showed him Civil War memorabilia and took him around town to meet other relatives still living there. Married daughter Della Guyton was one of their next-door neighbors in Hopwood.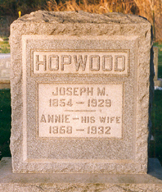 Hopwood Cemetery
One family story about Joseph is that his grandchildren called him "Pappy Joe." He seems to have had a low tolerance for conversations between women. When his sister Louisa Hopwood and lady friends would come for a meal, Pappy Joe would find something to do outside. When the women had finished eating and either left or retired to another room, Annie would place a dish towel out on the window sill indicating it was all clear for him to come inside. Pappy Joe then would return indoors and eat by himself.
On May 12, 1924, Joseph and Annie sold their home to William McKnight. He may have been related to Annie's aunts Barbara (Minerd) McKnight or Mahala (Minerd) McKnight, or not at all.
Joseph suffered from tonsillitis and malignant endocarditis and died from their effects on Jan. 27, 1929 at age 75.
As a widow, Annie continued to live in what is known as "Hopwood Patch," according to the 1930 census-taker. She outlived her husband by three years. She suffered an aneurysm of her carotid artery and died on June 27, 1932 at the age of 74. Her funeral arrangements were handled by the Minerd Funeral Home of Uniontown. (The funeral home was owned by Edward Eugene Minerd, son of Annie's first cousin, Rev. David Ewing Minerd.)
Joseph and Annie are buried together under a large marker at Hopwood Cemetery.
The Hopwoods are mentioned in the 1912 book by John W. Jordan and James Hadden, Genealogical and Personal History of Fayette and Greene Counties.
Copyright © 2000-2004, 2006, 2008, 2011, 2016 Mark A. Miner
Many thanks to Phil Parker for sharing his family photos.