Rev. David and Sarah Catherine Minerd
"Impact" is probably the best way to describe the life and work of Rev. David Ewing Minerd. He spent 60 years in Christian ministry in Methodist churches of Fayette County, PA. He's one of a handful of our cousins whose obituary was printed in the New York Times.
During his career, David officiated at a record number of funerals and weddings. He started several churches which still exist today. He was a self-made man and made many sacrifices for his ministry. He suffered much pain, outliving three wives, two adult children and two young children. He also celebrated many joys, and saw his adult children and grandchildren lead active, productive lives.
David's entire life was spent in Fayette County. He was born at Hopwood, Fayette County in 1855, the son of Andrew and Sarah (Devan) Minerd, and died in 1943 in Connellsville at the age of 88.
During his career, David oversaw about 6,500 funerals and married about 3,500 couples.Counted together, that's about 10,000 events in 60 years of work. Thus he oversaw a funeral or wedding almost every other day. That doesn't even count church services he led.
Enjoying tremendously positive press coverage, he was praised by the Connellsville Courier as "a very useful man, especially among the poor and working classes, and he enjoys the respect of everybody in the community."
David and Sarah Catherine Minerd, seated, center, with children and grandchildren, ca. 1915. Adults, L-R: Daniel, Ewing, Bess Lemon, Edward, Edna Wagner, William, Marybelle and her husband John S. Riley holding baby Virginia. Other children, L-R: Boydell Lemon, Catherine Driscoll, Mary Lou Lloyd and Markle Riley.
~ First Marriage, to Emma Speer ~
David was married three times. On Jan. 11, 1877, he was united in holy matrimony with Emma V. Speer (1854-1881).
They had two children -- George Ewing Minerd and Margaret "Maggie" Minerd.
In a tragic twist of fate, both of the children died young, followed to the grave almost immediately by their mother. George passed away first, on Aug. 24, 1880. Maggie lived for another two months but was cut away by the Angel of Death on Oct. 26, 1880.
In reporting on Maggie's death, the Uniontown Republican Standard said "This is the second time death has invaded this household within a short time. The parents are now bereaved indeed, having lost both their children."
David's grief was compounded early in 1881, when Emma contracted tuberculosis. She suffered and succumbed to the illness on April 10, 1881. David was 26 at the time, and the Uniontown newspaper reported that he was "wifeless and childless" in his grief. The epitaph on her grave at the Hopwood Cemetery reads: "Safe at home we trust, with Jesus at rest..."
He dutifully inscribed the names and dates of his dead family in his large family Bible. The depth of his grief at this time cannot be imagined.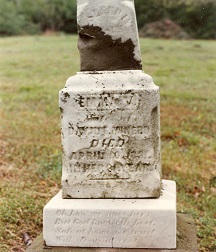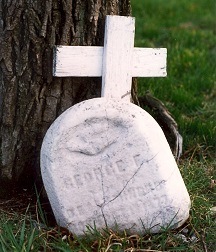 Above: damaged grave markers of 1st wife Emma and son George at Hopwood Cemetery. Below: page in David's Bible recording the deaths of his son George, daughter Maggie and wife Emma within just 9 months.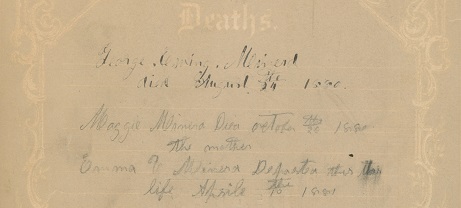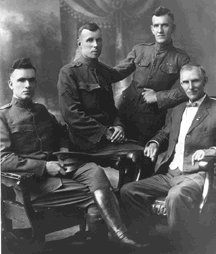 L-R: Dan, Bill, Ewing and David
~ David's Second Wife, Sarah Catherine Williams ~
David remained a widower for two years and eight months, no doubt pondering and praying about what his future might hold..
Then two days after Christmas 1883, at the age of 28, David married 27-year-old Sarah Catherine Williams (1856-1916), the daughter of Abraham and Rachel (Cunningham) Williams of Mill Run, Fayette County. The nuptials were held at Connellsville by the hand of Rev. P.T. conway, with Mr. and Mrs. Alfred Hood standing as witnesses.
Through this marriage, David and his wife shared a cousin, Reuben and Martha (Cunningham) Leonard.
The Minerds went on to bear seven children -- Edna May Wagner, Mary Belle Riley, Bessie Ray Lemon, Ewing David Minerd, William Alfred Minerd, Dr. Harold "Daniel" Minerd and Edward Eugene Minerd.
Tragedy almost struck the family once more in December 1897 when son William, "while playing about an open grate fire," said the Pittsburgh Daily Post, "was seriously burned." Fortunately, he survived.
In the photo seen here, David is seated at far right with sons Dan, Bill and Ewing, left to right, who all were World War I veterans. (See an enlarged view which was our "Photo of the Month" in July 2000.)
~ Patriotism and Political Service ~
David was very patriotic, rooted in boyhood. When he was just seven, his father went off to serve as a cavalry blacksmith in the Civil War. The young boy must have known the day-to-day anxiety that his father was risking his life far away. Later, as a parent himself, he felt the same anxiety when three of his own sons -- William, Dan and Ewing -- served in World War I. Upon his sons' safe return from the Army, in June 1919, David held "a family reunion and informal public reception" at his home in Dunbar, said the Courier. The house "was beautifully decorated in the national colors and a fine flag ornamented the front of the house. The dining room was especially handsome, large streamers being carried from the chandelier in the center to all parts of the room." The number of visitors numbered 300.
David's enthusiasm for his community showed, among other things, during his service as a vice president during Uniontown's "Old Home Week" in August 1912. He also was on the Entertainment Committee for Dunbar's Old Home Week Celebration on Oct. 6-9, 1915. Nearly three decades later, less than a week before he died, in 1943, further demonstrating his patriotism, he attended a World War II fundraising parade in Connellsville.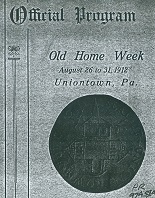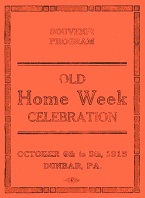 Old Home Week programs in Uniontown (1912) and Dunbar (1915)
Candidacy for Treasurer
David was politically active throughout his life, a value he passed down to his children. In 1883, at age 28, he signed a petition to incorporate Dunbar as a borough. In the late 1880s and in the early 1900s, he served on the Dunbar School Board.
At some point, he ran for the office of Treasurer of Fayette County, and in a "sharp contest polled 1,500 votes" in a losing cause, said a local newspaper. Nine years later, at "the earnest request of many friends," he threw his hat again into the ring for the same office. "His fine qualifications will make him decidedly strong as a candidate for the nomination, and if successful his host of friends outside of his own party will make his election practically certain," said the article. "Nothing could be better for the people than if all candidates of all parties were as honest, upright and conscientious as the blacksmith preacher."
While he again lost the election for the county treasurer spot, his son Dan later captured the office in the 1930s.
Later, in the years leading up to World War I, he served as the Fayette County Poor Director, overseeing the County Home.
Then in the 1930s, he was employed as sealer of weights and measures and health officer in Connellsville.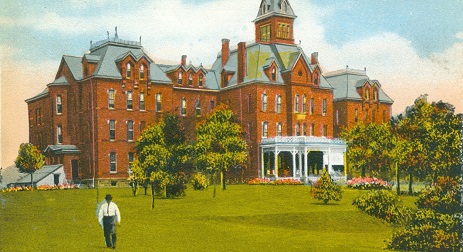 Fayette County Poor Home, where David was director, 1910s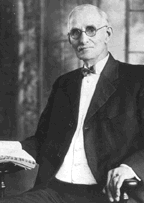 Rev. Minerd
~ Early Blacksmithing and an "Inner Urge" to Preach ~
During the Civil War, David's father, Andrew returned home safely from the Army, went back into the blacksmith business and moved the family to Broadford, where new coke ovens were being built. That's where he taught David how to handle a hammer and anvil. He later attributed his longevity to his early years as a blacksmith. This skill later put food on his family's table when he was earning only a meager salary as a minister.
As a boy, David received his Christian training at home and at church. When in his early teens, he sensed an "inner urge" to do mission work and become a minister. Converted in 1868 under the pastorate of Rev. P.T. Conway of Hickory Square Methodist Church near Broadford, he soonafter was baptized by Rev. Henry Lucas in the Youghiogheny River.
In 1868, when he was 13, his father bought the James Smiley blacksmith shop in Dunbar, Fayette County, and moved the family to the premises. Upon arriving, David began helping his father in the blacksmith shop; "yet he continued going to school as much as possible in the winter time until he was 15, when he crossed the doorstep of the old Harper stone school house for the last time," reported the Connellsville Courier. "Although his last teacher, Miss Mary Herron, is now deceased, still the old stone school house near the furnace store remains as a place of instruction for the boys and girls of the present."
Dunbar is where he spent most of the remainder of his life, except the 1890s when he was at Uniontown and his last years in Connellsville.
When he was only 19, David received a license to exhort -- which allowed him to lead meetings and oversee funerals. "Honest, conscientious, upright, a good exhorter, and a good lay worker at revivals, the transition from the anvil to the pulpit was only natural," said the Courier.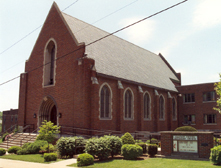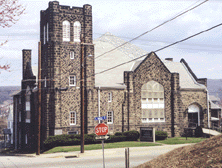 Churches founded by Rev. Minerd -- Calvary Methodist in Uniontown, left, and Greenwood United Methodist in Connellsville.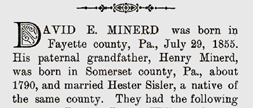 Biographical and Portrait
Cyclopedia of Fayette County
Yet he suffered an eye injury in the forge, made worse by the intense heat. His physician Dr. R.W. Clark advised him to "quit the trade for awhile," said the Courier, and so in 1893 he moved to Uniontown. At the invitation of "Mrs. Bittle," David began preaching in the school house in Uniontown's East End. He "was busy in the mission work nearly every Sunday in some of the surrounding towns," said the Courier. He conducted his first revival in the coal mining town of Oliver, Fayette County, and "the result of his two weeks' labor was 18 converts."
For the next 19 years, David worked with the status of a lay pastor. It was not until age 38 that he was officially ordained. He was tall, and thin, and wore a mustache. His trademark was a black hat, black suit, black tie and white vest. Finding white vests for him was difficult, and that he sometimes had to go to Pittsburgh to get them.
David liked to act out the Bible passages when preaching. If he were telling about Joseph being stripped of his coat of many colors and cast into a pit by his brothers, he would reach out his arm and swoop it down low.

News coverage, 1904
For his first years of ministry, David held mission meetings at the Dunbar Methodist Church. When the Dunbar church was first built, it was "very weak," but after he became involved, it grew to 250 members.
The early years were not easy. David called it an era of "trials and tribulations." To make ends meet, he ministered by day and blacksmithed by night, and was nicknamed the "blacksmith preacher" or the "anvil preacher." The Courier once recounted that "although he gets paid for very few [funerals], yet he leaves the anvil sometimes at a loss of several dollars to preach the funeral service of any person for which he has been called. it matters not who the person is or how far the distance."
He was such an up-and-comer that in 1889, when the book Biographical and Portrait Cylopedia of Fayette County was published, by John M. Gresham, David was profiled in one of the short chapters.
In January 1894, he came to Uniontown to "conduct meetings" at the White Schoolhouse in the east end. Despite snow and rain, the meetings attracted large crowds. On Feb. 11, 1894, 48 people met to formally organize a congregation, and the trustees were formed the next day. Ground was broken on March 27th, the cornerstone laid on May 17th, and the building dedicated on July 29th...on his 39th birthday. The cost of the lot and building was about $4,000. He became the inaugural pastor of the church
At the start, Calvary was known as the East End Church, the Minerd Chapel or the Minerd Methodist Church. The Uniontown News Standard, of July 24, 1894, reported that "The Minerd church will be completed Saturday all except the seats which have been delayed by the railroad blockade. Services will be held in the new structure Sunday at 10:30 a.m., 2:30 p.m. and 7:30 p.m." The Connellsville Courier reported that a number of David's old friends from the Dunbar Methodist Church came to attend the big event.
A week after the church opened, David held special evening services to benefit Civil War veterans and their families, and the Ladies' Circle. In August, Sunday School was formed.
During that time, there was a economic recession, or as it was called, "industrial difficulty." David was not paid a single cent for two whole years; he survived by income from his blacksmith work.
David spent nearly four years at Calvary. His son Dan was born during that time. In 1895, the church was officially received into the membership of the Pittsburgh Conference. In September 1897, he left to begin a year-long assignment at the White Rock mission. He went on to build more Methodist churches at Coolspring and Mount Braddock.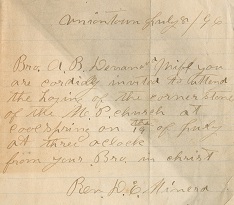 David's letter to A.B. Devan, 1896
When the Coolspring church building was inaugurally under construction in July `1896, he wrote letters to friends and potential parishioners, inviting them to attend the cornerstone installation. One of the letters which has survived to today was sent to A.B. Devan. The letter said:
Uniontown July 8/96.
Bro. A.B. Devan and Wife, you are cordially invited to attend the Laying of the corner stone of the M.P. church at Cool Spring on the 19 of July at three o'clock. From your Bro. in christ, Rev. D.E. Minerd.
He stayed at Mount Braddock for 12 years. The highest amount he was paid there was $300 a year.
After leaving Mount Braddock, David spent about 19 years in mission work. He wore out two buggies in the mission field in the Mount Braddock, Lemont, Coolspring and Uniontown areas during this time. When the Greenwood Methodist Church in Connellsville was founded in 1921, he became its first preacher and dug the first shovelful of dirt at the groundbreaking.
Preaching did provide fame, and he became a celebrity, especially popular with local newspapers. David's name was in the papers several times a week, for funerals or weddings or special services. The Connellsville Courier published "From Pulplit to Forge" in January 1902, and in May 1904, both the Courier and Uniontown Daily News Standard ran major feature stories -- "The Anvil Preacher" (Courier) and "100 Conversions" (Daily News Standard). One time, an obituary headline, instead of naming the deceased, read "Rev. Minerd Conducts Funeral." When he died in 1943, it was front-page news in the Connellsville Daily Courier, right next to the latest World War II update about the fighting in Europe and the Pacific.
The Philadelphia Inquirer published a short article about David's influence in April 1904. In the story, "Dying; Goes to Church," the Inquirer said that Mrs. John Adams of Mount Braddock, near Connellsville, "dying slowly from a tedious illness, was brought into church on a cot and gave testimony of her conversion to Christianity. She is one of eighty converted at a remarkable revival service led by Rev. D.E. Minerd, the famous blacksmith preacher."
~ Family Reunions ~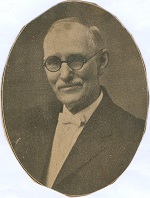 Newsprint photo of Rev. Minerd
David enjoyed attending family gatherings, including his own birthday party held every year, but also the annual Minerd Reunions begun in 1913 and held in Fayette and Somerset Counties. The roots of the reunion went deep into the past, and can be traced in part to a friendship David had with a second cousin and fellow Methodist pastor, Rev. Isaac Herschel Minerd of New Haven, Uniontown and Mount Pleasant, PA. In January 1898, when David and the family lived in Uniontown at 111 Walnut Street, he received a penny postcard from Isaac. The brief note read as follows:
Lemont, Pa., Jan. 25 –98. Dear Bro, We are having grand Meetings at Lemont. Will be so glad if you can be with us some eve this week. God is moving with power in this place. Hoping you can spend a night with. I remain yours for master. I.H. Minerd
It took another 15 years for the first Minerd gathering to be held, organized by Isaac. Likely at Isaac's request, David became involved right away, and was elected secretary of the second reunion, held at Ohiopyle, Fayette County, on Sept. 12, 1914. He no doubt was one of the "several prominent speakers" who gave an address that day. He was the official guest speaker at the 1920 reunion, held on Aug. 12 at the Ferncliff Hotel, and at that reunion, he was photographed in the front row, far right, standing beside Joseph M. Luckey. By 1930, when the Minerd Reunions were still being held, his daughter Bess Lemon and son Dan Minerd were active organizers.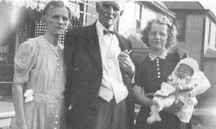 Four generations
He also is known to have given an address at the Crossland family reunion in August 1927. When his cousin James Calvin Minerd Sr. held a reunion party at Bowood, near Smithfield, Fayette County in 1928, David and Rose Ella were counted among the guests.
Seen here, David poses at a family gathering in a four-generations photo. Left to right: daughter Mary Belle Riley, Rev. Minerd, granddaughter Virginia Snyder and great-granddaughter Judy Campbell.
David also liked to talk. One person has said the only thing needed for him to preach "was a tree stump and a congregation." Another cousin, once attended a funeral at which he preached on a hot day and feared the sermon would never end. He did not always remember the names of every member of his flock, but would greet them with "Hello brother" or "Good morning sister."
He was a workaholic.As an older man, he would come to his daughter's home for Sunday dinner, only to announce when the meal was over that he was ready to leave. It's not that he didn't enjoy the company. Rather, it was time for his next appointment. He never stopped.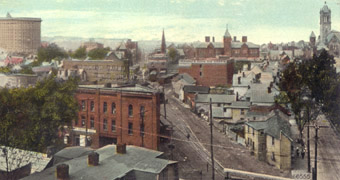 Bird's-eye view of Uniontown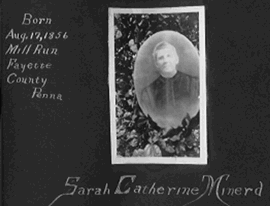 Mourning display for Sarah, 1916
Sadly, after 33 years of marriage, Sarah was stricken with gangrene of the leg (septicimea) in addition to having borne heart valve problems. She succumbed to the Angel of Death in her home at the age of 60 on Sept. 25, 1916. The remains were laid to rest at Hill Grove Cemetery in Connellsville. Her funeral tribute card and photograph are seen here.
The later years of David's life brought him both great joy and deep, deep sorrow. He enjoyed seeing his grandchildren marry and begin their own families. He performed the weddings of his children, nieces, nephews and grandchildren, and baptized at least one of his great-grandchildren, maybe more. And the family continued to gather together every July to celebrate his birthday, constituting an annual reunion of sorts of his own.
~ A Third Marriage, to Rose Ella (Bunting) Hodgkins ~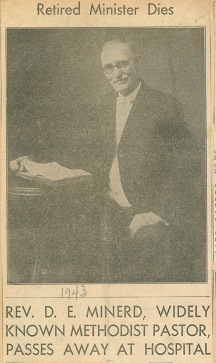 Daily Courier, 1943
After five years as a widower, David married his third wife, Rose Ella (Bunting) Hodgkins (1876-1931), in 1921. The ceremony took place in Ohio County, WV. He was age 66, and she 44, at the time of the nuptials.
The Minerds made their home during this period on South Eighth Street in Connellsville.
Rose Ella was the widow of Israel Hodgkins (1861-1918), and the daughter of Henry C. and Phoebe Jane Bunting, "who were among the most widely known residents of Dunbar," said the Daily Courier. Her first husband, who had died in 1918, owned and operated drug stores in Connellsville and Perryopolis, Fayette County.
Said the Courier, "Having spent all of her married life at Perryopolis and Connellsville, [Rose Ella] had hundreds of friends in the community. A woman of Christian character and pleasing personality, she won the friendship and esteem of all with whom she came in contact."
Rose Ella had a daughter from the first marriage, Pauline Chalfant, wife of Charles F. Chalfant of Barnesville, OH. On another note, Rose Ella's brother, Harry Bunting, was married to David's cousin, Anna Hoye.
In 1930, son Dan was elected Mayor of Connellsville for the first of three terms. At age 33, he was already a leading dentist and was the youngest man ever to become mayor of Connellsville. David always attended his son's events and inauguration ceremonies.
In April 1931, however, a series of heartaches began anew. David's wife Rose Ella caught pneumonia, and unable to overcome its effects, died at the age of 55. Rev. T.R. Courtice of McKeesport, PA officiated at her funeral service, "assisted by a number of other ministers of Connellsville and nearby points," reported a newspaper.
Burial was in Oak Grove Cemetery in Uniontown, with pallbearers including W.S. Behanna, W.E. DeBolt, James Cypher, Ray Ellenberger, C.K. Snyder and Frank McCairns, with A.W. Hart as lone honorary pallbearer.
Graves of Israel Hodgkins and Rose Ella Hodgkins Minerd at Oak Grove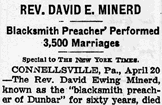 New York Times, 1943
The grieving did not cease for the retired pastor. Just four years later, in 1935, his son Ed -- prospering owner of the Minerd funeral home, who was suffering from hypertension -- was stricken with heart failure and a cerebral apoplexy and died in July 1935 at the young age of 35. The very next year, in August 1936, cancer of the uterus took away David's daughter in law, Charlotte (Keffer) Minerd, during a peak period in her husband Dan's political popularity. And the following month, in September 1936, his 48-year-old son, Ewing -- postmaster of Dunbar, who also bore heart disease and was a heavy drinker -- died suddenly in his sleep of a heart attack.
David's last years were spent quietly. He lived on South Eighth Street in Connellsville. In April 1943, at the age of 88, he fell and was taken to the Connellsville State Hospital. He seemed to be doing fine, but suddenly lapsed into unconsciousness and never pulled out.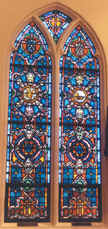 Calvary church window
He died, fittingly, on a Sunday. He is buried at Hill Grove Cemetery in Connellsville, beside his second wife, Sarah, the mother of his adult children.
~ Many Legacies ~

No Place Like Dunbar!
As a mark of the distinction of his career, David is one of the very few of our cousins living outside of the New York City area to have an obituary published in the New York Times. The obit recognized him as the "Blacksmith Preacher" and noted his work to found many churches and officiate at 10,000 funerals and weddings.
Son Dan later purchased a stained glass window in his parents' memory, seen here, at the Calvary Church.
In 1994, the founder of this website presented remarks about David at the centennial celebration of the Calvary church in Uniontown.
On June 19, 2002, David was featured in an article about Dunbar in the Connellsville Daily Courier. The story later was republished in the book, There's No Place Like Dunbar! 2002-2004 - Historical Vignettes and Personal Reflections from The Daily Courier's Dunbar Column, authored by Donna R. Myers and Bonnie L. Zurick of the Dunbar (PA) Historical Society. A thumbnail image of the book is seen here.

Rev. Minerd's plaque at Calvary Methodist Church in Uniontown
Copyright © 1994, 2000, 2001, 2009-2010, 2017, 2019 Mark A. Miner
Based on a presentation by Mark A. Miner at Calvary United Methodist Church, Uniontown, PA, May 22, 1994. Dunbar 1915 Old Home Week booklet and "Minerd Will Run" newspaper clipping images courtesy of the Dunbar Historical Society.