Ewing David Minerd
(1890-1936)
Ewing David Minerd was born in 1890 in Dunbar, Fayette County, PA, the son of Rev. David E. and Catherine (Williams) Minerd. Active in the Dunbar community, he was a longtime postmaster as well as treasurer of the school board.
Ewing followed the trade of his father and grandfather as a blacksmith. As a teenager, circa 1906, he also worked as a deliveryman for S.R. Hews & Co.
When World War I broke out, Ewing and his brother William enlisted in the Army in the spring of 1918. Just before leaving, his father presented him with a priceless keepsake -- an old pocket Bible that had been carried by Ewing's grandfather Andrew Minerd all throughout the Civil War. The testament was inscribed:
This book was carried by Andrew Minerd through the Civil War and brought back by him in 1865. Presented by the father, D.E. Minerd... This book is 54 years old.
Ewing and William both received basic training at Fort Lee, VA, with William bunking in the same barracks but on different floors. He was assigned to the Supply Company, 319th Infantry of the 80th (Blue Ridge) Division and was shipped overseas on May 18, 1918. He saw action in the Meuse-Argonne offensive, but little else is known of his service. Writing home in August 1919, from "Some Where in France," he told his father that "Papa I have not saw Brother Billie for Three Weeks. He was well and looking Good at that time."

Pennsylvania Railroad depot in Dunbar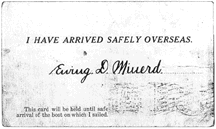 Postcard sent home to family
In very neat handwriting, he sent home many postcards to his father, siblings, nieces and nephews. To his sister, he wrote: "Dear I had Beaf, Potatoes, Bread, and Coffee for supper and Slum for Dinner. I have lots to eat." To his father, he implored: "Write soon and Long Letters."
The 319th Infantry was a supply outfit that assisted the Quartermaster Corps with providing soldiers with food, clothing and ammunition. The Q.C. shipped supplies via railroad cars to a rail dock as close to the front lines as possible, but usually no closer than six to eight miles. The 319th then transported the goods by wagons to small storage depots near the front lines, often becoming stuck in deep mud and thus became easy targets for German artillery.
Ewing carried his testament "all through the World War and read [it] every day of the same. He brought it back and with service in two great wars to its credit it is again in possession of Rev. Minerd, to whom it is priceless."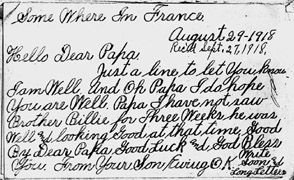 Greeting card that Ewing sent to his father from "Some Where in France" during World War I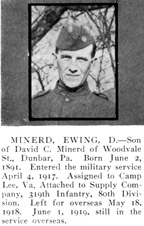 Uniontown's Part in
the World War
After the war ended in 1918, Ewing and William remained in the Army during 1919, and saw each other occasionally. In March 1919, they were stationed at Villiers Le Bois, France, and Ewing wrote home: "Just a line to let you know Billie and I are O.K." Around the first of April 1919, Ewing was to have been transferred to Le Mans, but as he wrote, "I don't know how long we will be there until we move to some Port of Embarkation... I don't expect to get home until the last of May."
Following his discharge from the Army, Ewing returned to Dunbar. He continued his work as a blacksmith, and was a member of the Junior Order of United American Mechanics.
When the book Uniontown's Part in the World War was compiled, Ewing and his brothers William and Dan were pictured in the publication. Ewing's entry is seen here.
In about 1920, he was named to the Dunbar school board, as treasurer, replacing Peter Johnson. He remained on the board in this capacity for 16 years, until his sudden death in 1936. During this time, cousin Bert Minerd was constable of Dunbar, from about 1922 to 1925. (The exact identity of this "Bert Minerd" is unknown, but he likely was either John Albert Minerd or Albert L. Minerd, both of whom lived in Dunbar and went by "Bert.")
Ewing was not the only local resident vying to be appointed as postmaster. According to a recent column on Dunbar in the Connellsville Daily Courier (Nov. 19, 2003), "Thomas Morrison applied for the position of Dunbar Postmaster ... but lost out to Ewing Mined who was awarded the job because he was a World War I veteran."
On Oct. 27, 1935, Ewing was involved in an automobile accident while driving on Route 22 east of Greensburg, Westmoreland County. His Pierce Arrow Roadster collided with a Dodge operated by Samuel Jones of Somerset, causing considerable damage to both vehicles. He was ordered by the Pennsylvania Secretary of Revenue to appear at a hearing in Greensburg, but when he failed to appear, his driver's license was revoked. Enraged, Ewing wrote an appeal, saying the action was "arbitrary and in disregard of his rights ... because he was at no time charged or found guilty of violating any provision" of the Motor Vehicle Code. The outcome of the matter is unknown.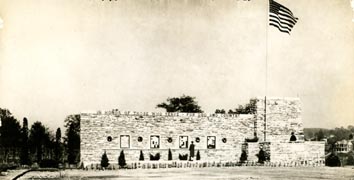 Ewing's name is inscribed on the war memorial in Dunbar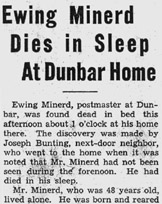 Connellsville Daily Courier
Ewing lived alone, and was a lifetime bachelor. He also was a heavy drinker toward the end of his life, recalled a niece.

2004 book
naming Ewing
Sadly, on Sept. 16, 1936, Ewing suffered a heart attack while sleeping, and was found dead in bed by neighbor Joseph Bunting. He was just 46 years of age. Following the funeral, led by Rev. William Hamilton, he was buried at Hill Grove Cemetery in Connellsville, PA, next to his mother. His father later would join them there in eternal rest, in 1943.
Ewing is mentioned in the book, Dunbar: The Furnace Town 1883-1983. On June 19, 2002, Ewing was featured in an article about Dunbar in the Connellsville Daily Courier. The story later was republished in the book, There's No Place Like Dunbar! 2002-2004 - Historical Vignettes and Personal Reflections from The Daily Courier's Dunbar Column, authored by Donna R. Myers and Bonnie L. Zurick of the Dunbar (PA) Historical Society. A thumbnail image of the 2004 book is seen here.
Copyright © 2000, 2003, 2009, 2017 Mark A. Miner