Home

Albert Lloyd 'Bert' Minerd
(1884-1946)
Albert Lloyd "Bert" Minerd was born on March 21 (or 26), 1884 in Dunbar, Fayette County, PA, the son of James and Emma (Meyers) Minerd Jr.
Bert first resided at Tucker Run near Dunbar, Fayette County. Then, in October 1906, said the Connellsville Weekly Courier, he moved to Fairchance, "where he has employment."
Bert married Lucy Mae (Nicklow) Kelly (1891-1940), the daughter of Eli and Delphena "Della" (Savage) Nicklow and granddaughter of Samuel Nicklow of Somerset County.
They did not reproduce but raised Lucy's son Charles E. Kelly Sr. from a previous marriage or relationship.
Over the years, the Minerds also resided in Wynn and Haydentown near Smithfield, Fayette County. Bert is said to have made a living as a blacksmith.
Bert registered for the World War I military draft in 1918, and stated his occupation as locomotive fireman for the Baltimore and Ohio Railroad.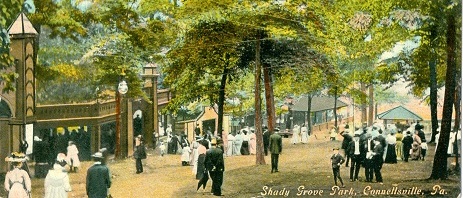 Crowds at Shady Grove Park near Uniontown, where Albert called dances


A niece recalled that Bert had a "coal stove and an outhouse" at his home. He played the fiddle at square dances at Shady Grove Park in Uniontown on Saturday nights. He also "called" dances from time to time. He was recalled as a "very large man" who had a size 20 neck and a size 50 waistline. He was jolly and handsome and had rosy cheeks.

When the federal census was taken in 1930, Bert and Lucy and his widowed mother made their home together in Smithfield. His occupation was listed as blacksmith, employed by his own shop.

Lucy suffered from sugar diabetes and passed away on Nov. 24, 1940. She was buried in the Minerd family plot at the remote, mountainous Lynn Point Cemetery near Dunbar, Fayette County. The snow was so heavy that her casket had to be carried on a sled up the steep slope to where the cemetery is located. (Click here to see our report on the cleanup of this cemetery.)

Bert outlived his wife by six years. On Nov. 24, 1941, exactly one year after Lucy's death, Bert purchased a classified advertisement in the Uniontown Evening Standard, headlined "In Memoriam:"

I married her when she was young and fair, But after 27 years she had gray hair, When I needed help she was always there, Today she sleeps beneath the clay. Sadly missed by her husband, Albert Minerd; her son, Charles Minerd, and grandchildren.

Having suffered from hardening of the arteries for five years, he died of a heart attack on Sept. 27, 1946, at the age of 62. He was laid to rest near his wife at Lynn Point. Neither of their graves is marked.



~ Stepson Charles E. Kelly Sr. ~

Stepson Charles E. Kelly Sr. (1907-1959) was born on July 27, 1907 in Vanderbilt. The name of his birth father is not known.

He is not to be confused with Pittsburgher Charles E. Kelly (1920-1985) who was a Medal of Honor for heroism in World War II in action near Altavilla, Italy.

Our Charles resided in Smithfield, and married a double-step-cousin, Ida Lenora Zinn (1908-1995), daughter of Thomas "Burchie" and Mary Frances "Mollie" (Campbell) Zinn and stepdaughter of Catherine (Minerd) Zinn.

They produced a brood of nine children – Emma "Jean" Lowller, Anna Mae Hainzer, William E. Kelly, Albert L. Kelly, Margaret Whoolery, Audrey Burner, Charles E. Kelly Jr., Nancy Louise Sage and Patricia Jane Halluck.

Charles was a road construction laborer in 1940. He learned the electrician's trade and by 1950 worked in the housing field. The family made their home in and around Smithfield.

Suffering from inflamed blood vessels and abscesses, which led to an intestinal obstruction, aberration of his fluids and electrolytes and peritonitis, Charles was admitted to Uniontown Hospital. After a stay of two weeks, he surrendered to death at the age of 52, in Uniontown Hospital, on Oct. 28, 1959. The Connellsville Daily Courier and Uniontown Evening Standard each carried an obituary, which noted that he was survived by 11 grandchildren. The funeral was held at Mount Moriah Baptist Church, by the hand of Rev. Paul Tarcy, followed by interment in Masontown's Fairview Cemetery.

Ida outlived Charles by 37 years and wed a second time to Lewis Curtin "Curt" Thorpe (1905-1972), said to have been the son of Edward and Rose (Henning) Thorpe. He brought these stepchildren into the second union -- Helen Shay, Lewis E. Thorpe and Edward McCann.

Curtin was a longtime coal miner for Duquesne Light Company and belonged to Local 6310 of the United Mine Workers of America in Greensboro. The Thorpes resided in Smithfield in 1972. Sadly, Curt passed away without warning at the age of 67 on Dec. 9, 1972. His remains were lowered under the sod of the Kelly plot at Fairview Cemetery.

Ida moved to Masontown as a widow and was there in 1993. She passed away in 1995.

Daughter Emma "Jean" Kelly (1929- ? ) was born in about 1929. She married (?) James Lowller. It's believed that he was the son of Evelyn (Minerd) Walters of Smithfield. As of 1959, they were in Cleveland, OH.

Daughter Anna Mae Kelly (1931-2013) was born in about 1931. She was joined in wedlock with Joseph Hainzer ( ? - ? ), son of Anna Hainzer. Four known daughters born to this union were Joann M. Rose, Karen Louise Hainzer, Joseph Hainzer Jr. and Sandra Jean Hainzer. Circa 1958-2013, they dwelled in Masontown, PA, at 306 Fairview Avenue. Joseph earned a living over the years with Duquesne Light Company, based in Greensburg, PA. Anna Mae died in Pittsburgh's UPMC Montefiore Hospital at the age of 82 on Dec. 18, 2013.
Granddaughter Joann M. Hainzer (1952-1972) was born in about 1952. She belonged to the All Saints Roman Catholic Church of Masontown and was a graduate of Albert Gallatin High School. On June 10, 1972, she wed James P. Rose Jr. ( ? - ? ) of Andover, NY. In 1972, during the Vietnam War, the Roses lived in Japan, where James was serving as a corporal in the U.S. Marine Corps. Tragedy struck on the fateful day of Oct. 7, 1972. While riding with her husband on a motorcycle, she was killed when struck by a moving train at a railroad grade crossing in Iwakuni, Japan. James was treated for shock at a naval hospital. The Uniontown Evening Standard reported that the remains were shipped home through the services of the Fayette County Chapter of the American Red Cross. A mass of resurrection was held at the family church, led by Rev. Andrew Charnoki. Burial was in St. Agnes Cemetery. When her step-grandfather Lewis Curtin Thorpe died later that year, Joann was named in the obituary.
Granddaughter Karen Louise Hainzer ( ? - ? ) was a 1973 graduate of Albert Gallatin High School, achieving high honors. She entered into marriage with (?) Bail ( ? - ? ).
Grandson Joseph Hainzer Jr. (1958- ? ) was born in 1958 in Waynesburg Hospital. News of his birth was published in the Uniontown Evening Standard. Evidence suggests that he wed Paula A. Broadwater ( ? - ? ). Together, they bore one known son, Joseph T. Hainzer. Two other children in this family were Donald B. Fenton and Emily A. McGinnis.

Great-grandson Joseph T. "Joey" Hainzer (1986-2020) was born on June 22, 1986 in Uniontown with a congenital heart defect. He was a 2004 alumnus of Carmichaels High School and earned a living at the Meadows Casino in Washington, PA. In his spare time, he liked to tinker with computers and vehicles and play his guitar. He dwelled in Carmichaels and was the father of Joseph Hainzer. Sadness blanketed the family when, having suffered a cardiac arrest, he died at Allegheny Health Network in Brentwood at the age of 33 on March 26, 2020. Pastor Dayton Mix presided at the funeral, held privately due to Covid-19 social gathering restrictions.

Granddaughter Sandra Jean "Sandy" Hainzer (1960- ? ) was born in 1960.
Son William E. Kelly (1933- ? ) was born in about 1933. He was an alumnus of Georges High School. William joined the U.S. Air Force in June 1952 during the Korean War. He trained in a mechanics class at Sheppard Air Base in Texas and then as a propeller specialist in Illinois at Chanute Air Base. William was deployed to Korea in December 1953 and transferred in October 1954 to Japan. There, in 1955, he was posted to Johnson Air Base with the 3rd Maintenance Squadron of the 3rd Bombardment Wing of the 5th Air Force. He appears to have made a career in the military. Circa 1959, he was stationed in Sacramento, CA, and in the 1960s at McClellan Air Force Base before a transfer to Hamilton Air Force Base in 1966, assigned to the Air Defense Command. He wed Helen Nakao ( ? - ? ). They accepted a transfer to Germany in 1968 to the air base at Wiesbaden. His home in 1972 was in Fair Oaks, CA.
Son Albert L. Kelly (1936- ? ) was born in about 1936. He was joined in matrmiony with Shirley Ann (Oct. 29, 1938-2010), a native of Carmichaels. Their union endured for a remarkable 53 years. Five children in this brood were Debbie Savage, Melissa Webber, Bryan Kelly, Sherry Carter and Brad Kelly. The Kellys moved to Ohio and resided in Cleveland, OH in 1959 and in Brunswick, OH in 1972-2010. The family was plunged into grief when Shirley Ann died in Medina, OH at the age of 71 on March 29, 2010. An obituary in the Cleveland Plain Dealer said that she was survived by seven grandchildren and three great-grandchildren.
Granddaughter Debbie Kelly married Bob Savage.
Granddaughter Melissa Kelly wed Jeff Webber.
Grandson Bryan Kelly entered into marriage with Lisa.
Granddaughter Sherry Kelly was united in matrimony with Brendan Carter.
Grandson Brad Kelly ( ? - ? )
Daughter Margaret E. "Margie" Kelly (1938- ? ) was born in about 1938. She was united in matrimony with Harry Whoolery ( ? - ? ), son of Palmer Whoolery of Baltimore, MD. Their residence in the 1950s and early 1960s was in Smithfield and in 1967-1972 in Uniontown at 334 Evans Street. Three known children of the couple were Gregory Allen Whoolery, David Evans Whoolery and Brenda Lee Whoolery. Margie made her residence in Uniontown in 2013.
Grandson Gregory Allen Whoolery (1957- ? ) was born in 1957. He and his younger brother were pictured together at their nearly mutual birthdays in 1961 in the Uniontown Morning Herald and in 1968 in the Uniontown Evening Standard.
Grandson David Evans Whoolery (1958- ? ) was born in 1958.
Granddaughter Brenda Lee Whoolery (1960- ? ) was born in 1960. At her seventh birthday, she was pictured in the Uniontown Evening Standard. She attended the Park School.
Daughter Audrey L. Kelly (1939- ? ) was born in about 1939. On Aug. 15, 1965, Audrey entered into marriage with Richard Burner ( ? - ? ), grandson of Lindsey Burner of Smithfield. Their nuptials were held in Cumberland, MD, by the hand of Rev. Kiesh, with Audrey's mother attending and serving as a witness. The marriage was announced on the pages of the Uniontown Evening Standard, which said that the "bride was attired in blue with matching accessories." At the time of marriage, Richard had recently concluded U.S. Army service in Korea. The pair put down roots in Uniontown.
Son Charles E. Kelly Jr. (1942- ? ) was born in about 1942. He lived at home with his parents in 1959. He joined the U.S. Navy during the Vietnam War and served a four-year term that concluded in the spring of 1966. He returned home to Masontown. Charles dwelled in San Diego in 1972.
Daughter Nancy Louise Kelly (1946- ? ) was born in about 1946. Circa 1964, she wed Robert J. Sage Jr. ( ? - ? ), son of Alice Sage. News of their marriage license appeared in the Uniontown Evening Standard. Their home in 1972 was in Carmichaels, PA. They are believed to have produced a trio of children -- Steven R. Sage, Mark Sage and Bonnie Fuller. The couple eventually divorced. Robert moved to North Huntingdon and wed again to Judy, while Nancy settled in Uniontown, where she has remained and kept company with Jim Moriarty.
Grandson Steven Robert Sage (1970-2005) was born on Oct. 8, 1970 in Greensburg. He made his home in Smithfield and for the last 15 year of his life was a companion of Kristi Grimm ( ? -living). Their three children were Memorri Grimm, Brittney Grimm and Gaige Grimm. Sadly, at the age of 35, Steven passed away on Dec. 6, 2005. Funeral services were held in the Hopwood United Methodist Church, by the hand of Pastor Randy Costello, with burial in Masontown's Fairview Cemetery. An obituary was published in the Greensburg Tribune-Review.
Grandson Mark Sage ( ? -living) wed Brenda. They relocated to North Carolina.
Granddaughter Bonnie Sage married Charles Fuller. They put down roots in Uniontown.
Daughter Patricia Jane Kelly (1949- ? ) was born in about 1949. She married Oscar Halluck. They planted themselves in Jeannette, Westmoreland County.
Copyright © 2002-2003, 2008, 2012, 2022-2023 Mark A. Miner