Lynn Point Project - 2006
Volunteers Continue Efforts to Honor Cousins Buried in a
Remote Mountain Cemetery Near Dunbar, Fayette County, PA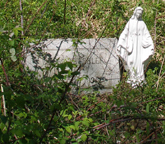 Tressler grave

APRIL 28, 2006 -- For the third time in six years, volunteers with the National Minerd- Minard- Miner- Minor Reunion committee spent a Saturday morning cleaning up the old, neglected Lynn Point Cemetery in the mountains southeast of Dunbar, Fayette County, PA. Remains of at least two Civil War soldiers and one Spanish-American War veteran rest in the cemetery for eternity.

This year's group consisted of Sid Miller, Mike and Loriann Smith, and Mark Miner. Unlike the last time the full group assembled, no rains or muddy roads impeded the group during the long trek up the steep slope to reach the top.

They found the mountaintop area generally stripped of its heavy timber woods since the time of their last visit, with little regard given to the care of the sacred burial ground.

Much debris in the form of trees and heavy branches had fallen inside of the cemetery boundaries. While all of the grave markers fortunately were standing in their normal upright positions, a number were threatened with damage due to the proximity and size of the tree trunks and branches.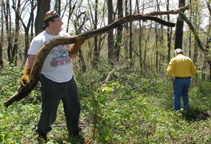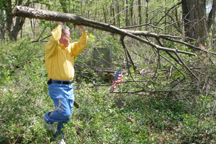 Mike Smith (left) and Sid Miller remove heavy, fallen timber

Spanish Ameerican
War gravesite

In the process of cleanup, the old unmarked grave of an unknown Spanish-American War veteran was re-discovered. The grave consists of a field stone embedded in the soil, with an old flag marker standing nearby indicating the soldier's service.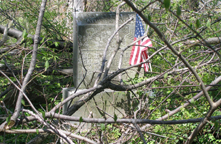 Civil War veteran John Forquer's
toppled grave marker

The grave of Civil War veteran John S. Forquer was almost entirely obscured by fallen trees and branches, and was in danger of being knocked over.

Among the other burials is Sid's great-great grandfather, Civil War veteran James Minerd Jr., along with his second wife Emma and their children Stella, Maud, Mary and John.

Sid, Mike and Mark labored for several hours cutting and removing tree trunks and limbs, as well as chopping out old roots and heavy thorn bushes. By the end of the cleanup, the cemetery was somewhat restored to a clean condition.

The team agreed that more could be done in the future to cut away undergrowth that snarls footing and impedes easy walking inside the burial grounds.

Click here for a summary of our 2001-2002 cleanups and a full list of known burials.

Cleaned cemetery, but more could be done
Copyright © 2006 , 2022 Mark A. Miner