As the daughter of one of the most widely known men in the county, Marybelle was socially active as a young, single woman, with her comings and goings reported in the gossip columns of local newspapers.
She served as treasurer of her Dunbar High School class. When she graduated in May 1904, she delivered her essay "Success" at her commencement ceremony and was considered such a promising candidate for a teaching career that she was given a baby doll as an amusing nudge.
In July 1905, Marybelle is known to have traveled with friends John Maloy and Belle Calhoun to a picnic in Ohiopyle, Fayette County, sponsored by the Mt. Pleasant merchants association. The same day, they watched a baseball game matchup between the Ohiopyle and Mt. Pleasant squads. In its story, the Connellsville Weekly Courier noted that friend Maloy was first baseman for the Mt. Pleasant team and that "They report a very enjoyable time."
On Dec. 27, 1905, at her parents' home, 19-year-old Marybelle married 33-year-old John Scott Riley (Oct. 21, 1872-1948). He was the son of Cyrus P. and Druscilla Catherine (Baer) Riley of Menden, Westmoreland County, PA. J.W. Perkins performed the ceremony. There was a 14-year age difference between the bride and groom.
The Rileys went on to produce six children -- Ewing Halfred "Markle" (or "'Mike") Riley, Catherine "Casey" Driscoll, Virginia Rae "Ginsy" Snyder, Arminta Imogene "Minnie" Keough, Mary Louise "Lou" Lloyd and Joann "Jo" Long.
They lived in "a large roomy frame house" at 23 South Third Street in Youngwood, Westmoreland County, PA, according to an article in the Greensburg (PA) Tribune-Review.
Marybelle and John were members of the Youngwood Evangelical United Brethren Church, where he belonged to the Men's Bible Class.
John was a longtime conductor for the Pennsylvania Railroad and a member of the Brotherhood of Railroad Trainmen. He is mentioned in the book, Way Back When: Youngwood, The Railroad Town.
Marybelle and her brothers and sisters annually organized a reunion at the old Minerd family homestead in Dunbar. It was always held on their father's birthday each July. She enjoyed playing bridge and was a member of the F.H. Bridge Club. Circa October 1931, her name was printed in the Daily Courier when she attended a card party of the club hosted by her sister-in-law, Charlotte (Keffer) Minerd in Connellsville.
Federal census enumeration records for the year 1940 show the Rileys residing on Third Street in Youngwood, with daughters Araminta and Joann still at home. Sue Keslar, age 24, was a lodger in the house and was marked as a stenographer in a thermostat factory. Marybelle's widowed sister Bess Lemon lived next door. That year, with the Depression perhaps causing railroad layoffs, John earned a living as a foreman with the Works Progress Administration, while 13-year-old Joann was employed as a laborer in a local factory.
Marybelle endured a cerebral hemorrhage in late July 1947. She lingered for two days and died on July 28, 1947, at the age of 60. Her remains were placed into eternal repose in Youngwood Cemetery. An obituary was published in the Daily Courier.
John only outlived his wife by less than six months. Suffering from a lesion on his heart valve for two and a half years, he was stricken with a heart attack and succumbed at the age of 75 on Jan. 20, 1948. An obituary in the Daily Courier said that funeral services were held in the Riley home and in the Youngwood United Brethren Church, with burial following in Youngwood Cemetery.
The Riley children and grandchildren held a family reunion in 1980 at Youngwood Area Park and Pool. It was the last reunion where all the Riley children were living, as Virginia sadly passed away later that year. The reunion generated newspaper coverage in the "Love Lines" column by Ruth Love. The column said that "Back in an era before electric washers and driers, multiple clotheslines in the Riley backyard on Mondays attested to the painstaking needlework that produced the homemade blouses for the one son and the colorful percale and gingham dresses and pinafores that kept five daughters 'neat as a pin'."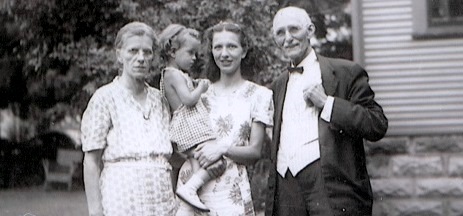 Above, 4 generations, L-R: Marybelle, Catherine Driscoll with baby Mary, and Rev. Minerd. Below: the Riley children as adults, 1980, at the Youngwood Park and Pool. L-R: Jo, Minnie, Gince, Casey, Lou and Markle.

~ Son Ewing Halfred "Markle" Riley ~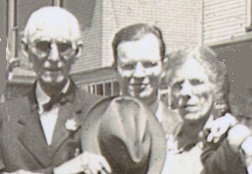 Markle (center) with his mother and grandpa
Son Ewing Halfred "Markle" (or "'Mike") Riley (1907-1982) was born on Jan. 21, 1907 in Youngwood, Westmoreland County, PA.
As a boy, his mind was filled with wonder when receiving postcards from his uncle Ewing David Minerd, serving in the U.S. Army in France during World War I.
He established a longtime home in Uniontown, the seat of Fayette County, where he was employed in the laboratory of local dentist Stanton M. Collins. In 1928, at the age of 21, he served as an officer with the Phalanx Fraternity of the Uniontown YMCA.
On New Year's Eve, 1931, Markle was joined in matrimony with his first wife, 23-year-old Hazel Newman (March 15, 1908-1944), daughter of John and Mary (Mentz Newman of West Newton and Uniontown. The wedding was held at the home of Markle's grandfather, Rev. David Ewing Minerd, who conducted the nuptials. In reporting on the happy affair, the Uniontown Evening Standard said that "Only attendants were Mr. and Mrs. Clarence S. Abel of Uniontown. After the ceremony a delightful wedding dinner was served at Harbaugh's, covers being laid for 50 guests."
At the time of marriage, Hazel was a local township school teacher, having obtained higher education at California State Teachers College. The couple established their home in the Foster Building apartments. They are known to have taken a 10-day driving vacation in July 1935 to Washington, DC, Philadelphia and New York. They moved to several addresses during their 13 years of marriage, including to Morgantown Street and to 61 Pittsburgh Street. His place of work in 1946 was the Abel Dental Laboratory on Beeson Boulevard.
Hazel suffered from some sort of "nervous condition" and in April 1942 was admitted to Uniontown Hospital. The nature of her malady is not known. Sadly, less than two years later, she contracted influenza which led to pneumonia and death. The Grim Reaper cut her away, at the age of 35, on Jan. 8, 1944. A death notice was printed in the Uniontown Morning Herald, noting that her survivors included her husband, mother and sister Minnie Ward. Rev. Dr. J.C. Clark, pastor of the Second Presbyterian Church, preached the funeral sermon. Interment followed in Oak Grove Cemetery.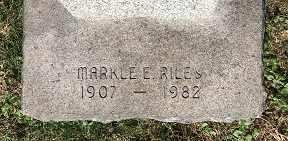 Markle's name inscribed on his parents'
grave marker, Youngwood Cemetery.
Markle spent two-and-a-half years grieving before marrying a second time. On July 6, 1946, he and Nellie Lucille Cunningham ( ? - ? ) eloped to Cumberland, Allegany County, MD. The nuptials were officiated by Rev. W. Hall Sharp of the local Lutheran Church. The news was printed in the Morning Herald, which observed that the "bride was attractive in powder blue, with white accessories and yellow rosebud corsage. Her only ornament was a three-strand necklace of pearls, gift of the bridegroom."
Nothing more about Nellie is known.
Markle eventually retired to Florida where he lived in the Cape Coral area. He made a donation in the early 1970s to support publication of a book celebrating the 75th anniversary of Youngwood's founding, entitled Our Town in Picture and Story: Youngwood, Pennsylvania, 1899-1974.
Just 10 days after his 75th birthday, Markle passed away in Cape Coral on Jan. 31, 1982.
A memorial services was held at Cypress Lake United Methodist Church, with Rev. Paul E. Vandine officiating. Burial was in Lee Memorial Park. His name is inscribed on his parents' grave marker in Youngwood Cemetery, where the ashes of his sisters Virginia and Minnie also rest for eternity.
~ Daughter Mary Louise "Mary Lou" (Riley) Lloyd ~
Daughter Mary Louise "Mary Lou" Riley (1910-1993 ? ) was born on Sept. 6, 1993.
She graduated from Youngwood High School and studied at Boyd's Business College in Pittsburgh. As a young woman, she was employed at the Walworth Company in Greensburg where she met her future husband.
On May 11, 1932, in Greensburg, Westmoreland County, the 21-year-old wedded 23-year-old David James Lloyd Sr. (Oct. 28, 1908-2004), the son of David and Margaret (Vogel) Lloyd of Latrobe, Westmoreland County. In reporting on the wedding, the Connellsville Daily Courier said that "only immediate members of the two families were present at the ceremony. The bride was becomingly attired in an ensemble of cadet blue and carried a bouquet of ochre roses'." Lou's sister Catherine served as bridesmaid, and David's brother Arthur as bridegroom.
They resided for many years in Huntingdon, PA and had eight children -- John Riley Lloyd, Margaret Hennessey, David J. Lloyd Jr., J. Alan Lloyd, Sara C. Lloyd, Rebecca Ann "Becky" Cole, Elizabeth J. "Liz" Sims Hinchee and Eleanor J. Lloyd.
From 1945 to 1947, David served with the Pennsylvania National Guard, Company D, in Indiantown Gap, PA.
Said the Huntingdon Daily News, he "was an assistant manager of Sears Roebuck in Altoona until he acquired Lloyd's Hardware in Huntingdon. He sold the hardware business and went into sales with C.H. Miller Hardware and later with D.W. Miller, which took him on the road statewide." He also was a grand knight of the Knights of columbus and a member of the Lions Club. In about 1952, they purchased a farm at Yellowsprings, PA.
After retirement, when David was age 72, he and Lou retired to North Fort Myers, FL. After Lou's passing, he spent his final years with his son David in Mesa, AZ.
On May 25, 2004, at the age of 95, David passed away in Mesa. In an obituary, the Daily News said he was survived by 20 grandchildren and 30 great-grandchildren. His remains were returned to Huntingdon for interment in Holy Cross Cemetery, with Rev. Leo Arnone officiating at the funeral.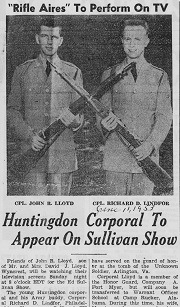 Huntingdon Daily News, 1955
Son John Riley Lloyd (1934-2008) was born in 1934. In 1955, he was a corporal in the U.S. Army, and appeared with his comrades on the Ed Sullivan Show as guest artists under the name of "The Rifle Airs." A story in the Daily News said they presented "their now-famous rifle demonstration and drill, with twirlings, twistings and tossings just about as fast as the eye can follow." John also served on the guard of honor at the Tomb of the Unknown Soldier at Arlington National Cemetery. John married Margie Belin ( ? - ? ) and had three children -- Elizabeth Neff, Perry Anthony Lloyd and Christine Marie Thompson. John wedded a second time to Jean Betchelor ( ? - ? ) and had two more children, Jennifer Mentzer and Jason Lloyd. His third bride was Anne Englund. Later in life, John resided in Arcosanti, an artist community in Arizona. He passed away at the age of 74, in Lancaster, PA, on Feb. 6, 2008.
Granddaughter

Elizabeth Lloyd married (?) Neff

.
Grandson Perry Anthony Lloyd
Granddaughter

Christine Marie Lloyd wedded (?) Thompson
Granddaughter

Jennifer Lloyd was joined in wedlock with (?) Mentzer.
Daughter Margaret Louise "Peggy" Lloyd (1939-living) was born on Jan. 12, 1939. She married Robert O'Donnell ( ? - ? ) and produced four children -- John Shea O'Donnell, Jeffrey Scott O'Donnell, Joel Shawn O'Donnell and Julie Shannon O'Donnell. Her second husband was Charles Hennessey ( ? - ? ) . She has made her home in Norristown, PA.
Grandson

John Shea O'Donnell
Grandson Jeffrey Scott O'Donnell
Grandson Joel Shawn O'Donnell
Granddaughter Julie Shannon O'Donnell
Son David James Lloyd III (1944-living) was born on March 12, 1944. He married Susan Shively ( ? -living). They have made their home in Mesa, AZ. They are the parents of Philip Lloyd and Michael Lloyd.
Son Joseph "Alan" Lloyd (1946-2005) was born on May 15, 1946. He never married and made his home in Naples, FL. Sadly, Alan died in Pompano Beach at the age of 59 on Nov. 26, 2005.
Daughter Sara Catherine Lloyd (1948-living) was born on Feb. 3, 1948. She married John Licata ( ? - ? ) and bore one son, Eric Licata. She and her second husband, Jeffrey Jones ( ? - ? ) , produced three more offspring, Jeffa Jones, Jarod Jones and Christa Jones. Sara has dwelled in Bradenton and Sarasota, FL.
Granddaughter

Jeffa Jones
Granddaughter Christa Jones
Daughter Rebecca Ann "Becky" Lloyd (1949-2020) was born on April 30, 1949 in Altoona, Blair County, PA. Upon graduation from high school in Huntingdon, PA, she relocated to Philadelphia and was employed in banking. Circa 1967, she bore a son, T.J. Hooper, and gave him up for adoption. Later, she was united in wedlock with Robert Eugene Cole ( ? -living). The Coles produced three children, Bryson Cole, Brittany Raphael and Serenity Cole. The family grieved when daughter Serenity passed away in infancy. Rebecca and Robert were global travelers and lived at one time in Canada and South Africa. In more recent years, they resided in Los Gatos, CA. The Coles eventually divorced. Heartbreak again blanketed the family when, after a long illness, she passed away on Aug. 27, 2020 at the age of 71.
Grandson T.J. Hooper married Christine and they live in Eden, NY. Their three children are Sarah Hooper, Julia Hooper and Rachel Hooper.
Daughter Elizabeth J. "Liz" Lloyd (1952-living) was born on March 14, 1952, a twin with her sister Eleanor. On Oct. 3, 1970, when she was 18 years of age, she married her first husband, 19-year-old Michael Alan Sims Sr. (Aug. 13, 1951-living). Three offspring were born to this union -- Stacia Ellenberger Scalia, Angela Sims and Michael Alan Sims II. The couple divorced in 1996. Later, on New Year's Eve 1998, she married again to Dennis C. Hinchee (July 30, 1948-living). The Hinchees live in Tyrone, PA.
Granddaughter

Stacia Ellenberger Scalia
Granddaughter Angela Sims
Grandson Michael Alan Sims II
Daughter Eleanor Jane Lloyd (1952-living) was born on March 14, 1952, a twin with her sister Elizabeth. She is a partner with Celeste Beaupre ( ? -living). They lived in Arlington, VA for many years and now make a home in Lewes, DE.
~ Daughter Catherine Mae "Casey" (Riley) Driscoll ~

Catherine Driscoll
Daughter Catherine Mae "Casey" Riley (1912-2001) was born on May 27, 1912 in Youngwood.
Circa 1932, she was employed as a secretary in the Connellsville dental office of her uncle, Dr. Harold "Daniel" Minerd. She later recalled visits to the office from her uncle's dental school classmate, legendary University of Pittsburgh head football coach Dr. John Bain "Jock" Sutherland, and how the two men would then go to dinner followed by drinks late into the night.
At the age of 23, on Oct. 4, 1935, she eloped to marry Charles Robert Driscoll Sr. ( ? - ? ), son of James J. and Cora (Payne) Driscoll. The ceremony was held in Harrisonburg, VA at a Presbyterian church, with Rev. Parke W. Wilson officiating. Serving as her matron of honor was Mrs. Earl D. Eisenhower of Charleroi, PA. Said the Connellsville Daily Courier, "The bride was attired in a brown crepe dress with harmonizing accessories. Her corsage was of yellow tea roses.... The wedding, one of the most interesting of the early autumn, came as a surprise to the many friends of the bride and bridegroom... [She] is popular socially at Youngwood and is also well known among Connellsville's younger set having at one time been assistatn in the dental offices of her uncle, Mayor H.D. Minerd.... Mr. Driscoll, who is one of the most widely known young men of Connellsville, is classified manager for The Courier." On their honeymoon, the Driscolls accompanied by the Eisenhowers made a driving trip to Norfolk and Staunton, VA.
The couple resided at 111 East Green Street, in Poplar Grove and later at 1001 Sycamore Street in Connellsville, Fayette County, PA.
They had two children, Charles Robert Driscoll Jr. and Mary Carol Naylor. Sadly, son Charles died at birth in Connellsville State Hospital on April 10, 1942 from a prolapsed umbilical cord. The infant's remains were placed into rest in Hill Grove Cemetery.
Catherine often called her husband "Good Time Charley." Every few months in the 1936-1938 timeframe, she and the baby would spend several days visiting with her parents in Youngwood.
Tragedy cut short their married lives. On the fateful day of Aug. 16, 1948, while swimming near Pier 5 of the Youghiogheny Dam, Charles mysteriously drowned. He was only 45 years of age. Interment was in Green Ridge Memorial Park.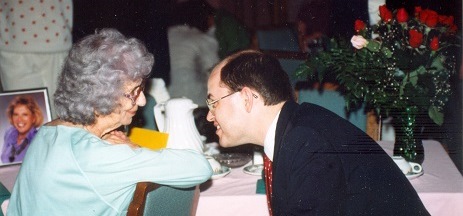 Catherine Driscoll at her surprise 80th birthday party in 1992, conversing with the founder of this website
.
Courtesy J. Alan Lloyd
Now widowed, Catherine was employed for many years with Robertshaw Controls, New Stanton, from where she retired. She was a member of Christ United Methodist Church in Youngwood. Her final years were spent in Latrobe, Westmoreland County.
In 1992, Catherine received a surprise party at the Knights Inn hotel in New Stanton in honor of her 80th birthday. The founder of this website was privileged to attend and meet more of the family. Catherine also attended at least one Minerd-Miner Reunion circa 1994, held at Kingwood, Somerset County, PA.
Catherine passed away at home at the age of 89 on Dec. 3, 2001. A memorial service was held at her family church, led by Rev. Dr. Merritt Edner. An obituary was printed in the Greensburg Tribune-Review.
Daughter Mary Carol Driscoll (1937- ? ) was born on Dec. 11, 1937. News of her birth was printed in detail in the Connellsville Daily Courier, with the baby weighing 3 lbs., 14 oz. Mary Carol married William Naylor ( ? -living). They have three children and have resided for many years in New Stanton.

Virginia Snyder
~ Daughter Virginia Rae "Ginsy" (Riley) Snyder ~
Daughter Virginia Rae "Ginsy" Riley (1915-1980) was born on New Year's Day 1915 in Youngwood.
She wedded Ralph V. Snyder (April 17, 1916-1999), son of Rev. Meade M. and Elizabeth (Wolfe) Snyder.
The Snyders resided in Youngwood, and their two daughters were Jean Pacelli and Judy Snyder.
Virginia was an early nursing school graduate, and a pioneering flight attendant for TWA Airlines. She is pictured below with her fellow trainees, circa 1939, and the rare image of her with national celebrity and airline passenger Jack Benny was our "Photo of the Month" for December 2000.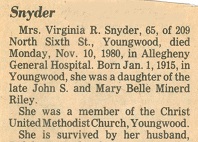 Tribune-Review, 1980
Ralph worked at the Silvis Farm and Bergman Dairy over the years, and belong to the Elks of Lehigh Acres, FL.
The Snyders made their home for decades on North Sixth Street in Youngwood. They were members of the Christ United Methodist Church of Youngwood.
Virginia passed away at age 65 on Nov. 10, 1980, while a patient at Allegheny General Hospital in Pittsburgh. An obituary was published in the Greensburg Tribune-Review. Her remains were placed into rest with her parents. Later, her sister Minnie's remains also would be placed in the same family plot at Youngwood Cemetery.
Ralph survived his wife by 19 years, remarried to Gwen (?) and made their home in Lehigh Acres, FL.
He died in Florida at the age of 82 on Jan. 24, 1999. A memorial service was held in the family church in Youngwood.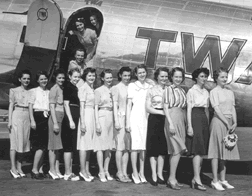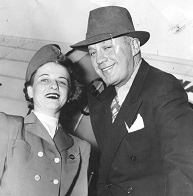 Left: Virginia (right) with TWA flight attendants. Right: with Jack Benny.
Daughter Jean A. Snyder married Michael A. Pacelli Jr. (Jan. 27, 1944-2017), son of Michael A. and Violet (Tucci) Pacelli Sr. Their only son is Michael Pacelli III. They resided in Youngwood, where Michael was employed by Stanley Communications in Greensburg, and which was their base for a deep involvement in community affairs. Jean has been an officer of the Youngwood Junior Woman's Club. Michael was a 16-year member of Youngwood Borough Council and served as president in 1991. He also was a member of the Youngwood Diamond Jubilee Committee and for 50 years volunteered with the Youngwood Fire Department, serving as chief for 14 years from 1971 to 1985. In addition, he was president of the Westmoreland County Borough Association and devoted time and effort to the Council on Government. He is pictured in Our Town in Picture and Story: Youngwood, Pennsylvania 1899-1974. Sadly, Michael died at age 73 in Excela Westmoreland Hospital on May 23, 2017. Father Bill McGuirk officiated at a funeral service at Holy Cross Church, with burial in Youngwood Cemetery.
Daughter Judy Snyder wedded John J. "Jack" Campbell, son of John J. Campbell and Irene (Sargent) Campbell Jr., of the family of James M. Enos. The Campbells make their home in Youngwood and have three daughters, Janice Hawk, Jayne Campbell and Joy Campbell. Jack has served as Pennsylvania Commissioner for the Clan Campbell Society, North America and as Deputy Commissioner of the Clan's Region 2, covering Pennsylvania, New York and New Jersey. In 1992, Jack met the founder of this website and introduced him to a number of his Enos family relatives with Minerd connections.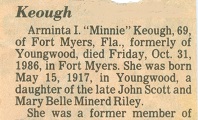 Tribune-Review, 1986
~ Daughter Araminta Imogene "Minnie" (Riley) Keough ~
Daughter Arminta Imogene "Minnie" Riley (1917-1986) was born on May 15, 1917 in Youngwood.
She was joined in matrimony with Regis William Keough (1915- ? ).
The family made its longtime home in Youngwood and there were four children -- William John Keough, Regis Paul Keough, Patricia H. Davis Burklycica and Edward Keough.
The Keoughs were members of Holy Cross Roman Catholic Church in Youngwood. In later years, they moved to Fort Myers, FL.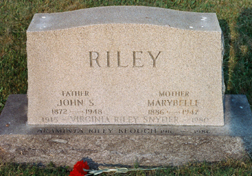 Minnie rests with her parents and sister
Virginia in Youngwood Cemetery
Minnie passed away in Fort Myers at the age of 69 on Oct. 31, 1986. An obituary noted that her survivors included six grandchildren. Her remains were placed into eternal rest with her parents and sister Virginia Snyder in Youngwood.
Son William John "Will" Keough relocated to California. He resided in Santa Cruz, CA in 1986. He has one daughter, Jocelyn Keough.
Son Regis Paul Keough (1951-2018) was born on Aug. 3, 1951. On June 12, 1982, at the age of 31, he married Cynthia Seiler (June 11, 1952-2003). They were the parents of twin sons Timothy Daniel Keough and Christopher S. Keough, and daughter Alison Denise Ofcansky. The Keoughs made their home in Youngwood, and Regis was employed with Robertshaw Controls. They were members of Christ United Methodist Church, also of Youngwood. Regis especially enjoyed music. Sadly, Cynthia succumbed to an illness on March 11, 2003. Regis survived his bride by more than 15 years. He passed into eternity at the age of 67 on Oct. 14, 2018. They rest next to the Riley family plot in Youngwood Cemetery.
Daughter Patricia H. Keough (1954-2018) was born on Sept. 8, 1954 in Greensburg. She was wedded twice. Her first spouse was William Ralph Davis ( ? - ? ). They produced two children, Gregory Patrick Davis and Melissa Ann Davis. Her home in 1986 was in Youngwood. In about 1988, she married a second time to Joseph Burklycica ( ? -living), and their union lasted for three decades until the separation of death. They made a home in Mount Pleasant, Westmoreland County, and Patricia was employed by Robertshaw Controls in Youngwood. Stricken with cancer, Patricia died at the age of 63 on June 18, 2018. An obituary was published in the Greensburg Tribune-Review.
Son Edward Ewing Keough married Ellen Colgan. They lived in Oswego, NY in 1986, and their children are Kathleen Louise Keough and John Colgan Keough.

Joann Long
~ Daughter Joann "Jo" (Riley) Long ~
Daughter Joann Druscilla "Jo" Riley (1926-2017) was born on July 4, 1926 in Youngwood, Westmoreland County, PA.
On Nov. 11, 1949, when she was 23 years of age, Joann was united in wedlock with 23-year-old Hubert Francis "Nubie" Long (June 17, 1926-2019), also a resident of Youngwood, and the son of George Earl and Letitia Anne (O'Neill) Long.
Their marriage lasted for an extraordinary 68 years until the separation of death.
Together, the couple produced a family of eight offspring -- Druscilla A.. Burke, Francis John Long, George Scott Long, Christopher James Long, Richard Andrew Long, Letitia Anne Long, Patrick Anthony Long and Suzanne Marie Long.
During World War II, Hubert served on the USS Welles in the Far East, part of the Detroyer Division 38. After the war, thanks to the GI Bill, he attended what is now Waynesburg University, with graduation in 1950.
The Longs initially dwelled in Youngwood until moving to Arlington, VA followed by a relocation to Mitchellville, MD in 1955. Hubert worked for several years in the Armed Forces Security Agency, the precursor to the National Security Agency.
Said the Lewes (DE) Cape Gazette, Joann was employed by the Armed Forces Security Agency. In 1956, they moved to Glen Burnie, Md., where she was a full time mother and homemaker. She later worked at Anne Arundel Community College."
Upon their retirement in 1982, the Longs moved to warmer climate in Vero Beach, FL, where they spent their winters, while maintaining a summer home in Rehoboth Beach. Then in the mid-1990s, they returned for good to Rehoboth.
Joann met the founder of this website at her sister's Catherine Driscoll's 80th birthday party in May 1992.
Joann passed away at Country Meadows Assisted Living in York, PA on Dec. 1, 2017. An obituary in the Cape Gazette noted that she was survived by 11 grandchildren and a dozen great-grandchildren.
Hubert survived his wife by almost two years. He died on Sept. 26, 2019. A grandson, Brandon Scott Long, authored a memoir about the deathbed experience, entitled "Notes From the Last 10 Minutes with a World War II Veteran: My Last Moments with Grandpa."
The couple's remains were placed into eternal repose, along with their son Patrick's, in Youngwood Cemetery on Oct. 19, 2019, following a funeral mass at Holy Cross Catholic Church. The founder of this website was honored to be in attendance. Earlier memorial services had been held in Rehoboth.
Interment for the trio of Longs' remains, Youngwood Cemetery, 2019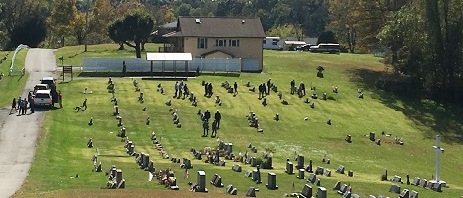 Daughter Druscilla Ann Long married John Thomas Burke II on July 12, 1975. Their two children are Joseph Thomas Burke III and Jessica Anne Burke. Their home is in Crownsville, MD.
Son Francis "John" Long married his first wife, Virginia Alexis Velis. Their only son was Thomas Jackson Long. John was wedded a second time to Leslie J. Spears, and the couple produced two additional children, Jacqueline L. Long and John Benjamin Long. He dwells in Florida.
Son George "Scott" Long was wedded to Mary Alice Cronin on Feb. 3, 1974. Their three children are Koren Elizabeth Anderson, Brandon Scott Long and Weslee Ann Long. They make their home in York, York County, PA.
Granddaugter Koren Elizabeth Long was joined in matrimony with Rodney Anderson. They have three children.
Grandson Brandon Scott Long was united in wedlock with Shannon. They bore three daughters and a son.
Granddaughter Weslee Ann Long married Kevin. They produced two sons.
Son Christopher James Long was joined in matrimony with Mary Ellen Dailey on Dec. 17, 1977. They have three daughters, Katherine Marie Long, Kristen Long and Margaret Long. Their home for many years was in Dayton, MD. Today he resides in The Villages, FL.
Granddaugter Margaret Long has completed undergraduate and graduate work at Salisbury University and a follow-on master of science at the University of Glasgow in Scotland. She was pictured in the 2017 of Salisbury's magazine

Re:Search

for her work as a history graduate student in digitizing back issues of the university's student newspaper, the

Holly Leaf

. [

link

]
Son Richard Andrew Long ( ? -2020) was born in (?) Annapolis, MD and and grew up in Glen Burnie, MD. He spent his teenage summers working at Funland in Rehoboth Beach, DE. He received a bachelor's degree from the University of Maryland and then joined the Department of Defense's National Security Agency. He held a variety of positions within the agency which included overseas intelligence assignments in Germany and England, and he was a recipient of the Defense Meritorious Service Award. After 37 years, he retired from NSA but continued working as a contractor and consultant for Boeing Corporation and Serco Inc. In the community, Richard was active with the Dewey Beach Lions Club, Kings Creek Country Club and held a seat on the board of directors of the Pine Bay Community Association. Said the Cape Gazette of Lewes, DE:
Rick acquired "Koozie Time," a pontoon boat, and enjoyed taking friends and family to the sandbar on Rehoboth Bay. He was a true wine connoisseur and enjoyed the finest of Irish whisky, port and cigars. His real interest though was food and music. Rick was an audiophile and loved cooking for his friends while listening to music. He also enjoyed playing Santa Claus for his many nieces and nephews and children of friends as far away as Germany.
Rick's retirement was spent in Rehoboth/Dewey Beach and Eastport, MD. He passed away on Nov. 15, 2020. An obituary in the Gazette said that his nieces and nephews and their families had "bestowed on him the title of 'favorite uncle'," and added that one of his favorite sayings was ""Listening to reggae on Rehoboth Bay, watching the sparkles as the sun sets on another beautiful day."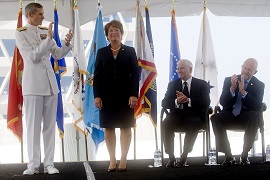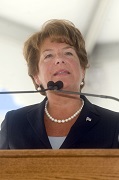 Letitia Long receiving congratulations upon becoming the first woman to head a U.S. intelligence agency, and her remarks at the 2010 ceremony.
Daughter Letitia A. Long followed her parents' footsteps in the U.S. intelligence field. She served as Deputy Under Secretary of Defense for Intelligence in 2003-2006 and Deputy Director of Naval Intelligence in 2000-2003, then becoming Deputy Director of the Defense Intelligence Agency (DIA) from 2006 until 2010. She became the first woman to head a United States intelligence agency in 2010 when she was tapped to become director of the National Geospatial-Intelligence Agency. NGA creates geospatial intelligence (GEOINT) using remotely sensed data, physical geography, land cover and cultural data collected by a myriad of sources to help its mission partners visualize and understand the world. NGA provides data and analytical services to support safety of navigation on land, air and sea. A photograph of Letitia receiving congratulations from outgoing director of the National Geospatial-Intelligence Agency Vice Admiral Robert B. Murrett, Secretary of Defense Robert M. Gates and Under Secretary of Defense for Intelligence James R. Clapper, Jr. was our Photo of the Month in June 2012.
Son Patrick Anthony "Shorty" Long (1960-2000) was born on Aug. 2, 1960. After graduation from Old Mill High School, he began workign for the National Security Agency. He loved music, sports, current news events and concerts. He made a home in Glen Burnie and later in Pasadena, MD. Sadly, he died in his sleep at the age of 40 on Aug. 16, 2000. His remains were cremated, and held by the family for many years, until burial with his parents in Youngwood Cemetery in October 2019.
Daughter Suzanne Marie "Suzy" Long dwells in Baltimore, MD.
Copyright © 2000-2005, 2007, 2010, 2017, 2019, 2021 Mark A. Miner