Edward Eugene Minerd
(1899-1935) and the
Minerd Funeral Home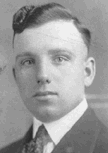 Edward E. Minerd
Edward Eugene Minerd was born on Jan. 11, 1899 in Dunbar, Fayette County, PA, the son of Rev. David Ewing and Catherine (Williams) Minerd. During his short life, he founded the well-known Minerd Funeral Home in Uniontown, PA, perhaps the best-known landmark of the family's presence in Western Pennsylvania.
As a young man, Ed was of medium height and build, with grey eyes and dark hair. He initially was a partner in the Blaney, Minerd and Dahlgren firm, handling timber. He then decided to go to mortuary school.
Edward registered for the World War I military draft in 1918, and stated his occupation as an embalmer for W.S. Nixon. His brothers Harold Daniel, William and Ewing also joined the U.S. Army during the war. He "was called but released because of the end of hostilities," said the Connellsville Courier. "The armistice cancelled the call the day before he was to leave for camp... He was as willing to serve as they."
Lida and Edward
On Feb. 8, 1919, at the age of 20, Ed married 17-year-old Lida B. Smith (1901-1991), of Uniontown. The wedding took place on a Saturday evening at 8 o'clock in the home of Lida's sister, Mrs. Jesse Stentz, in Uniontown. Rev. E.A. Hodil of the Third Presbyterian Church of Uniontown presided.
The Minerds did not reproduce.
In 1921, Ed founded the funeral home at the corner of East Church and Iowa Street in Uniontown, where he operated it for the next 14 years.
In the first year of business, Ed handled 17 funerals. Within the next four years, the number of funerals grew to 93, and business continued successfully thereafter. The Uniontown Daily News Standard once called him "one of Uniontown's best known young businessmen...."
Ed belonged to the Great Bethel Baptist Church and the Memorial Class of its Sunday school; and was a member of the board of deacons of the church and a member of the board of trustees.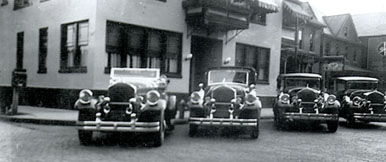 Edward's brand-new fleet of vehicles in front of the East Church Street facility in Uniontown.
Lida was a charter member of the Soroptomist International of Fayette County, Business and Professional Women's Club of Uniontown, Music Club and the Civic League.
Edward's father, as director of the Fayette County Poor Home in the early 1920s, provided him and the funeral home with a stream of business -- funerals of indigent or otherwise unknown individuals who died at the facility, providing additional volume to the fledgling enterprise.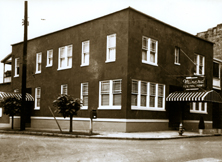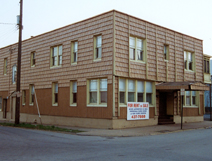 Original building of the Minerd Funeral Home at the corner of East Church and Iowa Streets in Uniontown, and in more recent years.
Funeral home sign
In 1935, Ed began to suffer from hypertension and the onset of heart failure. He was treated in various hospitals. He returned home and "seemed somewhat improved but soon started sinking again and didn't show much sign of improvement until he was called in death," reported one newspaper.
He then was stricken with cerebral apoplexy and passed away at the age of 36 on July 21, 1935. His remains were laid to rest in Hill Grove Cemetery in Connellsville following a funeral at the Great Bethel Baptist Church in Uniontown. Newspaper eulogies mourned him as a "widely known young business man of Uniontown and a funeral director for 14 years."
Some years later, perhaps feeling that Hill Grove Cemetery was a bit below her dignity or not the proper image she wished to uphold, Lida had her husband's body relocated to the more prestigious Oak Lawn Cemetery in Uniontown.

Hostess Guide and Directory ad, published by the Ladies Aid Society of the Central Christian Church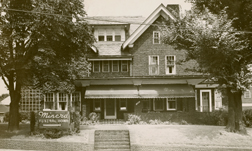 The second funeral home building
After Ed's death, Lida continued to "solely" operate the business "as director and staff," reported the Morning Herald. When the home celebrated its 20th anniversary in July 1940, an article in the Herald described it as "a beautiful edifice, modern in every respect... The funeral home has large beautiful parlors, showrooms and a chapel. The establishment is equipped with sound for organ music." The story quoted her as saying she felt there is a "woman's place in the funeral profession" and that she confided there is "satisfaction in a job well done, that of bringing sunshine to grief-stricken families."
Lida moved to a new facility on West Main Street in 1949 "to give the people of Uniontown and vicinity a modern and spacious funeral home including air conditioning, off-the-street parking and up-to-date equipment." She eventually hired professional managers to relieve her heavy workload.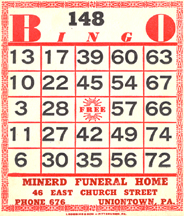 Bingo card advertising
The business continued for nearly 30 years, handling arrangements for hundreds of funerals, including many Minerd-Miner-Minor cousins. For a larger version of this image, click here to see our "Photo of the Month" for March 2002.
In 1978, Lida sold the home to her longtime supervisor, James D. Barnett, who owned and operated it for many years under his name at 196 West Main Street, Uniontown.
Lida passed away at one day after her 90th birthday, on Feb. 28, 1991, in Uniontown. After a separation of more than 55 years, she rests beside her husband for eternity in Oak Lawn.
Lida's successor, Mr. Barnett, has been a wonderful friend to the founder of this website. He eventually sold the business and retired. Sadly, he passed away at home in Venetia, PA at the age of 85 on Jan. 25, 2012, with his photo and an obituary appearing in the Pittsburgh Post-Gazette.
Copyright © 2000, 2002, 2006, 2008, 2010, 2020 Mark A. Miner