Della (Hopwood) Guyton
(1879-1953)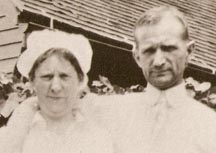 Della and Edward Guyton
Della (Hopwood) Guyton was born in February 1879 in Hopwood, near Uniontown, Fayette County, PA, the daughter of Joseph M. and Sarah "Annie" (White) Hopwood.
When she would have been about 17, in about 1896, Della married 21-year-old Edward S. Guyton (1874-1955), a native of Baltimore, MD.
They bore two children, Mildred P. Stapleton and Robert C. Guyton.
Edward was a longtime butcher and operated his own shop. Circa 1910-1923, the Guytons lived on Connellsville Street in Uniontown, where they were members of the Asbury Methodist Church. Later, they moved back to the town of Hopwood, into the old home of Della's parents. By 1930, Edward focused his work on farming.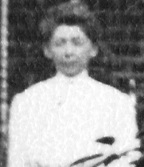 Della, circa 1905
In August 1923, their married daughter Mildred and granddaughter Alma Jean Stapleton came from Brownsville, Fayette County for a visit, and remained until after Labor Day.
In July 1945, at the death of Della's first cousin Bertha (Ingles) Stone, Edward served as a pallbearer.
Della and Edward survived a freak accident in August 1947. While they were seated on the back porch of their century-old stone home along Route 40 in Hopwood, said the Morning Herald, "a runaway truck crashed into two other vehicles, struck a pole and a tree, and smashed the front of [their] large residence before coming to a stop in the yard of another home..." The brakes of the truck, operated by a McKenna Metals (Kennametal) employee of Latrobe, had failed while driving a load of stone down the steep mountain highway, and appeared to a bystander as "going 100 miles an hour." Della and Edward "fled across the lawn when the force of the impact from the truck caused them to believe their home had been struck by lightning. Mrs. Guyton, falling as she ran, suffered injuries to an ankle."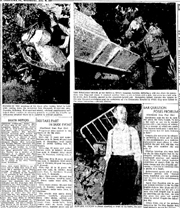 Uniontown Morning Herald
She was treated for a shoulder injury at the local hospital and released. Grandson Joseph Guyton, age 14, safely ran out from the kitchen where he had been playing with a friend, Teddy Frantz. Quoted in the Morning Herald, Edward said "it was only an act of God" that saved them from sure death. In describing the situation, the newspaper said "For years it has been the family custom to retire to the living room after the evening meal, but yesterday, for some unknown reason, Mr. Guyton suggested that they sit on the back porch. Several huge pieces of cut stone that made up the load of the truck were hurled into the downstairs rooms of the house when the vehicle struck. Almost the entire east side of the house, two bedrooms, living room parlor and a hall were demolished." Edward's photograph appeared in the Aug. 27, 1947 edition of the newspaper in extensive photographic coverage of the accident.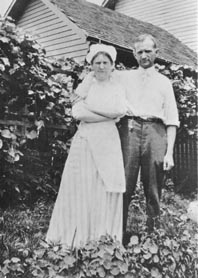 Della and Edward
Having suffered from heart disease, Della passed away at the age of 74 on Dec. 9, 1953. In an obituary, the Uniontown Morning Herald said "She was the last surviving member of the Hopwood family which settled in Hopwood more than a century ago."
Her funeral arrangements were handled by the Minerd Funeral Home, followed by interment in the Hopwood Cemetery, officiated by Dr. William Hogg. At her death, said the Morning Herald, she was survived by four grandchildren and four great-grandchildren.
Edward endured hardening of the arteries but outlived his wife by two years. He died at home on Nov. 2, 1955, at the age of 81. He was laid to rest in the Hopwood Cemetery.
~ Daughter Mildred (Guyton) Stapleton ~
Daughter Mildred Guyton (1897- ? ) was born in 1897.
In about 1917, when she was 20 years of age, Mildred married 24-year-old Howard B. Stapleton (1893- ? ), a native of Coalburg, OH. He was of medium height and build, with grey eyes and sandy hair.
At the time of their wedding, he worked as chief clerk for the Pittsburgh and Lake Erie Railroad Company in Brownsville.
They had one known daughter, Alma J. Stapleton.
They resided in Brownsville, Fayette County, where Howard was employed in the 1930s as a general agent by the Baltimore and Ohio Railroad's Monongahela Division. By 1955, they had relocated to Houghton, MI.
Daughter Alma J. Stapleton (1919- ? ) was born in about 1919.
~ Son Robert E. Guyton ~
Son Robert E. Guyton (1904-1942) was born on March 6, 1904 in Uniontown.
He married Gladys Moore (1907- ? ). They had three children -- Robert "Joseph" Guyton, Bessie Jean Ryan Williams Riesenberg and Wade "Edward" Guyton.
Circa 1925, he worked for the Baltimore and Ohio Railroad. In 1940, Robert earned a living as a blacksmith employed by the Works Progress Administration (WPA) in the Hopwood/Uniontown region. Gladys enjoyed hosting luncheons of the Leola Sewing Club of Hopwood.
Sadly, Robert was stricken by a heart blockage and endured the ailment for 16 months. He died at home in Hopwood at the age of 38 on Dec. 5, 1942, leaving his wife and three young children. Following a funeral in his parents' home along the National Road, led by Dr. Frances E. Kearns of the Asbury Methodist Church, he was laid to rest in Hopwood Cemetery. His bereaved father signed the death certificate.
Eventually the children went to live with their grandparents.
Son Robert "Joseph" Guyton (1934- ? ) was born in about 1934. He served in the U.S. Navy in Europe during the Korean War with training at the Norfolk Naval Air Station. Shipped overseas, he was pictured in a September 1952 issue of the Morning Herald, displaying a string of trout he caught in a small stream near Heidelberg, Germany. Joseph married Mary (?) and they produced two children, Robert Joseph Guyton Jr. and Theresa Guyton. He married a second time.
Daughter Bessie Jean Guyton (1938- ? ) was born in about 1938. She was thrice married. Her first spouse was George Barry Ryan ( ? - ? ). Their two children were Karen Hanson and Kenneth Allen Ryan. After a divorce, Bessie married a second time to Ralph Williams ( ? - ? ). They were the parents of Kelly Williams. The Williamses divorced, and Bessie was wed a third time to Richard Riesenberg ( ? - ? ). They produced a son of their own, Gregory Riesenberg.
Grandson Kenneth Allen Ryan (1959-2007) was born on Aug. 7, 1959. Kenneth made his home in Kingsport, Sullivan County, TN. Sadly, he passed away on Aug. 10, 2007, just three days after his 48th birthday.
Son Wade "Edward" Guyton (1928-2011) was born on March 25, 1928. He served as a seaman first class in the U.S. Navy circa 1946. In 1954, at the age of 26, he was joined in matrimony with Maxine Krepps (1920-2006), daughter of Joseph Krepps. The bride was eight years older than the groom. The couple resided in Hopwood and produced one son, Edward Joseph Guyton. Circa 1957, he resigned his employment as head of the Appliance Department of Montgomery Ward and Co. in Uniontown to take a new position with General Electric in Pittsburgh. They relocated to Pleasant Hills, Allegheny County, PA. Sadly, Maxine died at home at the age of 86 on Nov. 28, 2006, with a death notice published in the Pittsburgh Post-Gazette. Wade survived her by five years. He passed into eternity at the age of 82 on Feb. 10, 2011.
Grandson Edward Joseph Guyton (1957- ? ) was born in 1957 and was pictured in the

Uniontown Evening Standard

when celebrating his first birthday in 1958. He married Karen.
Copyright © 2011, 2016-2017 Mark A. Miner
Uniontown Morning Herald page courtesy of Ancestry.com