Home

About This Site - Contact Me

Minerd.com founder
Mark Miner
The award-winning Minerd.com site -- now in its 20th year -- twice has been named a Family Tree Magazine "Top 10 Family Website." Having drawn more than 3 million visitors since 2000, it captures the sweep of Americana through the eyes of Pennsylvania German families, telling the lost, untold stories of tens of thousands of branches.
The site is a forum for sharing knowledge and promoting the national reunion of our large pioneer clan, the Minerd- Minard- Miner- Minor family, with origins in the Pittsburgh region of southwestern Pennsylvania. The site may change the way you think, learn about and understand families. While our clan is no bigger, better or more interesting than anyone else's, it is symbolic of many early families who put down roots and let time work its magic.
Minerd.com has received a number of awards and extensive press coverage for its relevance. Hopefully it's doing something right.
Instead of just tracing backward, we're also exploring forward in time to tell the saga of one clan over a span of 275 years. It starts with German-Americans Friedrich and Eva Maria (Weber) Meinert Sr., of Berks County, PA and their sons, Revolutionary War veterans Jacob Minerd Sr. and his wife Maria Nein, pioneers of Fayette/ Somerset Counties, PA, and Friedrich Meinert Jr. and his wife Catherine Nein, and thence to tens of thousands of their siblings and descendants, down to the present day. We're very interested in making contact with all descendants, everywhere, and learning how they've touched our nation.
Please click here to drop a note to me. If you don't hear back right away, don't fret. It's not due to lack of interest. I am self-employed and always seem to be over-extended and behind, and am constantly juggling time and energy. And I receive many similar emails from cousins all over our nation, asking questions or sharing their precious piece of the puzzle. But every message is important and I will get back to you.
If you "friend" me on Facebook, please also send me an email with a short note, just so I can know who you are so I can accept without delay. Thanks for your interest!
~ About Minerd.com ~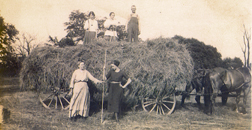 One of my favorites -- old Minerds in Fayette
County, PA -- epicenter of the family's
growth and development since 1791
Minerd.com was launched in May 2000 to share 15 years' worth of accumulated, voluminous genealogy research findings and to take advantage of the wondrous internet and search engine technology to attract interested cousins at large. I am a graduate of West Virginia University's school of journalism and have spent my entire career in writing, editing, marketing and corporate communications.
Today, cousins primarily spell the name Minerd, Minard, Miner and Minor. On average, though, fewer than one percent of all cousins carry the name, with the remaining 99 percent having some other name, due to the long term effect of women changing their names in marriage. As a result, most cousins don't even know they belong to this sprawling clan. When we stopped counting in 2000, more than 15,000 cousins and spouses had already been identified. In the ensuing decade, the the actual number has skyrocketed and may be substantially higher, perhaps 40,000 to 50,000 all told among the diaspora.
A side effect of this large headcount is that a staggering number of cousins have passed away since we began collecting data in earnest in July 2000. Helping cousins and communities connect with their roots, honoring past lives with more than 1,332 biographies and more than 10,000 images, and exploring the clan's connectedness with American society and culture, are at the center of our interest.
My over-arching goal with this website is for it to serve as a repository for a standard set of known, proven facts and images upon which others can contribute and expand. As a lifelong Pittsburgher, with eight generations of ancestry here behind me, another goal is to educate tens of thousands of cousins all around the globe that their ancient family roots are right here in the Pittsburgh region.
~ Most Influential Books Shaping Minerd.com ~
My Minerd.com research and publishing has been shaped by voluminous reading over more than three decades of time. Here is a list of the top books that have helped influence the site's vision, strategy and purpose.
| | | |
| --- | --- | --- |
| Title | Author | Date Completed |
| Martin's Hundred | Ivor Noel-Hume | Aug. 7, 1984 |
| The Last Lion: Winston S. Churchill | William Manchester | Jan. 25, 1987 |
| The Johnstown Flood | David McCullough | May 15, 1988 |
| The Awakening Land | Conrad Richter | Sept. 10, 1989 |
| Log from the Sea of Cortez | John Steinbeck | Nov. 10, 1991 |
| Abraham Lincoln: The Prairie Years | Carl Sandburg | Jan. 16, 1993 |
| Making the Mummies Dance | Thomas Hoving | Nov. 14, 1993 |
| Puritan Boston, Quaker Philadelphia | Digby Baltzell | Nov. 30, 1997 |
| A Gentle Madness | Nicholas A. Basbanes | Nov. 19, 1998 |
| Slaves in the Family | Edward Ball | June 12, 2000 |
| The Fountainhead | Ayn Rand | Oct. 7, 2004 |
| The Man from New York | B.L. Reid | Feb. 20, 2005 |
| Rosenbach | Edwin Wolf 2nd with John F. Fleming | June 3, 2005 |
| The Amenities of Book Collecting | A. Edward Newton | June 18, 2006 |
| The Hemingses of Monticello | Annette Gordon Reed | Feb. 20, 2011 |
| The Soul's Code | James Hillman | May 28, 2011 |
| Bernard Berenson: The Making of a Connoisseur | Ernest Samuels | May 2014 |
~ Minerd.com Legal Rights ~
Except as noted, all contents of these pages are copyright © Mark A. Miner. You are permitted to download pages and images to your personal hard drive and to print excerpts for your own personal use. You also are allowed to re-copy excerpts that have been downloaded by others, provided you absolutely do not do so for financial profit. If you post the images elsewhere, you must credit the Minerd.com Archives.
It is important for you to know that it is prohibited for you to reproduce part or all of this website for republication without my knowledge and consent in writing. None of this website's text or imagery may be copied into or incorporated into any other website, print publication, electronic retrieval system, personal device manager or work in any other format.
Should there be any uncertainty or confusion, this site may not be framed in whole or in part without my specific approval, to you, in writing. Should you have any questions, please contact me. Thank you for your interest in Minerd.com.
Mark A. Miner

Founder, Minerd.com and President, Minerd-Minard-Miner-Minor Reunion
CEO, Mark Miner Communications, LLC
CEO, Minerd.com Publishing, LLC
Copyright © 2000-2020 Mark A. Miner
Researching the names Minerd, Minard, Miner, Minor, Meinert, Meyndert, Meinder, Meinter, Minder, Minord, Mineard - also these other Pennsylvania German families: Harbaugh, Younkin, Younken, Youngkin, Youngkins, Yonkin, Ullom, Ullum, Woolam, Hinerman, Grimm, Grim, Hupp, Earlywine. Acknowledgements