Mahala (Minerd) McKnight
(1828-1904)


Mahala and William McKnight
Mahala (Minerd) McKnight was born on Jan. 5 (or Feb. 10), 1828 in rural Wharton Township, Fayette County, PA the daughter of Henry and Hester (Sisler) Minerd.
In 1845, when she was 17 years of age, Mahala was united in matrimony with 23-year-old William McKnight (1822-1903).
The children they produced together were Arthur Austin McKnight, Henry McKnight, Elizabeth Williams, Alford Swan McKnight, James Hart McKnight, Josiah McKnight and John W. McKnight.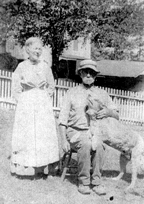 The McKnights on their farm
William was born "east of Uniontown on the mountain near the National Road," said a history book. He attended school as a child, and worked as a coal miner near New Salem, Fayette County, for 49 years, beginning at age 17. He is the earliest known coal miner in our clan.
The McKnight and Minerd clans were close. On Oct. 23, 1854, William's brother, Henry "Foxy" McKnight, married Mahala's sister, Barbara Minerd. The ceremony took place at the home of Barbara and Mahala's parents in Wharton Township, and also was witnessed by Mahala's brother, Daniel Minerd.
When sister Barbara tragically died in childbirth in 1866, Mahala and William took in the infant nephew, John Henry McKnight, and raised him to adulthood.
The McKnights are seen here with a favorite dog, date unknown.
At age 56, in about 1878, William and Mahala bought a farm along Jennings Run and the New Salem Road, one and a half miles from the Fayette County Home near Uniontown.

Mill Street in snowy New Salem in the early 1900s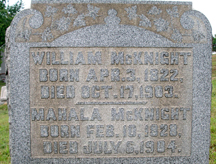 Sandy Hill Cemetery
William was a member of the Odd Fellows Lodge for nearly a half-century. He and Mahala were members of the Little Redstone Methodist Episcopal Church in Jefferson Township.
At age 81, and after 49 years of marriage, William died on Oct. 17, 1903.
He was laid to rest at Sandy Hill Quaker Cemetery, along the New Salem Road. His pall bearers were members of the Fort Necessity Lodge, and included Ross Summers, Samuel Daniels, A.J. Hunt, Jesse Williams, J.B. Sproull and Huston Leckey.
Mahala outlived William by only a little more than nine months. She passed away at age 76 on July 6, 1904, and was buried beside her husband.
They rest for eternity under a large grave marker at Sandy Hill, near their son Alford and stepson John Henry.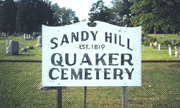 Their final resting place
In 1920, Mahala and William were mentioned in Volume III of S.B. Nelson's Biographical Dictionary and Historical Reference Book, in a chapter about their son James. Oddly, Mahala's maiden name is misspelled "Minniard" in the book.
Great-great granddaughter Beth Radcliffe is actively researching this branch, and helped organize McKnight Reunions in 1999-2002 and 2004. The last reunion was held in June 2004 at Coopers Rock near Morgantown, WV.
Copyright © 2000, 2002-2004, 2008, 2014, 2019 Mark A. Miner