Tragically, his mother died when he was nine days old, and he was taken into the home of and adopted by his aunt and uncle, William and Mahala (Minerd) McKnight.
Thus he is a major link between the two major McKnight branches of the Minerd-Miner-Minor family.
In about 1888, at the age of about 22, John entered in the bonds of marriage with Frances Wood (Oct. 1, 1870-1931), a native of Menallen Township, Fayette County, and the daughter of Abner and Martha (Johnson) Wood. Frances' grandfather, Daniel Johnson, had come to Fayette County from Ohio. Frances' parents were members of the Cumberland Presbyterian Church of Uniontown, Fayette County.
Little is known of the couple'ss married lives. In 1899, when Frances' mother died in Uniontown, the obituary said they were living in nearby Redstone Township.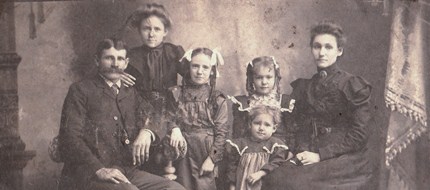 John and Frances with their girls circa 1902 -- Pearl (age 12), Clara (9), Katherine (7) and Belle (3).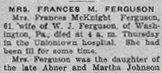 Uniontown newspaper
In 1900 and 1910, census records show that John worked as a janitor in a bank, and the family ived on Dunlap Street in Uniontown.
Sadly, John suffered from asthma, and became deathly ill in the summer of 1910. His body succumbed to the illness on July 12, 1910, at the young age of 44. He is buried in Sandy Hill Cemetery, near New Salem, Fayette County. His daughter Frances was the informant for his official Pennsylvania death certificate, listing his parents' names as "H. McKnight" and "B. Minerd."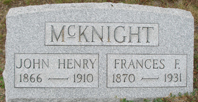 Sandy Hill Cemetery
Shortly after John's death, daughter Pearl wrote a letter to an aunt, Martha (Nutt) McKnight, dated July 22, 1910. The letter demonstrates the various interconnections between the two major McKnight family branches:
We are all real [well] except Mama. She hasn't been very well lately. If she is better next week she and I are going to Uncle Charlie's for a few days. Aunt Jane said you wanted some carpet rags. We have about 30 or 35 lbs. and if you want them come up right away or let us know for we expect to move soon. I suppose they sell for about .10 [cents] but can determine the price when you come up... We are getting along real well but of course miss Papa very much.
As a widow, Frances remained in the Uniontown area, in a home on Nutt Avenue. The 1920 federal census shows her heading a household there with single daughters Katherine and Belle, and married daughter and son in law Pearl and John D. Kerfoot, residing under her roof. Age 49, and with no occupation, she relied on income from her offspring who held jobs -- Katherine (private nurse), Belle (stenographer for a contracting company) and Pearl (public school teacher).
After more than a decade as a widow, Frances married W. James "W.J." Ferguson (1869- ? ), who was a native of Iowa. Nothing about him before that time is known. They were wed sometime in the 1920s.
The newlywed couple relocated to Strabane Township nearby Washington, Washington County, PA. They were dairy farmers along McBride School Road.
Uniontown Hospital
Frances suffered from hypertension and severe chronic kidney disease for the last two-plus years of her life. After then contracting hypostatic pneumonia, she passed away two days later on Oct. 15, 1931 in the Uniontown Hospital at the age of 61. An autopsy was performed to determine the cause of death. She had "been ill for some time," said her newspaper obituary. Frances was buried beside her first husband at Sandy Hill.
J.W.'s fate is not yet known.
~ Daughter Clara Frances (McKnight) Lowdermilk ~
Daughter Clara Frances McKnight (1894-1967) was born in about 1894.
In about 1917, when she was age 24 and he 31, she married Oceola "Burns" Lowdermilk (Oct. 14, 1887-1964), a native of Maryland.

They resided in Clarksburg, Harrison County, WV in the early 1930s, where Burns was employed as chief electrician for the Hope Natural Gas Company.
The Lowdermilks had three children -- twins Barbara Ella Thomas and Kathryn Frances McDonnell, and John Milton Lowdermilk.
They resided at 112 Hartland Avenue in Clarksburg, and were members of the Stealey Heights Methodist Church. Burns was employed as chief electrician by the Hope Natural Gas Company. He retired in 1951.

Burns passed away in Oakland (MD) General Hospital on Oct. 10, 1964, just four days shy of his 78th birthday.

Clara lived on for another two-plus years. Suffering from "an extended illness," reported the Clarksburg Exponent, she went to live in the Heritage Convalescent Home.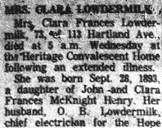 Clarksburg Exponent, 1967
She died in Bridgeport, near Clarksburg, on Jan. 18, 1967, at the age of 73. She was laid to eternal rest in Bridgeport Cemetery. At the time of her death, Clara was survived by nine grandchildren and two great-grandchildren.
Daughter Barbara Ella Lowdermilk (1919-1991) was born on April 25, 1919, a twin with her sister Kathryn Frances. On Sept. 28, 1942, at the age of 23, she married 23-year-old Harold Lightner Thomas (Jan. 6, 1919-2001), a native of Kanawha County, WV and the son of Fred and Clara (Bennett) Thomas. The wedding ceremony was held in Harrison County. They dwelled in Baltimore, MD in 1964. At some point they migrated to Texas. Barbara was gathered away by the angel of death at the age of 71 on Jan. 11, 1991. Interment of the remains was in Village Mills Cemetery in Hardin County, TX. The widowed Harold survived for another decade. Death swept him away in Hardin County on May 27, 2001. Inscribed on their grave marker is the phrase "Precious Memories."
Daughter Kathryn Frances "Katy" Lowdermilk (1919- ? ) was born on April 25, 1919, a twin with her sister Barbara. At the age of 22, on July 8, 1941, in Harrison County, she wed 24-year-old Joseph Andrew "Joe" McDonnell Sr. (1917-1996), the son of John and Katie (Walsh) McDonnell.The McDonnells settled in Texas in the 1940s and established a home in Groves, TX. Their brood of four children included Patricia "Pat" McDonnell, James Michael McDonnell, Kathy Haislip and Andrew McDonnell. Kathryn died on Feb. 10, 1988, at the age of 68. Her remains were laid to rest in Village Mills Cemetery in Hardin County, TX. Joseph passed away in 1996.
Granddaughter Patricia "Pat" McDonnell (1955-2013) was born on Jan. 30, 1955 at Port Arthur, TX. She wed Donnie Rambin ( ? - ? ). A pair of children born in this family were Lindsey Bradberry and Kassie Segrest. The Rambins dwelled in Orange, TX. Kathy liked to camp, fish and follow the Dallas Cowboys football team. Sadly, Patricia died in Houston at the age of 57 on Jan. 9, 2013. Her graveside service was conducted by Pastor David Millner of Calvary Baptist Church.

Great-granddaughter Lindsey Rambin married Chris Bradberry. They are believed to be the parents of Alyssa Smith, Drayden Bradberry and Orland Bradberry.

Great-granddaughter Kassie Rambin wed Virgil Segrest. One known son of this union is Andrew Segrest.
Grandson James Michael McDonnell (1947-2021) was born on July 23, 1947 at Port Arthur, TX. He was a 1966 graduate of PNG High School. In 1970, James entered into marriage with Gerry Ann Holmes (March 11, 1952-2019), daughter of Doyle and Betty Holmes. Their union endured for 49 years. Their pair of offspring were Tanesha Robertson and Jonathan McDonnell. James pursued additional education with a degree in criminal justice in 1990 from Lamar University. His spent a working career of 19 years as an Orange County, TX probation officer. The McDonnells resided in Groves, TX and in 2013 made a home in Las Vegas. Sadly, Gerry Ann died at the age of 67, in Beaumont, TX, on Oct. 25, 2019. The widowed James lived for another two years. The angel of death cleaved him away at the age of 74, in Port Arthur's Medical Center of Southeast Texas, on Nov. 14, 2021. The remains were cremated, and a memorial service was held at the Orange First Church of the Nazarene.

Great-granddaughter Tanesha McDonnell wed Brad Robertson. She dwelled in Orange, TX in 2021.

Great-grandson Jonathan McDonnell put down roots in Clarksville, TX.
Granddaughter Kathy McDonnell was joined in matrimony with David Haislip. As of 2021, they lived in The Woodlands, a suburb of Houston, TX.
Son John Milton Lowdermilk (1921-1999) was born on June 25, 1921 in Clarksburg. He attended West Virginia Wesleyan College where he may have met his wife, a fellow student. The day after Christmas in 1942, he was united in matrimony with Veda "Monena" White (Feb. 25, 1921-2005), the daughter of Rockford Dale and May (McCarty) White. Four offspring born into the union were John Milton Lowdermilk Jr., William J. Lowdermilk, Sarah A. El Ayoubi and Amy K. Yates. Monena was an alumna of West Virginia Wesleyan College. John is known to have served in the U.S. Army during World War II and to have attained the rank of first lieutenant. He trained as a navigator on B-17 bombers. After the war, in1947, he received a bachelor's degree in engineering from West Virginia University. The family moved to Waynesboro, VA, where for 36 years he was employed by E.I. DuPont, retiring in 1983. They were members of First Presbyterian Church. Sadly, John died on Aug. 21, 1999 in Waynesboro, VA. Burial was in Augusta Memorial Park in Augusta County, VA. Monena outlived her spouse by six years and resided at 668 Walnut Avenue, Waynesboro. Toward the end she was admitted to reside in the Shenandoah Nursing Home in Fishersville, VA. She passed away at the age of 84 on Aug. 10, 2005. Her obituary was published in the Staunton (VA) Daily News Leader.
Granddaughter Sarah A. Lowdermilk wed Hassan El Ayoubi ( ? - ? ). Two known offspring of this family were Alexandre El Ayoubi and Marc El Ayoubi. In 1999-2005, the couple were in Tours, France.
Granddaughter Amy K. Lowdermilk married John Yates. They produced a daughter, Deanna Lara. The Yateses put down roots in Caldwell, TX.
~ Daughter Martha "Belle" (McKnight) Coughenour ~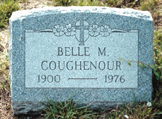 Sandy Hill Cemetery
Daughter Martha "Belle" McKnight (1900-1976) was born in 1900.
She married Victor Harbaugh Coughenour (June 3, 1895-1976), a Connellsville native, son of Harry S. and Belle (Harbaugh) Coughenour and grandson of Victor H. and Rachel (Adams) Harbaugh.

As a young man, Victor moved to Detroit, where in 1916-1918 he was employed by the King Motor Car Company as a tester of experimental vehicles. He is known to have served in the U.S. Army during World War I.

The couple's trio of children were Janice Rilley, Doris Finnell and Dale Harbaugh Coughenour.
Belle was employed as a stenographer for a contracting company in 1920. The Coughenours lived in Uniontown for decades at 235 North Gallatin Avenue. Victor was well known as a prominent member of the American Legion. In March 1933, he drove a Legion bus to Washington, DC, transporting a local drum and bugle corps.
He is known to have been hospitalized at Thanksgiving 1931 in the U.S. Marine Hospital in Pittsburgh. In 1935-1940, the Coughenours resided with Victor's parents in Uniontown, with him working as a mechanic in an automobile repair shop.
Belle died in Uniontown Hospital on May 21, 1976, at the age of 76. Burial was beside her parents in Sandy Hill Cemetery. An obituary was published in the Uniontown Morning Herald.
Victor also passed away in 1976, and sleeps for all eternity in Sylvan Heights Cemetery near Uniontown.
Daughter Janice Louise Coughenour (1923-2000) was born in about 1923 in Uniontown. She was an alumna of Uniontown Senior High School and in 1943 was employied by Tell Telephone Company. She went on to graduate from Officer Training School. She moved to the District of Columbia in 1952 where, for two-and-a-half years, she worked for the U.S. Marine Corps Reserve and attained the rank of corporal. Then as of 1954 she was employed by the State Department in the nation's capitol. She was twice-wed. Her first husband was Jerry Caldwell ( ? - ? ). They produced a son, Marshall Caldwell. Their marriage ended in divorce. Then on May 28, 1954, in Washington, DC, she wed Harry Edward Rilley ( ? - ? ). He was the son of H.E. Rilley of Little Rock, a World War II Air Force veteran and at the time of married earned a living at the Pentagon with the U.S. Department of Defense. Their marriage was announced on the pages of the Uniontown Evening Standard. A daughter born into this family was Andrea Kelso. Circa 1956-1976, they dwelled in the Washington, DC suburb of Rockville, MD. Janice spent 30 years with the Central Intelligence Agency and then became an editor, retiring in 1982. The Rilleys' marriage also dissolved in divorce. Janice spent her final years in Arlington. Sadly, stricken with cancer at the age of 77, she passed away at Holy Cross Hospital on Dec. 17, 2000. She received a feature obituary in the Washington Post.
Grandson Marshall Dale Caldwell ( ? - ? ) was born in Uniontown, PA. During the Vietnam War, he served in the U.S. Army's 101st Airborne Division. His home in 2000 was in Arlington, VA. In about 2001, he was united in marriage with Faye (Webb) Simerly ( ? - ? ). She brought two stepsons into the marriage, Brian R. Simerly and Michael W. Simerly. Marshall's memberships included the Veterans of Foreign Wars, Blue Hen Post 6483 and Military Order of the Cooties of Milford, DE. His final years were spent in Greenwood, DE. He died at home on Oct. 19, 2014. His remains were laid to rest in Delaware Veterans Memorial Cemetery in Millsboro, DE, and an obituary appeared in the Delaware State News.
Granddaughter Andrea Rilley ( ? - ? ) entered into marriage with John T. Kelso ( ? - ? ), son of John H. and Marian Kelso. They dwelled in Blacksburg, VA in 2000-2010.
Daughter Doris Coughenour (1935- ? ) was born in about 1935. She was a 1953 graduate of Uniontown Senior High School. Doris first married Gerald Finnell ( ? - ? ). One known daughter in this family was Toni Finnell. The couple divorced. Gerald went to live in Parma, OH, and Doris resided with their daughter at 235 North Gallatin Avenue in 1968. Then circa 1971, she entered into marriage again with World War II Purple Heart veteran Elmer Lewis Kisner Jr. ( ? -2020), son of Elmer Lewis and Rebecca Jane (Thompson) Kisner. He had been married previously and brought three adult stepchldren into the union -- Elmer Lewis Kisner III, Sherry Walters and Janie Hayes. Doris and Elmer remained together for 38 years and lived in Smock near Uniontown. He earned a living over the years as an equipment inspector for the commonwealth of Pennsylvania and owned Kisner's Garage in Brownsville. Sadly, a few days before his death, Elmer was taken to the hospital along with Doris. He died at the age of 94 on March 7, 2020, and she was not told he had passed, nor was she named in the obituary. Adding to the story, the three stepchildren were indicted by a grand jury in 2020 among Fayette County government and prison officials for an "alleged corruption and drug ring," said the Uniontown Herald Standard. "Many of the charges are related to contraband in the Fayette County Prison and drug dealing inside and outside of the prison."
Son Dale Harbaugh Coughenour (1925-2007) was born on May 26, 1925. He was a 1943 graduate of Uniontown Senior High School. As a young man he served in World War II, training at Fort Campbell, KY and then deployed to England, France, Belgium and Luxembourg. After the war's end, he went to work for Pittsburgh Steel Foundry as an electrician in its Glassport plant. On June 24, 1951, at the First Presbyterian Church of Forest Hills, PA, he entered into marriage with Virginia Mae Newman ( ? - ? ), daughter of Percy J. Stewart of Brownsville. Rev. J. Ray Thompson officiated, and the Uniontown Evening Standard ran a story, saying the bride "wore a prink gown of nylon organdy. Her accessories were also pink and her flowers were white orchids." Virginia was an alumna of Brownsville High School and in 1951 worked in the Uniontown office of Sears Roebuck and Company. The Coughenours resided in McKeesport near Pittsburgh in 1951, where he labored in the maintenance department of Pittsburgh Steel Foundry. In time they relocated to Silver Spring, MD and were there in 2000. Dale passed away in Fremont, Alameda County, CA on Oct. 5, 2007.
~ Daughter Katherine (McKnight) Paine Rogers ~
Daughter Katherine McKnight (1897- ? ) was born in 1897 in Pennsylvania and grew up in Uniontown.

She first wed (?) Paine ( ? - ? ).
Katherine was a graduate of the Uniontown Hospital School of Nursing. She worked at the hospital after graduation and also performed private-duty nursing. She is known to have moved to Fairmont, WV and was there in 1931. She eventually migrated to Pittsburgh by 1943. She was employed as an anesthetist in the Pittsburgh office of Dr. R.D. McClain.
On Feb. 9, 1950, in Lincoln Place Presbyterian Church, she married William E. Rogers ( ? -1980). Rev. E.G. Hulborow officiated. In announcing the marriage, the Uniontown Morning Herald said that the bride had worn "a navy blue sheer street-length gown with orchid cosrage." William was an optician with offices in the city's North Side.

William brought two stepdaughters into the union, Florence Borello and Mary Margaret Valimont.

The pair remained in Pittsburgh, and as of 1950 were at 525 Geranium Street. William belonged to the Bloomfield Moose Lodge and the Masons, while Katherine held a membership in the Evaline Lutheran Church.

She was alive in 1976 when mentioned in the Uniontown Morning Herald obituary of her sister Martha Belle Coughenour.

William passed away on March 3, 1980. An obituary in the Pittsburgh Post-Gazette said he was survived by eight grandchildren and three great-grandchildren.

Katherine only outlived her husband by eight days. She surrendered to death on March 11, 1980.

Stepdaughter Florence Rogers wed (?) Borello. Her home was in North Carolina in 1980.

Stepdaughter Mary Margaret Rogers (1929-1972) was born on Feb. 16, 1929. She married Gilbert Theodore Valimont (Jan 19, 1924-2000). One known offspring of the couple was Bonnie Lynn Davis. Gilbert was a U.S. Navy veteran of World War II. In 1950, when the federal census enumeration was made, the Valimonts resided in Sharon, Trumbull County, OH, with Gilbert laboring in a metalcraft factory. Mary died at the age of 43 on Sept. 4, 1972. She is buried next to her mother, Mary Elizabeth (Ringler) Rogers, in the Americas Cemetery in Hermitage. Gilbert survived for another 28 years. He passed away at the age of 76 on Nov. 29, 2000.
Step-granddaughter Bonnie Lynn Valimont (1955-1980) was born on May 5, 1955. She was joined in wedlock with (?) Davis ( ? - ? ). Death cleaved her away at the age of 24 on Feb. 28, 1980. Interment was in the Americas Cemetery in Hermitage.
Copyright © 2000-2006, 2009, 2011, 2014, 2016, 2023 Mark A. Miner