Charles McKnight
(1861-1950)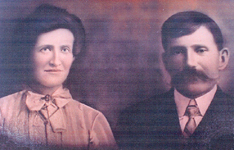 Charles and Keziah McKnight
Charles McKnight was born on Sept. 22, 1861 at Dawson, near Uniontown, Fayette County, PA, the son of Henry and Barbara (Minerd) McKnight.
When Charles was age one, his father enlisted in the Civil War, and was away for nearly a year. Then, when Charles was five, in the winter of 1866, his mother died in childbirth. It's thought that Charles was taken in and raised by an uncle and aunt, Andrew and Mary (McKnight) Hiles of Dunbar, Fayette County.
Charles married Keziah Stimmel (Jan. 3, 1868-1912), the daughter of James and Sarah (Shaffer) Stimmel. Her name also has been spelled over the years as "Kissia."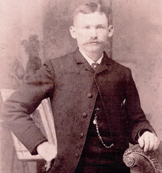 The McKnights spent their entire married lives in the Dawson/Lower Tyrone Township community in Fayette County.
The seven children they produced together were Luzetta Cottom, James Henry McKnight, Daniel "LeRoy" McKnight, Clarence "Jay" McKnight, William Stewart McKnight, Sarah Barbara Newell and Charles "Edward" McKnight.
The McKnights lived at Dawson, Fayette County, PA. They were members of the Bryan Methodist Church, as were their cousins, Joseph and Sadie (Minerd) Luckey.
Charles worked at coke ovens in nearby Dry Hill and Jimtown. He also was a longtime farmer, as shown on the federal census of 1910, and also as mentioned in his newspaper obituary.
Keziah apparently was expecting another child in September 1912. The placenta began to grow in the uterus, the lower part of the womb, blocking the cervix. She began to hemorrhage, and she went into premature labor. Her body in shock, she died on Sept. 24, 1912, at the age of only 43. The baby girl she was carrying also died. Mother and baby were laid to rest in what would become the family burying ground at the Bryan Methodist church in Dawson.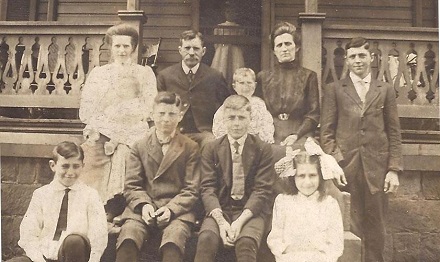 Family portrait: Charles and Keziah seated in the back row, center, with children, left to right: Luzetta, Charles Charles "Edward," Keziah and James. In the front row, left to right: William, LeRoy, Jay and Sarah.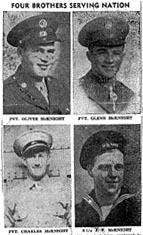 News story about the 4 McKnights in WWII
Charles outlived Keziah by 38 years. During that time, he endured the deaths of his adult sons James Henry McKnight (in 1933, of causes not yet known) and William Stewart McKnight (in 1929, due to typhoid fever).
During World War II, four of Charles' grandsons served in the US Armed Forces. While the newspaper clipping seen here mistakenly labels them as brothers, they were two sets of brothers who were first cousins to each other. Top row, left to right: Pvt. Oliver "Knute" McKnight and Pvt. Glenn McKnight, sons of William and Fannie McKnight. Bottom row, left to right: Pvt. Charles McKnight and Seaman First Class Jesse F. McKnight, sons of Clarence "Jay" and Clara Belle (Keffer) McKnight.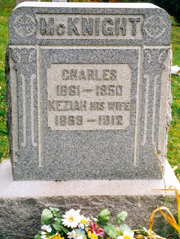 Bryan Methodist Church Cemetery
Charles had always wanted to start a reunion of his large extended family. Unfortunately, he never was able, but in 1950, as he was dying, his grandson Charles Cottom took responsibility and organized the first McKnight Reunion in 1950, held in Dawson at Hays Maple Grove.
In his final years, Charles made his home with his son Charles Edward McKnight in Dawson.
Stricken with cancer of the throat and lungs, added to hardening of the arteries, Charles succumbed died at the age of 88 on June 19, 1950, just a few months after the first reunion. His son Daniel signed the official Pennsylvania certificate of death.
The funeral was held in Edward's home, and at the Bryan church, led by Rev. Jefferson King assisted by Rev. Sherman L. Buson. Charles was laid to rest beside Keziah at the Bryan Methodist Church Cemetery at Dawson. His obituary was published in the Connellsville Daily Courier. At the time of his death, the newspaper reported that he and Keziah were survived by 34 grandchildren and 43 great-grandchildren.
The reunions continued for some years afterward. One is known to have been held near cousin Grace Luckey's home near Dawson in 1956. The 2018 reunion was led by a descendant, Joseph McKnight.
Copyright © 2000-2002, 2006, 2008, 2012, 2018 Mark A. Miner