Daniel 'LeRoy' McKnight
(1894-1966)

LeRoy McKnight
Daniel "LeRoy" McKnight was born on March 26, 1894 near Dawson, Fayette County, PA, the son of Charles and Keziah (Stimmell) McKnight.
He was slender and of medium height, with blue eyes and red hair.
During World War I, LeRoy was required to register for the military draft. He disclosed to registration officer Oliver F.M. Nicolay -- a friend of the family -- that he was employed at the time as a miner by the Jim Town Coal Company located at Jimtown near Dawson. He also stated that he suffered from rheumatism in his right leg.
He eventually served in the United States Army.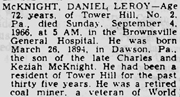 LeRoy's obituary, 1966

LeRoy was united in the bonds of holy matrimony with Sarah "Sadie" Newell (Jan. 7, 1895-1967), daughter of Clark and Hannah (Ellenberger) Newell, and also a native of Dawson.

Together, they produced three daughters -- Faye L. Cooke, Pauline "Frances" Gechoff and Eleanor L. Griffith.

In 1930, or slightly before, the family relocated to the coal mining patch town of Tower Hill No. 2 in Luzerne Township, Fayette County, where he had obtained work as a machinist. The McKnights remained there for the rest of their lives. They were members of the Hopewell Presbyterian Church, where Sadie was active with the Friendly Bible Class and Ladies Missionary Society as well as the Ladies Auxiliary of Tower Hill No. 2 Fire Department.

LeRoy eventually retired from coal mining. He was a member of the Thomas J. Prendergast Post, No. 599, Republic.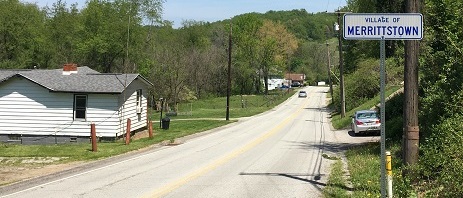 Village of Merrittstown, PA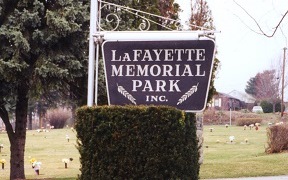 Site of the McKnight family burials
Tragically, in July 1951, they endured the death of their 31-year-old, married daughter Faye Cooke from the effects of ovarian cancer.
The McKnights dwelled in the mid-1960s in Merrittstown, Luzerne Township, Fayette County, and received their postal mail at Box 22.
At the age of 72, LeRoy contracted cancer of the gall bladder. He succumbed to his illness as a patient in the Brownsville General Hospital on Sept. 4, 1966. He was laid to rest at Lafayette Memorial Park in Brier Hill, near Uniontown.
The widowed Sadie remained in their Merrittstown home but only outlived her husband by a year.
Burdened with a combination of hardening of the arteries and diabetes, she suffered a heart attack and was admitted to Brownsville General Hospital. She passed away there at the age of 72 on Sept. 20, 1967. Rev. John Foester officiated at the funeral service followed by interment in Lafayette Memorial Park.
~ Daughter Faye L. (McKnight) Cooke ~
Daughter Faye L. McKnight (1919-1951) was born on Nov. 3, 1919 in Dawson, Fayette County.
She was joined in wedlock with Edward Cooke ( ? - ? ).
The couple produced two children -- Richard Cooke and Gary Cooke.
Circa 1950, their home was along Main Street in the Tower Hill No. 2 coal mining patch town. They were members of the Hopewell Presbyterian Church.
Faye was diagnosed with cancer of the uterus, ovaries and tubes in about 1929 and underwent surgery in April 1951 to remove the uterus. The operation came too late, and she succumbed at the age of 31 on July 13, 1951, while convalescing in the home of her parents at Tower Hill No. 2. Funeral services were held in her parents' residence, and additional rites were held at the family church. Her remains were interred in Lafayette Memorial Park in Brownsville, Fayette County. A death notice was printed in the Uniontown Morning Herald.
The details of Edward's final fate are not known.
Son Richard Cooke Sr. ( ? -2020) was born in (?). He was married and the father of Richard Cooke Jr. and Ellen Piazza. They lived in Newton Falls, OH in 1967. Richard's final residence was in Windham, OH. Sadly, Richard passed away at the age of 78 on March 13, 2020.
Grandson Richard Cooke Jr. married Cynthia. Their home in 2020 was in Newton Falls, OH.
Granddaughter Ellen Cooke wed Jeff Piazza. They settled in Hudson, OH.
Son Gary Cooke ( ? - ? ) made his residence in 1967 in Newton Falls, OH. He entered into marriage with Sharon. Circa 2020, they were in Windham, OH.
~ Daughter Pauline "Frances" (McKnight) Gechoff ~
Daughter Pauline "Frances" McKnight (1923-2016) was born in about 1923 in Dawson, Fayette County.
She was a graduate of California (PA) State Teachers College and taught in the school districts of Luzerne Township and Brownsville Area in Fayette County. She was a member of the Pennsylvania State Education Association.
In August (?), Frances was joined in marital union with Bernard Gechoff ( ? - ? ).
He saw military service during World War II. They resided on Brashear Street in Brownsville and did not reproduce.
Both were active with the Brownsville Northside Fire Company No. 1, where Bernard served as secretary. When elected chaplain of the Southwestern Pennsylvania Fire Chiefs & Assistant Chiefs Association in January 1969 and again in January 1974, he was pictured in the Uniontown (PA) Evening Standard. They also belonged to the St. Peter Parish.
Frances died at the age of 93 in Ravenna, OH on Dec. 21, 2016. Her remains were returned to Fayette County to be lowered into repose beside her husband in Lafayette Memorial Park.
~ Daughter Eleanor Louise (McKnight) Griffith ~
Daughter Eleanor Louise McKnight (1928-2020) was born on Dec. 5, 1928 in Dawson, Fayette County.
At the age of 23, in 1951, she dwelled in Merrittstown, Fayette County.
Eleanor was united in wedlock with Thomas E. "Tom" Griffith (Sept. 16, 1928-2000), son of Alice Griffith. Their union stood the tests of 41 years together.
The couple produced three children -- Faye Lorraine Griffith, Sara Griffith and Evan Griffith.
They relocated to Ravenna, OH sometime prior to 1963 and stayed for good. The family enjoyed visits back home in Brownsville with relatives.
Eleanor earned a living through her work at Vale Edge Sparkle Market, Ravenna. She was especially close with sisters-in-law Joanne Butz and Marcene Sorboro.
Thomas passed away on June 19, 2000.
Eleanor continued on in widowhood for two decades. Death swept her away on July 15, 2020. Rev. Norma Bates led the funeral service.
Daughter Faye Lorraine Griffith (1961- ? ) was born in 1961 and grew up in Ravenna, OH. At her first and second birthdays, she was mentioned in related stories in the Uniontown Evening Standard. She tied the knot with Craig Donoughe ( ? - ? ). The pair's children are Brent Donoughe, Tyler Donoughe and Cray Donoughe.
Daughter Sara Griffith ( ? - ? ) was joined in matrimony with Gary Kline. ( ? - ? ).
Son Evan Griffith ( ? - ? ) was united in wedlock with Sherry ( ? - ? ).
Copyright © 2008, 2016, 2020, 2022 Mark A. Miner