Home

James Henry McKnight
(1892-1933)
James Henry McKnight was born in 1892 near Dawson, Fayette County, PA, the son of Charles and Keziah (Stimmell) McKnight.
When he was 22 years of age, circa 1914, James entered into the bonds of matrimony with 19-year-old Gladys L. Newell (1896-1987), the daughter of John Wesley and Mary (Williams) Newell.
Together, the couple produced three children -- Donald Dale McKnight, Ruth E. Smith and Mary Lois McKnight.
When the federal census enumeration was made in 1920, the young family resided at Florence Mines in Lower Tyrone Township. James' occupation at that time was as an electric motor engineer.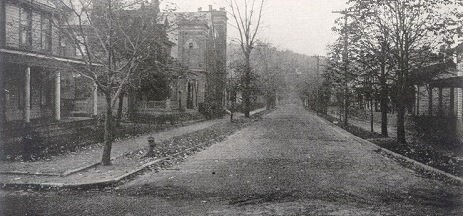 Dawson's Church Street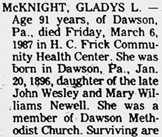 Uniontown Herald-Standard
By 1930, now in the grip of the Great Depression, the McKnights remained in Lower Tyrone, with James now working as a farm laborer.
Afflicted with heart disease ("myocarditis"), James died on Aug. 1, 1933, at the age of 41. An electronic search of Uniontown and Connellsville newspaper databases on Ancestry.com has not yet uncovered an obituary.
Gladys outlived her husband by more than half a century. She was a member of the Bryan Methodist Church in Dawson, and must have received support from family and friends in raising their young, fatherless children.
In her later years, Gladys went to live with her married daughter, Mary Lois McKnight, in Dawson.
Gladys is known to have traveled to Iowa in June 1970 for the wedding of her grandson James McKnight to Corrinne Cremers.
Sadly, she endured the untimely death of her son Donald McKnight, of causes unknown.
Gladys died at the age of 91, on March 6, 1987, at the H.C. Frick Community Health Center. Following a funeral at the Ralph E. Galley Funeral Home in Dawson, she was laid to rest at the Cochran Cemetery in Dawson. She was survived, reported the Uniontown Herald-Standard, by four grandchildren and 12 great grandchildren.
~ Son Donald Dale McKnight ~
Son Donald Dale McKnight (1916- ? ) -- also known as "Donald L. McKnight" -- was born in about 1916.
He was about age 17 at the death of his father. In 1940, federal census records show him heading a household in Lower Tyrone Township, Fayette County, which included his single sister Lois and widowed mother Gladys. His source of income at that time was as a farm laborer.
Donald made his home in South Connellsville, PA in 1970 and was best man for the Iowa wedding of his nephew James C. McKnight.
He was deceased by 1987. Nothing more about him is known.
~ Daughter Ruth E. (McKnight) Smith ~
Daughter Ruth E. McKnight (1919-2013) was born n April 24, 1919 in Dawson, Fayette County, PA. She attended Dunbar Township High School in he ryouth.
She married Hughey Smith ( ? - ? ).
The pair bore a brood of daughters -- Nancy L. Krause, Ruth Ann Tomanek, Judy Trout and Karen Sholtis.
Circa 1967-1968, the Smiths were separated, with Ruth making a home at 126 Water Avenue in Connellsville and Hughey in rural Connellsville. By 1970, Hughey had relocated to Main Street in Scottdale, PA, and then in 1971 was in Duquesne near Pittsburgh.
Ruth earned a living at Moon's Laundromat in Connellsville. She also held memberships over time at the Paradise United Methodist Church, Greenwood United Methodist Church and the United Methodist Women. She remained in Connellsville for the balance of her life. She loved to garden and to be surrounded by family. Said the Connellsville Daily Courier, "Although Ruth never had any sons, she loved her sons-in-law as if they were her own."
At the age of 93, on Jan. 7, 2013, Ruth passed into eternity in South Connellsville Personal Care Home. The funeral service was co-officiated by Rev. Dr. Marvin C. Watson, Rev. Doug Johnson and her son-in-law Rev. Mark Sholtis. Interment of the remains was in Cochran Cemetery. Her obituary appeared in the Daily Courier.
Daughter Nancy L. Smith ( ? - ? ) was born in (?). On Oct. 3, 1959, she was joined in holy wedlock with David "Wayne" Krause (Sept. 20, 1937-2020), the only son of Clarence E. and Glenna (Cook) Krause of Vanderbilt near Connellsville. Their marriage endured for an extraordinary 61 years until cleaved apart by death. The pair established a home in Warren, OH by 1970 with an address of Hunter Street Northwest circa 1971. They bore one known daughter, Brenda Lee Sidoti. They eventually moved to Cortland, OH and stayed for good. Wayne was a certified welder and was employed by Standard Transformer, Taylor-Winfield and Glunt Industries. His final work years were spent as a custodian for Maplewood School District, retiring in 2015. In his free time, Wayne liked to work on house and garage projects, hunt deer, mow grass and ride his tractor, and go to flea markets, yard sales and auctions. As his health declined, Wayne was admitted to Trumbull Regional Medical Center. He died there at the age of 83 on Nov. 30, 2020. Interment was in Johnston Township Cemetery Chapel.
Granddaughter Brenda Lee Krause was born in 1968. At her second and third birthdays, she was pictured in the Connellsville Daily Courier. Brenda was joined in holy wedlock with Joseph M. Sidoti ( ? - ? ). The couple's only child was Joseph A. Sidoti. They made a home in 2013 in Warren, OH.
Daughter Ruth Ann Smith ( ? - ? ) was born in (?). She was united in matrimony with Joseph A. Tomanek Jr. ( ? - ? ), son of Joseph Tomanek of Morgantown, WV. They made a home in the late 1960s on Graham Avenue in Connellsville and in 1971 on Paul Drive in nearby Mount Pleasant. Ruth Ann and Joseph were the parents of Lisa Jo Pieretti, Joseph Hughey Tomanek, Kimberly Lou Tomanek and perhaps others. Ruth Ann was in Mount Pleasant in 2013.
Granddaughter Lisa Jo Tomanek (1966- ? ) was born in 1966. At her first birthday, she was pictured in the

Connellsville Daily Courier

. She is believed to have wed Dean Pieretti and to have put down roots in Greensburg, PA.
Granddaughter Kimberly Lou Tomanek (1969- ? ) was born in 1969. She and her elder sister shared June birthdays, and over the years were pictured together in the Connellsville Daily Courier to mark the occasion. Kimberly was bonded in matrimony with Michael Luft ( ? - ? ). They have resided in Hunker near Youngwood, PA.
Daughter Judy K. Smith ( ? - ? ) was born in (?). She married Melvin Richard Trout, son of Harold and Mary Ellen Trout of Mount Pleasant, PA. Their home in 1971 was on Witter Avenue in Connellsville and in 1974 on South 9th Street. Two offspring born into this union were Dawn Michelle Malinsky and Richard Lee Trout. By 2013, they had moved to Bullskin Township.
Granddaughter Dawn Michelle Trout (1968- ? ) was born in 1968. When she turned three years of age, she was pictured in the

Connellsville Daily Courier

. She entered into marriage with (?) Malinsky ( ? - ? ). In 2004, Dawn lived in Connellsville. Later, she migrated to Arizona, settling in Phoenix.
Grandson Richard Lee Trout (1971- ? ) was born in 1971. At his second birthday, he was pictured in the Connellsville Daily Courier. He has been married twice. His first bride was Mindi S. Martin (Oct. 14, 1976-2004), daughter of James S. and Linda (Dull) Martin. They dwelled in Scottdale and were the parents of Braleigh Trout, Kyle Trout and Kayden Trout. The family were members of the Juniata United Methodist Church. Grief blanketed the family when Mindi, at age 27, died in Highlands Hospital in Connellsville on May 13, 2004. Rev. Roger Howard preached the funeral sermon, with an obituary published in the Daily Courier. After a period of mourning, Richard wedded his second spouse, Tomi ( ? - ? ). Their home in 2013 was in Scottdale, PA.
Daughter Karen D. Smith wedded Rev. Mark Sholtis. They may be the parents of Bethany Bell and Jonathan Sholtis. The couple's home in 2013 was in Connellsville. Mark's ministry has been affiliated over time with the Connellsville District of the United Methodist Church, while Karen also is a lay pastor and speaks at churches throughout the region. Mark was pictured in the Uniontown Herald-Standard in March 2013 for speaking at a rally at Connellsville Junior High School East, defending the right to display the Ten Commandments in stone. They together conducted the 2020 funeral of Karen's brother-in-law David "Wayne" Krause in Ohio. Mark also has jointly led funeral services with a distant cousin, Rev. Roger Richter of the family of Neri and Hannah "Lucy" (Murray) Eicher.
Granddaughter

Bethany Sholtis was joined in wedlock with (?) Bell.
Grandson Jonathan Sholtis

- He is a 2006 graduate of the University of Rochester, NY, receiving a bachelor's degree in optics. In September 2010, he was united in matrimony with Emma Chiappa ( ? - ? ), a 2007 alumna of Rochester and the daughter of Francis Chiappa and Dorene Davis of Cleveland Heights, OH. Jonathan went on to earn his master's degree in technical management from the Whiting Engineering School at Johns Hopkins University. He served as an information warfare officer for the U.S. Navy, focusing on signals intelligence and cyber threat intelligence. Among his top military experiences have been support for Operation Iraqi Freedom in Baghdad, Iraq from 2008 to 2009; deployments onboard U.S. Navy su

bmarines; and as part of the Operations Directorate for full operational capability of U.S. Cyber Command. After the completion of his military service, he helped develop and deliver cyber education and training courses for cyber teams including a 150-person group which designed, developed and delivered 30 formal courses. Today he is Senior Vice President, Cybersecurity Services and Solutions for ICF, which develops and delivers a wide range of cybersecurity capabilities to protect dozens of federal, state, and local government agencies as well as commercial clients.
~ Daughter Mary Lois McKnight ~
Daughter Mary Lois McKnight (1925-living) was born in 1925.
As a young woman she dwelled in Dickerson Run, near Vanderbilt, PA.
She was the mother of James C. McKnight.
During the 1950s and '60s, Mary Lois was active with the Estelle Sunday School class of the Cochran Memorial Methodist Church of Dawson.
Son James C. McKnight (1948-living) was born in 1948. He was a 1966 graduate of Connellsville Joint Senior High School. He joined the U.S. Air Force during the Vietnam War and in 1970 was stationed at Offutt Air Base in Omaha, NE. On June 12, 1970, in nuptials held at Storm Lake, IA, he wedded Corrine Cremers (1946-living), daughter of Bernard Cremers of Albert City, IA. The wedding was held at St. Mary's Church, by the hand of Rev. John Sweeney. Reported the Connellsville Daily Courier, the bride wore "a floor-length gown of white georgette, the short-sleeved empire bodice featuring appliqued motifs of lace daisies. The skirt of taffeta with georgette overlay terminated in a chapel-length train. The lace motifs were repeated on the skirt and train." Corrinne was a 1969 graduate of the University of Iowa and at the time of marriage was employed by the Methodist Hospital Pathology Center in Omaha as a medical technologist. The newlyweds' first home was in Omaha. Their offspring includes Craig McKnight, Brian McKnight, Steve McKnight and Monica Argot. By 1972, the couple had relocated back to James' home region and dwelled on Boyd Avenue in Dawson, PA.
Grandson Brian Lee McKnight (1973-living) was born in 1973. He too was pictured in the Connellsville Daily Courier at his first birthday. He wedded Judith Mognet ( ? -living). They produced two children, Sarah McKnight and Owen McKnight.
Copyright © 2008, 2012, 2021 Mark A. Miner
Corrinne (Cremers) McKnight and Joseph Allen McKnight have contributed content for this biography.