Henry McKnight
(1848-1926)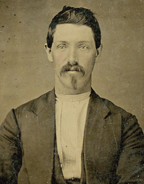 Henry McKnight
Henry McKnight was born in July 1848 in Fayette County, PA, the son of William and Mahala (Minerd) McKnight. He suffered many tragic heartaches in his life, including the death of his first wife and their infant child, and, during World War I, the death of one son and the severe wounding of another son.
Following his father's occupations, Henry was a coal miner and farmer who as a young man lived and worked near Uniontown, Fayette County. The federal census of 1870 shows him living with his parents and working in a "coal mine" in Washington Township, Fayette County.
In 1871, at the age of 23, Henry married his first wife, Elizabeth Hileman ( ? -1874). Their only child died in infancy in March 1874, and Elizabeth died shortly afterward, on May 30, 1874. She and the infant are buried at the Little Redstone Presbyterian Church Cemetery. No other details of the Grim Reaper's work are known.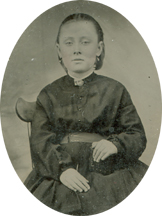 Martha as a teenager
Later that year, on Oct. 22, 1874, after grieving for only five months, the 26-year-old Henry married his second bride, 16-year-old Martha Matilda Nutt (1858-1938). She was the daughter of William B. and Mary (Thorn) Nutt of Washington Township, Fayette County. There was a decade of difference in their ages.
Martha is seen here in an oval portrait captured on tin -- as a young lady and possibly about the time of marriage.
Their 11 children were Mary "Mollie" Catherine Pratton, Anna Elizabeth Seddon, James Hart McKnight, Laura Edna Horstman, James Henry McKnight, William Curtis McKnight, Charles Howard McKnight, Viola "Grace" Soules, Frank Trevor McKnight, Thomas Springer McKnight Sr. and Adeline Stephens Radcliffe. Sadly, son James Hart McKnight died young, but details are sketchy at best.
The McKnights made their home at various places in Fayette County -- including Fayette City, Brownsville, Braznell (Grindstone) and Adah.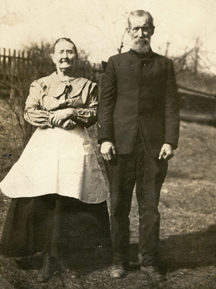 Henry and Martha, 1920s
In 1880, when the census again was enumerated, the family lived in Washington Township, Fayette County, as near neighbors to Martha's Nutt relatives. Their eldest three children were in the household -- "C. Mary," "E. Anna" and "James" (age one month). Henry's employment was written as "coal miner."
Martha was a longtime member of the Evangelical Church in Brownsville.
Henry and Martha moved to a farm in about 1897 near the old Mt. Vernon school house in Lynn Station, Jefferson Township, Fayette County. There, they spent the remaining decades of their life together. Today the area is known as Grindstone.
The 1900 census shows the McKnights in Jefferson Township, with a household of seven children, not including the eldest two daughters who had married and established their own homes. Henry no longer was working as a coal miner, but rather had set down more stable roots as a farmer.
Their farm is seen here, built on a steep hillside and ringed with barbed-wire fencing.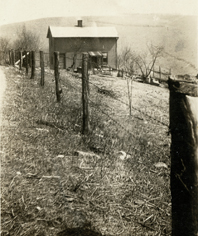 McKnight farm near Grindstone
In 1910, the federal census lists the family in Jefferson Township, with Henry continuing to own his own farm. He and Martha had been married for 36 years. six children, ranging from ages nine to 23, lived under their roof. Their neighbors that year included son James Henry McKnight and daughter Laura Edna Horstman and their families.
In addition to his labors as a farmer, Henry is said also to have been "a local preacher" although specifics are not yet known.
As evidence of the closeness of the McKnight-Minerd families, son William married a cousin, Dora Strauch, daughter of John and Mary (McKnight) Strauch. In 1918, tragedy struck when William, while serving in the U.S. Army during World War I, was killed in a railroad accident in France. His remains were not returned home for more than a year.
The McKnights also suffered emotionally through the devastating poison gas and battle shrapnel wounding of their soldier-son Charles, also during World War I. He never fully recovered and was never able to earn a decent living again.
When the census was enumerated in 1920, Henry (age 71) and Martha (61) provided a home for Martha's widowed sister, Laura Anna Wilgus. Living in adjacent residences, though, were their married sons Frank and James and their families of children.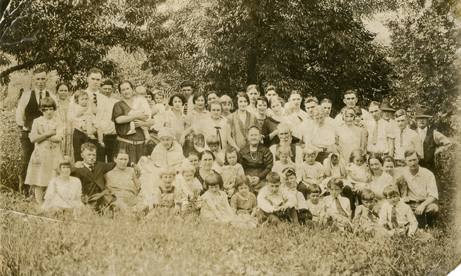 McKnight Reunion, July 4, 1925 -- with Henry and Martha seated just right of center, and Martha's aged sister Laura Wilgus seated left of center. This image is believed to have been made by Martha's brother, William C. Nutt, who operated a photography studio.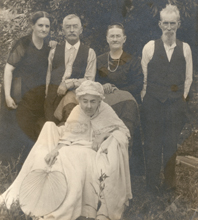 McKnight & Wilgus elders
During the last year of his life, Henry and his McKnight cousins and their offspring gathered for a reunion in June 1925, with Henry and Martha as guests of honor. A group photograph was taken, showing Henry and Martha seated in the center, surrounded by their children, grandchildren, great-grandchildren and friends. Click to see an enlarged view of the photograph, with as many faces identified as possible -- our "Photo of the Month" in October 2004.
Seen here, in a photograph apparently also taken the day of the 1925 McKnight Reunion, Henry and Martha (back row, right) pose with Martha's elderly, widowed older sister Laura (Nutt) Wilgus (seated). The widow of John Wilgus, Laura had come to live in the McKnights' farmhouse in her final years. Also posing in this image are Martha's brother William C. Nutt and his wife Ella. Note the large fan that Laura Wilgus holds and the cap she is wearing.
Henry died at the age of 78, on Oct. 20, 1926. He is buried along with a number of their descendants in the Little Redstone United Methodist Church Cemetery, near Fayette City. When the family's 2001 reunion was held, at a nearby picnic facility, many of their offspring paid their respects at the grave.
Martha outlived her husband by 12 years and remained on the family farm along Braznell road near Grindstone. The 1930 census shows her living alone, marked by the census taker as employed as a "farm manager." At that time, married son Frank and his wife Blanche and their three daughters, and unmarried son Charles, resided together next door.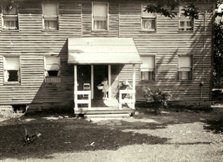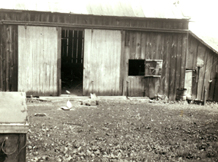 The old McKnight farmhouse and barn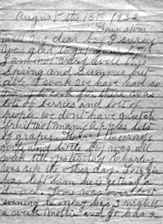 Letter to son James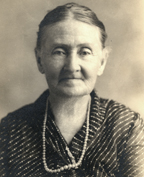 Martha in widowhood
Martha is seen here in her widowed years.
During the Depression, in August 1932, she wrote a letter to her son James, who was working away. In her letter, she summarized the economic, employment and marital struggles of the family during that era:
I am not vary well this Spring and Summer but able to work. We have had so many to cook for. There was lots of berries and lots of people. We don't have mutch fruit, not many apples, lots of grapes....
Charley was up the other day. Lizzie has left him. He is getting a divorce. Tom was over last evening. He onely has 3 nights [of work] a week. Mollie and Jo has a hard time. So has Grace, 2 to 3 days a week.... Bill Radcliffe got his hand hurt comeing home from work. They [are] up at Clarksville. Frank has a little work on the roads. There is hard times every place so Gimmy come home and stay with me.
Martha was ill most of the last six years of her life. In August 1937, having suffered a stroke of paralysis, her health became critical, and she moved into the home of her married daughter Viola Grace Soules in nearby Canonsburg, Washington County, PA.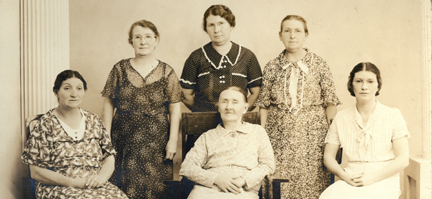 Martha (Nutt) McKnight, seated, center, with her five adult daughters. L-R: Mollie Pratton, Anna Seddon, Viola "Grace" Soules, Laura Horstman and Adeline Radcliffe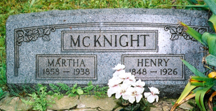 Martha in widowhood
She passed away in the Soules home, at the age of 80, on Feb. 16, 1938. A viewing was held at the Soules residence, with her remains returned to Fayette City for the funeral and burial at Little Redstone Methodist Church and cemetery, beside her husband.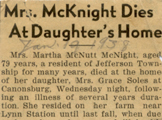 Martha's obituary, 1938
According to obituaries printed in several Uniontown newspapers at the time, son James was residing in Chicago, with all of Martha's other adult children living in Western Pennsylvania, in either Fayette or Washington Counties.
One local newspaper added that "The family is widely known throughout this district" and that "The McKnight family has many relatives throughout this district." The obituary also noted that two of her sons had "answered the call to arms" during the world war, saying that one, "William C. McKnight, being killed in France, and the other, Charles McKnight, was badly injured in battle."
The McKnights imparted to their offspring a great sense of family connectedness which continues to bear fruit today. Great granddaughter Beth Radcliffe is actively researching this branch, and helped to organize McKnight Reunions in 1999-2004. Beth has provided a remarkable trove of knowledge and material for this website, and we cannot extend enough appreciation for her gracious spirit of sharing. Many of Beth's immediate cousins also generously have shared their information.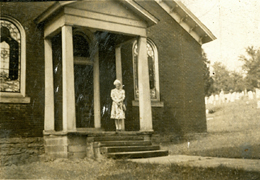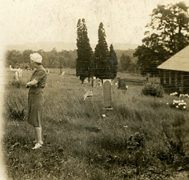 The McKnights' daughter Adeline Radcliffe visiting the Little Redstone Church and paying her respects at the family graves
Copyright © 2000-2002, 2009-2010, 2019 Mark A. Miner