Viola 'Grace' (McKnight) Soules
(1892-1942)

Grace Soules

Viola "Grace" (McKnight) Soules was born on June 3, 1892 near Grindstone, Fayette County, PA, the daughter of Henry and Martha (Nutt) McKnight.
She grew up on her parents' farm on a steep hillside in what was known as Lynn Station near Braznell, Jefferson Township, Fayette County.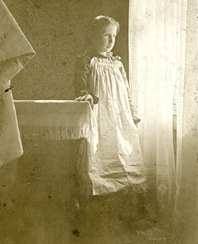 As a young girl

Grace is seen here as a young girl, in a simple, somewhat mysterious image. It likely was taken by her maternal uncle, William C. Nutt, who was a commercial photographer.

In 1912, at the age of 20, Grace was united in the bonds of holy matrimony with 21-year-old James Eli Soules (June 29, 1889-1948), son of Franklin B. and Mary Ann (Roberts) Soules and a native of Millsville, PA.

Together, the pair produced a brood of three children -- James Henry Soules, Hugh Melvin Soules and Martha Mae Cacchione.

The family surname alternately was spelled "Soles" after the children were born, but not consistently.

Sometime during the decade of the 1910s, the Souleses relocated to a home in Canonsburg, Washington County, PA, where jobs would have been more plentiful. The federal census of 1920 shows the family residing on Second Street, with James working as a machinist in a tin plate mill. At that time, Grace's brother Charles, who had been seriously wounded in battle during World War I, boarded in their home, and labored as a coal miner.

Grace and James later moved to their permanent home at 216 Grant Street in Canonsburg where they remained for many years, near the intersection with Boyle Avenue. There, Grace was active in the local Baptist Church.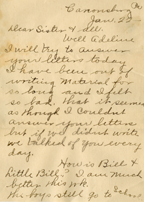 Grace's letter, 1922

In about 1922, Grace wrote a three page letter to her sister Adeline Stephens Radcliffe. Many such letters must have been exchanged between the sisters and among the family over the years, but precious few have survived. In her letter, Grace wrote:

I have been out of writing material for so long and I felt so bad that it seemed as though I couldn't answer your letters but if we didn't write we talked of you every day... The boys still go to school. Martha wants to go too... I got a card from Mama yesterday. She said Sammy Redman was dead. I felt so sorry for his father & Mother. If he was ready for the Journey it was a great thing for him but there are so many who live so careless. If they could just take Jesus for their leader they would find so many good things on this earth and more in eternity. Well Adeline have you been down home lately? I was over just after Xmas. Went to take them over a little Xmas. Is Bill working? Jim gets an other reduction on wages this month...

When the federal census was enumerated in 1930, Grace and James and their children resided on Grant Street, with James employed as a coal miner. Son James, age 16, earned extra income for the family as an errand boy for a can factory.

Just a few years later, while in the grip of the Great Depression, work for James was exceptionally scarce. In August 1932, Grace's mother wrote a letter to relatives, saying: "Mollie and Jo [Pratton] has a hard time. So has Grace, 2 to 3 days a week."

They dwelled in Clarksville, Greene County in 1936 at the time of their son James' marriage. Grace is known to have spent weeks at a time visiting her married sister Anna Elizabeth Seddon in Brownsville.

In August 1937, having suffered a debilitating stroke, Grace's aged mother Martha McKnight was brought to live in the Soules residence in Canonsburg. She remained there for six months, until her death on Feb. 16, 1938, at the age of 79. The funeral service was held in the Soules dwelling, with the First Baptist Church choir singing Some Day We'll Understand.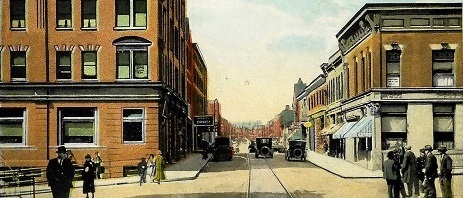 Pike Street looking west, Canonsburg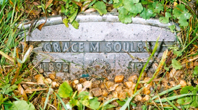 Little Redstone Methodist Cem
Grace only outlived her mother by five years. During that time she was burdened with chronic heart/kidney disease and hypertension. The couple's final address together was 216 Grant Street in Canonsburg.

A Holy Week prayer service was held in their home in 1938, under the leadership of the Canonsburg-Houston Ministerial Association. They also hosted regular prayer meetings of Grace's Philathea Sunday School Class in their dwelling-place.
She was felled by a cerebral hemorrhage and died on April 18, 1942 at the age of 50, "following an illness of three years," said a local newspaper. Rev. Thomas Nichols officiated the funeral. She is buried at Little Redstone Methodist Cemetery, beside her parents. At her death, said her news obituary, she was survived by four grandchildren.
A small metal plate, almost obscured by the growing grass, marks her grave. It was photographed in the summer of 2001, by the founder of this website, when the McKnight family reunion was held nearby.
James outlived his bride by six years and relocated to Dilliner, Greene County, a few miles from Point Marion and situated along the Monongahela River. There, he was employed as a miner by the Yeskovich and Harper Coal Company.
He married a second time to Harriet Louise White ( ? - ? ). They were 15 years apart in age. He appears to have used the "Soles" spelling thereafter.
Without warning, James suffered a heart attack and died on June 10, 1948, just a few weeks shy of his 59th birthday. He sleeps for the ages in the Wolfe Cemetery. His brother William Soles of Dilliner signed the official Pennsylvania certificate of death. An obituary was printed in the Daily Notes.
~ Son James Henry Soles ~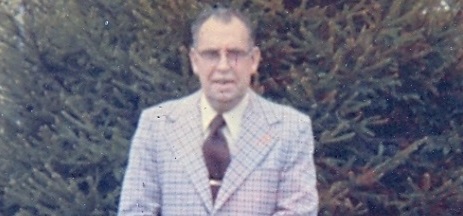 James Soules in 1976, at age 64
Son James Henry Soules (1914- ? ) was born in 1914 in the house next to the old family farm.
At the age of 20, in 1934-1935, he is known to have spent eight months receiving medical care in the South Mountain Sanitarium in central Pennsylvania. He was granted leave to return home to spend the 1934 Christmas holidays with his parents. He was given his final release in June 1935.
He used the "Soules" spelling in young manhood and later used the shortened "Soles" version.
On June 18, 1936, when he was 23 years of age, James entered into marriage with 21-year-old Ruth Mary McMillen .( ? - ? ), the daughter of Merle and Lydia (Kephart) McMillen and a resident of Oakmont near Pittsburgh. The nuptials were held at the First Baptist Church of Wellsburg, WV, with Rev. Robert B. Hill officiating. Upon their return home, reported the Canonsburg Daily Notes, the "bride and bridegroom were entertained with a dinner Thursday evening given by the latter's aunt, Mrs. Mary C. Pratton, Berstein Plan."
The Souleses together produced two daughters -- Henrietta Chloe Soules and Ruth Ann Soules.
James was employed in 1937 at the Clarksville coal mine in Greene County. He was badly injured at work on Sept. 1, 1937. Reported the Daily Notes, "He suffered a double compound fracture of the right leg and was taken to the Brownsville hospital where it is expected he will be confined for several months."
As of 1948, they lived in Harmarville, PA. Later, they dwelled in the Wilkinsburg section of Pittsburgh for many years.
Daughter Henrietta Chloe Soules ( ? - ? )
Daughter Ruth Ann Soules ( ? - ? )
~ Son Hugh Melvin Soles ~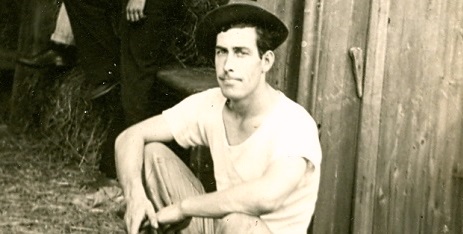 Hugh Melvin Soules, relaxing at Pud Garrison's barn
Son Hugh "Melvin" Soules (1915-1966) was born on Dec. 2, 1915 in Brownsville.
On April 15, 1939, at the age of 23, he wed Catherine Haley (April 3, 1922-2002), originally from the Meadowlands in Washington and the daughter of John Haley of 64 Locust Street in Canonsburg. The ceremony was held by justice of the peace William D. Smith in his office and announced on the pages of the Canonsburg Daily Notes. Afterward, they partook in a wedding breakfast at the Haleys' home. Their union endured for 27 years until the separation of death.
Six offspring born to this union were Hugh Melvin Soules Jr., John H. Soules, Louis J. Soules, Carolyn Yamnitsky, Bonnie Sallade and Kathy Garland.
The couple's homeplace circa 1941 was at 411 North Jefferson Avenue. At that time, Melvin's name appeared in military draft lists in the local newspaper. By 1945, when he was ordered to report for armed services induction, their address was 204 McShane Avenue. He in face served in the Army during the final months of World War II.
Melvin earned a living as a laborer and coal miner. They made their home in Weavertown, Washington County, PA in 1942. The federal census enumeration of 1950 lists him as working in a coal mine near Strabane Township, Washington County. Circa 1966, they lived at 310 Crawford Run Road in Creighton, near New Kensington, Westmoreland County, PA.
In the final year of his life, Melvin was stricken by cancer of the penis which spread. He died in New Kensington's Citizens General Hospital on Sept. 2, 1966, at the age of 50. He is buried in Sunset View Cemetery in the Penn Hills suburb of Pittsburgh.
Catherine outlived her spouse by 36 years and married again to (?) Espey ( ? - ? ). She moved cross-country where some of her adult children were residing in California. In 1981, she left Richmond, CA to move to Shasta County, CA. The angel of death gathered her away at the age of 80 on Aug. 21, 2002, as a patient in the Mercy Medical Center in Redding. Officiating was Rev. Bob Whitman of the Cottonwood Assembly of God Church. An obituary was printed in the Redding Record Searchlight.
Son Hugh Melvin "Butch" Soules Jr. (1940- ? ) was born on April 7, 1940 in Canonsburg. He is known to have served in the U.S. Army. Later he earned a living as a roofer in the construction field. He was the father of LisaMarie Soules. At some point he dwelled in San Pablo, CA before moving to Cottonwood, Shasta County, CA. He was an active participant in the Golden Umbrella group in Redding. At the age of 65, he died at home on Oct. 15, 2005. His obituary appeared in the Redding (CA) Record Searchlight.
Granddaughter LisaMarie Soules was in Pennsylvania in 2005.
Son John H. Soules (1941-2012) was born on Oct. 3, 1941 in Canonsburg. He was united in matrimony with Kathleen A. Means ( ? - ? ). She brought two stepchildren to the marriage -- among them Deborah Rush and David Rush. They stayed together for 40 years. The trio of offspring in this family were Traci M. Lambert, Bonnie R. Luke and John H. Soules Jr. John was a longtime member of the Army National Guard. In his working career, he was employed in the shipping and receiving departments of Allegheny Label, Pennex and Thrift Drug before retiring in 1999. In his free time he liked to read and fish, and was a member of the River-A Community Church. He lived in Arnold, PA in 2005-2012. Death enveloped him at home at the age of 70 on April 13, 2012. He was survived by a baker's dozen grandchildren and three great-grandchildren. Funeral services were held in the family church, presided over by Rev. Dean Ward. An obituary was published in the Valley News Dispatch.
Granddaughter Traci M. Soules married Dan Lambert. They established their residence in Olmsted Falls, OH.
Granddaughter Bonnie R. Soules wed (?) Luke. She was in Cottonwood, CA in 2012.
Grandson John H. Soules Jr. relocated to Ontario, Canada.
Step-granddaughter Deborah Rush made her home in 2012 in Donora, PA.
Step-grandson David Rush has dwelled in Bethel Park,PA.
Son Louis J. "Louie" Soules (1945- ? ) was born in about 1945. He planted his life in Cottonwood, CA and was there in 2005.
Daughter Carolyn Soules (1947- ? ) was born in about 1947. She entered into marriage with (?) Yamnitsky ( ? - ? ). She has dwelled in Cottonwood, CA. In 2006, she is known to have hosted a celebration of life for her mother's sister Margaret Manit, who had died recently at the age of 86 in Cottonwood. That same year, she made news when placing second for "biggest tomato" in the ACE Hardware Express 2nd Annual Tomato Contest.
Daughter Bonnie Soules ( ? - ? ) was born on (?). She married (?) Sallade ( ? - ? ). She moved to Hercules, CA.
Daughter Kathy Soules ( ? - ? ) was born on (?). She married (?) Garland ( ? - ? ). She put down roots in Cottonwood, CA. She was quoted in the Redding Record Searchlight in January 1993 when heavy rains threatened to flood local homes in Cottonwood, and she thought sandbags might be needed.
~ Daughter Martha Mae (Soules) Cacchione ~
Daughter Martha Mae Soles (1918-1979) was born on Jan. 4, 1918 in Canonsburg.
Martha was a 1936 graduate of Canonsburg High School. In marking her graduation, the Canonsburg Daily Notes reported that she had made "One of the best attendance records ever established in the Canonsburg school district... Miss Soules never missed a day of school nor had a tardy mark recorded agaisnt her during the entire 14 years she attended the local schools. Relatives and friends of the girl are proud of her achievement, which required a great deal of diligence over the span of years."
On Nov. 25, 1939, when she was 21 years of age, she married 25-year-old laborer Perry Fabian Cacchione (Oct. 18, 1914-1993), son of Italian immigrants James and Rose (Rimoli) Cacchione of Canonsburg. Their wedding ceremony was held in Harmarville, PA, by the hand of Rev. William A. Hadden. Perry was 5 feet, 6 inches tall and weighed 130 lbs., with brown eyes and brown hair.
Martha and Perry together bore at least four children -- Grace Martha McDonough Raben, Roseann Capino, James Cacchione and Wolly Vincent Cacchione.
The newlyweds first lived with Martha's parents at 216 Grant Street in Canonsburg. He was required to register for the military draft in 1940 and disclosed at that time that he was working for the Budke Stamping Company of Canonsburg. Circa 1942, Martha remained in the home, possibly while her husband was away at war.
Martha was employed circa 1950 by the City of Canonsburg as one of its pioneering women police officers. She was pictured in the Canonsburg Daily Notes that year for her work to police the street intersection zone at the Third Ward School. Perry earned a living that year as a chipper in a brakeshoes manufacturing company.
The Cacchiones later moved to Hyattsville, Prince Georges County, MD.
Sadly, Martha died in Hyattsville, at age 61, in October 1979. Her remains were brought back to her native Washington County to repose for eternity in Queen of Heaven Catholic Cemetery.
Evidence suggests that Perry survived for another 14 years as a widower. Death claimed him in Hyattsville on Nov. 27, 1993. His ashes repose in the columbarium of Queen of Heaven Catholic Cemetery in McMurray, Washington County.
Daughter Grace Martha Cacchione (1940-2004) was born on Aug. 28, 1940 in Canonsburg General Hospital. News of her birth was announced in the Canonsburg Daily Notes. She was married two known times. As of 1959, she was wed to Frank Edward McDonough Sr. (April 3, 1938-1994), a native of Portland, Cumberland County, ME and the son of Thomas F. and Madeline (Fernald) McDonough. Among their offspring were Diane McDonough and Thomas F. McDonough, both of whom died in infancy in the early 1960s. Other children include John McDonough and Patricia Scalco Wilson. Sadness blanketed the family when the 55-year-old Frank passed away in his hometown in Maine on March 18, 1994. He was laid to rest in Mount Hope Cemetery in Lewiston, ME. Sometime in or before 1994, she entered into marriage with (?) Raben ( ? - ? ). Her final residence was in Cape Coral, Lee County, FL. She died on Sept. 29, 2004.
Grandson John McDonough ( ? - ? ) has dwelled in Portland, ME. He and Echo Echevarria ( ? - ? ) are the parents of Sadie Grace McDonough.
Granddaughter Patricia "Patty" McDonough ( ? - ? ) is believed to have been married twice, first to Robert James Scalco Sr. ( ? - ? ), son of Vincent Joseph and Betty Ann Scalco. They together produced a son, Robert Vincent Scalco. After the relationship dissolved, she wed again to Luke Wilson ( ? - ? ). Grief descended upon the family when their son Robert died at the age of 33 in 2014.

Great-grandson Robert Vincent Scalco ( ? -2014) was born in (?). He was an alumnus of Cape Coral High School where he wrestled on the varsity team. He and Maria Bednark bore a daughter, Bella Maria. Sadly, at the age of 33, Robert died on Dec. 14, 2014. In an obituary, the family requested that any memorial donations be made to the Make a Wish Foundation.
Daughter Roseann Cacchione (1943-1993) was born on April 1 or 2, 1943 in Canonsburg. By 1973, she wed Harry Michael "Mike" Capino (Feb. 21, 1942-2023). They made their longtime residence in Laurel, Anne Arundel County, MD. Four sons born into this family were Harry Michael Capino Jr., James Edward Capino, Timothy Lee Capino and Anthony Allen Capino. Mike was employed for two decades as an officer with the Laurel Police Department, hired on Nov. 1, 1969. He was promoted to patrolman first class in November 1971 and then again to corporal on Feb. 22, 1986. On March 31, 1989, he retired bearing the rank of corporal. Sadness cascaded over the family when, stricken with cancer, Roseann passed away at the age of 50 on Nov. 15, 1993. The widowed Mike married a second time, to Charlene Barrett ( ? - ? ), but the union did not endure. His final years were spent in Bowie, MD in the care of his sons Timothy and James. Sadly, he surrendered to the angel of death on Jan. 8, 2023. His remains were lowered into eternal repose in Gate of Heaven Cemetery, Silver Spring. In his memory, Laurel Mayor Craig A. Moe ordered that the city flag at Laurel Municipal Center be lowered to half-staff from Jan. 12-17, 2023. Then on Jan. 24, 2023, an Honor Guard in association with Chief Russell E. Hamill III, Deputy Chief Mark Plazinski and Major John Hamilton gathered to celebrate his life.
Grandson Harry Michael Capino Jr. ( ? - ? )
Grandson James Edward Capino ( ? - ? ) is believed to be married to Renee.
Grandson Timothy Lee Capino ( ? - ? )
Grandson Anthony Allen Capino ( ? - ? )
Son James Cacchione (1948- ? ) was born in about 1948 in Canonsburg.
Son Wolly Vincent Cacchione ( ? - ? ) was born on (?). He moved to Hyattsville, MD with his parents. In young manhood he was employed by Central Management Corporation of Laurel, MD. On Sept. 3, 1978, he was united in holy wedlock with Jane Marie Peterson ( ? - ? ), daughter of Loren D. Patterson. Their wedding was held at Redeemer Lutheran Church of Charlotte, NC. Jane was pictured in a marriage announcement in the Charlotte News. She was an alumnua of West Mecklenburg High School and attended Appalachian State University. At the time of her marriage, she worked for Lundy Electronics and Systems. Then in 1987, in Charlotte, he was engaged to be married to Valerie Kay Davis ( ? - ? ).
Copyright © 2000-2002, 2010, 2023 Mark A. Miner