Adeline Stephens (McKnight) Radcliffe
(1900-1980)

Adeline Stephens (McKnight) Radcliffe was born on May 21, 1900 near Grindstone, Fayette County, PA, the daughter of Henry and Martha (Nutt) McKnight.
She was named after a beloved aunt, Adaline (Stephens) McKnight, the wife of James Hart McKnight.
At the age of 16, Adeline married 29-year-old William Charles Radcliffe (1888-1966), the son of James and Sarah (Cady) Radcliffe. They were a dozen years apart in age. The ceremony was held in Wellsburg, Brooke County, WV, on Jan. 20, 1917, by the hand of Rev. W.J. Holmes.
They had one son, William Curtis Radcliffe Jr.
William spent his entire working career in coal mining. From 1924 to 1929, he was a coal cutter for the Pittsburgh & Erie Coal Company at Braznell (Grindstone). In 1929-1931, he worked as a coal cutter and loader at the Fort Collieries at Curtisville, PA. Then, in 1931, he joined the W.J. Rainey Company's Clarksville mine as a cutter and loader, and joined United Mine Workers Local 688.
During the Depression, the Radcliffes lived in Greene County, PA during his employment at Clarksville. In an August 1932 letter, Adeline's mother wrote to her brother James, saying: "Bill Radcliffe got his hand hurt comeing home from work. They [are] up at Clarksville."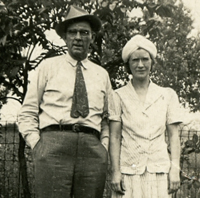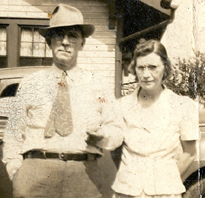 Adeline and William, in nearly identical poses
In 1938, when Adeline's mother died, the Radcliffes were residing in Muse, Washington County, PA. William worked in 1935-1936 at the Pittsburgh Coal Company's Hills Station Mine, operating a "cardox refill station" and performing "tipple work." From 1936 to 1940, he loaded coal for the National Mining Company's Muse No. 3 mine, providing general construction in the mine, laying tracks, cutting timber and running the rock dust machine. In 1940-1942, he was a general laborer and "motorman helper" at the Lincoln Hill Mine of Christopher Coal Company in Washington, assisting with rock dusting, drilling and timbering.
During World War II, William enlisted in the United States Army, serving from June 1942 to February 1946. He received an honorable discharge at Camp Atterbury, IN.
At left: Adeline digs out the sidewalk after a heavy snow -- possibly the day after Thanksgiving 1950, when a record snowfall blanketed Southwestern Pennsylvania.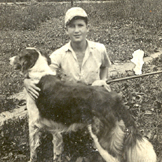 At right: son William Curtis Radcliffe hunting with a favorite weapon and his favorite dog.
After the war's end, the Radcliffes moved into the city of Washington, Washington County, making their home in the 1950s at 836½ Duncan Avenue.
During the years 1946 through 1952, William held higher-level mining positions such as fire boss and assistant mine foreman. He worked for the Hillman Coal Company's Tylerdale Mine in Washington, at Republic Steel Corporation's Clyde No. 3 mine in Fredericktown, PA, and for Valley Camp Coal Company's Triadelphia Mine near Wheeling, WV. The tasks grew increasingly dangerous, as he learned how to use dynamite as a "shot firer" and working around complex loading equipment.
Over the decades, he labored with his wife's relatives John Bush and Gregory Blanock. (A distant cousin, Arthur "Earskin" White, was killed at the Clyde Mine in 1935.)

Adeline with a family automobile -- 1970s?
In about 1959, after William retired, he and Adeline migrated to Orangeville, Trumbull County, OH, to live with their married son and daughter in law and their family of children. They joined the Orangeville Methodist Church.

Suffering from cancer, William died in Orangeville at the age of 78 on June 6, 1966. Among the pallbearers at the funeral were Wilbert "Bic" Horstman, James Soules, William Booth, Charles Griffith and Woodrow Leininger. He was laid to rest in the Hartford Cemetery.
Adeline outlived him by 14 years. She passed away in Orangeville, OH on Sept. 18, 1980, at the age of 80, and joined William in eternal rest in the Hartford Cemetery.
~ Son William Curtis Radcliffe ~
Son William Curtis Radcliffe married Laura McKnight, the daughter of James Henry and Nora (Victor) McKnight. Click to view a more expansive biography.
Granddaughter Beth Radcliffe actively has researching this branch, and helped to organize McKnight Reunions in 1999-2004. Beth has provided a remarkable trove of knowledge and material for this website, and we cannot extend enough appreciation for her gracious spirit of sharing.
Copyright © 2000-2002, 2010 Mark A. Miner