James Hart McKnight
(1856-1945)


James Hart McKnight was born on March 3, 1856 in Fayette County, PA, the son of William and Mahala (Minerd) McKnight. He was called "a great horse fancier" and "a raiser of race horses." A newspaper once said he was "one of the leading farmers of Fayette County."
As a teenager, in about 1871, James and his parents moved to Washington Township, near Fayette City, Fayette County. He lived there the rest of his life.
On Dec. 6, 1877, at the age of 21, James married 25-year-old Adaline Stephens (1852-1931), the daughter of Levi B. and Mary G. (Griffith) Stephens of Washington Township.
They had no children, but raised several nephews and nieces on their farm.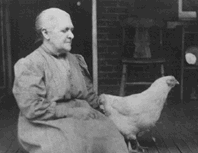 Adaline is seen at right with a prized chicken.
In 1886, at the request of friend Melvina Reeves, James and Adaline loaned her $700 so she could start a merchandising business. When neither Melvina or her husband James repaid the loan, the McKnights sued for $2,000 damages. The outcome is not known.
When the federal census of 1910 was enumerated, James and Adaline are shown in Washington Township, Fayette County. Boarding in their home were Adaline's widowed mother Mary and 27-year-old servant Ella B. Sirocco. Their next-door neighbors were Cassius and Annie Stephens, apparently relatives of Adaline's. James' occupation was listed simply as "farmer."
Similarly in 1920, the census shows them in Washington Township, again with James' employment listed as "farmer." A few doors away were the families of Cassius and Anna Stephens and Emmor and Sarah Stephens.
James is profiled in Volume III of Nelson's 1920 Biographical Dictionary and Historical Reference Book of Fayette County. The book calls him "a prominent farmer and one of the representative citizens of Washington township..." It also misspells his mother's maiden name as "Minniard."
James is seen here with two of his prized horses. He retired in the late 1930s or early '40s.
James and Adaline were members of the Little Redstone Methodist Church. They are said to have helped finance the rebuilding the church after a fire.
Adaline was so admired by her husband's family that when a niece was born in 1900 -- the daughter of James' brother Henry -- the baby was named "Adaline Stephens McKnight."
Sadly, afflicted with myocarditis and coronary stenosis, Adaline died of a heart attack on Feb. 17, 1931, at home. She was just a few weeks shy of her 80th birthday.
James survived his wife by 14 years. In his later years, nieces Mary E. (McKnight) Prewett and Mahala "Hallie" McKnight "made their home with him."

Little Redstone Methodist Church and cemetery, where James, Adaline and many of the McKnight kin rest for eternity.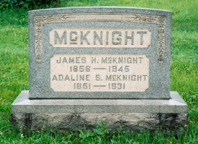 James died on July 1, 1945, at the age of 89. He was laid to rest beside his beloved Adaline at the cemetery of the Little Redstone Methodist Church.
At the funeral, Elizabeth and Grace Prewett sang "We will Say Good Night Here, But Good Morning Up There." Elizabeth and Wilda Stephens sang "The Beautiful Garden of Prayer." His pallbearers were his grand-nephews -- Harry, David and Arthur Prewett, Albert Folkens, Charles Rossell and William Radcliffe.
Copyright © 2000-2001, 2003, 2005, 2010, 2012 Mark A. Miner