Charles Howard McKnight
(1890-1967)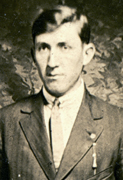 Charles H. McKnight

Charles Howard McKnight was born on March 31, 1890 near Brownsville, Fayette County, PA, the son of Henry and Martha (Nutt) McKnight.

He led an ill-fated life, was seriously injured as a coal miner and later was wounded as a soldier on the fields of France in World War I.
Charles grew up near the town of Braznell (Grindstone), Fayette County. Before the war, Charles resided near Brownsville, and worked as a trip rider at the Mt. Hope coal mine.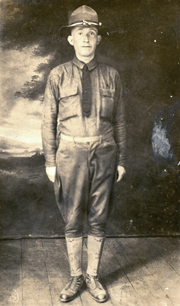 Charles as a doughboy

On Nov. 22, 1916, at the age of 26, he broke three ribs and suffered internal injuries when he "was jerked off the front end of a trip and fell through a trestle." The injury was reported in that year's edition of the Report of the Department of Mines of Pennsylvania. The accident also is mentioned on a memorial webpage to miners who worked at Mt. Hope.

Charles and his brother William both served in the U.S. Army during World War I -- Charles with the Army Engineers, and William with the Military Police. Charles entered the service on May 26, 1918, and trained at Fort Benjamin Harrison before being assigned to the 63rd Engineers, Company B. He was sent overseas in July 1918.

Tragically, Charles was gravely wounded in battle after inhaling German poison gas, and after a receiving a shrapnel wound in the hip at the Battle of Chateau Thierry. Adding to the heartache, his brother was killed in France in a railroad accident. In another ironic twist, one of Charles' second cousins, Raymond G. White of Hopwood, Fayette County, was killed in action at Chateau Thierry.

Upon arriving stateside, Charles was treated at the Overseas Convalescent Detachment at Camp Dix, NJ. He never fully recovered. While recuperating at Camp Dix, he wrote to his sister Mary Catherine Pratton, saying: "I done my best, but I will never be able to do another day's work." He was discharged in December 1919.

According to a newspaper account, Charles "brought with him a newspaper from France containing an account of the funeral services of his brother ... who was killed in France in an accident while on his way to the front, and was buried, together with another soldier who was killed with him, in Enghler Les Bains. He also brought with him a photograph of the funeral, which showed the French people honoring the American boys who gave their lives for their country."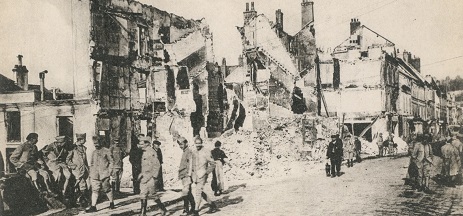 Soldiers inspect ruins of shelling at Chateau Thierry
In a letter to Charles' mother, his former commanding officer wrote:
In a few days your soldier will receive his honorable discharge and start for home. He is bringing back many fine qualities of body and mind which he has acquired or developed in the military service. The Army has done everything it could do to make him strong, fine, self-reliant, yet self-controlled. It returns him to you a better man.... His return to civil life will bring new problems for you both to solve ... and in your hands and his rest the future of our country.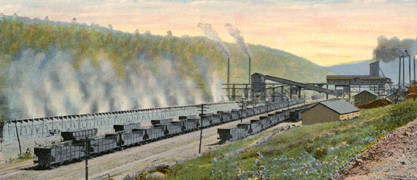 Typical coal tipple (far right) and coke ovens in Brownsville, early 1900s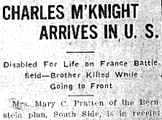 News story circa 1918

When the federal census was taken in 1920, two years after the war's end, Charles lived under the roof of his sister and brother in law, James and Viola "Grace" Soules, in Canonsburg, Washington County, PA. He made a living as a coal miner.

Charles and his ill-fated brother William are profiled in separate entries in the 1920 book Monongahela Valley Towns in the World War, published by the World War History Society.

In 1930, Charles made his home in Lynn Station, Jefferson Township, Fayette County, and made his living as a coal miner. In February that year, said the Uniontown Morning Herald, he was "admitted to the United States government hospital, Philadelphia, for treatment of an old wound received in the World war. The veteran was badly wounded in action necessitating the insertion of a silver plate in his back. This plate has recently become loosened, it is said, and he was admitted to the Philadelphia hospital through the efforts of the Mon Valley Post" of the Veterans of Foreign Wars (VFW).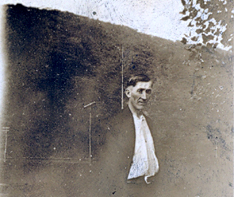 Charles, date unknown

Later that year, when the census again was enumerated, Charles made his home in the residence of his married brother Frank along Braznell Road near Grindstone, on the old farm where their widowed mother also lived.

Charles' first wife was Elizabeth ( ? - ? ). Her fate is unknown, but the marriage did not last long. In a 1932 letter that his mother wrote to his brother James, she said: "Charley was up the other day. Lizzie has left him. He is getting a divorce."

In about 1935, Charles married his second wife, Esther Fodor (1911-2003).

They together produced one son, Charles McKnight.

The McKnights eventually separated. Charles moved to Levittown, Bucks County, near Philadelphia, at the address of 95 Quaker Hill Road. He likely relocated there to reside in or around the military hospital where he had been treated throughout the years.

Toward the end, he was admitted to Lower Bucks Hospital in Bristol Township. Suffeing from hardening of the arteries and pneumothrorax (collapsed lung), he died there on April 5, 1967, at the age of 77, relieved of the pain of his wartime wounds which he had endured for nearly half a century.

Esther outlived her husband by 36 years. She passed away in February 2003, at the age of 92.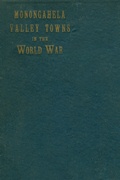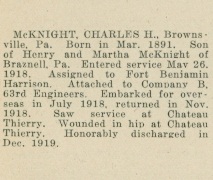 Charles' entry in Monongahela Valley Towns in the World War
~ Son Charles McKnight ~
Son Charles McKnight ( ? - ? )
He married Judith McMorris ( ? - ? ).
They had two sons, Charles McKnight and James McKnight.
Son James McKnight served for four years in the U.S. Navy on the USS Puget Sound AD-38 and the USS Kearsarge LHD-3. He married Jennifer Marie Lade ( ? - ? ) and had two sons, Zachary James McKnight and Alexander Raymond McKnight.
Grandson Zachary James McKnight
Grandson Alexander Raymond McKnight
Copyright © 2000-2002, 2008, 2010, 2013, 2022 Mark A. Miner