Frank and Bo are seen here relaxing at home in a rare color photograph of the era.
When the census was taken in 1930, Frank and Bo made their home along Braznell Road, on the old farm where Frank's widowed mother also lived. In addition to their daughters, Frank's unmarried brother Charles, who had never fully recovered from a poison gasing during World War I, also lived under their roof.
Frank's occupation in 1930 was "laborer - public roads," while his brother Charles' work was "miner - coal mine."
During the Depression, paying employment for Frank was scarce. In an August 1932 letter from his mother to his brother James, she wrote: "Frank has a little work on the roads. There is hard times every place."
When the federal census enumeration again was made in 1940, the couple dwelled in Jefferson Township. Frank's occupation was listed as "miner - coal mine." Living under their roof that year were 19-year-old daughter Lorraine M. McKnight and 18-year-old daughter Pauline R. McKnight.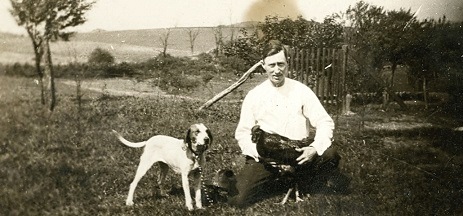 Above: Frank with a favorite dog -- and rooster? -- one of hundreds of fowl he raised on his farm. Below: milking with grandsons Randall and Gary, July 1948.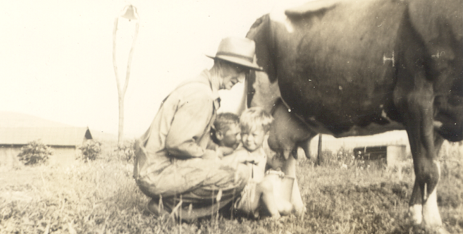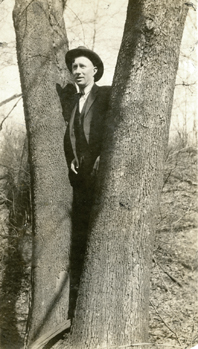 Frank
Frank is seen here in one of his daughter's favorite images -- posed between the trunks of a single tree.
In early August 1961, Frank was profiled in the Uniontown Morning Herald for his work feeding and sheltering "hundreds of birds" on his 35-acre farm. "Others may shelter a larger number, but few if any can boast a wider variety of fowl life. Add this to the fact that Frank's collection is a hobby or pastime rather than for commercial use and it is easy to see that the elderly Grindstone man is truly a friend of fowl."
As his health failed, Frank was admitted to Brownsville General Hospital. He died there on July 12, 1970, at the age of 75. His survivors included 10 grandchildren and 13 great-grandchildren.
Bo outlived him by 14-plus years. She passed away on Jan. 8, 1985.
They are buried at Lafayette Memorial Park at Brier Hill, Fayette County.
~ Daughter Lorraine Marie (McKnight) Barrows ~
Daughter Lorraine Marie McKnight (1921-1999) was born on April 7, 1921 in Uniontown, the daughter of Suzanna Blanche "Bo" Garrison. When her mother married Frank Trevor McKnight, he adopted the girl as his own, and she took his surname.
Lorraine was active as a girl in 4-H activities.
During World War II, in 1943, Lorraine joined the Women's Auxiliary Air Corps (WAAC). She was shipped overseas to England. Her first assignment was in a telephone switchboard operation in six underground floors of the Selfridges department store in London, working with a team of operators for Gen. Dwight D. Eisenhower's London headquarters.
She was part of the D-Day invasion and is said to have been among 36 women who landed on Utah Beach. After arriving in Normandy, France, she and her fellow WAACs slept in tents for three weeks. "Once Paris was cleared out she worked out of the Paris Toll and Test Offices and three hotels used for all military communication," said the Coronado (CA) Eagle and Journal. "She remained in the WAACs until after the war was over."
In 1951, at the age of 30, she wedded Robert Liggett Barrows Sr. (April 12, 1922-2012). The couple met on a blind date in Los Angeles. Robert also was an Army veteran, having been a lieutenant commander in the U.S. Navy during World War II.
The couple produced three children, Jeannine Barrows, Lyla Lenore Barrows and Robert Barrows Jr.
Robert rejoined the Army during the Korean War and saw service.
In 1952, they established their home in Coronado, CA and remained there for the balance of their lives. "She loved this town and was one of the original garage sale goers," noted the Eagle and Journal.
Suffering from diabetes for many years, she passed away in her sleep on Nov. 17, 1999. Burial with military honors was in Fort Rosecrans National Cemetery. Her photograph and an obituary were published in the Eagle and Journal.
Robert survived another 14 years as a widower. He succumbed at the age of 90 on Oct. 2, 2012. He rests with his wife for eternity.
Daughter Jeannine Barrows lived in San Diego in 1999.
Daughter Lyla Lenore Barrows wedded (?) Masters. Their residence in 1999 was in Coronado.
Son Robert Barrows Jr. made his home in Coronado in 1999.
~ Daughter Laura Mae (McKnight) Ames ~
Daughter Laura Mae McKnight (1919-1994) was born in 1919.
At the age of 17, on Jan. 11, 1937, she married 20-year-old Audrey Alfred Ames (1916-1999).
They produced four children -- Bonnie Morozek, Mildred Palmer, Judy Lenk and Trevor Ames.
Audrey was a coal mine electrician for Bethlehem Steel in Marianna, Washington County. He also was the shortstop on the famous Ames Brothers Baseball Team. According to a family manuscript, "Audrey was the teamís leading hitter and had a .412 batting average. He had 63 RBIís and scored 52 runs, striking out only 18 times in 187 times at bat. He also had 84 putouts and 84 assists while making only 10 errors."
Circa 1961-1972, they lived in Grindstone.
Laura died at the age o f75 on May 15, 1994. Audrey outlived her by four and a half years, moving to Avon Park, FL to live with eldest daughter Mildred Palmer. He died on Jan. 29, 1999, at the age of 82.
Daughter Mildred "Sis" Ames ( ? - ? ) married David C. Palmer ( ? - ? ) of Vestaburg. They lived in Wickliffe, OH, and later moved to Avon Park, FL. The couple produced five children -- David Wayne Palmer, Trevor Scott Palmer, Duncan Shawn Palmer, Maura Dee Palmer and Moya Lee Wall. Mildred was deceased by 2022.
Grandson

David Wayne Palmer

( ? - ? )
Grandson Trevor Scott Palmer

( ? - ? )
Grandson Duncan Shawn Palmer

( ? - ? )
Granddaughter Maura Dee Palmer

( ? - ? )
Granddaughter Moya Lee Wall

( ? - ? )
Son Trevor Barton Ames Sr. (1940-2022) was born on Nov. 5, 1940 in Washington County, PA. He grew up playing baseball and is said to have played minor league baseball in the New York Yankees farm system. During the early years of the Vietnam War, from 1958 to 1961, he served in the U.S. Navy. Trevor was married twice, first to Barbara DiMatteo ( ? - ? ). They dwelled in Wickliffe, OH and had three daughters -- Tracy Lynn Ford, Bernardine Marie Schoonover and Laura Ann Ames. Later, on April 27, 1984, Trevor was joined in wedlock with his second wife, Patricia "Pat" Bragan ( ? - ? ). She brought a son to the marriage, Roma Alan Ames. They had a son together, Trevor Barton "Bart" Ames, and Trevor adopted his stepson as his own. Another son in this brood was Brian Kitelinger. For more than three decades, Trevor was employed by Yellow Freight as a truck driver. The family attended Polk United Methodist Church. Said an obituary, "He enjoyed tinkering around on his property, working on his garden and loved his pets." The couple's final years were spent in Polk near Wooster, OH. Trevor died on April 19, 2022, at age 81, as a resident of Smithville Western Nursing Home. Interment of the remains was with military honors in Ashland County Memorial Park. He was survived by a dozen grandchildren and three great-grandchildren.
Granddaughter

Tracy Lynn Ames ( ? -living) was joined in wedlock with David Ford

( ? - ? ). The pair has made a home in Nankin, OH.
Granddaughter Bernardine Marie Ames

( ? - ? ) entered into marriage with Douglas Schoonover. They established a residence in Colorado Springs, CO.
Granddaughter Laura Ann Ames

( ? - ? ) dwelled at Lake Mary, FL in 2022.
Step-gramdson

Roma Alan Ames

( ? - ? ) wed Melinda. They have lived in Shelby, OH.
Grandson Trevor Barton "Bart" Ames

Jr. ( ? - ? ) was united in matrimony with Elizabeth. Circa 2022, they were in Seville, OH.
Daughter Bonita Kay "Bonnie" Ames ( ? - ? ) married Joseph Morozek ( ? - ? ). She lived in Wickliffe, Willoughby and Macedonia, OH. They had three children -- Joel Vincent Morozek, Belinda Kay Kline and Marnee Rae Leon. Later, she wed Ralph Greco. Ralph was deceased by 2022.
Grandson

Joel Vincent Morozek

( ? - ? )
Granddaughter Belinda Kay Kline

( ? - ? )
Granddaughter Marnee Rae Leon

( ? - ? )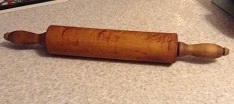 Judy Lenk's heirloom rolling pin
Daughter Judith Rae "Judy" Ames ( ? - ? ) married John Edward Lenk ( ? - ? ) and resided in Wickliffe and Thompson, OH. Their three children are Jody Craig Lenk, Jill Patrice Henderson and John Christian "J.C." Lenk. She inherited a family heirloom -- an old rolling pin originally owned by her great-grandmother Martha (Nutt) McKnight. Judy wrote in November 2021: "I made my nut rolls today and as I was doing so, I thought, I wonder how old this rolling pin is? It belonged to my Great Grandmother, Martha (Mum) Nutt McKnight! My Grandpap was Frank McKnight and he lived on the adjoining farm so my mom spent most of her time with Mum McKnight when her Mom died at a very early age. I'm sure this rolling pin has to be about 150 years old and I still use it. The handles come out for cleaning."
Granddaughter

Jody Craig Lenk

( ? - ? )
Granddaughter Jill Patrice Henderson ( ? - ? )
Grandson John Christian "J.C." Lenk

( ? - ? )
~ Daughter Pauline Ruth (McKnight) Wilson ~
The Wilsons on their wedding day
Daughter Pauline Ruth McKnight (1921-2002) was born on May 2, 1921 in Grindstone, Fayette County.
On July 7, 1940, when she was about 19 years of age, Pauline was joined in holy matrimony with Michael M. Wilson (March 18, 1918-1993).
During World War II, Michael served as a corporal in the U.S. Army.
The Wilsons resided in Brownsville, Fayette County.
The three sons born to this marriage were Gary Michael Wilson, Randall Wilson and Kenneth M. Wilson.
Heartbreak enveloped the family when son Gary died at the young age of 36 in 1979.
Sadly, Michael was swept away by the Angel of Death at the age of 79 on May 14, 1993.
Pauline outlived her husband by a little more than five years.
She passed away in Greensburg, Westmoreland County, PA on Nov. 10, 2002, at the age of 81. She was laid to rest in LaFayette Memorial Park, with a news obituary published in the Uniontown Herald Standard.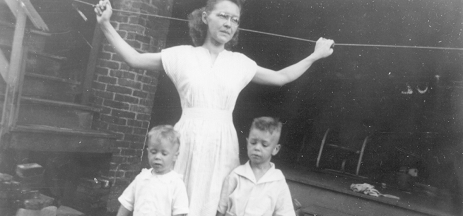 Pauline Wilson with sons Randall, left, and Gary, August 1948.
Son Gary Wilson (1943-1979) was born on Feb. 15, 1943. He was a disabled veteran of the United States Army, having served with the rank of private. Gary was married and had two daughters, Theresa and Katrina. Sadly, he died at age 36, in the Veterans Administration Hospital in Oakland, near Pittsburgh, on March 5, 1979. He was interred at LaFayette Memorial Park in Brier Hill, near Uniontown.
Son Randall A. Wilson ( ? - ? ) married Judy ( ? - ? ). They resided in Euclid, OH in 1979-2002. His daughter Holly generously has provided important information and photos for this website.
Son Kenneth M. Wilson ( ? - ? ) was born in (?). He was joined in wedlock with Jill Marie Kelly ( ? - ? ). They lived in Brownsville together produced three offspring -- Hayley Godfrey, Jordan Bohna and Ryan Wilson. Sadness blanketed the family when Kenneth surrendered to the angel of death on Feb. 12, 2022.

Granddaughter Hayley Wilson married Jeffrey Godfrey. They resided in Rostraver Township.

Granddaughter Jordan Wilson wed Ryan Bohna. The couple put down roots in Brownsville.

Grandson Ryan Wilson was united in matrimony with Rebecca. They have dwelled in Claysville, PA.


Copyright © 2000-2004, 2010, 2019, 2021-2022 Mark A. Miner
Holly Wilson and Judy (Ames) Lenk graciously have contributed to this biography.