Thomas Springer McKnight Sr.
(1898-1976)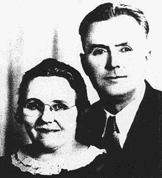 Tom and Margaret
Thomas Springer McKnight was born on Jan. 17, 1898 in Jefferson Township, Fayette County, PA, the son of Henry and Martha (Nutt) McKnight.
Thomas married Margaret Mae McCune (June 21, 1894-1973), the daughter of Thomas W. and Rebecca (Brewer) McCune and a native of Brownsville Township. The bride was five years older than the groom.
The McKnights had four children -- Beatrice Rebecca Newhouse, Thomas Springer McKnight Jr., Mary Elizabeth Kinsell and David McKnight.
He was of medium height and build, with dark eyes and dark hair. In September 1918, when he was required at the age of 20 to register for the military draft during World War I, he disclosed that he was employed by Mrs. W.L. Wood as a machinist in Fayette City, Fayette County. He also told the registration officer that Margaret was his next of kin and that they boarded in Fayette City with Fred Johnson.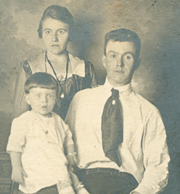 Tom, Margaret & Beatrice
The family resided lived in Brownsville (1917), Fayette City (1918), Grindstone (1922, 1938) and Adah, Fayette County (1970s).
The young family is seen at right, with daughter Beatrice sitting on Thomas' lap, circa 1920.
When the federal census was enumerated in 1920, Thomas, Maggie and Beatrice made their residence together on Linn Road in Redstone Township, Fayette County. His occupation was listed as "machinist - coal mine."
Three more children were born during the decade of the 1920s. The census of 1930 shows the family living along Braznell Road near Grindstone, Fayette County. The census-taker wrote that Thomas worked that year as a "mechanic - railroad shop," likely the Monongahela Railway Company of South Brownsville.
Thomas was a longtime machinist with the company, and was a charter member of the International Association of Machinists.
During the Depression, employment for Thomas was scarce as railroading commerce declined everywhere. In an August 1932 letter from his mother to a relative, she wrote: "Tom was over last evening. He onely has 3 nights [of work] a week."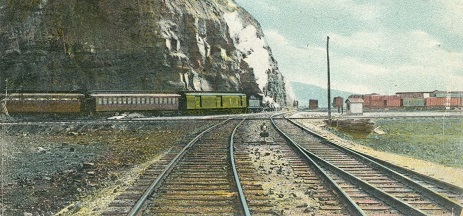 Above, busy railroad junction in Brownsville. Below, Tom (red circle, right) and his son David (red, left) with fellow Monongahela Railway employees in October 1944. Cousin William Gribble, son of Thomas Ira Gribble, is circled in yellow.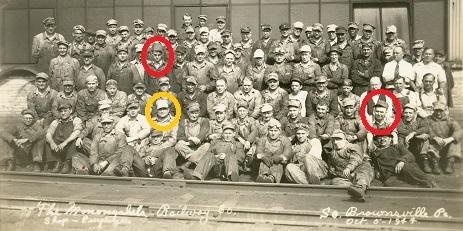 Tom at work, 1944
During the height of World War II activity, in October 1944, Thomas worked at the Monongahela Railway along with his 18-year-old son David. They are pictured in a group photograph taken on Oct. 5, 1944. A distant cousin, William E. Gribble of the family of Thomas Ira McKnight, also worked there at the time.

Tom's obituary, 1976
The Monongahela Railway was in business to provide short coal-hauling transport between sites in Pennsylvania and West Virginia. It had a combined ownership, a joint venture between the Pennsylvania Railroad, Pittsburgh and Lake Erie Railroad, and the Baltimore and Ohio Railroad. South Brownsville served as the point of connection between the co-owners and was where the company was headquartered. Later, the Penn Central Transportation took possession of the New York Central and Pennsy and operated independently for many years.
Margaret is known to have been a volunteer with the American Red Cross chapter in nearby Republic, Fayette County. In November 1941, on the eve of World War II, she attended a Red Cross dinner conference in Uniontown. They attended the West Brownsville Christian and Missionary Alliance Church.
The family was plunged into grief when Margaret passed away at home on March 1, 1973, at the age of 79. Her obituary in the Uniontown Evening Standard said she had been "a lifelong resident" of the Jefferson Township and Grindstone areas. Rev. Carol Hughes officiated the funeral service.
Thomas outlived her by three years. He died at home of a heart attack on March 20, 1976, at the age of 78. His newspaper obituary said he was survived by 14 grandchildren and 16 great-grandchildren.
He and Margaret are buried together at Lafayette Memorial Park, Brier Hill, Fayette County.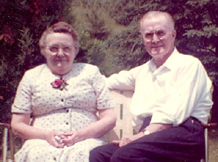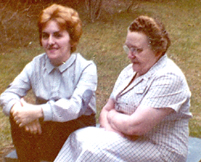 Thomas and Maggie, left; and Maggie with daughter Mary Kinsell
~ Daughter Beatrice Rebecca (McKnight) Newhouse ~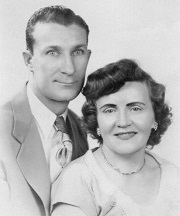 Roy and Beatrice Newhouse
Courtesy Avis Elizabeth McKnight

Daughter Beatrice Rebecca McKnight (1917-2002) was born in 1917 in Brownsville.

She was a 1935 graduate of Redstone High School in Republic, Fayette County.


On May 25, 1937, when she was age 20, Beatrice married 17-year-old Roy James Newhouse (Feb. 11, 1920-1998). Roy was a native of Slickville, Westmoreland County, PA and the son of Earl C. "Caddy" and Anna Mae (Frew) Newhouse.

Roy stood 6 feet tall and weighed 150 lbs., with brown hair and blue eyes.

They together bore one daughter, Janet Lee Smith.

When the United States Census enumeration was made in 1950, the family of three continued to dwell in Grindstone, with Roy marked as a "dayman" in the coal mine. Roy was employed by Republic Steel Corporation in Fredericktown in 1961. He was named in the gossip columns of the Uniontown Evening Standard in mid-December of that year when hospitalized for a head injury received at work. He also was involved in a motor vehicle accident in November 1970, one mile south of Villersville near Waynesburg, and treated at Brownsville General Hospital.

In 1991, the Newhouses relocated to Waynesburg, Greene County, where they were members of the First Church of the Nazarene.

Roy passed away on Nov. 24, 1998.

Beatrice outlived her spouse by three-and-a-half years. Her final residence was in the Rolling Meadows Nursing Home in Waynesburg.

She was gathered away by the heavenly host at the age of 85 on May 18, 2002. She was laid to rest next to her husband in Lafayette Memorial Park near Uniontown, Fayette County. At her death, she was survived by three grandchildren and seven great-grandchildren.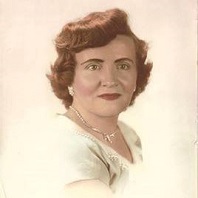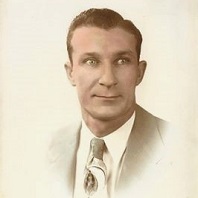 Beatrice and Roy Newhouse.
Courtesy Avis Elizabeth McKnight
Daughter Janet Lee Newhouse (1941- ? ) was born in about 1941. She was a 1959 graduate of Redstone High School. Janet was joined in wedlock with Robert W. Smith ( ? - ? ), son of Wylie Smith of Grindstone. They produced a son, Derek Scott Smith. Circa 1963, they made a residence on Murray Avenue in Brownsville.
~ Daughter Mary Elizabeth (McKnight) Kinsell ~

Mary Kinsell
Courtesy Avis McKnight

Daughter Mary Elizabeth McKnight (1922-2000) was born on June 11, 1922 at Grindstone, Fayette County.

On Nov. 3, 1946, when she was age 24, she married Clarksville resident Earl Goodlow Kinsell (Dec. 15, 1921-2000). He was a native of Pitt Gas, Greene County and the son of Calvin Frederick and Lillian Althea (McCune) Kinsell. News of the couple's marriage license was publicly announced in the Uniontown Morning Herald.

Earl had a grammar school education. Prior to World War II, he lived in Clarksville, PA and labored for Republic Steel Company in Fredericktown, working for Clarence Friend. He stood 5 feet, 7½ inches tall and weighed 145 lbs., with black hair and brown eyes.

He served in the U.S. Army during the war, from Feb. 4, 1943 to January 1946. He was assigned to Battery A of the 501st Anti-Aircraft Artillery Gun Battery, and received his honorable discharge at Fort Knox, KY.

They were the parents of one son, David Earl Kinsell.

The Kinsells resided in a variety of places over the years, among them Redstone Township, Waynesburg and Clarksville, PA. When the federal census enumeration was made in 1950, the three McKnights dwelled in or near Grindstone, Redstone Township, with Earl employed as a "dayman" in the local coal mine operation.

Earl also was a self-employed barber with a shop in Millsboro, PA.

They later made a home at Reesman's Mobile Park in Morgan Township, Greene County. Mary enjoyed crafts and at one time held a membership in the Clarksville Missionary Church.

Ironically, the couple died about five weeks apart. Earl passed first, on June 10, 2000. His remains were cremated.

Mary suffered from heart problems, and surrendered to the angel of death at the age of 78 on July 15, 2000. An obituary in the Morgantown (WV) Dominion Post said that Rev. Domenik Sgro officiated the funeral.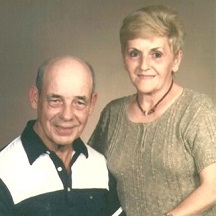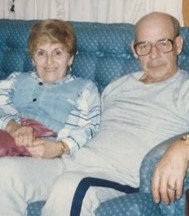 Mary and Earl Kinsell.
Courtesy Avis Elizabeth McKnight
Son David Earl Kinsell (1948- ? ) was born in about 1948 and grew up in Grindstone, Redstone Township. He has been twice-wed. His first spouse was (?). Together, they produced a family of two -- Matthew Kinsell and Lori Barnhart. Then in June 1986, he was united in matrimony with Erma Kay (Daniels) Zack (March 9, 1950-2022), daughter of Charles S. and Arnelda M. (Pencil) Daniels and a native of Mishawaka, IN. She brought two stepchildren into the union -- David Zack Jr. and Brian Zack. Erma Kay was an alumna of Jefferson-Morgan High School. Circa 2000, they dwelled in Newport, NC. At some point they moved back to southwestern Pennsylvania and resided in Richeyville, PA. Said an obituary, Erma Kay "enjoyed crocheting, flower gardening and vacationing during the Winters in Florida. Raising roses where her specialty. Mrs. Kinsell was a loving and caring wife, mother, grandmother and great grandmother and would care for others before caring for herself... Her crochet work included volunteering to make scarves and plastic crocheted sleeping mats for the homeless." Sadly, at the age of 71, Erma Kay passed away in Donnell House in Washington, PA on Feb. 15, 2022.

Obituary, 1976
~ Son Thomas Springer McKnight Jr. ~
Son Thomas Springer McKnight Jr. (1920-1976) was born on Feb. 19, 1920 in Grindstone.
He entered into marriage with Una Wyatt (1920-1977), the daughter of Olive Wyatt and a native of Brownsville.
They had six children -- Thomas Springer "Tom" McKnight III, Joel H. McKnight, Joyce Joseph, Mary Lee Campbell, Sharon K. Barr and Nancy Ann Pfendler.
The McKnights made their home in Grindstone, where Thomas was a carpenter.
When the fedeeral census enumeration was made in 1950, the McKnights dwelled in Jefferson Township, Fayette County, with Thomas employed as a timberman in a coal mine. Their next-door neighbors were Thomas' married cousin and her husband, Laura and Audrey Ames.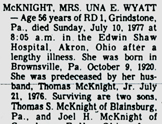 Sadly, Thomas died at age 56 on July 21, 1976 in Presbyterian University Hospital in Pittsburgh.
Una only outlived her husband by about one year. She died at age 56, on July 10, 1977, in the Edwin Shaw Hospital in Akron, OH. Her remains were returned to Fayette City for burial in the Little Redstone Methodist Cemetery, where many generations of McKnights rest for eternity. Her obituary in the Uniontown Herald-Standard said that she was survived by nine grandchildren.

Tom III
Son Thomas Springer "Tom" McKnight III (1951-2018) was born on Feb. 2, 1951 in Brownsville. In about 1972, at the age of 21, he was united in holy matrimony with Carl Masterann ( ? -living). Their union lasted for 46 years until cleaved apart by death. The couple bore two daughters, Natalie McKnight and Ann McKnight. They lived in Blainesburg, a community near West Brownsville, Washington County, PA. For nearly four decades, Thomas owned McKnight Medical in Charleroi, Washington County. He liked to read, collect classic cars and attend car shows, fish, golf, split wood and using a John Deere tractor to cut his grass. In about 2010, they relocated to Perryopolis, Fayette County. Sadly, the day after Christmas 2018, Thomas passed away at the age of 67. Burial was in LaFayette Memorial Park, with Rev. Jeff Marton officiating.
Granddaughter Natalie McKnight ( ? - ? ) resides in Perryopolis.
Granddaughter Ann McKnight ( ? - ? ) lives in Brownsville.
Son Joel H. McKnight ( ? - ? ) has resided in Cuyahoga Falls (1977), Grindstone and Monongahela, PA (2019).
Daughter Joyce McKnight (1941- ? ) was born in about 1941. She wed (?) Joseph ( ? - ? ) and made her home in 1977-1994 in Cuyahoga Falls near Cleveland, OH. She was deceased by 2019.
Daughter Mary Lee McKnight (1942-1994) was born on or about June 13, 1942 in Fayette County. News of her birth was published in the Uniontown Morning Journal. She married Darrel Campbell ( ? - ? ) and lived locally until about 1973, when they relocated to Cuyahoga Falls, OH. Their children were Deborah Kay Campbell, Richard Wade Campbell, Dennis Campbell and Donna Lee Prahle. Sadly, she and Darrel outlived their children Deborah and Richard. At the age of 52, Mary was swept away by the Grim Reaper in Cuyahoga Falls on July 18, 1994. An obituary appeared in the Akron Beacon Journal.
Daughter Sharon K. McKnight (1943-2016) was born on July 21, 1943 in Brownsville. In about 1961, at the age of about 18, she married John H. Barr ( ? - ? ). The marriage endured for 55 years, all of them spent living in the Harmarville/Cheswick area of Pittsburgh. The two daughters born to the couple were Vicky L. Laslo and Tammy Curti. Sharon earned a living with Eckert Pharmaceutical in Indiana Township and attended the Methodist Church. Sadly, Sharon died at home at the age of 73 on Aug. 3, 2016. The Valley News Dispatch published an obituary.
Daughter Nancy Ann McKnight (1948-2019) was born on Jan. 16, 1948 in Brownsville. She was twice wed. Circa 1976, her first husband was (?) Pfendler ( ? - ? ). The couple produced an only son, Grant Michael Pfendler. The family made a home circa 1976 in Warren, Trumbull County, OH. Then on July 28, 1989, at the age of 41, Nancy married Raymond Hanzes ( ? - ? ). He had been married before and brought two children to the union, Patti Hanzes and Cindy Chick. They lived in Newton Falls, OH and were members of the Newton Falls Congregational Church and affiliated with the town's volunteer fire department. She also liked to play bingo and games of skill as well as her hobby of collecting frogs. Sadly, as her health declined, Nancy was admitted to St. Joseph Warren Hospital, where she succumbed at the age of 71 on April 29, 2019. Her cremains were placed into burial in Little Redstone Cemetery near Fayette City, with an obituary printed in the Warren Tribune-Chronicle.


David and Marjorie McKnight
~ Son David McKnight ~
Son David McKnight (1926-1995) was born in 1926.
Circa 1944, when David was age 18, he was employed with his father at the Monongahela Railway shop in South Brownsville.
At the age of about 22, on April 14, 1948, he was united in the bonds of matrimony with 19-year-old Brownsville High School graduate Marjorie Shelor (April 22, 1928-2019), a native of Philipsburg, Centre County, PA and the daughter of Paul Grant and Jane Rachel (Casher) Shelor. The wedding ceremony was held at the Central Presbyterian Church in Brownsville.
Their union endured for 47 years until cleaved apart by death.
The couple produced a family of six children -- David L. McKnight, Avis Elizabeth McKnight, Kevin S. McKnight, Judith Miller, Wesley P. McKnight and Eliza Jane McKnight.

David at work, 1944
Prior to marriage, Marjorie had been employed as a telephone switchboard operator for Bell Telephone in Brownsville.
The family resided for many years in Adah and Grindstone, Fayette County. The United States Census of 1950 shows David, Marjorie and one-year-old son David in Jefferson Township.
David remained in the employ of the Monongahela Railroad until 1952. He then went to work as a mechanic at the Newell plant of Allied Chemical. He stayed with Allied for 34-35 years until retirement.
The children attended Brownsville schools. Said their daughter Avis, "My Mother was a Christian who dearly loved the Lord Jesus."
The McKnights are known to have enjoyed visits with Marjorie's parents who had relocated to Sandy Ridge near Tyrone, Blair County, PA.
Sadly, their daughter Eliza Jane was born with excess fluid on the brain, a serious condition known as "hydrocephalus." She underwent surgery at Pittsburgh's Childrens Hospital but died on Sept. 16, 1967 at the tender age of 16 months. Her tender remains were placed into repose in LaFayette Memorial Park. A short obituary was published in the Connellsville Daily Courier.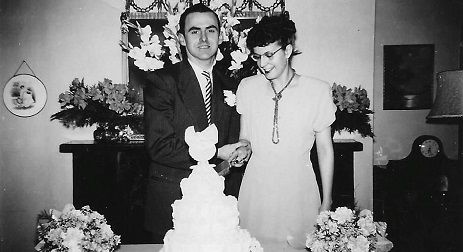 The McKnights' wedding day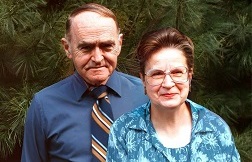 David and Marjorie, 1987

Their final home together was in Adah, Fayette County.

David passed away at the age of 68 on March 6, 1995, in Brownsville General Hospital.

Marjorie outlived her spouse by 24 years, almost a quarter of a century of time.

She was carried away by the Angel of Death on June 12, 2019. Her remains were lowered into the earth beside David's at LaFayette Memorial Park.

Son David L. McKnight (1949- ? ) was born in about 1949.

Daughter Avis Elizabeth McKnight ( ? -living) graciously has provided valuable content and images for this biography.

Son Kevin S. McKnight ( ? - ? ) was born on (?). During the mid-1970s, he joined the U.S. Air Force and underwent basic training at Lackland Air Force Base.

Daughter Judith McKnight ( ? - ? ) married (?) Miller ( ? - ? ).

Son Wesley P. McKnight ( ? - ? )

Copyright © 2000, 2002, 2005, 2008, 2010, 2015, 2018-2019, 2023 Mark A. Miner