Mary 'Hester'
(McKnight) Strauch
(1856-1922)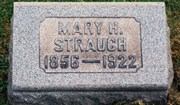 Union Cemetery, Dickerson Run
Mary "Hester" (McKnight) Strauch was born in Fayette County, PA in 1856, the daughter of Henry and Barbara (Minerd) McKnight. Her husband was a veteran of the Civil War.
When Hester was 10, in the winter of 1866, her mother died in childbirth. Her father never remarried, but raised Hester and her brothers to adulthood in and around Dawson, Fayette County.
On Sunday, July 25, 1880, at the age of 24, Hester married 37-year-old widower John H. Strauch (1843-1894), the son of John Straugh, who was an immigrant from France. Rev. Thomas Storer performed the ceremony at the Dawson Methodist Episcopal Church. Joseph Cochran and Henry J. Molleston were witnesses. At the time of marriage, John was working as a coal miner. He was 13 years older than his bride.
John's first wife Catherine (Martin) Strauch died in 1873, and he brought three children to the second marriage: Charles Griffin Strauch, Anna May Martin and Cora Viola Sheppard.
Hester and John had these six children of their own -- Thomas Strauch, William H. "Petey" Strauch, Walter Scott Strauch, Norman M. Strauch, Dora McKnight Gilmore and John A. Logan Strauch. Thomas is believed to have been born prior to marriage, in 1879. As the children were born, their names and dates of birth were inscribed in the family Bible.
During the Civil War, John resided in Tyrone Township, Fayette County. He stood 5 ft., 6 in. tall, with light hair and blue eyes. He enlisted on Aug. 22, 1862 in the 155th PA Infantry, Company E. When his regiment was stationed in the swamps of Petersburg, VA, John became ill with malaria-like symptoms. Writing many years later, he said:
I think the Start of my disease origenated frome exposure to wheathe something that I had not been accustomed to when our Regiment first entered into active service which was ... at the time of Anteitam and South Mountain battels in 1862. We were out on march and in camp during duty and did not have either Blanket or Shelter tent for six weeks. Some months after that I began to have pains in my legs and Back which at times was so [severe] that [I] was excused from duty. In the sumer of 1864 while in front of Petersburgh, Va., I took a severe chill that lasted a bout 3 hours after which the Burning fever set in and lasted a botu the same time. The come one some times every day, some times not for 2 or 3 days, not thinking worth while to go to the Hospital I remained in the company tending sick call at the Reg Surgeon office when I thought that it was necessary and when I was not feeling bad I done my share of camp duty.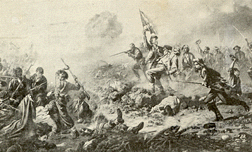 Battle of the Crater at Petersburg
Adding to his injuries was deafness caused "by heavy cannonading" at the Battle of Petersburg on July 30, 1864. He was discharged on June 8, 1865 in Washington, DC. Writing about his postwar experience, John said:
...after discharge returned to [Tyrone Twp.] and worked on farm for other men until Dec. 1867 when rented a small farm and went to house keeping and since then until April First 1869 when I moved about seven miles to work on a farm where lived until Ap. 1st 1871 when I bought 2 akers land and built a house working part of the time in a Brick yard and part of time on farm until 1873 when my wife died leaving me with three children. After which I moved back to my Fathes [sic] house the place I came to after discharg [sic]. I had to sell my house & Lot to pay doctor Bill of my Self & wife...
John and his future father in law Henry McKnight, also an Army veteran, labored together in local coal mines. Of McKnight, John once wrote: "I have worked with him in the mines from the winter of 1873 at intervals to the Spring of 1884..." Writing about himself, John said: "I worked days work and mined coal when I was able to work. Some times I could not do any work for three or four weeks at atime not being able to put my clothes on without assistance."
The effects of John's wartime illness became more severe as time went on. In 1868, he said, he was treated by Dr. J.C. Henry of Dawson "with a chill that ended with constipation of the bowels..." In May 1873, he said he "was laid up three weeks with Rheumatism, wholy unable to get up alone and have [been] on different occasion. Am never with out pain in som of my legs or hips or arms or back or neck."
John's father in law wrote in 1891:
I have been well and personally acquainted with ... Strauch since 1865 and during my acquaintence with him he has continually suffered rheumatism and have seen him often suffering from chills and weakness... In my opinion and observation he has continually grew worse from year to year and is now not able to work more than half the time or do more than one half of an able bodied man's work. I know these facts from having lived neighbor to him ever since the war and by working with him...
When Hester gave birth to son Walter in 1883, family friend Sadie Gallatin attended her as a nurse. When son Norman was born in 1885 and daughter Dora in 1888, Nancy S. McKelvey was present to help. Adaline Hough served as midwife for the birth of son William in 1881.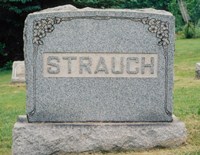 Union Cemetery, Dickerson Run
Sadly, John passed away on April 20, 1894. Dr. J.F. Cogan, who attended him in his final illness, gave the cause of death as "catarrh of Stomach & bowels."
His 37-year-old widow was left to raise their young children. Writing at around that time, she said she had "no property or other valubes [valuables] that brings me eny income. What ever i suporte myself and five children by my one [own] laber."
Sons William and Walter were educated in the Soldiers Orphans School in Uniontown, Fayette County. Records of the school circa 1895 indicate that J.A. Stickel of Dawson was the individual who applied to get them in. The family's relationship to Stickel is unknown -- perhaps he was a guardian or good friend of the family.
In August 1901, Hester signed a gas lease, granting the Fayette County Gas Company the right to extract and operate oil and gas on her property.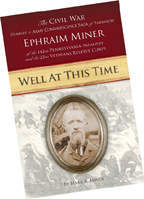 Book naming Hester and John
When the federal census was taken in 1910, Hester and four of her adult children -- William, Walter, Dora and John -- lived under her roof near Dawson. Son William operated his own blacksmith shop; Walter was a railroad laborer; Dora provided housework; and John was a laborer on a farm. Residing just a few doors away was Hester's 51-year-old brother Ostman Todd McKnight and his wife and family.
Hester was afflicted with heart problems called "chronic myocarditis." She failed to regain health and passed away on June 8, 1922, at the age of 66. She was laid to rest at Union Cemetery in Dickerson Run. Her son William was the informant for her Pennsylvania death certificate, which gave her parents' names as "Henry McKnight" and "Mary Minerd."
Daughter Dora married cousin William Curtis McKnight, who was killed in World War I. Dora later married Henry Gilmore.
Hester and John are mentioned in a lavishly illustrated, 2011 book about one of her cousins who also was a Civil War veteran -- entitled Well At This Time: the Civil War Diaries and Army Convalescence Saga of Farmboy Ephraim Miner. The book is authored by the founder of this website. [More]
Copyright © 2000-2004, 2011, 2018 Mark A. Miner