Walter Scott Strauch
(1883-1959)

Walter Strauch
Walter Scott Strauch was born on May 29, 1883 near Dawson, Fayette County, PA, the son of John and Mary Hester (McKnight) Strauch.
Walter was just 11 years old when his father -- a veteran of the Civil War -- died. He and his brother William were educated in the Soldiers Orphans School in Uniontown, Fayette County. Records of the school circa 1895 indicate that J.A. Stickel of Dawson was the individual who applied to get them in.
By the year 1900, when he was age 17, Walter had returned to his mother's home near Dawson. He attended school that year.
Walter served in the U.S. Army circa 1906. That year, in January, he was stationed at Fort DuPont, DE, and wrote a letter to his beloved grandfather, Henry McKnight.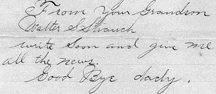 Walter's letter to his grandfather
The letter read, in part:
I have not forgot you yet. I have been thinking about writing to you for the pass year but kept puting it off. So I will try and make a start at it. I do not know how I will end.... Say dady, I will send this picture to you and you can see how I look since I was at home. I have got fatten up a little more now then when I was at home the last.
Walter spent many years working as a carpenter for the Pittsburgh and Lake Erie Railroad in or near Dawson, Fayette County.
On Nov. 30, 1911, when he was 28 years of age, Walter was married to 20-year-old Ina Claire Porter (April 18, 1891-1942), daughter of N. Frank and Cora B. Porter. The nuptials were held at the bride's home and officiated by Rev. Ralph Bell. Claire was a native of Jeannette, Westmoreland County, PA and dwelled near Dawson at the time of marriage.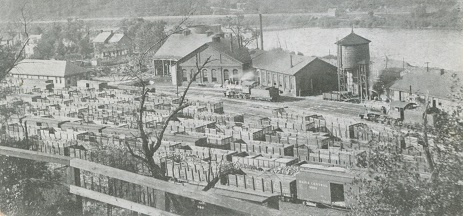 Busy railroad yards at Dickerson Run near Dawson
The couple did not reproduce but adopted a daughter.
In September 1927, residing in Vanderbilt, the Strauchs were given permission by the Fayette County Orphans Court to adopt 15-year-old Thelma McFarland, who had lived with them for a number of years. The girl was the daughter of Margaret Weimer of Berlin, Somerset County.
The federal census enumeration of 1930 shows Walter and daughter Thelma living in Vanderbilt, but with Ina's whereabouts not marked.
By 1935, Walter and Ina had separated. He received a court order to pay her $20 in monthly support. Sadly, Ina was admitted in about 1937 to Torrance State Hospital in Derry, Westmoreland County. There, she remained as a patient off and on for the next seven-and-a-half years, suffering from hypertensive sclerosis and heart disease.
Walter (right) with Radcliffe relatives at a McKnight reunion, 1950
A second legal claim was brought against Walter, and he was directed by the Fayette County Domestic Court to pay an additional $15 peer month "to be used by the probation officer for repairs to make the house liveable for the wife...," reported the Uniontown Morning Herald.
He lived alone on First Street in Vanderbilt when the census again was taken in 1940. His salary around that time was $1,800 annually, and he also owned three properties. In July of that year, he was jailed for failure to pay support to his wife who was "destitute," reported the Connellsville Daily Courier. Ina had accused him of leaving her "without food except for that sent in by neighbors, [and] was without fuel and also money with which to buy necessities of life."
Ina died in the Torrance hospital at the age of 51 on Dec. 4, 1942. Interment was in Dickerson Run Union Cemetery. A moment of silent prayer was observed in her memory at the meeting of the Women's Society of Christian Service at the Vanderbilt Methodist Church, held at the home of Mrs. Roy Herbert.
Walter outlived his wife by a number of years. At a McKnight family reunion circa 1950, he posed for a snapshot photograph seen on this page with his cousins, William Curtis and Adeline (McKnight) Radcliffe, and the couple's grandchildren, Barbara and William.
His last years were spent in a residence on Dixon Street in Dawson. Suffering with heart disease added to emphysema and chronic bronchitis, he passed away at home at the age of 75 on Jan. 21, 1959. Burial was in Dickerson Run Union Cemetery. A brief notice of his death was printed in the Daily Courier.
~ Adopted Daughter Thelma E. Strauch ~
Adopted daughter Thelma E. Strauch (1913- ? ) was born in about 1913, the daughter of Margaret Weimer of Berlin, Somerset County.
At a young age, the girl came to live with the Strauchs, and was legally adopted by them circa 1927.
After her parents separated, Thelma resided with her father in Vanderbilt circa 1930.
Nothing more about her is known.
Copyright © 2001-2002, 2005, 2011, 2018, 2023 Mark A. Miner