William Henry 'Petey' Strauch
(1881-1955)
William Henry "Petey" Strauch was born on May 10, 1881 near Dawson, Fayette County, PA, the son of John and Mary Hester (McKnight) Strauch.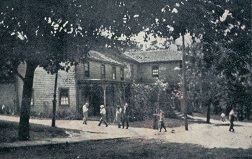 School for Orphans of Civil
War Soldiers, Uniontown, PA
William was just 13 years old when his father -- a veteran of the Civil War -- died. He and his brother Walter were sent to the Soldiers Orphans School in Uniontown, Fayette County, where they lived and were educated. Records of the school circa 1895 indicate that J.A. Stickel of Dawson was the individual who applied to get them admitted.
For all of his adult years, William labored as a blacksmith in Dawson. Making his home with his mother, and later alone after her death, he never married.
In 1900, when the federal census was taken, William resided at home near Dawson with his mother and younger siblings. His occupation that year was "teamster."
When the census again was taken in 1910, William, his mother and three of his adult siblings -- Walter, Dora and John -- lived under their roof near Dawson. William operated his own blacksmith shop; Walter was a railroad laborer; Dora provided housework; and John was a laborer on a farm. Residing just a few doors away was William's 51-year-old uncle Ostman Todd McKnight and his wife and family.
In 1920, he and his mother lived alone near the Florence Mines in Dawson. He continued to be proprietor of his own blacksmith shop. Among others in the neighborhood were William's uncle Ostman Tod McKnight, cousin Sarah Newell and her husband Emmet, and family friend Oliver F.M. Nicolay, who attended the 1920 Minerd Reunion.
William moved to a new home on Dixon Street in Dawson in about 1952. He and his widowed sister Dora Gilmore appear to have shared the residence.
Stricken with stomach cancer in early 1955, at the age of 74, William suffered for four months. He died at home "after a brief illness" on June 29, 1955," reported the Connellsville Daily Courier. After a funeral service at the home of his sister Dora Gilmore in Dawson, led by Rev. Richard Wright of Bryan Methodist Church, he was laid to rest in the Dickerson Run Union Cemetery.
Copyright © 2003, 2010, 2013, 2018 Mark A. Miner