Thomas J. Strauch
(1878-1922)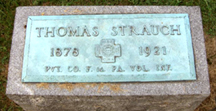 Dickerson Run Union Cemetery
Thomas J. Strauch was born on March 8, 1878 in Fayette County, PA, the son of John and Mary Hester (McKnight) Strauch.
As a young man, Thomas stood 5 feet, 10 inches high, with a dark complexion, brown eyes and black hair. He worked as a motorman.
During the Spanish-American War, when he was age 19, Thomas enlisted in the US Army on April 27, 1898. He served as a private with Company F of the 14th PA Infantry. He was stationed at Mt. Gretna, PA; Fort Delaware; and later was shipped for service to Free Cuba.
Thomas penned many letters home to his mother, sister and brothers. Writing to his sister Dora from Mt. Gretna on May 13, 1898, he said:
We are going to move tomorrow. I do not now where we are going to go. You tell you mother that I was not coaxted to come out here. She told me that Harry Bates said that I was. You tell you grandpap that I want him to rite me a letter and Charley and John Henry.
Shortly afterward, he wrote to his mother, saying:
We have got away from Gretna. We are on a little island there is 8 foot of water all around the fort. There is lots of cannons here. There is too cannons on the roof that shoots faster than I can count. There is nice fish in the Bay. I catch one last night 10 inches long.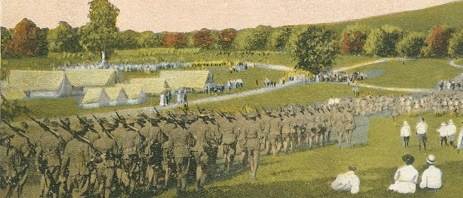 Army encampment and parade ground at Mt. Gretna, PA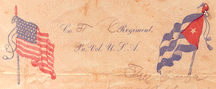 Thomas' letter home, 1898
After the war's end, Thomas returned home. On Jan. 6, 1904, when he was 25 years of age, he married 18-year-old Myrl Goe (1885-1918), the daughter of Wesley "West" and Lydia Goe of Broad Ford, Fayette County. The ceremony was performed by Rev. William H. Gladen at Vanderbilt, Fayette County, and among the witnesses were Carrie M. Dull and Catherine Pratt.
The Strauchs resided in Vanderbilt and had six children -- Lydia F. Strauch, Freda "Rita" Conn, Isabelle Strauch, William "Wesley" Strauch, Henry "Albert" Strauch and Thomas Glenn Strauch. Dr. G.B. Roberts of Vanderbilt helped deliver at least two of the baby boys.
Sadly, little Lydia died of pneumonia on April 12, 1907, at the age of eight months, 15 days. Her tender remains were placed in repose in the Dickerson Run Union Cemetery.
Another letter home
When the federal census was taken in 1910, the made their home in Vanderbilt, with Thomas employed as a fireman on the railroad. Myrl's parents, West and Lydia Goe, lived next door.
In August 1910, Thomas is known to have taken a son and a daughter to Chicago. Writing in a postcard to his mother in law, he said: "We landed OK and the boy and the girl is well. T.J. Strauch." The postcard later was submitted to the federal government as evidence to show Thomas' signature, and today is in the National Archives in Washington, DC.
Thomas registered for the military draft in September 1918, at the age of 40, as our nation's involvement escalated in World War I. At the time, he was employed as a locomotive engineer with the Pittsburgh & Lake Erie Railroad, based in Dickerson Run, Fayette County.
Myrl was an "international Bible student and was widely and favorably known in and about Vanderbilt," said the Connellsville Daily Courier. In February 1913, when she returned home from a visit to Connellsville, she was given a surprise birthday party by relatives and friends. Her sister Ada Goe was the organizer, and the "evening was spent at various games and music," reported the Courier. Among the out of town guest were Pearl Davidson of Scottdale, Mrs. B. Hough and her daughtre Nelle of Connellsville, Hester Strauch, J.L. McKnight, and Edward and Sarah McKnight of Stickle (Dawson).
Pittsburgh & Lake Erie logo
Sadly, in December 1918, Myrl passed away after suffering from an incurable case of influenza of a week's duration. Her death left her husband to care for their four young children.
The widowed Thomas is shown on the 1920 federal census with sons William, Henry and Thomas, in their dwelling in Vanderbilt. Thomas was employed as a locomotive engineer. His late wife's parents lived next door and no doubt provided care for the young boys when Thomas was away working.
For the last two years of his life, Thomas suffered from chronic kidney disease. On May 9, 1922, tragedy struck again when he died at Mercy Hospital in Pittsburgh. He was only age 43. The funeral was held at the home of his brother John in Uniontown, Fayette County. Burial was at Dickerson Run Cemetery in Vanderbilt.
At the time of Thomas' death, his three sons were under the age of 16, and had no means of financial support. In the words of a family friend, they were at "the mercy of the world." Their grandmother, Lydia Goe, successfully obtained a military pension from the federal government to provide the boys with badly needed funds. Writing a letter on her behalf (with poor spelling), Vanderbilt's justice of the peace said that Mrs. Goe had "taken care of the Children every since their Farther died, and has don it well... [She] has deprived her self of meny pleasuers, for thos Children, there is no one that could of ben better to them than this old ladie has, the intire Naborhood will coperate with this statement if it is nesisary."
~ Daughter Freda "Rita" (Strauch) Conn ~
Daughter Freda "Rita" Strauch (1905- ? ) was born in about 1905.
She married George R. "Ray" Conn ( ? -1971). They were wed in December 1919 in Cumberland, Allegany County, MD.
The Conns had seven children -- Ruth Reddy, Holbart Conn, Harry Conn, Eileen (or "Colleen") Moorhouse, Bettie Deal, Mary Frances Johnson and George R. Conn Jr.
They lived at 70 Stewart Avenue in Uniontown, where Ray was an automobile parts salesman with Fairmount Motor Products Company. In September 1969, they celebrated their 50th wedding anniversary with a dinner at Bratton's Restaurant in Uniontown. At the time, they had 14 grandchildren.
George died at the age of 72, on April 27, 1971 at the West Virginia University Medical Center in Morgantown.
Daughter Ruth Conn married (?) Reddy and lived in Uniontown.
Son Holbart Conn lived in Lintheum, MD.
Son Harry Conn resided in Uniontown.
Daughter Eileen Conn married James Moorhouse and made their home in Pittsburgh.
Daughter Bettie Conn wed Ray Deal and lived in Atlanta, GA.
Daughter Mary Frances Conn married Lloyd Johnson, and they resided at Fort Benning, GA in 1969.
Son George R. Conn Jr. lived in New Castle, Lawrence County, PA.
~ Daughter Isabelle "Ida" (Strauch) Gilleland ~
Daughter Isabelle "Ida" Strauch (1906- ? ) was born in 1906.
She married William Gilleland ( ? - ? ). They made their home in Uniontown in 1969.
Circa 1962, William and Ida are believed to have been active leaders of the Gilleland reunion, held at the Curfew Grange Hall in Flatwoods, Fayette County.
~ Son William "Wesley" Strauch ~
Son William "Wesley" Strauch (1909-2007) was born on Aug. 22, 1909 in Fayette County.
At the age of 20, on Dec. 30, 1929, he married 18-year-old Eva Mae (March 4, 1911-2001), a native of Indianapolis.
They produced two children -- Wesley A. Strauch and Marilou Strauch.
They resided for the rest of their lives in Muncie, Delaware County, IN. Circa 1940, Wesley was employed as a stockman for a local automobile factory, and they lived on Hackley Street.
Eva died in Muncie on Nov. 11, 2001.
Wesley passed into eternity in Muncie on Feb. 22, 2007. They rest in Beech Grove Cemetery in Muncie. [Find-a-Grave]
Son Wesley A. Strauch (1932- ? ) was born in about 1932 in Muncie.
Daughter Marilou Strauch (1936- ? ) was born in about 1936 in Muncie.
~ Son Henry "Albert" Strauch ~
Son Henry "Albert" Strauch (1911-1992) was born on Dec. 30, 1911. He relocated to Indiana as a young man.
On Sept. 25, 1937, in a ceremony held in Hartford City, Blackford County, IN, he was joined in holy wedlock with Barbara E. Edmundson (May 20, 1913-2010). She was the daughter of Dell Elwood and Margaret (Sell) Edmundson of Jay County, IN. Prior to marriage, while in high school, she played on the Oklahoma state champion Indiana School basketball team in Holdenville, OK.
They were the parents of three sons -- Thomas Elwood Strauch, T. Lee Strauch and Gary E. Strauch.
The Strauchs established a home in Muncie, Delaware County, IN and were members for decades of the Riverside United Methodist Church.
When the federal census was taken in 1940, Albert earned a living as a bus driver by the Denny Company bus line. Barbara was employed by J.C. Penney for years and specialized in interior painting for local residences.
In her spare time, Barbara was a Sunday School teacher and volunteer cook at the church and helped organize its fundraising bazaar. She also was a talented quiltmaker and once placed fifth in a bowling tournament in Niagara Falls.
Sadly, Albert passed away on July 7, 1992. Burial was in the Gardens of Memory in Muncie. [Find-a-Grave]
Barbara outlived her husband by 18 years. During that time, the headcount of her offspring grew to seven grandchildren and 20 great-grandchildren. She died at home in Muncie, at the age of 96, on April 13, 2010. Rev. Dr. John A. Young officiated at the funeral, held in the family church, followed by interment in Gardens of Memory Cemetery.
Son Thomas Elwood Strauch (1939- ? ) was born in about 1939 in Indiana. He married Barbara and lives in Muncie.
Son T. Lee Strauch has made his residence in Muncie.
Son Gary E. Strauch wedded Joyce and has dwelled in Glendale, AZ.
~ Son Thomas Glenn Strauch ~
Son Thomas Glenn Strauch (1915-1966) was born on June 12, 1915 in Vanderbilt, Fayette County.
As with his older brothers Wesley and Albert, sometime between 1935 and 1940, Thomas relocated to Indiana and put down roots in Muncie, Delaware County.
When the U.S. Census was taken in 1940, Thomas boarded with his married brother Albert and worked as a bus driver with the Payne Company bus line.
Thomas made his home in 1969 in Muncie.
He died in Muncie on Nov. 6, 1996.
Copyright © 2001-2002, 2010-2011, 2018 Mark A. Miner
Thomas Strauch grave photo courtesy of Lanny Goodwin of the Fayette County Genealogy Project, as contributed by Gloria Goodwin Reheja.