Anna Elizabeth (McKnight) Seddon
(1877-1960)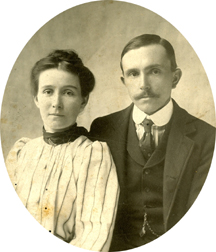 Anna and Henry Seddon

Anna Elizabeth (McKnight) Seddon was born on Dec. 28, 1877 (or April 1878) in Jefferson Township, Fayette County, PA, the daughter of Henry and Martha (Nutt) McKnight.
On April 5, 1899, at the age of 22, Anna entered into the bonds of marriage with 21-year-old William "Henry" Seddon Sr. (Dec. 28, 1877-1954), son of William and Ann Sara (Price) Seddon. Their nuptials were held in the rectory of Christ Episcopal Church, Brownsville, by the hand of Rev. William E. Rambo. Mary G. Rambo and Mary Louise Rambo were witnesses.
Henry was a native of Wigan, England and had emigrated to the United States in 1884, when he was 16 years of age. He also apparently carried the nickname of "Harry." At the time of marriage, he was employed at the Albany Mines near Brownsville.
The Seddons together produced four children -- Sara Elizabeth Dynes and William Henry Seddon Jr. in addition to two unnamed infant sons who passed away between 1900 and 1910. One of the unnamed infants died at birth on May 20, 1908, caused by "malposition" of the fetus.
Anna in younger years

Anna is seen here in an early portrait, taken at the W.C and E. Nutt Company, a photographic studio operated by an uncle and aunt on her mother's side.

The Seddons lived over the years at Sherbondy Hollow and Brownsville, Fayette County. When the federal census was taken in 1900, the newlyweds are shown to have made their home in Jefferson Township, Fayette County. Henry's occupation that year was as a "station engineer." Among their neighbors were families from England, Austria and Sweden.

Anna was a member of the Christ Episcopal Church of Brownsville, and was "a member of the Daughters of America, being the oldest living member of the local council."

The Seddons remained in Jefferson Township as shown in the 1910 census. The writing on the record is so faint that Henry's occupation cannot be deciphered. At the birth of their son, in 1911, Henry's occupation was listed as "coal miner."

By 1920, the family moved into Brownsville Borough, as shown on that year's census enumeration. Henry's vocation that year was plumbing.

Bird's-eye view of Brownsville, PA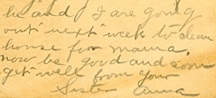 Anna's postcard to her sister, 1922

When her sister Adeline Radcliffe was hospitalized in Pittsburgh in April 1922, Anna sent her a penny postcard of greetings with humor and news from home:

Grace was in this morning. They are well out home. We are well. Glad to hear you are getting along all right. Bill was here a Sat. eve. He is lonesome. Billie is just fine. He says when you get well he is going to Buck eye. Don't you worry about him for he sure is enjoying himself. He and I are going out next week to clean house for Mama. Now be good and soon get well...

Seen here, Anna holds a precious object in her lap which unfortunately is not known to us, but which appears to be a book or a box.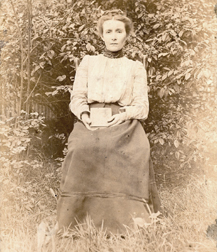 Anna holding something special

The 1930 census shows Anna and Henry, and son William H. Jr., living on Church Street in Brownsville. Continuing his line of work over the decade, Henry was employed as a laborer for a plumbing company.

At some point he was employed with the Monongahela Railroad Company. As of 1940, when the census count again was made, they were in Brownsville and Henry worked as a pipefitter for a coal company. They provided lodging for their married son and daughter-in-law during the 1935-1940 timeframe.

On April 5, 1949, the Seddons celebrated their 50th wedding anniversary at their home in Brownsville. A month later, they helped her sister and brother in law, Laura and Samuel Horstman, celebrate their own golden wedding anniversary, at a family event held in nearby Canonsburg, Washington County, PA.

When their son's marriage fell apart in the 1940s, they made a home for him and his young son, as shown in the 1950 federal census enumeration. At that time, the 72-year-old Harry was retired.

The couple's final residence was at 302 Church Street in Brownsville. In all, they had made their home in the town for half a century.

During Henry's final years, he was burdened with hardening of the arteries.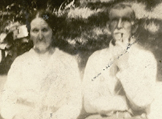 The pair in older years

He died in their home on Dec. 13, 1954, at the age of 76. In an obituary, the Uniontown Morning Herald said he was a "well known resident of Brownsville for the past seventy years" and added that he was a "retired employe of the Monongahela Railway Co., a member of Christ's Episcopal Church; Brownsville Lodge 60 [of the Masons] and Brotherhood of Railway, Firemen and Engineers." He was survived by five grandchildren.

Anna outlived him by nearly six years. As she aged, she suffered from chronic hardening of the arteries and heart disease. She surrendered to the angel of death in her home at the age of 82 on Oct. 2, 1960.

They are buried at Redstone Cemetery near Brownsville.

~ Daughter Sara Elizabeth (Seddon) Dynes ~

Daughter Sara Seddon (1904-1994) was born on Nov. 2, 1904.

On June 24, 1927, the 22-year-old Sara was united in matrimony with 25-year-old Henry William "Harry" Dynes Sr. (Feb. 25, 1902-1957), son of Alex and Ella (McCaffrey) Dynes and a native of the coal mining patch town Continental, Fayette County. Their wedding was held in Wheeling, Ohio County, WV. He stood 5 feet, 10 inches tall and weighed 155 lbs., with chestnut brown hair and blue eyes.

Three offspring born of this union were Anna Ellen Reagan, Henry "William" Dynes Jr. and Richard Seddon Dynes.

The Dyneses resided in Brownsville, where Harry in 1930 made a living as a salesman for a meat company. By 1940, he labored as a coal miner, and Sara as a church sexton. The 1940 federal census enumeration gives his precise occupation as "coal digger - wholesale coal mine." As of 1942, when he registered for the military draft during World War II, their home was located at 218 Third Avenue, Brownsville, and he worked for Leo Dunkin Coal and Coke of Lynn near Uniontown. He disclosed at that time that he had a dislocated elbow and broken wrist.

Harry contracted an incurable combination of chronic kidney disease, pulmonary tuberculosis and failure of the right side of the heart, known as "cor pulmonale." In about 1944, he was admitted to the Dr. Lawrence F. Flick State Hospital in Cresson, Cambria County. There, he remained for the final nearly 13 years of his life, shown in the record as "4694 days."

Circa 1954, Sara's address was on Walnut Street.

Harry died at the age of 55 on April 16, 1957. Interment of the remains was in Saint Aloysius Church Cemetery in Cresson, Cambria County. A very brief obituary was printed in the Altoona (PA) Tribune.

Sara passed into the arms of the angels on Feb. 6, 1994. She was laid to rest in Redstone Cemetery.

Daughter Anna Ellen Dynes (1927-2019) was born on Christmas Eve 1927. She was a 1945 graduate of Brownsville High School. Anna was united in matrimony with William Martin F. Reagan (Jan. 25, 1923-2008), also of Brownsville and the son of John Joseph and Nellie Catharine (James) Reagan. The pair did not reproduce, and their union survived the ups and downs of a remarkable 54 years. William stood 5 feet, 9 inches tall and weighed 130 lbs., and he sported a scar on his left thumb. William served in the U.S. Armed Forces during World War II. He is known to have taken part in the North Africa invasion and the campaign in Rome/Foggia. After the war's end, he returned to Fayette County and lived at Hibbs, PA. He joined the U.S. Air Force until an early retirement, then was hiried by the U.S. Department of Labor's Mine Enforcement Safety Administration, a position from which he retired in January 1988. Eventually the Reagans migrated to Arizona and established a home in Sun City West. William surrendered to death in Sun City West on Jan. 4, 2008. Burial was in the National Military Cemetery of Arizona in Phoenix. The angel of death spirited her away in Peoria, AZ on May 5, 2019.

Son Henry "William" Dynes Jr. (1932-1996) was born on Jan. 10, 1932 in Brownsville near Uniontown, PA. William was joined in wedlock with Colleen Green ( ? - ? ). One known daughter of this marriage was Kathleen Dynes. He enlisted in the U.S. Air Force on May 5, 1954 and remained for 19 years. This included service during the Vietnam War, specializing as a navigator on an E-91 aircraft within the 491st Bomber Squadron. He and his crewmates Capt. Edward H. Osman and pilot 1st Lt. John H. Rencher were commended in January 1961 when, during a training exercise, they scored a direct hit on a target. As one of five crews within the 491st to do so within a 30-day period, the Air Force announced via the Abilene (TX) Reporter-News that it "may be a record in Strategic Air Command bombing operations." Circa 1968, he was stationed at Vandenberg Air Force Base, with Colleen active as a Brownies girl troop leader. In his career he achieved the rank of major before retiring on Feb. 28, 1973. Their final place of dwelling was in or near Arlington, Tarrant County, TX, at 5704 Kingstree Court. He died in Arlington at the age of 64 on Feb. 2, 1996. A brief obituary was published in the Fort Worth Star-Telegram, saying burial would be in Johnson Station Cemetery, and requesting that any memorial donations be made to the American Heart Association.
Granddaughter Kathleen Dynes (1959- ? ) was born in 1959 in Texas. She grew up near the air bases on which her father was posted.
Son Richard Seddon Dynes (1934- ? ) was born on March 2, 1934 in or around Brownsville near Uniontown, PA. He joined the U.S. Armed Forces and in 1958 was stationed in England, where he met his future wife, Gwendoline Shirley Trendell ( ? - ? ). Their union endured for 38 years until the separation of death. They were the parents of three -- Richard Lee Dynes, Shirley Ann Dynes and Patricia Jean Dynes. Richard was transferred to Davis-Monthan Air Force Base near Tucson, AZ in 1970. Having attained the rank of master sergeant, he retired after two decades of military service, with the family staying in Tucson for good. Richard received an associate of business degree in accounting from Chaparral Career College and then earned his degree from Pima Community College in sheet metal and air conditioning. He then spent 14 years as an accountant and bookkeeper for the Arizona Game and Fish Department, and in maintenance for the Crippled Children's Clinic. Sadly, he contracted Non-Hodgkin's Lymphoma, a form of cancer, against which he endured for two years. Death swept him away at the age of 88 on April 25, 2022. An obituary in the Arizona Daily Star said he would "be remembered for his smile, his sense of humor, his sense of commitment and being a God-fearing man."
~ Son William Henry Seddon Jr. ~
Son William Henry Seddon Jr. (1911-1989) was born on June 1, 1911 in Brownsville, Fayette County. Dr. L.N. Richard assisted in the birth.
He married Anna "Mary" Terpo (May 16, 1912-1971), daughter of Austria-Hungary/Czechoslovak immigrants George and Elizabeth "Lizzie" (Behera/Behary) Terpo of Brownsville, the father a coal miner.
Together, they bore two known sons, Edward W. Seddon and Philip Terry Seddon.
United States Census records show that in 1935-1940, the couple lived with William's parents in Brownsville. William earned income in 1940 as a shipping clerk for a wholesale meat company.
The marriage fell apart, and the pair separated between 1947-1950. William was awarded custody of their elder son Edward, and the two remained in the home of his parents in Brownsville, living there in the 1950-1954 timeframe. His occupation in 1950 was as a floor man for a meat-packing company. Mary had custody of son Philip, and likewise went to live with her parents in Brownsville, and were there in 1950.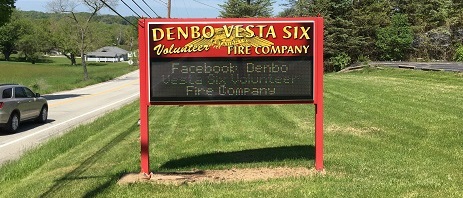 Local landmark at Denbo Vesta Six, PA
Circa 1957-1963, Mary made her residence in Vesta 6, Denbo, near Centerville, Washington County, a patch town built for employees of Jones & Laughlin Steel Company. She belonged to St. Paul's Methodist Church, Denbo, and its J.G. Class. She also held a membership in the Denbo Women's Club, where she was an auditor of its finances. Her final address was House No. 131, Vesta No. 6in Denbo.
She died in Brownsville General Hospital at the age of 59 on Dec. 4, 1971. Her remains were lowered into the rest of ages in LaFayette Memorial Park, with Rev. Charles K. Sowden leading the funeral service. An obituary appeared in the Uniontown Morning Herald.
William died at the age of 77 on Feb. 19, 1989. Interment of the remains was in Redstone Cemetery.
Son Edward W. Seddon (1942- ? ) was born in 1942. He was granted into his father's custody when his parents separated in the late 1940s and spent his youth in his Seddon grandparents' home. He was a 1959 graduate of John A. Brashear Joint Senior High School and then attended Waynesburg College. His residence in 1971-2010 was in Laurel, MD.
Son Philip Terry Seddon (1946-2010) was born on Oct. 26, 1946 in Brownsville. After his mother and father separated in the late 1940s, he grew up in the home of his mother's parents in Brownsville. Philip is known to have served in the U.S. Navy. He made his home in Denbo in 1971 and circa 1975 was employed as an assistant manager with Gallatin Bank. He held memberships in the Brownsville aerie of the Eagles and the American Legion post of West Brownsville. In his free time, he liked to golf. Philip was married to or the companion of Trudy Bastian ( ? - ? ). She was the mother of Glenn Bastian. The pair's final address together was in the Malden community of Centerville, Washington County. Sadly, he passed away at the age of 63 on Aug. 5, 2010, as a patient in Pittsburgh's UPMC Presbyterian Hospital. Among his survivors, said an obituary, were his cousins Ted Dobransky, Jim Kendall and Dan Kendall of West Brownsville and Mary Duffy of Jacksonville, FL. Rev. Michael Peton officiated the funeral service. The remains were lowered into the sacred soil of LaFayette Memorial Park.
Step-grandson Glenn Bastian married Carol. Circa 2010, they dwelled in Hiller, PA.
Copyright © 2000-2002, 2010, 2022-2023 Mark A. Miner