Daniel Minerd
(1811-1860+)
Daniel Minerd was born in 1811 in Fayette County, PA, the eldest son of Henry and Hester (Sisler) Minerd.
He grew up in Dunbar Township, Fayette County, and may have been a casualty of the Civil War, although this is not yet proven.
Daniel is known to have been married twice -- first to Susan Stettman (1822- ? ) and second to Drusilla (or "Drusan") Ridenour (1830-1897?). He and Drusilla lived at Wharton Furnace near Farmington, PA, but their ultimate fates are unknown.
In 1840, he worked as a "filler" in Wharton Township, likely at the Wharton Furnace manufacturing site.
His seven children were born between the years 1845 and 1856. They included Mary E. Grim; Stewart Minerd, Catherine Minerd; Howard Minerd; Barbara Firestone, Minerva Minerd and Henry Minerd.
On Oct. 23, 1854, at the home of his parents in Wharton, Daniel is known to have witnessed the wedding of his sister Barbara to Henry "Foxy" McKnight. The wedding also was attended by Daniel's brother in law, William McKnight, husband of Mahala Minerd.
Daniel died sometime during the 1860s. It has been said that he was killed in the Civil War, and that their son Henry had to go to work at a young age to help support the family. In the book The Lewis Family of Oliphant Furnace, Pennsylvania by descendants Thomas L. and Jack Walter Lewis, the authors state:
[Henry's] father died about 1865 when he was 12 years old and that is why he had to go to work at such an early age. According to Mom, his dad died while with the Union Army during the Civil War. I remember him saying that he could hear cannon and musket fire in the mountains shortly after the battle of Gettysburg. He thought it was the retreating southern armies who got lost or trapped and had to come further west to go back across the Mason & Dixon line.
While there is no official evidence that Daniel served in the war, this is an exciting new area of research to be pursued.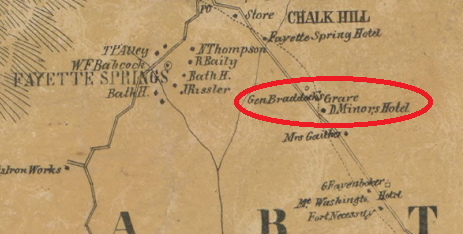 1858 map of Fayette County showing the location of "D. Minor's Hotel" adjacent to Braddock's Grave. Library of Congress

In 1858 and 1865, atlas maps of Fayette County were published, the latter by R.L. Barnes (Philadelphia, 27 South 6th Street). The hand-colored map shows the individual location of homes, farms and business establishments in the county. Shown on both maps is "D. Minor's Hotel" located directly next to Braddock's Grave and near "Old Ft. Necessity" along the National Pike in Chalk Hill. Whether "D. Minor" was our Daniel is not known but is a tantalizing question. Just a few years later, our Daniel's brother Samuel Minerd entered the hospitality business as proprietor of the nearby Fayette Springs resort, and in the 1880s Daniel's nephew-by-marriage, William Alexander Gaither, was the paid caretaker of the gravesite.

By January 1869, Daniel is known to have been deceased. That year, on the 18th of the month, their daughter Mary was married to Franklin Grimes, with the Uniontown Genius of Liberty reporting that the nuptials took place "at the residence of the bride's mother," with no mention of the father.

Now widowed, Drusilla (also known as "Drusan" or "Druth") lived in Springfield Township (in 1870) and in Connellsville Township. (1880).

Her fate is unknown. We are exploring whether she is the same person as "Druzilla Miner" who died on (?) 24, 1897 and rests in White Rock Cemetery, Fayette County, the same burial ground where her niece Barbara (Minerd) Firestone and family rest together in eternal sleep. No obituary for this Druzilla has been found in the Connellsville Daily Courier.

In more recent years, the site of Daniel's hotel is believed to have become Braddock Inn Restaurant, a dining spot and cocktail bar along Route 40, nine miles of east of Uniontown, with an address of 3261 National Pike, Farmington.

Copyright © 2000, 2002, 2014, 2017 , 2023 Mark A. Miner