Home

Howard Minerd
(1850-1904)
Howard Minerd -- a.k.a. "Howard J. Minard Sr. -- was born on July 7, 1850 (or 1853) near Wharton Furnace, Fayette County, PA, the son of Daniel Minerd. His mother may have been either Susan (Stettman) Minerd or Drusilla (Ridenour) Minerd. He is one of many cousins in the extended Minerd- Minard- Miner- Minor family to lose his life in a railroad-related accident.
Not sufficiently educated to read or write, Howard also spelled his name "Minerd," "Miner" and Minor." In 1860, when the census was taken, Howard was a 10-year-old. The census shows him living with his father and [step?] mother and six brothers and sisters near Farmington, Fayette County, where his father worked as a day laborer.
Howard is listed in the 1870 census, residing with his widowed mother and several siblings, at what is now Normalville, Fayette County. He was listed as age 16 though he more likely was age 20.
Within a year or two, evidence suggests that Howard either married, or had a significant relationship with, Kate Camel (Campbell). In about 1872, in Cincinnati, she bore a son, Howard Campbell. Whether Kate died, or the marriage fell apart, is unknown. The boy carried the name Campbell during childhood, but later took his father's rightful surname and thereafter was known as "Howard C. Miner."
By 1880, if not earlier, Howard was living in his mother's household, this time in Connellsville, Fayette County. His occupation was given as "coal miner" and his age as 28. Also residing in the home were his eight-year-old son Howard; brother Stewart Minerd, also a coal miner; and boarders Peter Grim, Franklin Fuller and Ezakiah Fuller.
He may be the same "Howard Miner" described cryptically in the Connellsville (PA) Courier of April 8, 1881, reporting gossip about doings in the coal town of Youngstown, near Uniontown, Fayette County: "Howard Miner has gone to the gold country of California, but we suspect that he will get off at Moore's station." Moore's Station was a stop along the Pittsburgh & Connellsville Railroad in the coal country of nearby Westmoreland County.
Sometime in the 1880s, Howard moved to Braddock, the booming industrial heart of Pittsburgh, Allegheny County. He worked there as a laborer, possibly at Andrew Carnegie's famed, sprawling Edgar Thomson Works. Nicknamed "E.T.," the plant featured "immense, fiery Bessemer furnaces" that was "the nation's leading rail mill because of its advanced machines and methods," writes William Serrin in his book, Homestead: The Glory and Tragedy of an American Steel Town. (He is not the same Howard Minard, married to Katie Ebner, who also resided in Braddock in the late 1800s.)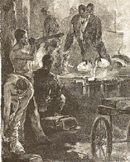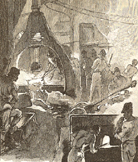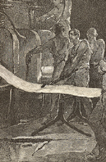 Laborers in Pittsburgh's dirty, smoky steel mills.
Harper's Monthly, 1880.
On Nov. 12, 1890, at Rankin Station near Braddock, Howard married Margaret McLaughlin (1861-1927), by the hand of John Glunt, a justice of the peace. Howard was age 40 at the time (though he swore on his marriage license that he was 37), while Margaret was 28. She was a native of Butler County, PA, and resided in Pittsburgh. Margaret had been married once before, to Thomas J. Cramer (also spelled "Kramer"), and was divorced by decree of the Butler County Court of Common Pleas on Sept. 23, 1886. On the application, Howard signed his name with an "X." He stated that he had not been married before, and that he had been born in Fayette County.
Howard and Margaret had four children -- Alice Haley, Joseph David Minard Sr., Elizabeth "Lizzie" Minard and Arcilia Minard. Each of their names were inscribed in the "Births" page of the family Bible. Alice was born in Braddock, while Joseph and Arcilia were born in Hunker.
Sadly, Arcilia suffered from stomach problems. After enduring this virtually since birth, she died at the tender age of 4 months, 27 days, on Sept. 29, 1898, and her name was the first to be inscribed on the "Deaths" page of the Bible. She also was the first of the family to be laid to rest in the cemetery at Tarr's Station, today known as the Mount Lebanon Cemetery (also Tarrs Cemetery) in East Hempfield Twp., Westmoreland County. In 1899, Howard purchased Lot 31, the 10-foot-wide space on the west side of the cemetery where Arcilia had been buried the year before. Its location is not far over the hill from where the shed is today. His purchase price was $31.
Also in 1898, during the Philippine Insurrection, son Howard enlisted in the US Army, on May 12. He served in the 10th PA Infantry, and was wounded in action during the Battle of Malate in July of that year. He survived the wound, was discharged in October, and returned home to Western Pennsylvania.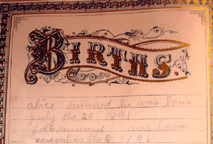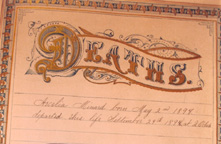 Pages from Howard and Maggie Minard's family Bible
When the federal census was taken in June 1900, the Minards were residing in Connellsville, Fayette County. They then migrated to Hunker, Westmoreland County, PA, where coal mines and coke ovens provided plentiful jobs. Their home was along the Hunker/Mount Pleasant Road.
Howard is mentioned in a typed but unpublished history of Hunker, a town laid out on the farm of Frederick Hunker. In the year 1900, he was among the occupants of 18 homes in this new community. All three of their children are named as students of the Hunker School, taught by Mary Colestock.
On Jan. 15, 1894, the year their son Joe was born, Howard and Maggie purchased a five acre tract of land in Hunker from Henry A. Klingensmith. It was along the public road leading from Hunker to the Mount Pleasant Road, and adjacent to land of the Keystone Coal company. During the ensuing years, they erected a frame dwelling house and frame barn on the property. The following year, they bought a 1.5 acre tract along the same road from Peter M. and Elizabeth Highberger.
On Oct. 5, 1903, the Minards added to their holdings when they signed a deed to buy 1.5 acres of land in Hunker for $60. The seller was Angelo Zanotti. The tract was along the "public road leading from Hunker to the Mount Pleasant Road" and adjacent to properties of Amos C. Ritenour and Henry Beeson. Howard signed the deed with an "X" and Maggie with her written signature. The deed refers to Howard as "Howard J. Miner." They then turned around and sold the five-acre tract to Andrew Caccia for $600.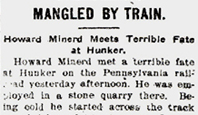 Connellsville Daily Courier, 1904
Tragedy struck just five months later, on Nov. 28, 1904, when Howard was killed by a moving railroad locomotive. He was employed as a laborer at a local stone quarry. "Being cold," said the Connellsville Daily Courier:
... he started across the track to a brick yard to get warm. Just as he reached the track local freight came rapidly around the curve. Minerd was paralyzed with fear. He stood stalk still on the track until the engine struck him.
The Courier described his death as "instantaneous," and his injuries as a broken neck, crushed arm and severed legs, with the engine wheels running over his breast. Two maps of Hunker shown below, one old and the other one modern, display the approximate location of where Howard met his untimely end.
The Minard homestead would be the house just below the L in Belson Run.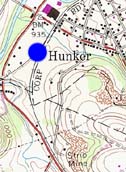 Maps of the railroad curve where Howard was killed. At left, the 1902 map has a dot marking the location of their home, just below the "L" in Belson Run. At right, the blue dot in the 1977 is the spot where Howard was struck.
Howard was only age 54 at the time of his death. His mangled remains, said the Greensburg Daily Tribune, "were taken to Scottdale to Murphy & Company and prepared for burial." Records of Murphy & Company (today the Galone Caruso Funeral Home) show that his body was shipped to the Tarr's Cemetery the next day, on the 3:28 p.m. train, for burial. He was dressed in a black suit, with the word "Father" engraved on his casket. Presumably he rests beside his infant daughter Arcilia. His grave is not marked, and may never have been.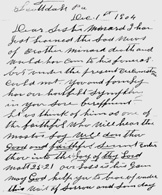 Condolence letter received 1904
The grieving Maggie received many condolences and notes from relatives and friends. She saved two especially kind notes in her family Bible. One letter was from an attorney in Butler, Joseph B. Bredin. He wrote the following to Maggie, whom he addressed warmly as "Mag:"
John was in today & told me of your sad loss. I feel very sorry for you and although I did not know Mr. Minor well, like I did know you, I've always felt a cousinly affection from the days you used to come to see me - long, long ago - I don't know what to say in a berevement [sic] like this. It's beyond words, but i wish you to know I'm very, very sorry for you under this affliction.
The other letter was from a now-unknown friend, and is seen here. The friend likely was from church circles, is dated Dec. 1, 1904, from Scottdale, PA, and reads:
I have just learned the sad news of Brother Minard death and would hav com to his funeral but under the present curcumstance could not. You and family hav our heartfelt sympathy in your sore bereavement. Let us think of him as one of the faithful who will hear the master say Well don thou good and faithful servant. Enter through into the Joy of thy Lord ... Our loss is his gain. May God help you to bear up under this vail of sorrow...
Maggie, devastated, worked with neighbor Amos C. Ritenour to settle her husband's estate. When all debts were paid, and parts of her land sold, Maggie received $17.88 in cash, and each of three children received $11.92.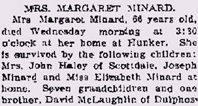 Obituary, 1927
As a widow, Maggie lived on their Hunker property the rest of her life, and never remarried. She kept a gun at home to scare off intruders. Her son Joseph stayed with her at home and looked after her interests. The family spelled the name "Minard" from that time onward, to today.
In 1918, Maggie must have worried deeply when son Joseph joined the U.S. Army during World War I. On May 27, 1918, he enlisted, and was assigned to Camp Greenleaf, and attached to the Medical Corps of the 28th Division of the Army. He was shipped to Europe on Oct. 31, 1918, but as the war ended just 18 days later, it is doubtful he saw any armed conflict. He was discharged on July 23, 1919, and returned home. (Joseph's military photograph and short summary, mentioning Maggie, later were published in the book, Westmoreland Towns in the World War.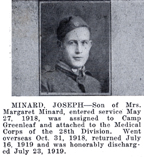 Westmoreland Towns
in the World War
Maggie passed away at the age of 66 on June 29, 1927, at her home near Hunker. She was laid to rest in the Tarr Cemetery, presumably beside her husband, who had died some 23 years previously. The funeral was conducted by the Rev. Schilling of New Salem, near Uniontown, Fayette County. Her grave was never marked.
At the time of Maggie's death, her son Joseph and daughter Elizabeth were still residing at home. The Daily Courier reported that she was survived by seven grandchildren, as well as one brother, David McLaughlin, of Delphos, Allen County, OH.
~ Daughter Alice (Minard) Haley ~
Daughter Alice Minard (1890-1960) was born on July 20, 1890 in Braddock, Allegheny County.
When she was 21 years of age, Alice married 26-year-old John Joseph Haley (1886-1969), the son of John and Harriet Haley, and a native of McKeesport, Allegheny County. The wedding took place in Youngwood, Westmoreland County, PA on Christmas Eve 1912, by the hand of justice of the peace Benjamin F. Miller.
They had six children -- Sister Helen Marie Haley, Paul F. Haley, Lucille Haley, Evelyn R. Haley, Madalyn Regina Haley and Elizabeth Jean "Betty" Haley. Sadly, daughter Madalyn, born with colitis, died as she neared her fifth month in age on Aug. 21, 1920.
After marriage, the Haleys primarily lived in Hunker, although their postal address may have been shown at times as Scottdale and New Stanton.
During World War I, Alice received two vases and a butter knife made from shells picked up in Lorraine and also two German bayonets, brought home by her brother Joseph, who had served in the 28th Division. The news was reported in a gossip blurb in the Connellsville Daily Courier.
John earned a living over the years as an electrician. The United States Census for 1930 shows him working as a laborer in the pipe mills, and the family living next door to Alice's brother and sister in law, Joseph D. and Elizabeth Minard.
Alice suffered in her final years with coronary heart disease and cancer of the pancreas which spread to her liver. She died at home at the age of 69 on June 28, 1960. A requiem high mass was held at Holy Cross Roman Catholic Church, followed by interment beside their infant daughter Madalyn at Saint John the Baptist Cemetery in Scottdale, with Rev. Joseph Pernatozzi leading the services. Daughter Lucille, who provided information for the Pennsylvania death certificate, was unable to furnish the names of Alice's parents.
John outlived Alice by nine years. He joined her in death in 1969.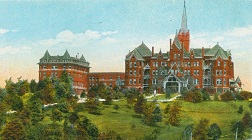 Seton Hill College, Greensburg
Daughter Helen Marie Haley, S.C. (1910-2008) was born on Nov. 19, 1910 in Scottdale. She did not marry but rather opted for a life serving God as a Sister of Charity, joining the order on June 24, 1917 at St. John the Baptist Parish in Scottdale. She received a bachelor's degree from Duquesne University in Pittsburgh and went on to a career as an educator not only in Greensburg but also in diocese schools in Pittsburgh, Phoenix and Tucson and in the Archdiocese of Los Angeles. Reported the Greensburg Tribune-Review, Helen " was appointed vice principal at Our Lady of Perpetual Help School, Scottsdale, Ariz., and taught religion at St. Catherine Indian Mission, Ajo, Ariz. Sister Helen Marie remained active after retirement by assisting the nursing and clerical staffs at Assumption Hall, the former infirmary for the Sisters of Charity. Endowed with a beautiful smile and a happy, positive disposition, Sister Helen Marie accepted St. Elizabeth Ann Seton's reminder that 'the best ingredients of happiness are order, peace and solitude'." At the age of 97, on April 29, 2008, she passed into eternity in the motherhouse of the Sisters of Charity in Greensburg, where she had been affiliated with Seton Hill. Following a funeral mass held in gthe Chapel of the Assumption, Caritas Christi, her remains were placed into repose in the sisters' cemetery at Seton Hill.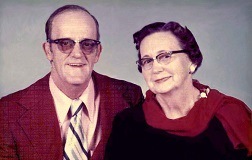 Paul and Pat Haley -
Courtesy Elizabeth Meriwether
Son Paul Francis Haley (1913-1986) was born on Sept. 21, 1913 in Hunker. He served as a master sergeant in the U.S. Army during World War II. During the war, while in Gainesville, TX, he was wedded to Patricia Elizabeth Creath (1913-2005), daughter of Moffett Baskin and Mary Maude (Steed) Creath of Creath, Houston County. The couple did not reproduce. Circa 1960, their home was in Hunker. Later, they relocated to Falls County, TX. Over the years, they grew close with Elizabeth Meriwether, the daughter in law of Pat's cousin, and occasionally they would return to Pennsylvania together to visit with Paul's relatives in Hunker. Paul died in Falls County a month after his 74th birthday on Oct. 25, 1986. Pat survived him by nearly two decades. She succumbed in Crockett, Houston County, TX on Dec. 30, 2005. Burial was in Cedar Point Cemetery in Houston County, TX. [Find-a-Grave]
Daughter Lucille Alice Haley (1916-1985) was born on Oct. 22, 1916. She was joined in marriage with Amos Samuel Seehoffer (June 13, 1913-1964), son of Ernest and Ida (Trout) Seehoffer of New Stanton. The couple had one known son, John Seehoffer. They dwelled in Hunker in 1940, with Amos working as a clerk in a retail grocery business. That year, their neighbors included Lucille's parents and uncle and aunt, Joseph and Ruth Minard. Later, they moved to a new residence on East Main Street in New Stanton and remained for decades, with Amos becoming self-employed as owner/proprietor of Youngwood Meat Market in the town of Youngwood. Sadly, burdened with rheumatoid arthritis and chronic heart disease, the 51-year-old Amos died just four days before Christmas 1964. His remains were placed into rest in Youngwood Cemetery. Later, Lucille married (?) Ritenour ( ? - ? ) and made their residence in New Stanton. She died in November 1985 and was buried under the name "Seehoffer" with her first husband in Youngwood. [Find-a-Grave]
Grandson John Seehoffer (1947- ? ) was born in about 1947. At the age of 13, he made news in the Connellsville Daily Courier when he "cut his right hand with a knife while in the family store in Youngwood.
Daughter Evelyn Regina Haley (1918-2004) was born on Sept. 19, 1918 in Mount Pleasant, Westmoreland County. She was wedded to Theodore A. Midden (1915-1984). The couple produced two daughters -- Madalyn Tutka and Jeanne Palladino. They were members of St. John Baptist de La Salle Church of Delmont and for decades resided in Hunker. Circa 1954, Theodore was elected vice president of the Hunker Volunteer Fire Department, serving with fellow officers Richard Pastorious, James Allegro, Albert Hudock, William Perkins, Arthur Robertson, James O. Harbaugh and S.A. Sutor. He also served as chairman of St. Gilbert Catholic Church in Hunker, part of the Greensburg Diocese. After Theodore's death, Their home for many years was in Delmont, Westmoreland County. Sadly, Theodore passed away in May 1984 at the age of 69. Evelyn remained in Delmont for the rest of her years. Burdened with Alzheimer's, she was admitted to the William Penn Care Center in Penn Township. She died there at the age of 86 on Nov. 17, 2004. Father James Goldberg led the funeral mass at the family church, followed by burial in Twin Valley Memorial Park in Delmont. In an obituary in the Greensburg Tribune-Review, the family asked that any memorial donations be made to the local Alzheimer's Association.
Granddaughter Madalyne Midden was married to Joseph Tutka. In 2004, they resided in Garden City, SC.
Daughter Elizabeth Jean "Betty" Haley (1926- ? ) was born in about 1926. She was united in wedlock with Gerald Irwin "Jerry" Null (Feb. 3, 1927-2013), son of Braden and Sara (Allison) Null of Manor, Westmoreland County. They dwelled for decades in Hunker and produced three daughters -- Mary Ramsey, Rose Todd and Dorothy Pia. During World War II, Jerry enlisted in the U.S. Navy on Jan. 26, 1945, and held the rank of seaman aboard the USS Atherton and USS Amick. Reported the Greensburg Tribune-Review, he "had many colorful stories that he shared with all who would listen. He was a lifetime member of Hunker Volunteer Fire Department, where he served as fire chief in his younger years. He was also a member of the VFW in Mt. Pleasant and his favorite stopping place was the Hempfield Hunt Club in New Stanton, where he gathered and chatted with so many of his friends. Jerry was a 'jack-of-all-trades' and was often sought out to answer electical questions and building tips." His family enjoyed his gardening and canning but also how he liked to play on the floor with his great-grandchildren. Sadly, ending a marriage which had lasted for 62 years, Jerry at age 86 passed away on July 1, 2013 as a patient in the Rehabilitation Nursing Center of Greensburg. His remains were lowered into eternal rest in the Greensburg Catholic Cemetery following a military funeral led by the Armbrust Veterans Association. A lengthy and detailed obituary in the Tribune-Review spelled out the names of the children and grandchildren.
Granddaughter

Mary Null was wedded to David Ramsey. They have a son, Richard Ramsey, married to

Tina Vidakovich with three of their own offspring.
Granddaughter

Rose Null was joined in matrimony with Robert Todd. Their two daughtes are Alison Miller and Jennifer Wolfe.
Granddaughter Dorothy "Jerri" Null married John Pia. The Pias have two sons, Robbie Pia and Aldo Pia.
Bird's eye view of Hunker, turn of the 20th century
~ Son Joseph David Minard Sr. ~

Joseph Minard
Son Joseph David Minard Sr. (1894-1970) was born in 1894. He stood 5 feet, 7 inches tall, and had brown eyes, black hair and a dark complexion. He was born in Hunker on Nov. 6, 1896.
As a young man, he worked as a coal cutter. Later, during World War I, he served as a US Army medic in an evacuation hospital in France, and was discharged at Camp Dix, NJ on July 22, 1919.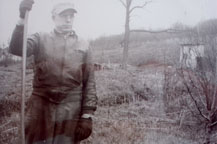 Joseph on his farm at Hunker
At age 34, on April 11, 1931, he married 25-year-old nurse Ruth Irene Klingensmith (1906-1985) in a ceremony at Jeannette, Westmoreland County. She was the daughter of E.J. and Sarah (Bush) Klingensmith. They resided at Hunker, Westmoreland County.
Their children were Alice Louise Kintigh, Joseph David Minard Jr. and Carol Ann McGuffey.
Federal census records in 1940 show the Minards living along the township road in Hunker, with Joseph earning a living as a stone dresser for a road construction company.
Joseph retired in 1960 from employment with the ITE Company of Greensburg, after 20 years of service, said the Connellsville Daily Courier. "He started in 1937 as a grinder in the parts assembly department, but left after six months, returning in 1941. He became working foreman in 1945, serving in that capacity until retirement." He also was a member of the Mount Pleasant American Legion and the New Stanton Methodist Church.
Joseph Sr. passed away on May 11, 1970, at the age of 73.
Ruth survived him by 15 years. She died the day after Thanksgiving 1985. They are buried together at the Mt. Lebanon Cemetery (also known as Tarrs Cemetery) in East Hempfield Twp. Handwritten notes in the family papers, passed down in the generations, state that Joseph was related to Howard and George Miner of Scottdale, Westmoreland County, and Ernest Minerd of Youngwood, Westmoreland County. A descendant recalls often visiting "Aunt Betsy," the widow of Joseph's half brother, Howard C. Miner, in her Scottdale home.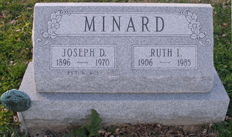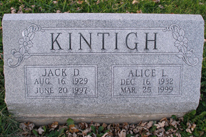 Family graves at Mt. Lebanon Cemetery in Tarrs, PA
~ Daughter Elizabeth Mary (Minard) Long Oliver ~
Daughter Elizabeth Mary Minard (1896- ? ) was born in Hunker on Oct. 10, 1896.
At the age of 16, on July 1, 1912, she married 19-year-old Carl Weaver Long (March 21, 1893 - ? ), the son of J.F.V. and Pearl Long. He was a native of Mount Pleasant, Westmoreland County, PA, and at the time of marriage worked as a barber. Because they were so young, both Elizabeth and Carl had to obtain the consents of their parents for the marriage to take place. Carl was of medium height and build, with brown eyes and brown hair.
They had two known children, John Joseph Long and one other who has not yet been identified.
The Longs resided in Youngwood, and Carl obtained employment as a motor driver with West Penn Power Company of Connellsville, Fayette County. As the United States drew every closer to entry into World War I, he registered for the military draft in Youngwood in June 1917.
Elizabeth and Carl separated on Nov. 16, 1924, with divorce court hearings conducted in Westmoreland County in February 1926. The news of the divorce was published in a local newspaper, under the semi-comical headline, "Seven Persons File Divorce Libels Here; Mismated County Couples Seek Decrees From Courts."
During the period of their separation, tragedy rocked the family on May 8, 1925 when 10-year-old son John died of tuberculous meningitis at Westmoreland Hospital. Burial was in Milliron Church Cemetery.
After her divorce, Elizabeth moved into the household of her brother Joseph, where she was enumerated on the federal census of 1930.
At the age of 32, on May 21, 1930, she eloped to marry her second husband, John Addison Oliver (1900- ? ). To tie the knot, they slipped away to Cumberland, Allegany County, MD, where Rev. C.R. Strausburg of the local Methodist Protestant Church officiated at the nuptials.
Circa 1970, the Olivers lived at Mt. Pleasant, Westmoreland County. More of her life will be featured here when learned.
Copyright © 2002, 2005-2006, 2009, 2014, 2017 Mark A. Miner