Home

Howard Minard
(1858-1912)

Howard Minard
Howard Minard was born on Jan. 15 or June 15, 1858 in Selbysport, Garrett County, MD or in nearby Somerset County, PA, the son of Joseph L. and Nancy (Stuck) Minard. In turn, Howard's grandfather is strongly thought to have been our Solomon and Rachel (Little) Minard Sr. of Ohio.
Howard was the high-energy, flamboyant and community-active dealer in liquor and proprietor of hotels in Western Pennsylvania, including at Dunbar, Fayette County, PA, but tragically died after going through a bankruptcy.

Katie Ebner Minard
When Howard was age seven, in 1865, his father met with an untimely death, and was buried in Addison, Somerset County. Within a few years, his mother remarried to Jasper Umble (also spelled "Humble"). In 1870, when the federal census was taken, the 12-year-old Howard lived with his mother and step-father near Fayette Springs, Henry Clay Township, Fayette County. Sadly, his mother lived only another few years, and passed away in 1872. As she was dying, she asked her son Howard to promise that she would be buried in the Stuck family farm near Markleysburg, Fayette County.
Howard may have gotten a taste of hotel management as a teenager from a neighbor and distant cousin Samuel Minerd, who operated the Fayette Springs mountain resort from 1871 to 1873. Howard "was in business in Connellsville [PA] for a time," said a local newspaper, "and [in 1884] went to Pittsburgh as sales agent for a preserving company, with whom he remained many years, and was later with a firm of wholesale grocers several years."
When Howard was age 23, in 1881, he purchased a 50-acre tract of land in Garrett County, MD, from his kinsman, Howard and Jennie Stuck. The price of the land was $400. It was part of the Military Lot #2910, "lying West of Fort Cumberland," and had been conveyed to the Stucks in 1879 by Thomas Maust and wife. The rocky land contained white oak and locust trees, among other natural growth. After owning the property for six years, Howard sold it for a 38 percent profit to Elijah T. Fike of Preston County, WV. At the time, Howard resided in Allegheny City, Allegheny County (today Pittsburgh's North Side).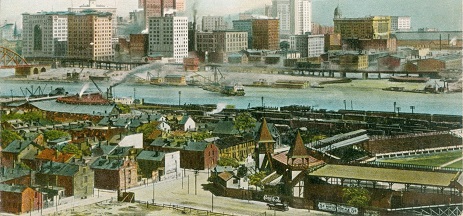 Turn of the century Pittsburgh, with Exposition Park, home of the Pirates baseball team, at lower right.

Howard's signature
Circa 1889, when he was 31, Howard was a traveling salesman and resided in Allegheny City's First Ward.
On April 30, 1889, Howard married Katherine Ebner (1869-1954), the daughter of John Ebner. She was a native of Allegheny County, PA but at the time of marriage a resident of Beaver Falls, Beaver County, PA. The ceremony took place at St. Thomas's Church, led by the Very Rev. John Hickey. There was an 11-year difference in age between Howard (31) and Katie (20).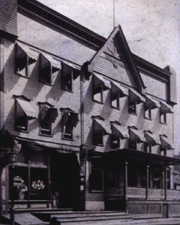 Dunbar Hotel
The Minards went on to produce three children -- Joseph J. Minard, Marie M. Ryan and Gertrude Louise Gallivan Kreuer. Katie taught the children nursery rhymes in German, and always seemed to be quoting sayings about life in general.
From 1902 to 1906, Howard was the owner/proprietor of the Dunbar Hotel in Dunbar, Fayette County, PA. The handsome structure is seen here. The Connellsville (PA) Courier said it "is known to be one of the best small town hotels in Fayette county."
He purchased the property and liquor license from William Dull and James I. and Saloma Feather of Uniontown, Fayette County, on Aug. 13, 1902. The purchase price for the 11,936 sq. ft. tract was a whopping $20,000.
Howard apparently did not receive renewal of the liquor license until April 1905, which would have made it difficult to attract customers. Nonetheless, he made improvements to the hotel in 1904, including installation of steel ceilings and electric lights in the office, bar and dining room, as well as a fire escape from the third floor to the ground.
During his four-plus years in Dunbar, Howard must have been aware of the many distant cousins of his father's who had resided there for decades. Among these were the adult children of William Minerd, James Minerd Sr., John Vernon Smith Minerd and Andrew Minerd.
Howard kept a very high profile in the Dunbar community and was often mentioned in Connellsville newspaper stories, undoubtedly to promote his hotel. Newspapers spelled his name "Minerd" in keeping with the high population of the other Minerds in the region.

German Beneficial Union advertising card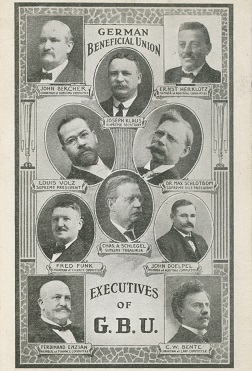 Executives of the German
Beneficial Union in Pittsburgh
In late June 1906, the Weekly Courier said that Howard was in charge of construction of a new post office building in Dunbar. He had architect Cooper of Uniontown design the building, which "will present quite an attractive appearance when complete," said the Courier. "It will be a two-story building and will probably be constructed of cement blocks. On the first floor there will be a commodious and well-lighted room for the postoffice. To the rear of the postoffice there will be a sample room. The second floor will be arranged for dwelling purposes." The Minards also made news when attending birthday and garden parties and calling on friends.
Howard belonged to the Connellsville Lodge of the Elks, and the Minards were members of the St. Thomas Roman Catholic Church of Braddock. The St. Thomas congregation had been established as a mission church in 1854, with its first building dedicated in March 1863. A second building was constructed in 1903 and served the community for eight decades until it was destroyed in a fire in December 1983 and razed entirely in February 1984.
As well, as a reflection of his German origins, Howard also was a member of the Connellsville Branch of the German Beneficial Union (GBU). Founded in 1892 by German immigrants in Pittsburgh as an ethnic German fraternal organization, and originally known as the Deutscher Unterstuetzungs-Bund or German Beneficial Union, the GBU provided financial security, fraternalism and social opportunities for members. Later in the 1890s, the Connellsville branch formed a "Saengerbund," a German singing society for providing entertainment. By 1899, the local chapter had flourished to moe than 200 members. Meetings and banquets were held in Connellsville's Mercantile Hall.
Among the early executives of the Pittsburgh GBU were audit committee chairman John Bercher, audit committee members Ernst Herklotz and John Doelpel, supreme secretary Joseph Klaus, supreme president Louis Volz, supreme vice president Dr. Max Schlotbom, supreme treasurer Charles A. Schlegel, finance committee chairman Fred Funk, finance committee member Ferdinand Enzian and law committee chairman C.W. Bente.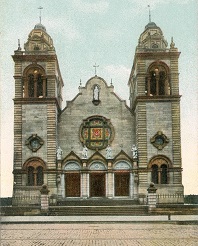 St. Thomas Roman Catholic Church
Katherine became ill in late 1905, and traveled for treatment to the Markleton Sanitarium in the mountains of Somerset County, PA. Howard and the children visited her off and on, shuttling from and to Dunbar. Built in 1892 by the Markleton Hotel Company, the sanitarium initially advertised itself as featuring treatment by medicines and hot and cold, salt, Turkish, Roman, Litz elecgro-thermal, electro-chemical, and needle baths, Swedish movements, massages and electricity. About the time Katherine went there, it was said to have the:
...Finest bath equipment in the Middle West. Trained Nurses, expert masseurs, skilled attendants, three physicians. $2.50 per day up, including all services and treatment. 2000 feet above sea level. In the Heart of the Alleghenies. Pure air and mountain water -- no malaria, no mosquitoes.
By mid January 1906, Katherine had regained her health, and she returned home. The Weekly Courier said she "went to Braddock ... where she will visit for a few days with friends."
Son Joseph was injured in April 1906 while playing with a friend, who "accidentally hit him with a piece of glass, which cut quite a gash," reported the Weekly Courier. "[He] is now going about with a patch over his right eye."
In July 1906, while suffering from "rheumatism," Howard traveled to Mt. Clemens, Michigan, "to obtain some relief from his suffering," said the Daily Courier.
From 1906 to 1912, Howard also owned a hotel in Ridgway, Elk County, PA, and thus was managing two properties simultaneously. More about this property needs to be researched.

Markleton Sanitarium, in nearby Somerset County, PA, where Katherine was treated in late 1905

Intertwined "H" and "M"
on the Addison grave marker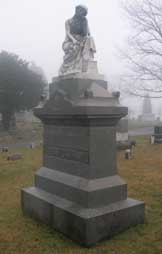 Minard grave, Addison
Some 32 years after his mother's death, in December 1904, Howard began to plan for a monument to be placed at the grave of his father and infant brother in Addison Cemetery, and for his mother's remains to be relocated there from the Stuck Farm so the family would be together for eternity and for convenience in maintaining the site. It took the form of a large, haunting statue, fabricated by the R.H. Koontz marble and granite works of Greensburg. The front of the base of the monument features his name in all capital letters -- "HOWARD MINARD" and includes a large, carved monogram of his intertwined initials, "H" and "M."
A December 1904 article in the Connellsville Daily Courier noted that it "will be the most expensive and artistic piece of cemetery work in the county. The Addison Cemetery has now some good monuments but this will be a credit to the cemetery." In an October 1905 article in the Daily Courier, Howard let it be known that the cost of transporting the remains was $160 and of the impressive monument was $2,000.
In the 1930s, laborers with the Works Progress Administration recorded all the burials at Addison Cemetery, and prepared a long typed list of the names and dates. Today, this list is available online on the Somerset County GenWeb Archives, on page 21.
For all of his high flying visibility, Howard may simply have been desiring for his Dunbar hotel property to be perceived as viable and lucrative, so that he could sell it at a high markup. The Courier in May 1905 reported that Howard was considering disposing of it to M.J. Tulley, but the deal apparently fell through.
A year and a half later, Howard's fortunes changed for the worse. In the fall of 1906, he alleged that Mabel Pulliam, Lillian Diebold and Roy Cunningham robbed him of a diamond ring in Pittsburgh. Judge Umbel of the Fayette County Court of Common Pleas issued a ruling that the hotel bar remain closed, and that Howard must show cause why his liquor license should not be revoked. News of the action received national exposure when published in the National Labor Tribune.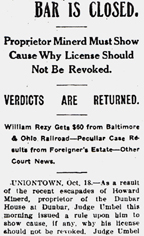 Connellsville Courier
On Oct. 23, 1906, Howard purchased a vacant lot in Dunbar from George H. and Sarah M. Swearingen for one dollar. It was adjacent to Connellsville Street, the Methodist Episcopal Church, Main Street and a brick warehouse. The lot was intended to be an alleyway between the church and the warehouse, connecting Main Street with Connellsville Street. The transaction must have been designed to consolidate Howard's real estate holdings prior to eventual sale.
On Oct. 26, 1906, the Weekly Courier reported that Howard had finally sold the hotel, lease and fixtures to Harry Van Gorder of Scottdale for "a consideration that will reach over $40,000," the article said. "There were a large number of prospective bidders for the property at Dunbar on Friday and Saturday."
After selling the hotel, Howard and Katherine moved to Pittsburgh, where he was employed as a traveling salesman in and around the booming steel town of Braddock. Their home was located at 5421 Gertrude Street in Hazelwood.
"Howard Minard" grave at Addison --
even though he does not rest there
Circa March 1908, mysterious fires "broke out in the stables ... owned by Mrs. Howard Minard, wife of a wealthy former wholesale liquor dealer" at 1002 Willow Way in Braddock, reported the Pittsburgh Press. "The Braddock fire department, and also the police department, are wrestling with a mystery which has surrounded, for several weeks, the origin of a series of fires. The fires have been started at the same hour each day for the past three weeks, and no less than seven times have the incipient blazes been discovered just in time to prevent serious conflagrations. Both departments believe them to have been lighted by incendiaries."
During their years in Hazelwood, Howard apparently rented and/or purchased another hotel and bar in Wheeling, Ohio County, WV. It was called the "Minard Tavern." The saloon deal was a fiasco, as only one-third of the $6,000 price was paid, and the liquor license was refused. Faced with a crushing debt of $9,600, and with no way to generate cash flow to repay it, Howard voluntarily filed for bankruptcy in mid-September 1911 in the United States District Court for the Western District of Pennsylvania. He owed creditors for liquor, ice, dry goods, jewelry, milk, cigars, beer, meat and furniture. He also owed contractors for carpentry, steam pump castings, machinery and electricity. Worse yet, he owed his wife an IOU of $3,500 which he had borrowed in March 1910, likely depleting some of their life savings.
Howard apparently did not let the Wheeling letdown deter his entrepreneurial aspirations, but it was a fateful and tragic decision. In March 1912, he applied for a retail license for a new facility, the Hotel Anderson, near the Hotel Thomas in Beaver Falls, Beaver County, PA.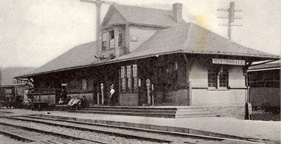 Above: B&O Railroad station at Meyersdale, where Howard suffered his fatal stroke. Below: the Sand Patch Hotel which he was trying to buy during the fatal trip.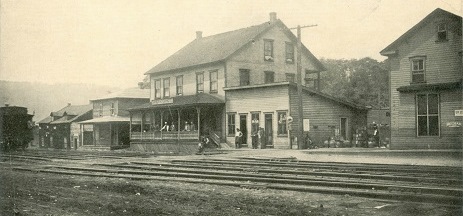 Also in 1912, he apparently was contacted by "Mr. Lennox," a Pittsburgh as a real estate broker, about a new investment property. They went together in October of that year, along with Fred Stickel of Indian Creek, Fayette County, to the railroad town of Sand Patch, Somerset County, to negotiate the acquisition of the Sand Patch Hotel.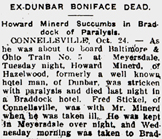 Meyersdale Republican, 1912
"[The] details of the sale of the hotel, owned by Keifer and Stickel, to Minard, were practically agreed upon," reported the Meyersdale (PA) Republican. "Minard, Stickel and Lennox were returning to their homes Tuesday evening and were waiting for the 6:25 train at the Meyersdale station when Minard was stricken with apoplexy." The newspaper went on to report the following:
He was sitting in the passenger shed when he collapsed and his condition was not noticed by his companions until the train pulled in. When the others got up to board the train they called to Minard to come on, but as he did not move, they went back and found him in an unconscious condition. The conductor was told there was a sick man to be helped aboard the train, but not knowing who the man was, the conductor took one glance at him and signaled the train to go ahead, remarking that it was his opinion that the man was drunk and he did not have time to bother with intoxicated passengers. Minard's companions remained with him and carried him to the Boswer hotel and called Dr. W.T. McMillan. The latter pronounced it a case of apoplexy and recommended getting him home or to a hospital as quickly as possible. Accordingly, Dr. McMillan and Minard's friends took him to Braddock on the next train, where he was placed in the Braddock general hospital...
Sadly, Howard died the next morning, on Oct. 24, 1912, without having regained consciousness. His tired remains were taken to Calvary Cemetery in Pittsburgh, operated by the Catholic Cemeteries Association of the Diocese of Pittsburgh, where they were placed in the receiving vault for several months. His obituary was published in the Pittsburgh Sun, Uniontown Morning Herald and Meyersdale Republican. Then, a week later, his casket was moved to the Ebner family plot at All Saints Cemetery in Braddock, also a property of the Diocese.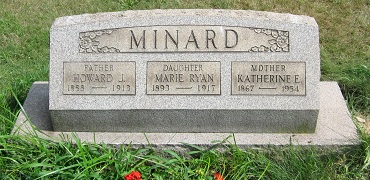 Minard/Ryan grave, All Saints Cemetery in Braddock, PA
The fatherless children petitioned the Allegheny County Orphans Court for a legal guardian. At the December Term of court in 1912, the children's grandfather, Joseph L. Ebner, was given the appointment.
Katherine and the children lived in Hazelwood, considered the East End of Pittsburgh, in August 1913. They occasionally returned to Dunbar to visit friends, including Mrs. George W. Wagner, as reported in gossip columns of local newspapers.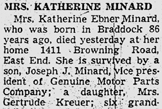 Pittsburgh newspaper, 1954
Tragedy again rocked Katherine in 1917, when married daughter Marie Ryan died in childbirth.
Katherine apparently never remarried. She spent her last years living at 1411 Browning Road in Pittsburgh, outlived her husband by more than four decades. She was especially close to her granddaughter Kathryn Kreuer, and when Kathryn began dating her future husband in the late 1940s, Katherine went to the trouble of studying and memorizing sports information in the newspapers, so she would have something to talk about when the young man "came to court."
She spent her final two years suffering from cancer of the colon and died in Pittsburgh at the age of 86 on July 29, 1954. A funeral requiem high mass was held at Sacred Heart Church in East End. She joined her husband and daughter Marie Ryan in eternal repose at All Saints Cemetery.
In her will, Katherine left $500 each to her granddaughters Marie Ryan Undercoffer and Anna Marie Ryan.

Joseph J. Minard
~ Son Joseph J. Minard ~
Son Joseph J. Minard (1896- ? ) was born on July 3, 1896. He was age 17 when his father died unexpectedly.
Joseph married Eleanor "Ellen" Hogan (1895-1985) and was a year younger than his bride.
Their three children were Dr. John Lawrence "Jack" Minard, Joseph Howard Minard and Mary Lou Monahan Kloss.
He registered for the World War I military draft in 1918, and stated his employer as Westinghouse Electric Company of East Pittsburgh. Later, he was vice president of Genuine Motor Parts Company in Pittsburgh circa 1954.
They resided on Browning Road in Highland Park, near his widowed mother and widowed sister.
Joseph died on April 11, 1973, at the age of 75, in Pittsburgh. His mass of the resurrection was sung at the St. Paul's Cathedral. He was laid to rest in the Calvary Cemetery in the Hazelwood section of Pittsburgh, operated by the Catholic Cemeteries Association of the Diocese of Pittsburgh.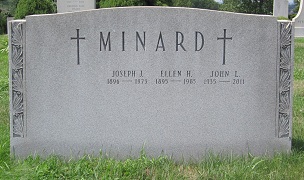 Minard grave marker, Calvary Cemetery, in the Hazelwood section of Pittsburgh
Ellen outlived her husband by a dozen years. In later years, she lived in an apartment in the Oakland section of Pittsburgh, near the University of Pittsburgh. A niece remembers her as a good cook and green thumb who kept poinsettia plants alive all year long.
She died in 1985, at the age of 90.

John L. Minard
Daughter Mary Lou Minard ( ? - ? ) was twice married. Her first husband was Walter Monahan ( ? - ? ). They produced four children -- Joe Monahan, Carolyn Rigo, Cassie Fatica and Marney Gorman. Mary Lou later was united in wedlock with (?) Kloss.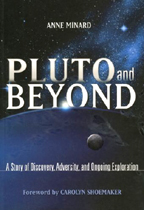 Anne Minard's book
Son John Lawrence "Jack" Minard (1935-2011) was born on Jan. 12, 1935 in Pittsburgh. He married Christina K. (?). Together, the couple produced a family of six children -- Lisa Stiefvater, Michelle Davis, Leslie Friend, Anne Minard, John Lawrence Minard II and Michael Miles Minard. Jack received his bachelor's degree from the University of Notre Dame in 1957 and his medical degree from the University of Pittsburgh. At one time they resided in the Fox Chapel neighborhood of the city. Said the Pittsburgh Post-Gazette, he "completed a successful career as a psychiatrist, and enjoyed long-distance running, golf and time spent with his children and grandchildren. A lifelong devout Catholic, he committed shortly before his death to the Franciscan Third Order." He died at the age of 76, on Aug. 20, 2011. His remains were returned to Pittsburgh for burial beside his parents in Calvary Cemetery.
Granddaughter

Lisa Minard Stiefvater
Granddaughter Michelle Minard Davis
Granddaughter Leslie Minard Friend
Granddaughter Anne Minard is a science writer and journalist whose work has been published in the

New York Times, Los Angeles Times, Arizona Daily Sun, Arizona Daily Star, Arizona Highways, Science Magazine

and many smaller publications. She is the author of

Pluto and Beyond

, published in 2007 by Northland Publishing. She also is a contributing editor to

Renewing America's Food Traditions: Saving and Savoring the Continent's Most Endangered Foods

, edited by Gary Paul Nabhan. Visit her

website

.
Grandson

John Lawrence Minard II
Grandson Michael Miles Minard
~ Daughter Marie (Minard) Ryan ~
Daughter Marie Minard (1893-1917) was born on June 9, 1893.
She was joined in holy wedlock with John M. Ryan (1887- ? ) on Sept. 9, 1914, at Sacred Heart Church in Pittsburgh. John was a native of Washington, Washington County, PA, and the son of James and Anna (Cain) Ryan. At the time of marriage, John was a clerk.
They had two known daughters -- Marie Undercoffer and Anna Marie Ryan.
Tragically, at the age of 24, Marie died in childbirth with her daughter Anna Marie in 1917, at Pittsburgh's Shadyside Hospital. The physician attributed the cause of death to blood poisoning ("puerperal hepticemia") and kidney inflammation ("acute nephritis"). She was interred beside her father in the All Saints Cemetery in Braddock.
Daughter Anna Marie Ryan (1917-2009) was born in 1917. She married Connell J. Gallagher (1924-1973), who was seven years younger than she. They had three children -- Terry McCracken, Connie LaCoe and Hugh Gallagher. The Gallaghers moved to Lancaster, Lancaster County, PA. Anna "worked at Logans in Lancaster for many years as a clerk, following which she went to Lancaster Osteopathic Hospital to work there as a senior clerk," said the Lancaster Intelligencer Journal. "She was a long time member of St. John Neumann Catholic Church ... [and] a member of Senior Citizens Group, AARP and was an active member of Valley Brook Clubhouse." Connell passed away in May 1973, at the age of 49. Anna died in Lancaster on Dec. 21, 2009, at the age of 92. Following a mass of Christian burial, at St. Anne's Retirement Community Chapel in Columbia, PA, she was laid to rest in the St. Joseph New Catholic Cemetery.

Gertrude Kreuer
~ Daughter Gertrude Louise (Minard) Kreuer ~
Daughter Gertrude Louise Minard (1899-2001) was born in 1899.
She was twice-wed. She first married Joseph "Howard" Kreuer (1898-1927), son of Joseph and Magdoline (Brown) Kreuer Jr. of Pittsburgh. Their nuptials were celebrated on June 10, 1920, by Rev. Joseph Suln of 130 Larimer Avenue in Pittsburgh. Gertrude was age 21, and Joseph was 22.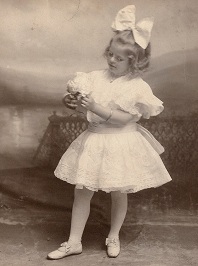 Gertrude, 1904
At the time of marriage, Joseph was vice president of "Petroleum Corporation" and resided at 505 Larimer Avenue.
He also was a veteran of World War I, having served as a member of the 111th Infantry of the U.S. Army.
They bore an only daughter -- Kathryn Louise "Kitty Lou" Emery.
In 1913, a year after giving birth, Gertrude faced the sudden and unexpected death of her father Howard. Her daughter Kathryn thus grew up not remembering the man.
Howard later became president of the Vilsack-Kreuer Real Estate Company. Active in the community, he belonged to Sacred Heart Catholic Church of East Liberty and was a life member of the Pittsburgh Athletic Association and the Elks Club.
Howard's obituary
Tragedy rocked the family again in the late summer of 1927. Howard, in his 30th year, was stricken with a pulmonary abscess after undergoing a tonsillectomy. Also suffering from heart disease ("myocarditis"), he died on Aug. 19, 1927, in St. Francis Hospital.
The funeral was held in their home at 1411 Browning Road in Pittsburgh's East End. Burial was in Mt. Carmel Cemetery. His obituary in the Pittsburgh Press included a photograph, which is reproduced here.
As a widow, Gertrude resided with her young daughter Kathryn and widowed mother Katie on Browning Road. About four or five houses away lived Gertrude's brother and sister in law, Joseph and Eleanor Minard. They were all close, and Katie had a great impact on little Kathryn during her growing-up years.
On Feb. 9, 1937, Gertrude wedded a second time to John M. Gallivan ( ? - ? ), a resident of Pittsburgh and Syracuse, NY. The nuptials were held in the family church. Reported the Pittsburgh Sun-Telegraph, "The bride was gowned in silver grey lace with king's blue hat and accessories. She carried a muff of pink roses with lilies of the valley." The newlyweds honeymooned on a sailing cruise to the West Indies.
The federal census enumeration of 1940 shows the Gallivans living on Browning Road, with Gertrude's daughter and widowed mother in the household. That year, John earned a living as a sales manager for Worthington Pump Company.

Kitty Lou Emery
Gertrude died at the age of 102 in Pittsburgh on Nov. 21, 2001, having spent almost 75 years apart from her first spouse. The Pittsburgh Post-Gazette reported that a memorial mass was held at Sacred Heart Church in Braddock Hills, and that she was survived by four grandchildren and nine great-grandchildren.
Daughter Kathryn Louise "Kitty Lou" Kreuer (1921-2020) was born in 1921. She was a graduate of Sacred Heart Catholic Church School and then attended Seton Hill College. She graduated from an art school and went on to become a fashion artist in the employment of Gimbel's Department Store in Pittsburgh. In 1951, at the age of 30, she was united in matrimony with 28-year-old Benjamin Franklin Emery (1923-2005), son of Erastus Emery. Their wedding mass was held at Sacred Heart Church, followed by a breakfast reception at the Pittsburgh Athletic Association in Oakland. The Emerys went on to bear a family of four children -- Kathryn Louise "Kate" Dougherty, B. Howard "Howdy" Emery, Ann Elizabeth Townsend and David Albert Emery. They enjoyed hosting their Minard cousins for parties and get-togethers in their home in O'Hara Township. Circa 1985, upon retirement, the Emerys relocated from Pittsburgh to Ahwatukee near Phoenix, AZ to be near one of their married daughters. Benjamin died on June 26, 2005 in Phoenix. Kathryn outlived him by about 15 years. Sadly, during the early months of the Coronavirus epidemic in 2020, she contracted the illness and succumbed on May 13, 2020. The remains were laid to rest in St. Joseph Cemetery in Braddock near her mother and grandmother. An obituary in the Pittsburgh Post-Gazette asked that any memorial donations be made to the Sacred Heart church.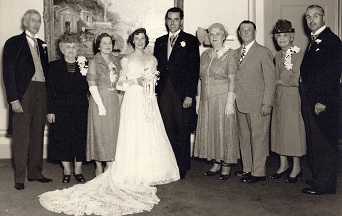 Kathryn Kreuer's 1951 wedding to Benjamin F. Emery
Granddaughter

Kathryn Louise "Kate" Emery was joined in wedlock with Paul Dougherty

. The couple made their home in San Francisco.
Grandson B. Howard "Howdy" Emery

entered into marriage with Abbie. They have resided in Pittsburgh.
Granddaughter Ann Elizabeth

Emery

wedded Brad Townsend

. They live in

Ahwatukee near Phoenix, AZ

. Ann graciously has shared content for this biography.
Grandson David Albert Emery

(1962-2016) was born in about 1962. He was a graduate of Fox Chapel High School and Ohio University. When in his early 20s, David resided with his sister Ann in Arizona and then became employed with the organization of motivational speaker Tony Robbins, traveling extensively around the country. While in Richmond, VA, he met his wife Meg Short ( ? -living). They were the parents of one daughter, Hannah Grace Emery. The couple established a home in Waynesboro near Richmond, where David became an ordained chaplain working for the School of Urban Ministry of the Richmond Outreach Center, an organization devoted to training young people for careers in Christian ministry. Said the

Pittsburgh Post-Gazette

, he "ministered to inner city children, the hungry and the homeless." The couple divorced after seven years. Stricken with pancreatic cancer, David died in Richmond at the age of 54 on Oct. 12, 2016. Funeral services were held in the Mt. Vernon Baptist Church in Glen Allen, VA. Their daughter Hannah was in Glen Allen in 2016.
Copyright © 2000-2008, 2011-2012, 2015, 2018, 2021 Mark A. Miner
Howard Minard portrait in the Pittsburgh Post-Gazette courtesy of Newspapers.com. Dunbar House photograph courtesy of the Dunbar Historical Society. J. Howard Kreuer obituary courtesy of obituaries courtesy of the Library of Congress and the National Endowment for the Humanities, partners in Chronicling America. Other content courtesy Ann Elizabeth (Emery) Townsend.