Home

John Vernon Smith Minerd
(1830-1907)

Elizabeth Minerd
John Vernon Smith Minerd was born on April 3, 1830 in Fayette County, PA, the son of Henry and Hester (Sisler) Minerd. He was an early coal miner and veteran of the Civil War.
As a young adult, John stood 5 feet 10 inches, and weighed about 160 lbs. He had a dark complexion, with hazel eyes and black hair.
On Dec. 16, 1852, at the age of 22, John was united in holy matrimony with 16-year-old Elizabeth Ann Livingston (1836-1923), daughter of James and Jane (Rankin) Livingston. The ceremony was performed at the home of John's brother William Minerd in Connellsville, Fayette County by Rev. William M. Betts, "a Protestant Methodist preacher." Among the guests were Kate M. Bradford, Philo Norton and Hester A. (Freeman) Galloway. Wrote Philo Norton some 50 years later:
I was present at the marriage ... I went to the residence of Samuel Freeman, in Connellsville, to procure Mr. Betts, the Methodist Minister, to perform the ceremony, and ... I accompanied Mr. Betts and two of Mr. Freeman's daughters to the residence of William Minerd, in Connellsville, and saw him (Mr. Betts) unite in marriage, the said [couple] in the presence of several of the friends of both parties.
John and Elizabeth went on to produced a brood of 11 offspring -- Emma Jane Trout, William Henry Minerd, James L. Minerd, Charles B. Minerd, Andrew Minerd, Minnie McKnight, Elizabeth Dora "Lizzie" Kelly, Bertha May Van Dyke, Maud Minerd, Hester Minerd and Jane Minerd. Four of their children were born before he joined the Army in the Civil War.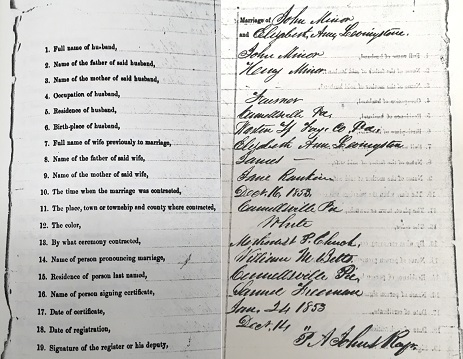 John and Elizabeth's marriage license, 1853, on file today in the Fayette County Courthouse in Uniontown, PA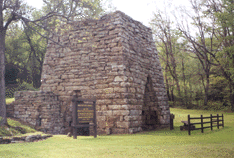 Wharton Furnace ruins
Friend Reuben Reed once said that in about 1855, he and John worked together "in the 'coaling,' burning wood into 'charcoal' for 'Furnace' purposes." This is the earliest documented specific coal mining activity in the family. John's nephew, James Minerd Jr., wrote that before the war, he and John "worked together at a Furnace for quite a while." It's thought that 'the Furnace' may have been Wharton Furnace, near Farmington, Fayette County, where his brothers James and Samuel are known to have been employed. Ruins of the Wharton Furnace are seen here circa 2002.
Within a few years after their marriage, the Minerds moved to near Ironton, Lawrence County, OH, likely so John could work as a teamster in coal mines. At the time, Ironton was a boom town, enjoying a location along the Ohio River. Said Hardesty's 1882 Atlas of Lawrence County, Ohio, it was "in the center of the iron and coal region of this section of the State and of Kentucky, being surrounded by several score of blast furnaces, a large number of which make the city their shipping point…" (A number of children of John's first cousin, Rebecca [Miner] Murdock, also settled in Ironton about this time.)
After the Civil War broke out, at the age of 31, John went to Cincinnati to enlist in 5th Independent Battery, Ohio Light Artillery, on Sept. 18, 1861. In his own words, he "passed a thorough medical examination and was pronounced a sound man."
With a background working with horses, John served as a "wagoner" with the regiment's forage train. At Pittsburg Landing, TN, in April 1862, he "contracted chronic diarrhea and was afflicted badly by it." The following year, at the siege of Vicksburg in Mississippi, "he took the chills and fever" from "exposure in that malarious country." He also had a bad case of hemorrhoids and "disease of the rectum."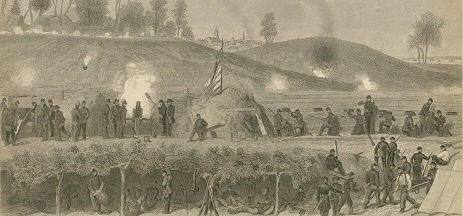 Battle action during the siege of Vicksburg.
Painting by Alonzo Chappel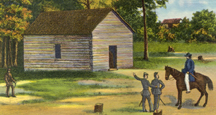 M
eeting-house
on the Shiloh battlefield
William Mead, who also served in the 5th Independent Battery, later wrote that "while in the line of duty at or near Shiloh ... [John] did on or about the first of April 1862 become dissabled with chronic diarrhea. He also became afflicted with chills and fever at the siege of Vicksburg in 1863 which they think was caused by exposure..."
The Battle of Shiloh was waged in April 1862 near Pittsburg Landing, TN. The rare old colorized postcard seen here depicts the old original one-room Shiloh meeting-house, which stood at the battlefield during the horrific fighting, and from which the battle is named. During the action, 40,000 Confederates under General Albert S. Johnson attacked 45,000 Union soldiers led by General Ulysses S. Grant. The fighting led to a draw, but has been called "one of the most desperate of the war." Johnston was killed, and casualties on both sides numbered more than 10,000 each.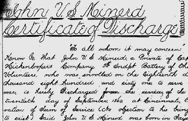 John's Army discharge, Ohio
John was treated at a general hospital in Little Rock, AR. After one battle, he is said to have been walking among the wounded on the battlefield when he spied a man who had lost both of his legs below the knee.John sat with the man and gave him some water from a tin cup.
In John's own words, he "was relieved from duty at Little Rock, AR on Sept. 18, 1864 and was discharged 2 days later, on Sept. 20, 1864 at Cincinnati. A copy of the actual paper is seen here, obtained from the Lawrence County Courthouse The document acknowledges John's service as well as his birthplace in Fayette County, PA. His name also is listed today on a website of discharge records of Lawrence County soldiers.
He then returned home to near Ironton, with his "health broken and shattered and unable to perform manual labor." Within a year, the Minerds moved back to Pennsylvania. Over time they resided at Dunbar and Uniontown, Fayette County and in about 1902 lived in Hunker, near New Stanton, Westmoreland County.
After the war, John worked as a mining boss and, like his brothers, as a teamster. Friend Reuben Reed testified that a mine boss was "a position that does not require any hard labor, and to the best of my knowledge I would say that [John] is not able to perform manual labor at all."

Bird's-eye view of Uniontown, circa 1906, from a rare postcard
He was named as "mining-boss" of the Pennsville Mine near Connellsville in the 1885 publication, Annual Report of the Section of Internal Affairs of the Commonwealth of Pennsylvania, Part III, Industrial Statistics (Volume XIII). The report states that Pennsville Mine was "a slope opening, operated by A.H. Sherrick, located near Pennsville station on the south-West Pennsylvania railroad... When visited on the 18th of December, the working parts were all in good condition. Air measurements showed ten thousand two hundred and ninety cubic feet passing per minute."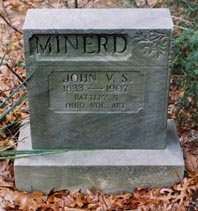 Stone Church Cemetery
By 1886, John had been replaced as mine boss by R.L. McElroy. [Tragically, in 1893, John's brother in law William D. Ogle died after suffering an accident in the Pennsville Mine, and two years later, in 1895, nephew William H. Ingles met a similar awful fate at Pennsville. It's not known if John was mine boss at Pennsville at the time of either accident, though it's doubtful.]
Over the years, John suffered from the effects of his wartime illnesses. He claimed that "Necessity and force of circumstances compelled [me] to struggle for the support of [my] family, while [I] continually suffered most intense physical agony." He also complained of "Breast trouble consisting of short, sharp pains causing difficulty in breathing and head trouble causing ... severe pain and almost continual loss of rest." John was treated by Dr. A.S. Sherrick of Stonersville, Westmoreland County, PA, and primarily "used home remedies for the ... diseases."
Family lore states that in one horrible week, John and Elizabeth lost five grandchildren to an epidemic of diphtheria or the flu.
From 1900 to 1903, John was employed as a "hostler" for Dr. W.E. Errett of Westmoreland County. In this role, he worked in the physician's stable, grooming and caring for horses. Errett once testified that "He becomes very short of breath and dizzy upon the slightest exertion.... He is entirely unable to do any work. He quit my employ on account of his health and has done nothing since. His memory is poor and eyesight bad."
John was treated for a leasion on his heart valves in his final years by Dr. Errett. He suffered a stroke on or about Aug. 10, 1906 and lingered for six months. Stricken further with a staph infection of the heart, he died at Hunker on Feb. 15, 1907, at the age of 77. He was laid to rest in the Stone Church Cemetery near Hunker, at times also known as the "Sewickley Baptist Cemetery" and the "Hillis Cemetery."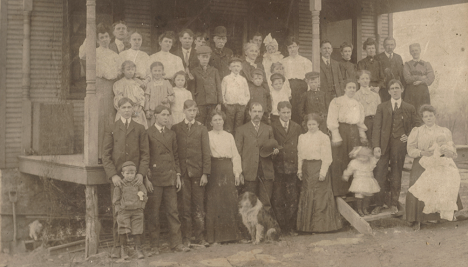 Family gathered at John's funeral, 1907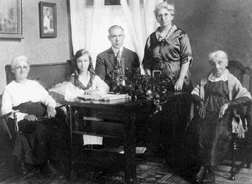 5 generations, L-R: Emma Trout, Beatrice Hower, Elmer Hower, Annabelle Hower, Elizabeth Minerd
After John's death, Elizabeth lived with her married daughters Emma Trout and Elizabeth Kelly. She had no financial support other than her late husband's Civil War pension. She lost her pension papers in a fire at the Kelly home in Dunbar, Fayette County. Said son in law James E. Kelly, "on the night of July 5, 1910 at about 11-30 o'clock my house and all of my goods &c were burned and among them was [her] pension certificate.
Elizabeth recalled that "the fire spread and burned so rapidly that [Kelly] could not save any of his personal property, all was destroyed..."
In her later years, Elizabeth saw her large family expand dramatically. Seen here, at far right, she poses in a rare five-generation photo. Others, from left: daughter Emma (Minerd) Trout, great-great granddaughter Beatrice Hower, great-grandson Elmer Hower and granddaughter Annabelle (Trout) Hower.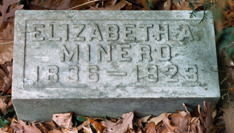 Stone Church Cemetery
Elizabeth also faced great pain and heartache over the years. In 1910, grandson Ernest Minerd was ground to death in a coal crusher. In 1917, grandson in law Josiah Hiles Sr. broke his neck in a freak accident at a coke plant. And in 1919, son Andrew was killed in an accident at the Allison coal mine.
For years, Elizabeth was burdened with hardening of the arteries. After contracting bronchial pneumonia in the winter of 1923, she died five days later on March 10, 1923 at the age of 86. Her remains were laid to rest beside her husband at nearby Stone Church Cemetery. Son James signed her official Pennsylvania certificate of death.
Elizabeth's grave marker is seen here, as photographed in 1994. Their graves have been tended in recent years by relatives who live nearby.
Carrying on her father's Civil War legacy, daughter Bertha VanDyke was a member of the G.A.R. Post in Greensburg, PA.
Many other tragedies have haunted this family over the ensuing decades.
Heartaches of the John V.S. and Elizabeth
(Livingston) Minerd Family
1895 - Grandsons George (age 3) and Grant (age 1) died of whooping cough within a week of each other.
1912 - Daughter Bertha Pringle died of heart and kidney disease after divorcing her husband, following years of domestic abuse.
1917 - Son in law Josiah Hiles Sr. killed when he broke his neck at the Plumer Coke Works near McClellandtown.
1917 - Grandson Homer Pringle drowned in or near McClellandtown, Fayette County.
1919 - Son Andrew crushed to death in the Allison Mine near Brownsville.
1928 - Great-grandson Harry Rebock Hiles drowned at Hope Works, near Masontown.
1930 - Great-grandson Josiah Hiles Jr. crushed to death in the Provance Mine near Masontown.
1946 - Great-grandson in law Robert Nugent killed in a fall of slate at the Robena Mine in Greene County, PA.
1949 - Grandson Charles Minerd McKnight killed in a mine accident of the Anaconda Copper Company in Darwin, CA.
1952 - Grandson Arthur Ralph "Buck" Minerd and great-grandson William Minerd (son of Harry Russell Minerd) killed in an auto accident.
Copyright © 2000-2006, 2010, 2016, 2021 Mark A. Miner
Vicksburg battle sketch painted by Alonzo Chappel, and published in 1877 as a steel engraving by Johnson & Miles, New York.