Home

Samuel Minerd
(1820-1900)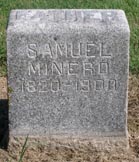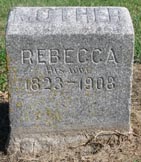 Mount Olive Cemetery, Pittsburg
Samuel Minerd was born on March 17, 1820 in Connellsville, Fayette County, PA, one of 15 children of Henry and Hester (Sisler) Minerd. He briefly was a well-known resort hotel proprietor in the mountains near Uniontown, PA, before becoming a pioneer settler of the coal regions of southeastern Kansas.
On June 8, 1843, the 23-year-old Samuel married 20-year-old Rebecca Smalley (1823-1908). She was born in September 1823, the daughter of Jonathan and Margaret (Shaffer) Smalley.
(The Minerds and Smalleys were close, and Samuel's brother Jesse married Rebecca's sister Sarah.) When the federal census was taken in 1850, they lived next to his brothers Isaac and Jesse in Wharton Township.
Samuel and Rebecca were the parents of nine children -- Jonathan Smalley Minerd, Laveria Georgia, John Henry Minerd, Levi "Springer" Minerd, Azaniah "Melvin" Minerd, William "Gaddis" Minerd, Emma Jane Treseder, Robert "Walker" Minerd and Margaret Hester "Maggie" Jackson.
Sadly, Jonathan and Gaddis died young, and were buried at Farmington, in separate cemeteries.
Wharton Furnace ruins
Prior to the Civil War, Samuel worked as a laborer and wagon team driver, likely hauling heavy iron ingots that had been smelt at the Wharton Iron Furnace near Chalk Hill, PA. He and his teams of horses would have transported their load along the National Highway (US Route 40) from Chalk Hill down the long, steep road into Uniontown, and thence westward to Brownsville, where the iron would have been unloaded for shipment to Pittsburgh.
Several of Samuel's brothers and nephews also labored at the furnace, including brother James, who lived there with his growing family in the 1840s. The facility was in operation off and on over the years, sitting idle from 1856-1858, from the early 1860s to 1870, and then for good in 1873, forcing the Minerds to find other employment. Preserved ruins of the furnace are seen here circa 2002.
With the Civil War raging, and manpower in short supply, Samuel was one of 42 Wharton Township men to be drafted in September 1864. He appealed on grounds of disability, because according to the Fayette County Military Registration for 1865, on Feb. 1, 1865, he was "exempted from duty, not liable," due to some unnamed affliction.
By 1870, he was earning his living as a farmer, and his older sons were common laborers.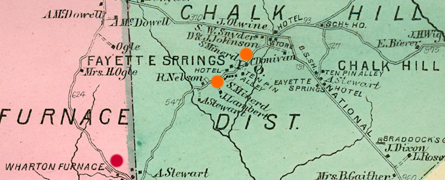 The orange dots mark the location of Samuel Minerd's home and the Fayette Springs resort, as printed in the 1872 Atlas of Fayette County. The red dot shows the nearby Wharton Furnace.
Uniontown Genius of Liberty, 1871
In 1871, Samuel received a hotel license to operate the famed Fayette Springs resort, a short distance over the hill from the National Turnpike (today US Route 40). The resort was nestled alongside a country road about a quarter mile south of Chalk Hill, Fayette County, and was famed for providing guests with natural mineral waters to cure their ills.
On June 15, 1871, Samuel placed an advertisement in the Genius. It announced that "This well known, delightful and favorite summer resort will be open for the reception of visitors on the FIRST OF JULY." The ad also said he would be:
...fully prepared for the season with everything required to accommodate boarders, families or transient visitors. The house is large and commodious, pleasantly and conveniently situated near to the celebrated ... mineral springs. The table shall receive special attention and be supplied with an abundance of the very best the season and country will afford.... Persons visiting old 'Fayette Springs' this season, cannot fail to be well satisfied.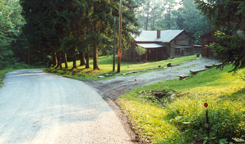 Fayette Springs resort site today
In a separate story, the Genius reported that Samuel "has no equal in the country as a caterer in the art of generous living, and facilities are ample and means abundant to enable him to keep first-class accommodations. He ... has also made arrangements for Rutter's Brass Band to be present at a grand entertainment to be given on the ever-memorable Fourth [of July]."
The next month, the Genius said that "The 'Fayette Springs' kept by Mr. Sam'l Minerd is a pleasant quiet mountain resort. If you don't want to roll ten pins, you can pitch horse shoes."
A correspondent for the Pittsburgh Weekly Gazette visited the resort in July 1871. He wrote a dispatch published in the July 12, 1871 edition, reading:
Having a few days of leisure, I escaped from our smoky city, one of those hot days last week, and made my way to the mountains. Taking the Baltimore express at 6:10 in the morning, which is the best train to take, I reached Uniontown at 10, where I procured a buggy and driver, and after a two hours ride up and over the mountain I landed at The Springs. My driver was a young man, something after the character of Philip Pirrip, who didn't appear to know anything for certain, and gave out sundry incoherent utterances about "Tom Searight," "the copperheads and rattlesnakes," "the vantage ball club" and "Old Rea Burton." He knew the road to the springs, however, and halted when he reached Minard's Hotel. This is a new structure metamorphosed out of an old one, and answers its purpose tolerably well. What it lacks in commodiousness is more than compensated for in the constant and courteous attentions of Mr. Minard and his gentlemanly Superintendent, Mr. Gardner. In coming hither, I passed Wharton Furnace.
[In] coming up Laurel Hill I learned from my hero Pirrip that the Springs could be reached via the furnace without much inconvenience. This furnace is owned by the Hon. Andrew Stewart and is at present operated by Messrs. Paull & Mitchell. It is in full blast and furns out a large quantity per day of first-rate metal. The metal is hauled in wagons to Uniontown, a distance of seven miles, thence carried by rail to Pittsburgh. The mountain region hereabouts is a very pleasant locality in which to spend the hot summer days, and I obswerve a number of Pittsburghers here enjoying themselves quite satisfactorily. There is a number of hotels in the neighborhood -- not large ones, but well kept. Minard's at the Springs is capable of accommodating fifty or sixty guests. Bunting's, a mile distant, about an equal number; Oluines, one-fourth of a mile from the Springs, has accommodations for about twenty; Johnson's, close by, an equal number, and Snyder's at the summit, a beautiful place, is an excellent house with rooms and cottages for twenty, while Rush's and Burke's, a few miles further east, afford first rate entertainment for a limited number.
A year after Samuel began running the resort, a competitor facility opened, known as the the Fayette Springs Hotel. Located directly along the National Highway, it "became a fashionable resort" and must have drawn a lot of business away from Samuel's operation. The competitor hotel is still in existence today, and functions as a restaurant known as the Stone House.
Unfortunately, Samuel's venture failed within just two years. In 1873, he filed for bankruptcy, and he and Rebecca were forced by the Fayette County Court to sell all their household items to pay their debts. It would have been a humiliating defeat.

Samuel's chief competitor, the Fayette Springs Hotel, today known as the Old Stone House on Route 40, just a mile from Samuel's Fayette Springs resort
By the time that the federal census was taken in 1880, the Minerds had moved to a new home in West Newton, Westmoreland County, PA. Samuel, at age 59, was marked as a "Retired Dealer." Sons John, Springer and Melvin also were identified as coal miners, while daughters Emma and Margaret labored in a local paper mill. Emma was listed as having a "finger cut off," possibly related to her work in the mill.
Samuel made news in the Pittsburgh Commercial Gazette in August 1880 in connection with his membership in the "Garfield Club" promoting the presidential election campaign of the Republican candidate, James A. Garfield. The story, headlined "A West Newton Flop," read as follows:
Political excitement is increasing, especially amongst Republicans, who have been favorted by all the "flopping"that has been done in this vicinity. At the weekly meeting of the Garfield club last night Mr. Samuel Minerd enrolled his name and in a short speech said he had been a Democrat for years, had cut hundreds of cord of wood for twenty-five cents a cord and took his pay in store orders under Democratic administration of affairs. He now had four sons voteres, who were earning good wages and paid in good money, and othes might do as they pleased, but for him and his household they wanted to take no risks of a change, and were one and all for Garfield. The Garfield marching club appeared on the streets last night for the first time, and were seventy-four strong. This club will number one hundred and fifty in a week. It is commanded by Col. David Leckey as Captain; J.T. McElroy, First Lieutenant; Watt Borelin, Second Lieutenant; Smith Shallenberger, Orderly SErgeant. Wm. Orr and John Thompson, both former Democrats, were in the procession and are going to vote for Garfield and good times.
While Garfield in fact was elected, and took office in January 1881, his presidency was cut down by an assassin's bullet later that year, with Garfield dying on Sept. 19, 1881 to great national mourning.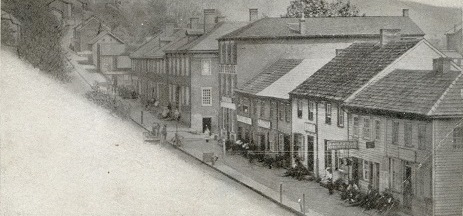 West Newton as it appeared in the 1870s
In 1885, Samuel and Rebecca's son John Henry began to perceive a brighter future for the family elsewhere, far to the west in Kansas, where the coal industry was booming. From his home in Scottdale, Westmoreland County, just north of Connellsville, John made preparations to make a scouting trip. The Sept. 4, 1885 edition of The Keystone Courier of Connellsville reported that John and his brother Levi Springer, along with E.C. Zack, Joseph F. Crossland, Jacob Nicholson, "leave on Monday for Kansas." By Thanksgiving of that year, John and Springer had returned with a positive report and plans for a family-wide migration. The "Scottdale" section of the Courier, dated Nov. 20, 1885, said simply: "John Minor left this week for Kansas where he will make his future home."
The following year, in 1886, Samuel (age 66) and Rebecca (63), and the rest of their adult children and one newborn grandson, left the region for good, and migrated to southeastern Kansas, settling in Pittsburg, Crawford County. Their entourage numbered 10 people in all. The 1965 manuscript, Family of Samuel and Rebecca Minerd authored by their great-grandson Donald Ethan Minerd, provides priceless details of the voyage:
The Trip [to Kansas] was made by boat and covered wagon, and they came, not with the desire of many that made the move west (not to break the sod of the prairies) but to tear from the very bowels of the earth, leaving great piles of useless rock and dirt, as they toiled and sweat, to remove the black precious substance, COAL. The sons of Samuel and Rebecca, engaged in the mining of coal, in drift, slope, strip, and deep shaft mining. The better known of the deep mines being camp 17, and camp 10. For a time part of the family lived in Minden Mines, Mo. but later returned to Pittsburg, and the Minerd Boys, Springer, John, Melvin, and Walker, removed the first coal by using a slope mine, in what is now Lincoln Park, in Pittsburg, Kansas.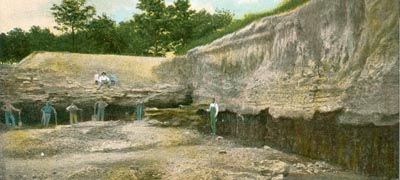 Coal stripping pit in Pittsburg. Note the men holding their shovels.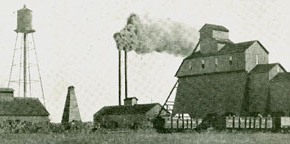 Coal mine in Pittsburg, early 1900s
Samuel and Rebecca apparently spent the first five years of their new lives in both Kansas and just across the state line in Western Missouri. Then, in 1891, they moved into a town dwelling in Pittsburg, at 303 West Ninth Street. They spent the next nine years -- the rest of their married years -- there at the address.
Mirroring what the Minerds had known in Southwestern Pennsylvania -- their nephews William H. Minerd (1884) and Marshall Minerd (1886) had been killed in mining accidents shortly before their migration -- Kansas coal mining in that era was deadly. In 1888, just two years after the Minerds settled in Pittsburg, an explosion ripped through the nearby Cherokee & Pittsburg mine at Frontenac, claiming 80-plus lives. News articles carried nationwide told of how ignited gas "shot a stream of flame into the air, igniting the gas and fine particles of the coal-dust... and in an instant a vast, terrific explosion took place which knocked all of the miners on their faces, hurled masses of coal upon them and shook every part of the mine." While none of the Minerds is known to have been involved, reports told of how "Most of the victims were shockingly mutilated. There was nothing left of the first man brought up from the dreadful hole but a bleeding, pulpy trunk. The head and arms and legs had been blown off. [The accident] proved to be the most appalling that has ever occurred in this country...."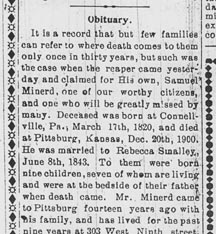 Pittsburg Daily Headlight, 1900
Some 290 coal mines and mining camps were in operation in Crawford and adjoining Cherokee Counties. The prospect of jobs drew many immigrants to the region, nicknamed the "balkans," primarily from Italy, Germany, England, France, Belgium, Scotland and Yugoslavia.
Samuel died at home at the age of 80 just before Christmas 1900. The Pittsburg Daily Headlight carried a long obituary, saying:
It is a record that but few families can refer to where death comes to them only once in thirty years, but such was the case when the reaper came yesterday and claimed for His own, Samuel Minerd, one of our worthy citizens, and one who will be greatly missed by many... To them were born nine children, seven of whom are living and were at the bedside of their father when death came... Many friends extend their sympathy to the bereaved wife and family.
In a Christmas Eve edition, the Headlight simply reported, "The funeral of Samuel Minard, which occurred this afternoon, was largely attended." He was laid to rest in the Mt. Olive Cemetery in Pittsburg, where he later would be joined by Rebecca and many of their children and grandchildren. The Headlight obituary provides important details and dates of Samuel's birth and marriage, which are not on record anywhere in his home region of Pennsylvania, and which thus had to be found in Kansas.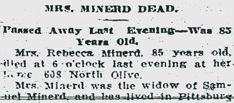 Newspaper obituary, 1908
Rebecca outlived her husband by eight years. At the age of 85, she passed away on Nov. 4, 1908 at her home on North Olive Street in Pittsburg. Cause of death, as shown in the Crawford County records, was simply "old age." Undertaker R.P. Powell handled her funeral arrangements.
The local newspaper in Pittsburg ran a short obituary, while her old hometown newspaper, the Connellsville (PA) Daily Courier, ran a much longer one. The Courier version said:
She was born at Chalk Hill and spent much of her life in Fayette county. She left for Pittsburg, Kansas, about 20 years ago. She was a member of one of the oldest and most widely known families of Fayette county. She is survived by four sons and three daughters, all of whom reside in Kansas. She is also survived by many relatives in Fayette county.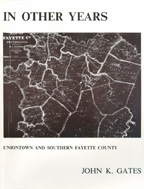 Book picturing the resort ruins
~ Post Script ~
In 1979, several old black and white photographs of the ruins of the iron springs at Fayette Springs were published by John K. Gates in his book, In Other Years; Uniontown and Southern Fayette County. While Samuel is not mentioned in the soft-cover volume, it provides valuable documentation of the final outcome of this once-precious community treasure that Samuel and Rebecca Minerd would have well known. An original copy of the rare book is preserved today in the Minerd.com Archives.
In September 2010, cousin Eugene Podraza and the founder of this website paid their respects at the graves of Samuel and Rebecca during their annual end-of-summer genealogy research trip. They also found substantial amounts of primary research documents at the Crawford County Courthouse in Girard, and in the genealogy room of the Pittsburg Public Library.
Minerd.com extends its gratitude to Samuel and Rebecca's great-great granddaughter Melinda Brooksher for everything she has so freely and graciously shared for this research and biography.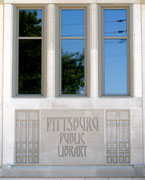 Much of the Minerd legacy in print is preserved in the Pittsburg Public Library, where material was found during research in 2010.
Copyright © 2000, 2002, 2007, 2009-2010, 2016-2017 Mark A. Miner