Robert 'Walker' Minerd
(1862-1915)
Robert "Walker" Minerd was born in February 1862, during the Civil War, in Farmington, Fayette County, PA, the son of Samuel and Rebecca (Smalley) Minerd.
In 1886, at the age of 24, Walker and his parents and siblings ventured westward. They left their longtime homes and became pioneers of Kansas, settling in Pittsburg, Crawford County.
After becoming firmly established in Pittsburg, said an unpublished family memoir, Walker and his brothers "removed the first coal by using a slope mine, in what is now Lincoln Park in Pittsburg..." He certainly must have used the knowledge and skillset that he would have learned in the bituminous coal fields of Southwestern Pennsylvania.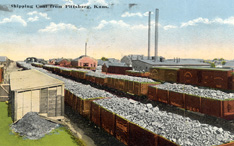 Rail shipments of coal in Pittsburg

Railroad shipments of substantial volumes of locally mined coal are seen here in a rare old postcard view of Pittsburg in the early 1900s.

Walker never married. He labored in Kansas coal mines, and owned 80 acres in the heart of Pittsburg, at what is now 4th and Broadway. According to the memoir, he "sold this land to a merchant by the name of Israel, who built a dry goods store on part of it, and in the later years, the three Minerd girls, Laveria, Margaret and Emma, worked in the dry goods store."

~ Real Estate Purchases ~

Walker and his brother John Henry jointly purchased town lot 522 in Pittsburg in 1893 from Peter and Mary Schommer, James B. and Lucy Smith and C.A. and Mary Miller. The purchase price was $532. In 1897, Walker's unmarried sister Margaret was added to the deed. Then in mid-August 1901, Walker and John Henry sold lot #522 outright to their sisters Margaret and Emma.

In September 1897, Walker and his brother Melvin purchased half of lot 14 in north Pittsburg for $800, with G.F. and Elmira J. Burkdall as the sellers.

In November 1904, having seen his brother Springer successfully patent a coal mine door invention, Walker himself submitted an application for a patent for a coal miner's tool. In his application, Walker wrote: "My invention relates to miners' tools, and more especially to one for removing the cuttings from holes drilled for blasting purposes in coal-mines or any other mines or for cleanout purposes in steam-boiler flues. My object is to produce a miner's tool of this character which is efficient and reliable in operation, light and easily handled, and of simple, strong, durable, and cheap construction." Witnesses for the application were Charles Watson and Walker's brother Melvin. The patent was approved by the United States Patent Office on May 1, 1906.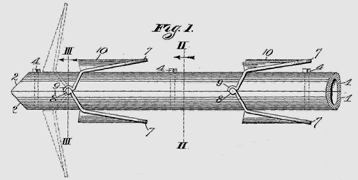 Walker's approved patent for a coal miner's tool (above), and a sketch of how the device looked. Click for the full text of the approved patent.
Walker and/or his brother John are said to have once loaned a Pittsburg merchant named Dillon some venture capital to start a meat plant. The venture was successful, took on a partner named Hull, and grew to fame under the name "Hull and Dillon Packing Co." It was in business for about 50 years; had the Minerd brothers kept their investment in the company, they would have become very rich.
Walker died on Aug. 17, 1915, in the residence of his sister Emma Treseder at 505 East 13th Street, Pittsburgh. Burial was in the Mt. Olive Cemetery in Pittsburg, with the funeral conducted by Rev. R.w. Thompson. Reported the Pittsburg Worker's Chronicle, he "was injured in the mines three years ago and never recovered from the accident, but has lived three years, which were filled with agony and pain." His grave is unmarked.
Copyright © 2000-2003, 2007, 2010, 2018 Mark A. Miner