Laveria (Minerd) Georgia
(1846-1904)
Los Angeles National Cemetery
Laveria (Minerd) Georgia was born on Nov. 28, 1846 in Farmington, Fayette County, PA, the daughter of Samuel and Rebecca (Smalley) Minerd. A pioneer of Kansas, she was married to a former soldier who had served in the Civil War.
Laveria was unmarried for many years. In 1886, at age 40, she and her aged parents and adult siblings ventured west to Kansas, uprooting from their longtime home in the vicinity of many relatives. They become early settlers of Pittsburg, Crawford County, in the coal country of southeastern Kansas.
Shortly after settling in Kansas, Laveria met her future husband, Sylvester S. Georgia (1837-1927). The wedding took place in Girard, Crawford County on Oct. 20, 1887, by the hand of John Carver. Laveria was age 41 at the time, though she marked her age as "21" on the marriage license, while Sylvester was age 50. A copy of the license is on file today at the Crawford County Courthouse in Girard, KS.
~ Sylvester Georgia's Civil War Experience ~
Sylvester was a native of Ithaca, Tomkins County, NY, with his father born in Connecticut and his mother in New York. It's not known when he came to Kansas. As an adult, he lived in Iowa City, IA, and stood 5 feet, 3½ inches in height, weighed 132 lbs., with grey-blue eyes and dark hair.
He served in the Civil War, joining the army on Aug. 9, 1862, and assigned for three years to the 28th Iowa Infantry, Company E. He was sick with chronic diarrhea and malaria (febris remittens) during the first year of duty, and was hospitalized at Milliken's Bend, Louisiana in April 1863. He was so incapacitated that he remained there all through that summer, and in October 1863, was transferred to receive additional medical care at Jefferson Barracks, MO.
Apparently having recovered, Sylvester returned to his regiment in the winter of 1864. While on a march in New Orleans in February 1864, he was ordered to help carry heavy boxes of 100 rounds of cartridges. In this overweighted position, he exerted his midsection and suffered a hernia. Writing years later, he said: "I became ruptured in the right side. It came on me gradually and I did not know I was ruptured until one day I discovered it. I do not think any one knew of it as I concealed it from my comrads."
Later that spring, on April 8, 1864, he was captured at the battle of Sabine Cross Roads near Mansfield, LA. He was presumed killed or taken prisoner, and was held in a Confederate prison for the next 15 months. He was released at Red River Landing, LA on May 27, 1865, some seven weeks after the war had ended, and reported to Union army officials at Benton Barracks, MO.
He then was returned to his home state and discharged at Davenport, IA on June 25, 1865.
Sylvester and his service are mentioned in the 1883 book, History of Johnson County, Iowa (page 502).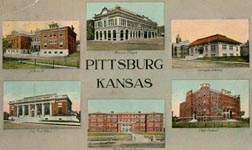 The Georgias' home city
~ The Georgias' Life Together ~
Laveria and Sylvester resided on North Walnut Street in Pittsburg. They did not reproduce.
Laveria was employed in a dry goods store at the corner of 4th and Broadway in Pittsburg, on land once owned by her brother Robert "Walker" Minerd.
Sylvester began receiving monthly pension payments from the federal government as compensation for his wartime injuries. When examined by a military physician in Pittsburg in February 1891, he was found to have a hernia measuring 3.5 inches by 5 inches in length. The examiner wrote that Sylvester "wears a well fitting truss" which "easily reduced" the protrusion.
He also began to lose his hearing in about 1895, when he was 58 years of age. He also suffered from liver problems, with one doctor noting his skin condition as "yellow and scaly." At some point, he fractured his left wrist, which was not set correctly and thereafter had a deformed appearance. By 1899, his regular physician, Dr. George Williams, estimated that Sylvester was "almost totally disabled."
Suffering from a tumor, Laveria died at the age of 57 on April 11, 1904, in Pittsburg. The Pittsburg Daily Headlight newspaper said the funeral was held at the United Presbyterian church, and "was very impressive," led by Rev. J.H. Gibson. "The floral offerings were very beautiful. The remains were followed to their last resting place in Mount Olive cemetery by a large concourse of friends."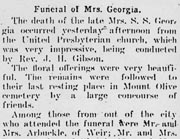 Pittsburg Daily Headlight, 1904
Among the mourns who traveled to attend the funeral were Mr. and Mrs. Arbuckle, of Weir, KS; Mr. and Mrs. J.A. Renfro, of Girard, KS; Mr. and Mrs. William Alcorn, of Arma, KS; and Girard Ramet and son of Littlefield, KS.
Today, no stone is known to mark Laveria's grave.
They are mentioned in the 1921 book, A Genealogical Record and History of the Georgia Family in America, by Elmore L. Brooks. The volume traces the children and descendants of William and Sarah (Cable) Georgia and of Elijah Burr and Kaziah (Stewart) Georgia. It spells her name "Laria Minard" and says they had "No children."
~ Sylvester's Final Years ~
Continuing to ail from his wartime debilities, Sylvester was sent to Honolulu, HI, where he was admitted or otherwise residing in November 1905. After his discharge, in about November 1906, he established a home in Southern California, although claiming Pittsburg as his permanent residence.
In 1907, Sylvester married again, after three years as a widower, to widow Louisa Shaw (1841- ? ), a native of Pennsylvania. She brought two grown children to the marriage. She was married once before, to Cornelius Shaw ( ? -1900), who died in San Diego, CA on Feb. 21, 1900.
The following year, in 1908, Sylvester's address was Oceanside General Delivery, San Diego County, CA.
When the federal census was taken in 1910, the Georgias made their home on South 6th Street in Malibu, Los Angeles County, CA. Sylvester was marked as retired, and living off his own income, presumably his monthly Civil War pension payments. By September 1912, he had been admitted to the soldiers home in Sawtelle near Santa Monica, Los Angeles County.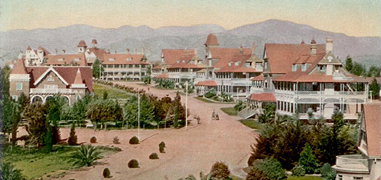 Grounds of the soldiers home in Sawtelle near Los Angeles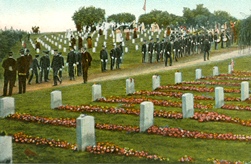 Memorial Day exercises at soldiers' graves,
Los Angeles National Cemetery
As of Sept. 17, 1920, he received $30 per month from the federal government as a military pension, up from the $10 monthly he had been paid in 1908.
In 1920, when the census again was enumerated, the Georgias resided on Mobile Avenue in Los Angeles. Later that year, in June, he again was was admitted to the National Home for Disabled Veteran Soldiers in Los Angeles.
Suffering from hardening of the arteries and "senile psychosis," Sylvester was placed in the care of the National Home for Disabled Veteran Soldiers near L.A. He died there on July 20, 1927, at the age of 90. His niece, Alfa W. Anderson, was listed in official papers as his next of kin. At the time, she lived at 2417 Council Street in Los Angeles.
He is buried under the name "S.S. Georgia" in the Los Angeles National Cemetery in Section 52, Row A, Site 20.
Louisa's fate is unknown.
Copyright © 2000, 2002, 2010-2011 Mark A. Miner