John Henry Minerd
(1851-1935)
John Henry Minerd was born in February 1851 in Farmington, Fayette County, PA, the son of Samuel and Rebecca (Smalley) Minerd. He was a pioneer settler of Kansas.
When his father operated the famed Fayette Springs resort in the early 1870s near Chalk Hill, Fayette County, John co-signed an IOU note to W.A. Mouck in the amount of $119. The funds were used the finance the business. County court records show that the Minerds were only able to pay back just $86 of the debt. When the business failed soon after, it is not clear whether Mouck received the balance.
In 1875, John bought a five-acre tract that sat along the "South West Pennsylvania Rail Road" in East Huntingdon Township, in nearby Westmoreland County. Later that year, he sold the tract and at the time was residing near Everson, Fayette County.
When the federal census was taken in 1880, John made his home with his parents in West Newton, Westmoreland County, PA. He and his brothers Springer and Melvin were identified as coal miners, while their unmarried sisters Emma and Margaret "Hester" labored in a local paper mill.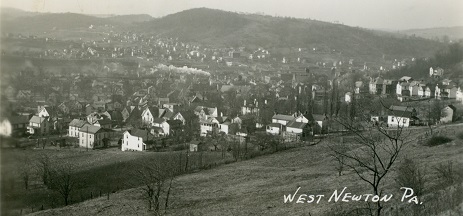 Bird's eye view of West Newton, PA, where the Minerds lived circa 1880
~ An Eye Toward Kansas ~
In about 1885, John began to perceive a brighter future for the family elsewhere, far to the west in Kansas, where the coal industry was booming. He thus became the primary mover in what became a family-wide relocation to the Sunflower State, involving his parents, adult siblings and one newborn nephew, an entourage numbering 10 people in all.
From his home in Scottdale, Westmoreland County, just north of Connellsville, John made preparations for a scouting trip. The Sept. 4, 1885 edition of The Keystone Courier of Connellsville reported that John and his brother Levi Springer, along with E.C. Zack, Joseph F. Crossland, Jacob Nicholson, "leave on Monday for Kansas." By Thanksgiving of that year, John and Springer had returned with a positive report and plans for a family-wide migration. The "Scottdale" section of the Courier, dated Nov. 20, 1885, said simply: "John Minor left this week for Kansas where he will make his future home."
According to the 1965 manuscript, Family of Samuel and Rebecca Minerd (authored by John's grand nephew Donald Ethen Minerd), the family voyage to Kansas:
... was made by boat and covered wagon, and they came, not with the desire of many that made the move west (not to break the sod of the prairies) but to tear from the very bowels of the earth, leaving great piles of useless rock and dirt, as they toiled and sweat, to remove the black precious substance, COAL.
~ Land Purchases in Pittsburg ~
Again taking initiative, John almost immediately made the family's first purchases of land (80 acres) in the Weir-Pittsburgh coal fields of Minerds' new home region, in Frontenac, near Pittsburg. He did so in partnership with Robert and Lavina Ratliff, also of Crawford County. They then sold the tract in April 1889 to Robert Lanyon, with the sales price totaling $6,500, likely marking a significant profit.
In December 1891, John and his brother Levi Springer jointly purchased two town lots in Pittsburg. The seller was George G. Warren. Then in December 1893, John and his brother Walker jointly purchased town lot 522 in Pittsburg in 1893 from Peter and Mary Schommer, James B. and Lucy Smith and C.A. and Mary Miller. The purchase price was $532. In mid-August 1901, the brothers sold lot #522 to their unmarried sisters Margaret and Emma.
In October 1897, for the price of $1,000, he and Levi Springer sold lots 3 and 4 in Pittsburg's Third Addition to their sisters, Maggie and Emma.
When the federal census was taken in 1900, the 49-year-old bachelor John lived with his elderly parents in Pittsburg, along with his adult siblings Robert, Emma and Margaret. His occupation was listed as "coal miner." In his entry in the 1900-1901 Pittsburg City Directory, his occupation was shown as coal merchant.
John and his brother Levi Springer and wife Mary jointly bought another lot in mid-July 1905 for $1,500. The lot, #48, was on Joplin Avenue in Leighton's third addition to the city. The Minerds sold John his undivided one-third interest in the lot in January 1907, for one third of their original cost -- $500.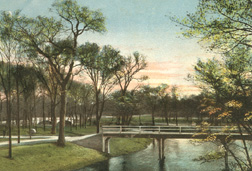 Lincoln Park, Pittsburg, early 1900s
~ Pioneering Coal Mining ~
Trained in the rugged coal mines of Western Pennsylvania, John and his brothers are said to have "removed the first coal by using a slope mine, in what is now Lincoln Park in Pittsburg..." Seen here is a colorful old postcard of Lincoln Park as it appeared in the early 1900s, following its use as a resource for coal.
A family memoir, written by a grand-nephew, the late Donald Ethen Minerd, states that John worked:
...in the mines, and in construction work, [and] was severely injured in a fall from a chat wagon, in the lead and zink mines, in the Asbury, MO area. He was never able to work from that time, and till the time of his death. A very hard drinker, and the family believed he drank, due to the pain he had.
He and/or his brother Robert are said to have once loaned a Pittsburg merchant named Dillon some venture capital to start a meat plant. The venture was successful, took on a partner named Hull, and grew to fame under the name "Hull and Dillon Packing Co." It was in business for half a century; had the Minerds kept their investment in the company, they would have become very rich.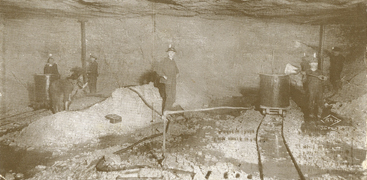 Rare glimpse inside a lead and zink mine, in Carterville, MO, just a few miles over the state line from Pittsburg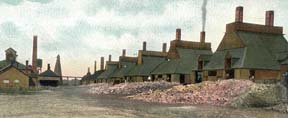 Zinc smelters in Pittsburg
Seen here is a rare old photographic image of zinc smelters operating in and around Pittsburg at the turn of the 20th century, typical of the dirty, backbreaking environment in which John would have worked.
In March 1901, residing in Crawford County, John penned an affidavit in support of his friend Elizabeth J. Rockwood's application for a Civil War widow's pension, following the death of her husband. He wrote: I was well acquainted with L.C. Rockwood during his life time and I know that he lived near Minden Mo. during the summer of 1894 and that he died on July 2nd 1894 at his residence near Minden on the date above named. I was present at the funeral and helped to bury him. I saw him after his death and went up to the undertaker and helped in a way to bear the expence of his burial. I also know of my own personal knowledge that he died of cancer of the face....
Records of John in the censuses of Kansas and Missouri in 1910 and 1920 have yet to be found.
By 1930, when he was age 79, John made his home with his widowed sister Hester Jackson in Pittsburg on North Fairview.
He died in 1935 and is thought to be buried at the Mt. Olive Cemetery in Pittsburg. No stone is known to mark his grave.
Copyright © 2000, 2003, 2007, 2010, 2017 Mark A. Miner