William Henry Minerd
(1855-1934)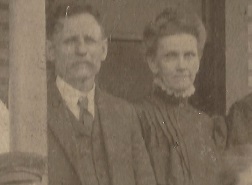 William amd Missouri
William Henry Minerd was born on Aug. 9, 1855, likely in Connellsville, Fayette County, PA, the son of John V.S. and Elizabeth (Livingston) Minerd.
At a young age, William moved with his parents to Ironton, Lawrence County, OH, where his father worked in the coal mines. In about 1867, after his father's discharge from the Civil War, the family returned to Fayette County for good.
In 1879, when he was age 24, William married 22-year-old Missouri "Zouri" Katherine Shelkey (1857-1939), a native of Flatwoods, Fayette County. She was the daughter of Abram and Rachel (Johnson) Shelkey, said to have been "pioneer residents of the county."
Their children were Janet "Nettie" Gilzhiser Kerr, Seth A. Minerd, Olive Elder, Ernest Minerd, Rachel E. Dean, Percy Donald Minerd, Lela Dean and two others who died young.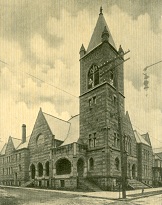 William's church, Great
Bethel Baptist in Uniontown
Throughout their married lives, William and Zouri lived throughout Fayette County, including in Bullskin Township, Vanderbilt and Uniontown. Zouri, said the Uniontown Morning Herald, "was a lifelong resident of Fayette county and one of the most highly esteemed women of the community. [She was] a member of the Flatwoods Baptist church for 65 years."
In the 1880s and '90s, William was a coal mine laborer, and they resided in the Vanderbilt area. In the 1910s, he was watchman at the "For. Works" in Uniontown and resided at 4 Wilson Street and at 440 Evans Street.
During the 1910s, at least three of their children -- Nettie, Seth and Olive -- moved to McKeesport, near Pittsburgh. There, they presumably found work but also something more important -- their spouses.
The Uniontown Evening Standard said that William "was a devouted [sic] member of Great Bethel Baptist Church, having become a member of that congregation some years ago and had been a faithful attendant there.... He was much beloved and respected by all who knew him."
Other distant cousins belonged to this church body over the years. Among them were Edward Eugene Minerd, founder of the Minerd Funeral Home; Mahlon S. and Lillie (Griffey) Kern; Andrew T. and Mary (Williams) Morrow; Bruce H. and Agnes (Cooper) Leonard Sr.; and Thomas B. and Mary (Richter) Hunt Sr. The church also hosted the wedding of Arthur Paul and Alverta Mae (Stull) Ream in 1936.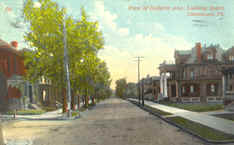 Gallatin Avenue, Uniontown
In 1910, the Minerds suffered the tragic loss of 19-year-old son Ernest when he was killed at the Tower Hill No. 1 Mine of the Tower Hill Coke Co. His mangled remains were laid to rest in the Flatwoods Baptist Church Cemetery, now known as Bowman-Flatwoods.
By 1921, William was a teamster, and they lived at 135 Connellsville Street. In the '30s, they resided at 316 North Gallatin Avenue, near their married children Percy, Rachel, Nettie and Olive. Gallatin Avenue is seen here in an early postcard image.
In October 1933, already enduring chonic kidney disease and hardening of the arteries, William suffered a stroke. He died the following year, on June 13, 1934. His funeral was conducted by his first cousin, Rev. David E. Minerd. He was buried at the Flatwoods Baptist Church Cemetery, now known as Bowman-Flatwoods Cemetery, with arrangements handled by the Edward E. Minerd Funeral Home.
Zouri outlived him by five years. She lapsed into senility and was burdened with cardio-renal disease. She passed away on April 22, 1939 "following a protracted illness," reported a local newspaper. Her funeral arrangements also were handled by the Minerd Funeral Home of Uniontown, and she was buried beside her husband at Bowman-Flatwoods. Their graves are not marked.
Copyright © 2000-2002, 2012, 2016 Mark A. Miner