Olive (Minerd) Elder
(1883-1947)
Olive Pearl (Minerd) Elder was born on Aug. 28, 1883 in Vanderbilt, Fayette County, PA, the daughter of William H. and Missouri (Shelkey) Minerd.
During the early 1900s, Olive and two of her siblings moved to McKeesport, near Pittsburgh, to find work. There, her sister Nettie married driver John H. Kerr; and brother Seth worked as a blacksmith and married Ida Kimmel.
Obituary, 1947
On Oct. 2, 1905, when she was age 22, Olive married 22-year-old Chester D. Elder (1883- ? ), a native of Lock Haven, Clinton County, PA. The ceremony was performed by George J. Campbell.
The Elders produced one known child, Ina Bainton.
Chester worked as a barber and lived in McKeesport. By 1915, Chester and Olive had moved back to Uniontown, where Chester ran his own barbershop, and the family dwelled on Connellsville Street. They were next door neighbors to her parents, and also to sisters Rachel and Nettie.
The federal census enumeration of 1920 lists the Elders continuing to live on Connellsville Street and Chester running his own barbering business. They were in the same neighborhood as her parents and married sisters Nettie Kerr and Rachel Dean.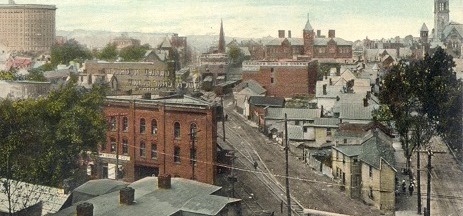 Evidence hints that the marriage broke up during the decade of the 1920s, but this is not yet confirmed. The U.S. Census of 1930 shows her and Ina in the same household, by themselves, with Olive marked as "married."
Chester's paper trail goes cold at that point.
Later, Olive resided at 69 East Church Street in Uniontown.
Olive in her later years was diagnosed with hardening of the arteries, hypertension and diabetes. In the spring of 1947, at age 63, Olive suffered a cerebral hemorrhage. She died on May 2, 1947. Her funeral was held at the Minerd Funeral Home in Uniontown, presided by Rev. Joseph Wood of the Christian and Missionary Alliance Church. She was buried at Flatwoods Cemetery near Vanderbilt, with her sister Lela providing information for the official certificate of death.
Olive's grave apparently is not marked.
~ Daughter Ina (Elder) Bainton ~
Daughter Ina Pearl Elder (1910- ? ) was born in 1910.
She was joined in wedlock with William Howard Bainton (Feb. 1, 1897-1967), a native of Manhattan, NY and the son of William Henry and Emma (Graham) Bainton. He was short and of medium build, with light brown hair and grey eyes.
The couple resided in New Jersey and were the parents of Patricia Jane Mayo.
Circa 1943, during World War II, the couple lived on Baldwin Avenue in Jersey City. William was employed for decades in the accounting department of H.R. Worthington Pump Company of Harrison, NJ.
Sadly, William succumbed to death in October 1967 in North Bergen, Hudson County, NJ.
Daughter, Patricia Jane Bainton (1926-2002) was born on March 2, 1926. As a young adult, she worked at Borden's Jersey City store. She was united in matrimony with Anthony J. Mayo ( ? -1999) on March 27, 1943, in Beaufort, SC. Dr. W.M. Scay, of the First Baptist Church of Beaufort, officiated at the wedding. At the time, Anthony was a private first class in the U.S. Army during World War II, and was stationed at Parris Island. Before the war, Patricia was employed at Borden's Jersey City Store in Jersey City, and Anthony worked for American Oil Company in Pittsburgh. Circa 1947, the Mayos resided in Cleveland, Cuyahoga County, OH. The children born to this union were Michaele Mayo, Patricia K. "Pat" Heegard, Susan Dempsey and Aimee Stevens. Eventually, the Mayos established a home in Dover, DE. Anthony passed away in 1999. Patricia survived for another three years. She was admitted to the Christiana Hospital in Newark, DE and died there on March 28, 2002. An obituary in the Wilmington News Journal reported that her survivors included 10 grandchildren and one great-grandson.
Granddaughter Michaele Mayo lived in Newark, DE.
Granddaughter Patricia K. "Pat" Mayo ( ? - ? ) was born in (?). Circa 1972, she wedded Cloyce Heegard ( ? - ? ). They made a home in Newark, DE.
Granddaughter Susan Mayo married (?) Dempsey, In 2002, they were in Dover, DE.
Granddaughter Aimee Mayo was joined in wedlock with (?) Stevens

. They dwelled in Middletown, DE.
Copyright © 2001, 2005, 2010, 2020 Mark A. Miner