Elizabeth Dora 'Lizzie'
(Minerd) Kelly
(1871-1927)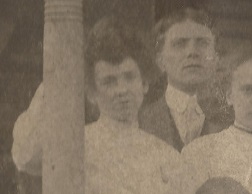 Lizzie and James Kelly, 1907
Elizabeth Dora "Lizzie" (Minerd) Kelly was born on Nov. 20, 1871, likely in Dunbar, Fayette County, PA, the daughter of John V.S. and Elizabeth (Livingston) Minerd. Her husband was a prominent jeweler of Dunbar.
In late August or early September 1891, when she was age 19, Lizzie married 19-year-old James E. Kelly (1874-1932), the son of Dunbar justice of the peace Snyder S. and Chelsie (Frantz) Kelly.
The Uniontown Genius of Liberty reported that the marriage took place in Cumberland, Allegany County, MD.
The Kellys had two daughters -- Leona Henderson and Irene Adel Kunkle, born in Dunbar. They also had another child who died in infancy sometime before 1910.
The couple began married life at Stonerville, Westmoreland County, where James opened a jewelry store. Two years later, after the death of James' father, they moved to Dunbar, Fayette County, where he relocated his jewelry business.
Dessie Pearl, the Kellys' first baby, was born in March 1895, causing the Dunbar correspondent for the Uniontown Genius of Liberty to state: "James E. Kelly, our enterprising jeweler, is the happiest young Democrat in the borough. The cause of his happiness is a bouncing girl baby."

Franklin Cemetery, Dunbar
Yet the Kellys' happiness was crushed several months later, on June 4, 1895, when baby Dessie died of whooping cough. The Genius reported that family and friends hoped that Lizzie and James would somehow "realize that 'Twas an angel visited the green earth and took their flower away,' and that they will 'find it again in the fields of light above." The grieving parents buried their little girl in Franklin Cemetery in Dunbar, with a stone erected to mark her grave. The text inscribed on the marker was still visible when photographed circa 2011.
Later that year, on Aug. 8, 1895, the Dunbar correspondent for the Genius reported that James had moved his store into a new facility:
...[James] now occupies with his jewelry store his new quarters in McKean Block, opposite the B&O Station. This is one of the best localities in the town, and James showed wisdom in securing it. He will receive time by telegraph every day over B&O lines, and thus relieve the borough people who desire accuracy from running your correspondent down in the township to get correct time.
The store sign read: "Watch Repairing a Specialty."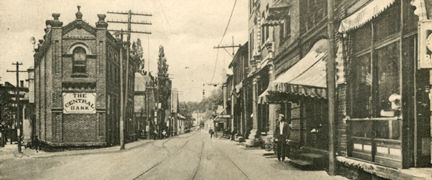 Dunbar streetscape, early 1900s.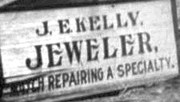 James' sign in Dunbar
In 1900, Lizzie's unmarried sister Bertha Minerd resided in their home, helping with housework.
A terrible fire broke out in Dunbar on June 5, 1910. The Kellys were among the tenants in a next-door, two-story building, and the fire consumed their dwelling, according to the 1983 book, Dunbar: The Furnace Town. How they managed to rebuild is not known.
James was active in the community, and served on the Dunbar School Board in 1911 and 1912 with his wife's cousin, Rev. David Ewing Minerd, known locally as the "Blacksmith Preacher."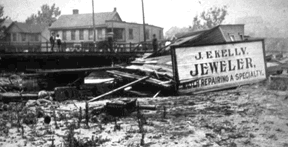 Dunbar flooding damage, July 1912
Heartache struck again when a flood destroyed the Kellys' store, forcing them to leave the area. The Dunbar book reports that "On the afternoon of July 24, 1912, on account of the heavy rains and a cloud burst in the mountains, causing two dams on the creek below Tucker Run to give way, Dunbar experienced its worst flood. Kelley's jewelry store standing where Harvey's pool room was, was washed away..." A photo of the Kelly store sign, lying damaged among the rubble, is seen here.
The Kellys chose not to re-establish their store. Rather, they moved to Lower Burrell, near New Kensington, Westmoreland County, PA. On the site of the store building in Dunbar, a pool hall and bowling alley were erected, and in 1951, the Sons of Italy became owners and made it their gathering hall. Today, according to the Dunbar: Images of America book, the building functions as the Kountry Klub Restaurant.

Book naming
the Kellys
When the federal census was taken in 1920, Lizzie and James and unmarried daughter Irene made their home together in Lower Burrell, on McCargo Street. His occupation was listed as "merchant - jewelry store."
Lizzie was afflicted with pernicious anemia and endured the illness for seven years. In June 1927 she began bleeding into her spinal cord, leading to paralysis, and died in New Kensington on June 11, 1927. Burial was the Plum Creek Cemetery in New Kensington. No obituary is known to have been published in her hometown newspaper, the Connellsville Daily Courier.
James is said to have outlived Lizzie by about five years. In the 1930 census, he headed a household at 246 McCargo Street that included his daughter and son in law, Irene and Bernard "Berny" Kunkle and grandson James Kunkle. That year, he continued his longtime profession as a retail jeweler.

Book naming
the Kellys
He developed cancer of his pancreas and was examined by a physician on Dec. 1, 1931. The cancer spread quickly, and he passed away in New Kensington two and a half months later on Feb. 16, 1932, at the age of 57. He joined his wife in eternal repose in Plum Creek Cemetery.
On June 19, 2002, Lizzie and James were featured in an article about the 1912 flood in the Connellsville Daily Courier. The story later was republished in the book, There's No Place Like Dunbar! 2002-2004 - Historical Vignettes and Personal Reflections from The Daily Courier's Dunbar Column, authored by Donna R. Myers and Bonnie L. Zurick of the Dunbar (PA) Historical Society. A thumbnail image of the book is seen here.
James also is mentioned in Samuel T. Wiley's 1889 book, Biographical and Portrait Cyclopedia of Fayette County, Pennsylvania.
~ Daughter Irene (Kelly) Kunkle ~
In 1921, daughter Irene Kelly (1896-1998) married World War I veteran Bernard "Bernie" Kunkle (1895- ? ), whose family was from the Irwin/Strawpump area of Westmoreland County. Bernard was in the steel business in Glassmere, PA, and he and Irene resided in New Kensington.
When the federal census was taken in 1930, Irene, Bernard and son James resided in the home of Irene's widowed father on McCargo Street in New Kensington. The census-taker recorded Bernard's occupation as "salesman" for "Acme Steel."
Sadly, however, due to a serious wartime injury, Bernard never fully recovered, and died in 1932.
Having lost her husband, and also her father in the same year, Irene and her only son James moved to Beverly Hills, CA later in 1932. She spent the next 66 years in California, and died there in April 1998 a few weeks short of her 102nd birthday. Her remains were brought back to the New Kensington area for burial at the Plum Creek Cemetery.

James Kunkle
Son James K. Kunkle (seen here) served as an Army fighter pilot (P-38s and P-51s) in Europe during War War II. He received the Distinguished Service Cross for "extraordinary heroism in action against the enemy near Aachen, Germany, 16 September 1944." For a detailed summary of his honor, click to visit the "Legion of Valor" website. In the postwar era, James remained on active duty and was a pioneering pilot of jet fighter airplanes. He married Marian Louise Voltz, and with his son James W. Kunkle are in business today building and leasing aviation facilities in the Santa Ynez Valley. Their daughter Kimberly Kunkle of the Santa Ynez Valley breeds and shows horses and mules.
~ Daughter Leona (Kelly) Henderson ~
Daughter Leone Kelly (1893-1973) was born in 1893.
She married (?) Henderson.
She died in 1973, at the age of 80, in Granada Hills, CA.
Copyright © 2000-2003, 2011, 2016 Mark A. Miner
Photo of the Kelly sign courtesy of the Dunbar Historical Society. Dunbar streetscape postcard image courtesy of Donna Myers. Grave marker photo courtesy of Joel Zubovic.