Howard Campbell Miner
(1872-1943)
Howard Campbell Miner was born on March 25, 1872 (or possibly 1871 or 1874) in Cincinnati, Hamilton County, OH, the son of Howard Minard and Kate Camel (Campbell). His middle name is believed to have been "Campbell," reflecting his birth name and his mother's maiden name. He himself claimed 1874 as his birth year.
Circa 1934, he claimed in a written statement that his mother's maiden name was "Mary Minard." When interviewed by federal government officials in 1942, at age 70, Howard furnished his parents' names, and stated that both were dead, although he did not know when they had passed away. It's quite possible Howard's parents were never married. Evidence shows that he was raised by his widowed grandmother, but lived with and knew his father during those early years. This all needs to be clarified with greater precision.
In the federal census of 1880, eight-year-old Howard -- using the last name "Campbell" was residing with his father in his grandmother's household in Connellsville, Fayette County. Also dwelling in the home were his uncle Stewart Minerd and boarders Peter Grim, Franklin Fuller and Ezakiah Fuller. At some point, he adopted his father's name of "Miner."
As an adult, Howard stood 5 feet, 8 inches tall, and weighed 160 lbs., with dark brown eyes and brown hair.

Company E, 10th Pennsylvania Infantry in Philippine trenches
During the Spanish-American War, Howard enlisted in the 10 Pennsylvania Infantry at Mt. Gretna, PA, on April 7, 1898. In his enlistment papers, he named his father, "Howard Miner - Connellsville, Pa.," as his nearest relative.
He was assigned the rank of private in Company E. He was sent immediately to the Philippine Islands, where the US Army was fighting Spanish insurgents. At the furious Battle of Fort Malate, on July 31, 1898, he and his regiment faced a deadly assault of 1,000 enemy troops. In the action, Howard received a gun shot.
When the news was telegraphed home to his uncle Stewart Minerd, it erroneously stated or was interpreted to say that Howard had died. Adding insult to injury, the story was published incorrectly in the Uniontown Daily News Standard, in the section, "From Oliphant."
Stewart Minor of this place received word today of the death of his nephew, Howard Minor of the 10th regiment.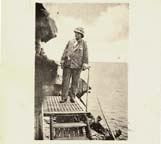 Howard's commanding officer, Col. Hawkins
Fortunately, this news was premature. Howard had only been wounded in action, shot in the left hand. The bullet had entered at the wrist, and exited at the knuckle of his middle finger. It disqualified him from further service. Howard received an honorable discharge in Manila on Nov. 21, 1898, and he returned home. He was unemployed for more than a year, until 1900.
The day after Christmas 1900, Howard married Mary Elizabeth "Betsy" Seibert (or "Sibert") (1879-1966), a native of Fayette County. The wedding was performed by Rev. Dr. S.W. Keister of the United Brethren Church of Mount Pleasant, but with no other one in attendance. At the time, they both made their home in East Huntington Township, near Greensburg.
The Miners went on to have one son – George Edward Miner (1901-1976).
When required to register for the military draft during World War I, Howard at age 44 was employed as a foreman by Fayette Gas Company of Scottdale.
The Miners resided in Mount Pleasant, Westmoreland County, PA circa 1930. They relocated over the years to and from nearby Scottdale, and moved frequently, to 905 Pittsburgh Street, 10 Chestnut Street, 409 West Broadway, 300 Mulberry Street and 200 Loucks Avenue, all in Scottdale. Betsy was a member of the First United Brethren Church in Scottdale. Demonstrating their support for their church, Mary and son George both pledged $7.80 – a relatively large sum for the time – during the 1925-1926 fiscal year. A year book and directory of the church lists their names, and today is on file in the Minerd.com Archives.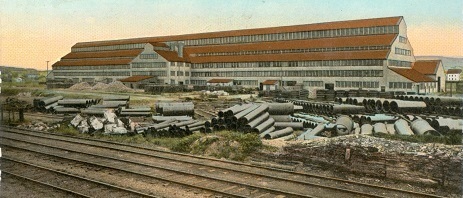 Howard's employer for 12 years, the U.S. Cast Iron Pipe and Foundry in Scottdale, billed as "the largest pipe mill in the world"
Howard was employed by the H.C. Frick Coke Company from 1900 to 1910, earning $4 per day. In November 1916, Howard was severely burned in a gas fire while disconnecting a service line in the employment of Fayette County Gas Company. Said the Connellsville Daily Courier, "It is thought that some person smoking set fire to the gas. Minerd's right arm was burned very badly, his left arm not so badly and his face was scorched."
He also worked as a "machinist helper" and "pipe fitter" for the United States Cast Iron Pipe and Foundry Company in Scottdale for 12 years, from 1918 until the plant closed in 1930. In 1933, during the grip of the Great Depression, he earned a total income of $508.
Howard also was "one of the oldest members of the Scottdale Fire Department," said the Connellsville Daily Courier, and belonged to the local lodges of the Odd Fellows and Moose, as well as Capt. J.A. Loar Post, No. 310, of the United Spanish War Veterans in Mount Pleasant. He enjoyed smoking a pipe and is known to have attended the reunion of the 10th Pennsylvania in Connellsville in 1918.

Connellsville Daily Courier
As he aged, Howard's health began to decline gradually, including hearing and eyesight, and well as experiencing weakness and dizziness. He underwent hernia surgery in 1928. In about 1938, he wrote the following:
It is hard for me to hear. My eyesight is poor; my left hand is deformed, and I have difficulty in rising it. Because of my age nobody will give me a job. I get short of breath; at times I am weak. When I get up and bend over I feel dizzy. I have to get up six times at night to pass my water.
He applied for, and began receiving, a monthly pension from the government for his wartime service, in the amount of $60.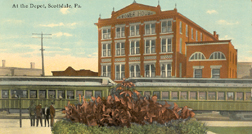 Railroad depot in Scottdale
Howard suffered from stomach cancer and a tumor of the neck during 1942, losing 25 lbs. but retaining a good appetite. He was hospitalized for 12 weeks at the Veterans Administration Hospital in Pittsburgh. Though released, he did not live much longer, and passed away, at age 69, on Feb. 20, 1943. He was laid to rest in the Mount Pleasant Cemetery, and his obituary was published in the Connellsville Daily Courier. At the time of death, he was receiving $100 monthly. [Find-a-Grave]
Betsy outlived her husband by more than two decades, and moved to 140 Walnut Avenue in Scottdale. Circa 1944, she received her husband's military pension comprised of reduced monthly payments of $40, because she was unable to prove that Howard's ailments were caused by the war
Betsy enjoyed visits by her husband's younger half-brother, Joseph David Minard, and his wife and children, who affectionately called her "Aunt Betsy."
She died in 1966, and rests for eternity beside her husband.
In June 1963, Daniel A. Dooley, a "historian-recorder" of the 10th Pennsylvania, published a reprint of the book Tenth Pennsylvania Volunteer Infantry 1898-1899. Howard is named on page 135 of the volume, with his date of death and burial place listed. Also named in the book, on page 161, is John H. Turley, husband of Howard's distant cousin, Gertrude Miller.
Then in 1978, George and his war wound were cited in a chapter about the Tenth Infantry in the book A Town That Grew at the Crossroad: Borough of Mount Pleasant 1828-1978 Sesquicentennial.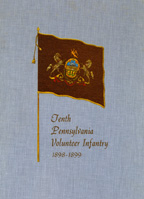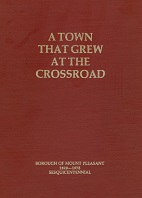 Books naming Howard and the 10th Pennsylvania Infantry
~ Son George Edward Miner ~
Son George Edward Miner (1901-1978) was born in about 1901. He never knew the names of his grandparents, and identified them as "Unknown" in legal papers.
He was married twice, but the name of the first bride is not yet known. They divorced sometime during the 1930s.
When the federal census of 1930 was enumerated, he lived with his parents and was employed as a laborer in the cast iron pipe foundry in Scottdale with his father. By 1940, divorced, he lived at home and drove a truck for a local lumber company. That year, 42-year-old seamstress Loretta Welsh boarded in the home.
George's second spouse was Lora E. Moore (1913-1988), daughter of Arthur and Flora (Spring) Moore of Scottdale. They were wed circa November 1944. Thhe couple made their home in Scottdale over the years at 200 Louks Avenue, Market Street and later Walnut Avenue.
In September 1945, the Miners held a dinner at their home honoring George's cousin J. Russell Canose who had returned home from World War II military service after 18 months overseas, with the event mentioned in the gossip columns of the Connellsville Daily Courier.
George was active with the Scottdale Council of the Junior Order of United American Mechanics and served as district deputy circa 1950. Over the years, he attended JOUAM conventions in Philadelphia and Johnstown, and in 1960, in Scranton, he was elected state inside sentinel. He also was a member of the Scottdale Fire Department and in April 1952 traveled to St. Louis to take possession of a new fire truck for the department.
Lora earned a certificate in 1954 for having completed a course in Red Cross Home Nursing.
George died in 1978, at the age of 77. Burial was in Mount Pleasant Cemetery. [Find-a-Grave]
Lora survived by 10 years. She passed into eternity in 1988 and is buried beside her husband in the Miner plot of graves.
Copyright © 2005, 2009, 2010, 2017 Mark A. Miner