Gertrude (Miller) Turley
(1878-1977)
Gertrude (Miller) Turley was born on Sept. 10, 1878 in Uniontown, Fayette County, PA, the daughter of George B. and Mary Jane "Jennie" (Minerd) Miller. Her life spanned almost a century of time.
Gertrude married John Henry Turley (1875-1966), a native of Dunbar, Fayette County, and the son of Robert and Rachel (Jenkins) Turley.
Together, they produced three children -- Irene Knox, Josephine Fleming and George H. Turley. They also helped raise a motherless niece, Gertrude Feeney.
As a boy John "attended schools in Fayette County before going to work in the coal mines at an early age." At about the age of 19, he served in the Spanish-American War, as a member of Pennsylvania's famed "Fighting 10th." He "served with the 10th Pennsylvania Infantry for 18 months in the Philippine Islands," said the Uniontown Morning Herald. The Fighting 10th was "believed to be the only outfit of the Spanish-American War that holds an annual reunion," reported the Herald. In 1958 and 1960, some six decades after the war's end, John was mentioned in Herald articles as among "the only survivors of Co. C., Uniontown."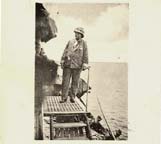 Invitation to 10th Pennsylvania reunion

Seen here is an invitation postcard to attend the tenth annual reunion of the 10th Pennsylvania Infantry, held Aug. 13, 1909, in Greensburg, Westmoreland County, PA. The image shows Col. Alexander L. Hawkins, commander of the regiment, who died of illness during the return voyage home. It is not known whether John attended. In his later years, he served as adjutant of Smith Camp, West Virginia Department, Spanish War Veterans.
After returning home from military service, he opted for a white collar career, and entered the insurance field circa 1900. Said the Herald, he "served as superintendent of the Uniontown office of the Prudential Co., until 1920 when he went in Fairmont as district superintendent. He retired in 1941." John was active with the Fairmont Kiwanis Club, Masons and the Central Christian Church, "where he was a deacon, trustee and Sunday School teacher for more than 30 years."
In 1930, during the early era of the Great Depression, the census shows John's occupation as clerk in a paint shop, at a time when jobs were growing scarce.
The Turleys often returned to Uniontown for visits with family and friends, as chronicled in the gossip columns of the Morning Herald. They also hosted visits from Gertrude's brother Hadden Miller and family throughout the years. In January 1935, they are known to have returned to Uniontown with daughter Irene to attend the 45th anniversary of the founding of the Central Christian Church.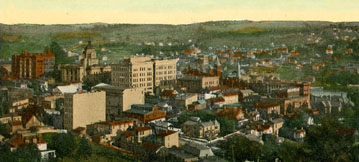 Bird's eye view of Fairmont, from an early postcard
Fairmont Times

In August 1928, they and married daughter Josephine Fleming joined with Gertrude's brother Hadden and family for a driving vacation to the east and south. Said the Herald, "They visited relatives at Sandy Hook, Md., and visited Winchester and the Shenandoah Caverns in Virginia, Washington, D.C., and Gettysburg, Pa."

John and Gertrude resided for many years at 609 Country Club Road in Fairmont. Gertrude was involved as a member of the Central Christian Church in Fairmont.

Said the Fairmont Times-West Virginian, "She was active in garden club promotions and during World War II did volunteer work for the Red Cross."

Tragedy struck in 1965 when married daughter Josephine Fleming died at the age of 63. See below for more detail on her life.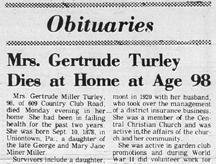 Obituary, 1977

John succumbed to the spectre of death while at home at the age of 91 on May 14, 1966. The Fairmont Times published a prominent obituary, stating that he was a "prominent insurance man before his retirement and one of the few remaining Spanish-American War veterans..." Burial was in Woodlawn Cemetery.

Gertrude outlived him by 11 years and remained in their home on Country Club Road, with unmarried son George residing under her roof.

Her health began to fail in about 1975. She passed away at the age of 98 on July 11, 1977. She joined her husband in eternal rest at Woodlawn Cemetery.


~ Daughter Irene (Turley) Knox ~

Daughter Irene Turley (1900 - ? ) was born in 1900.

She married Alex S. Knox (1899 - ? ), a native of Ireland who had come to the United States in 1905, when he was age six. They were united in marriage in about 1927. They lived in Fairmont for many years.

The 1930 census shows the couple living in Fairmont, on Gaston Avenue, with Alex employed as an electrician in an electric shop. Irene made her home in Fairmont for many decades, and last was known to be living there in 1977.



~ Daughter Josephine (Turley) Fleming ~
Obituary, 1965

Daughter Josephine Turley (1902-1965) was born in 1902 in Uniontown, Fayette County, PA.

She wed Paul Wade Fleming (1902-1955) on May 5, 1923. He was the son of H.S. and Georgianna (Brown) Fleming. Josephine and Paul lived in Fairmont.

They had one son, Dr. Paul T. Fleming.

When the federal census was taken in 1930, the family lived just a few doors away from Josephine's married sister and brother in law, Irene and Alex Knox, on Gaston Avenue. Paul worked in Buckhannon, Upshur County, WV in the parts department of a local company, while Josephine worked for 35 years for the Monongahela Power company until her retirement in 1963 due to ill health. She was a member of the Central Christian Church and a former member of the Monongahela Girls Club.

Paul died in Buckhannon on Jan. 13, 1955, at the age of 52. Burial was in the Fleming Cemetery in Marion County, WV.

Josephine outlived her husband by a decade, and moved into the home of her aged parents. Sadly, she died while her parents were still living, in Fairmont, on Sept. 20, 1965, at age 63. Said the Fairmont Times, "Mrs. Fleming suffered a broken hip as the result of a fall in her home yesterday and had been hospitalized since that time."

They are mentioned in the 1941 book, The William Fleming Family (A Genealogy), by Franklin Marion Brand.
Circa 1966, son Dr. Paul T. Fleming resided in Modesto, Stanislaus County, CA. He had three children -- Jack Fleming, Mark Fleming and Susan Fleming.

~ Son George H. Turley ~
Son George Henry Turley (1903-1999) was born on Dec. 13, 1902, in Uniontown, Fayette County.
He relocated with his parents to Fairmont in 1920.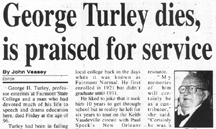 Fairmont Times West Virginian

He maintained a long professional tenure at Fairmont State College, and today a campus building is named in his honor -- the Turley Center -- as well as a scholarship.

In a lengthy article, the Fairmont Times West Virginian summarized George's impressive educational career as follows:

After attending Fairmont Normal School (now Fairmont State College) for two years, he played banjo in dance bands throughout the South, appearing for a short tour in a Keith Vaudeville act. Upon returning to Fairmont, he graduated from Fairmont State College in 1931 with an A.B. degree in education and journalism. Following graduation, he taught at Clendenin High School for several years and completed graduate work at West Virginia University with a Master's degree in education. In 1941 he was appointed to a position in the English and speech department at Fairmont State College. In 1942, Turley did graduate work at Colorado State University in Boulder and later that year was drafted into the U.S. Army. He served three years in the infantry and with a military police unit during World War II. After the war he returned to Fairmont State College as assistant professor of speech and drama. During the summers, he took advanced classes in radio and television production at Northwestern University.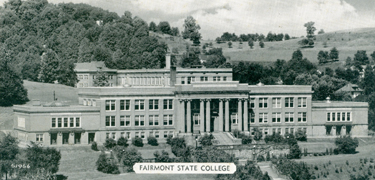 Fairmont State College, where George Turley served as Dean of Men and later as Director of Publicity.
Book naming George

George is mentioned in the book This Nest of Vipers: McCarthyism and Higher Education in the Mundel Affair, 1951-1952, by Charles Howard McCormick. The matter involved a controversy over Luella Mundell, an avowed atheist who taught art at the college. George testified at a hearing that she had admitted her atheism to him "while sitting across from him at the college cafeteria," McCormick writes. "He did not know if she was joking, but the statement was 'so unusual' that it stuck in his memory and he later passed it along to [College President] George Hand."

Circa 1948 and 1966, George served as Dean of Men at the college, and in 1957 was named Director of Publicity and Publications. He retired in 1971 but was brought back part-time in 1978 to teach speech and radio and TV production. Retiring again in 1981, he remained involved with the college theatre.

Said the Times West Virginian, "He was a lifelong member of Central Christian Church where he served as a deacon, elder and teacher of an adult Bible class. He was an Elder-Emeritus of the church. He belonged to Lodge No. 9, AF&A MAsons, was a past exalted ruler of the Fairmont Elks Lodge No. 294, a member of the American Legion Post No. 17, and past president of the Fairmont Lions Club."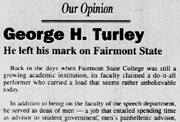 Times West Virginian, 1999

In 1978, after the death of his mother, the 76-year-old George married Violet Porter of Clendenin, WV. She brought an adult daughter to the marriage, Sally Porter Haye of Bastian, VA. They were together for 16 years, until Violet's passing in 1994.

George also is mentioned in the 1961 book, West Virginia Folklore, Volume 12, published by the West Virginia Folklore Society.

At the age of 96, on April 2, 1999, George passed away in Fairmont. His death was front-page news in the Times West Virginian, and several days later, on April 4, the newspaper ran an editorial praising his reputation as "a do-it-all performer who carried a load that seems rather unbelievable today... Few educators have left any more of a mark on one college for such a long period as did this professor emeritus... [His] accomplishments at Fairmont State College will be remembered for years to come."



Copyright © 2005-2010, 2022 Mark A. Miner