Hadden Miller
(1881-1972 )
Hadden Miller was born in August 1881 in Uniontown, Fayette County, PA, the son of George B. and Mary Jane "Jennie" (Minerd) Miller. He and his brother Joseph L. Miller were twins.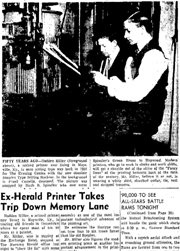 Hadden (right), Uniontown Morning Herald


Hadden was employed as a printing press operator for almost 49 years with newspapers in Uniontown and Pittsburgh. He once was pictured in the Uniontown Morning Herald, with co-worker Frank Costello at left, and wearing "a white shirt, starched collar, tie, vest and striped trousers."

He entered into marriage with Mabel McCloy (1888-1945 ).

The pair became the parents of two children -- son George "Raymond" Miller and daughter Mabel "Ruth" Shelley.

In 1898, Hadden joined the Uniontown People's Tribune -- billed as "a prohibitionist sheet" -- which was a weekly newspaper produced by J.V.E. Ellis on Morgantown Street in Uniontown. After receiving four years of on-the-job apprenticeship, he then joined Uniontown's Evening Genius newspaper on Broadway (now Beeson Boulevard).

In a profile about Hadden published a half-century later, headlined "Ex-Herald Printer Takes Trip Down Memory Lane," the Herald wrote:

In those days, Mr. Miller explained, printers set type with the now obsolete Simplex Type Setting Machine. It was a slow process, he recalls, because each letter came out of the machine on a separate lead slug. Mr. Miller considers the modern linotype machine (which sets a solid line of type in a matter of seconds) as one of the most important technological advances of the printing art. He estimates the linotype can set type for to six times faster than the old Simplex... He recalls that paper had to be fed into the old flat bed press by hand which, with a lot of work, could turn out 1,000 papers in an hour.

Hadden spent three years working for the Genius, and in 1903 was elected vice president of the Uniontown section of the International Typographical Union of North America, and his name was published in the March 1903 edition of The Typographical Journal. In 1905, he moved to Pittsburgh and "traveled from shop to shop" for a dozen years. The census of 1910 shows Hadden, Mabel and son George living on Middle Avenue in Wilmerding, Allegheny County. His employment was listed as "printer - news office." Wilmerding at that time provided bustling industrial employment and was the site of Westinghouse Electric Company's major air brake works, adjacent to the Pennsylvania Railroad lines.

In 1917, Hadden accepted a position with the Morning Herald and moved back to his hometown. It was, said the Herald, "where he was destined to spend the rest of his printing career."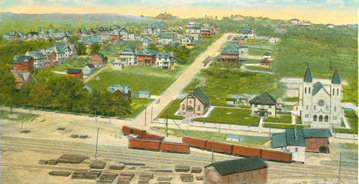 Uniontown, looking toward the county home
When the census was taken in 1920, Hadden was employed as a printer in the Herald newspaper office. (Cousin Samuel Benton Walls also is known to have been a printing press operator at the Herald during that era.) His specialty was operating the linotype machine, which produced the metal letters, words and sentences to be placed on plates to be inked and printed on paper.
In 1930, the census shows that he continued his work as a newspaper printer, and 26-year-old son Raymond employed as a moving picture operator. They remained close with Hadden's married sister and brother in law -- Gertrude and John Turley -- over the years, and spent Thanksgiving with the Turleys at their home in Fairmont, WV in 1931.
Mabel held a surprise engagement party for her daughter Mabel "Ruth" in 1942, who had accepted the marriage proposal of Carl B. Shelley, the District Attorney of Dauphin County, PA. The events made headline news in the Herald. Mabel later would travel to visit at the Shelley home in Steelton, PA for several weeks at a time.
Sadly, Mabel, whose health had been poor for several years, suffered a massive heart attack on Aug. 20, 1945, just a few weeks after Japan surrendered to the Allies in World War II. She died later that day, at home. In a prominent front page obituary, the Herald reported that she had been "a lifelong resident of the county, was a member of the Third Presbyterian church and the Bethany Sunday school class." In addition to her children and four grandchildren, she was survived by sisters Anna McCoy, Mrs. John McDowell, Mrs. Harry Wilson, all of Uniontown, and brothers Albert McCloy (in Uniontown), Edward McCloy (Wilkinsburg) and Curtis McCloy (Pittsburgh).
Widowed at the age of 64, Hadden continued his work. He eventually was promoted to shop foreman at the Herald. He retired in 1948, following almost 49 years of work in the printing business. His knowledge of the craft would have been encyclopedic.
At some point, by 1947, Hadden moved to Steelton, Dauphin County, PA, where his married daughter Ruth had established a home. While there, and suffering from a throat ailment, he underwent successful surgery at Jefferson Medical Hospital in Philadelphia.
By 1953 or 1954, after son Raymond had married and purchased the White Manor Hotel in Maysville, Mason County, KY, Hadden relocated there to serve as a night clerk at the hotel.
Over the years, as chronicled in the Herald, Hadden often returned to Uniontown in the spring or summer for visits with old friends, staying in such local hotels as the White Swan, Exchange and Titlow. Married daughter Ruth would travel from Steelton, and son Raymond from Maysville, to join him there.
At some point, before 1965, he returned to live in Steelton with daughter Ruth. During the retirement years, he remained his membership in the International Typographical Union, and in all was a member for seven decades. He also was a member of the St. John's Lutheran Church in Steelton, the Steelton Club and a life member of the Knights of Pythias Lodge in Wilmerding.
Hadden passed away at the age of 90 on May 6, 1972, at Harrisburg's Polyclinic Hospital. Following funeral services in Steelton, led by his pastor Rev. Daniel M. Shutters, his remains were returned to Uniontown for burial in Sylvan Heights Cemetery. At his death, he was survived by three grandchildren and five great-grandchildren.


~ Son George "Raymond" Miller ~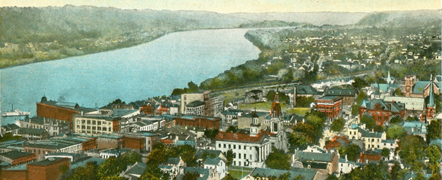 Maysville, KY, where Raymond and his father in law owned a hotel
Son George "Raymond" Miller (1904- ? ) was born in about 1904.
He wed (?) Johnson ( ? - ? ).
They together bore at least one son, William Miller.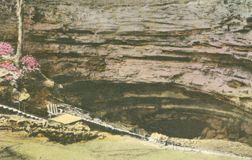 Hidden River Cave in Horse Cave,
KY, a top local attraction

With his father in law A.O. Johnson, Raymond purchased the White Manor Hotel in Maysville, Mason County, KY, and lived in nearby Horse Cave, KY for many years.

Seen here is one of Horse Cave's top attractions -- the entrance to Hidden River Cave in Horse Cave, considered the "mightiest known chasm leading underground." This view of the arched rock opening is the same that pioneer explorer Daniel Boone would have seen when he explored the cave sometime prior to 1784. Note the modern, steep stairway in place in this view from the mid-20th century.

Circa 1972, Raymond resided in Washington, DC.

When Raymond's sister died in October 1987, the Harrisburg Patriot News reported that he was living in Lakeland, FL at the time.

Nothing more about Raymond is known.

During and immediately after World War II, son William Miller was a member of the 42nd "Rainbow" Division, serving in Austria during the occupation. His fate will be added here when learned.




Ruth and Carl Shelley

~ Daughter Mabel "Ruth" (Miller) Shelley ~
Daughter Mabel "Ruth" Miller (1913 -1987) was born in 1913.
Circa 1942, when she was 29 years of age, she was employed as a legal secretary or paralegal in the Uniontown offices of Assistant District Attorneys Linn V. Phillips and Thomas A. Waggoner Jr. Their quarters were in the Fayette Law Building.
She was united in matrimony with Carl Bartram Shelley (1893-1972), the son of Kirk and Mary E. (Gosneil) Shelley. Carl's parents owned and operated the Central Hotel in Steelton, so his growing-up years would have been filled with learning about the nature and whims of human beings who came in and out of the establishment, set against the backdrop of running a business.
Carl was a graduate of Dickinson College of Law. The 1973 book Profiles from the Susquehanna Valley, authored by Paul B. Beers, says that Carl "tended bar at his father's Central Hotel on Saturday nights and taught Sunday school at St. John's Lutheran Church the following mornings. The 5-foot-3 Shelley, a typical Steelton roughneck with a quick wit and uncommonly fast mind, went on to be the district attorney of Dauphin County for 14 years, longer than anyone, and then a judge for 10 years."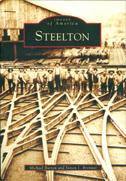 Book picturing Carl

Carl is pictured as a boy, posed at his father's hotel, in the book Steelton, part of the Images of America series, published in 2008 by Arcadia Publishing.

Ruth and Carl were wed on Oct. 23, 1942, in a quiet ceremony in the East Liberty Presbyterian Church in Pittsburgh, often called the "Mellon Church" because of its connections with the Mellon banking family. Rev. Stuart Hutchinson officiated.

While Carl had generated scores of news headlines in Ruth's hometown newspaper, the Uniontown Morning Herald, none was as prominent as when their engagement was announced, in the issue of Sept. 26, 1942, and then their marriage disclosed on Oct. 23, 1942..

They resided in Steelton, Dauphin County, PA, and had at least two daughters of their own, twins Winifred Mae Farina and Mary "Edythe" Lindsay. With their home in Steelton, Ruth and Carl often returned to Uniontown for visits with her parents at their home on Elizabeth Street.

Carl is believed to have been married twice before, to Irene Fitzhugh and to Dr. Lorena Welbourne (1927), a Louisiana born physician and graduate of the University of South Carolina. Carl thus brought a son into his marriage with our Ruth -- Fitzhugh Welbourne "Fitty" Shelley.

As District Attorney in Dauphin County, Carl served from 1937 to 1952, and later was elected as a judge of Dauphin County circa 1960.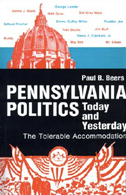 Three books about Pennsylvania politics in which Carl is mentioned
Carl lettered in sports at Dickinson College in 1914-1916. Then, during World War I, he served in the US Army and was stationed in France, where his is said to have driven an ambulance. Letters he wrote home to his father, in turn published in the Harrisburg Evening News, disclosed that Carl and his fellow soldiers were "billeted in a stable right above several cattle. He further writes that the well-to-do as well as the poorest peasants of France, Germany and Belgium live in two or one-room huts seldom more than one story high, with the cattle and other domestic animals only separated from the human living quarters by weatherboarding."
The 1980 book Pennsylvania Politics, Today and Yesterday: A Tolerable Accommodation, written by Paul B. Beers, says that Carl was a "5-foot-3, 140-pound bantam rooster ... [who] combined a rollicking sense of humor for friends with a gritty determination against enemies... It was during the Earle scandals that Shelley came up with the patented remark he used down through the years: 'I always look both ways when I cross the street, because there are many who would like to make it appear like an accident'."
Beers writes that during his career as district attorney, Carl "prosecuted 64 murder cases, broke up slot machines, and ended $2 prostitution forever by cleaning out the capital city's notorious red-light district. Back in private practice, he became a defense counsel for fellow Republicans caught in the Turnpike scandal, which was outright thievery at a dollar scale far worse than the Earle Democrats ever attempted." (Beers was a journalist for three decades at the Harrisburg Evening News, including becoming associate editor in 1969.)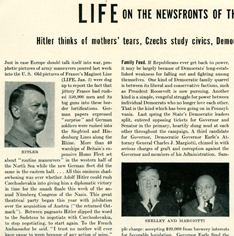 Carl pictured in Life Magazine, lower right

Carl is mentioned prominently in the book, Don't Call Me Boss, a 1988 biography of Pittsburgh renaissance mayor David L. Lawrence, authored by Michael P. Webber. He was involved in a high profile case where Pennsylvania Attorney General Charles Margiotti was fired by Governor George Earle after mounting a rival political campaign for the governor's seat. In the case, Carl amassed evidence and "presented specific charges -- macing, demanding kickbacks from individuals and contributions to the party from contractors, and selling legislation -- against Earle, Lawrence, four other cabinet members, and several other high ranking officers." In the end, in an official report by a commission of investigators, Carl was criticized for his handling of the case, with the report "expressing amazement that he could charge public officials with grave offenses without interviewing or taking statements from any of the witnesses he named and without direct evidence of the commission of any offense."

The Margiotti case was so controversial that it was profiled in issues of both Time (Aug. 8, 1938) and Life magazines. The Life article, headlined "Family Feud," pictures Carl and Margiotti with their heads in hands, and appeared on the same page as a prophetic story picturing Adolf Hitler about Europe's fears that he might mount an invasion. A clip of the Life story is seen at right.

Ironically, Margiotti had sought fame by personally handling the prosecution of Ruth's distant cousin, Wilbert Regis "Patsy" Minerd, who in 1936 was a Fayette County Detective and among others was accused of murder in the beating death of a prisoner in custody. The case against Patsy eventually was dismissed, but is profiled in a lengthy chapter in Margiotti's biography, Tiger At the Bar, written by Chester Harris.

Carl also was involved in a number of other notable legal matters. One, in the 1930s, involved a Macedonian Bulgarian church in Steelton, where church workers were using their archives to present an alternative version of historical events. Another, in 1939, involved an investigation of "payroll padding" in the Luzerne County highway department.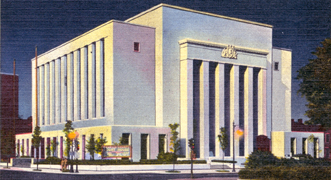 Dauphin County Courthouse in Harrisburg, completed in 1934 when Carl was District Attorney.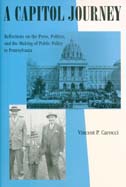 Book naming Carl

In December 1934, when the new Dauphin County Courthouse was dedicated, Carl was pictured in the booklet, Dauphin County Court House, published by the county bar association.

In 1959, during the first year of Gov. David Lawrence's administration, Carl was appointed as a judge in Dauphin County Court. While on the bench for a decade, Carl heard many controversial complaints, many involving alleged political corruption or misdeeds, "at the time before the statewide Commonwealth Court was created," said the 2005 book A Capitol Journal, authored by Vincent P. Carocci. The book mentions Carl in a high profile case after Milton Shapp had beaten Robert P. Casey Sr. in "a very costly and contentious primary political campaign" for the governorship. Lawsuits were filed by the opposing party led by Lt. Gov. Raymond Shafer regarding "serious Shapp campaign election irregularities," which were argued in Carl's courtroom. At the time, author Carocci covered court arguments like these for the Associated Press in Harrisburg, and thus would have known Carl in a professional capacity.

As a judge, in 1967, Carl served on the Advisory Committee for a Proposed Crimes Code for Pennsylvania, under the auspices of the Joint State Government Commission.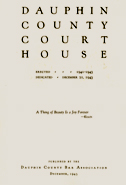 Booklet naming Carl

Ruth was active in Steelton with St. John's Evangelical Lutheran Church, the Eastern Star and the American Legion and Veterans of Foreign Wars Auxiliaries. She also was a member of the Dauphin County Hospital Auxiliary, Polyclinic Medical Center Auxiliary, Harrisburg Civic Club, Kay Martindale Chapter of the Pennsylvania Council of Republican Women and Pennsylvania Association of Lawyers Wives.

Carl retired in about 1969. He died in November 1972, at the age of 79. Details are not known, but are being researched.

Ruth outlived her husband by 15 years. She maintained her home at 150 North Third Street in Steelton.

She passed away in October 1987, at the age of 74. She was laid to rest in the Paddletown Cemetery in Newberrytown, York County, PA.

Daughter Mary Edyth Shelley married (?) Lindsay and lived in 1987 in Centerport, NY. Her home circa 1987 was Bloomfield, NJ.

Daughter Winnie Shelley married (?) Farina and made her home in Steelton in 1987.

During World War II, stepson Fitzhugh W. Shelley served as seaman first class with the US Navy, and trained in Chicago.



Copyright © 2005-2010, 2013, 2022 Mark A. Miner

Portrait of Judge Carl B. Shelley courtesy of the Dauphin County Commissioners. Photo of Ruth Miller courtesy of Ancestry.com.