Home

Wilbert Regis 'Patsy' Minerd
(1896-1974)

Patsy Minerd
Wilbert Regis "Patsy" Minerd was born on Nov. 7, 1896 in Uniontown, Fayette County, PA, the son of James L. and Catherine (Whalen) Minerd. He was an influential labor union organizer in the coal industry in the 1930s who went on to a career in law enforcement and school board leadership in the Uniontown area.
Patsy was united in the bonds of matrimony with Kathryn "Cash" Kelly (1900-1988), the daughter of Jack and Mary E. (Davin) Kelly.
Together, they bore a family of five children -- John Michael Minerd, Joanna Mulqueen, Gail Kelton, Joyce Verbanic and Regis J. Minerd.
The family resided in Republic, a coal mine patch town near Uniontown, Fayette County, where he was a laborer in the local coal mines of Republic Steel Corporation. He registered for the military draft during World War I, and listed his employer at that time as Republic Iron and Steel. He once was quoted by the Pittsburgh Press as having "worked in the mines practically all my life."
FDR
They were members of the Holy Rosary Roman Catholic Church of Republic.
Circa 1933, Patsy was elected president of the local coal miners union at Republic. This vote took place during a wildcat strike that resulted from the passage of the National Recovery Act with its "codes of fair competition" and use of teargas by deputies of the H.C. Frick Coke Co. Patsy and friend Martin Ryan are said to have been among "the principal insurgent union leaders of the strike." The two men were part of a delegation of union officials who met with President Franklin D. Roosevelt -- seen here -- at the White House on Nov. 3, 1933. They discussed how FDR might broker settlement of the dispute. His name today is preserved in papers held at the FDR Presidential Library in Hyde Park, NY, including a petition to the president signed by Patsy and his colleagues.
Later in 1933, in the aftermath of the strike, Patsy ran for election as justice of the peace in Redstone Township, with Ryan a candidate for township school director. Both were soundly defeated. The Pittsburgh Press said that the loss "was claimed by many to indicate that the Frick 'Company' unions will be able to control mine elections... Wrangling between operators and miners of the elections of miners' representatives for collective bargaining has handicapped the National Labor Board's work in the Western Pennsylvania coal fields..."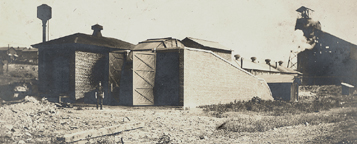 Republic's fan house and coal tipple. Below: Republic today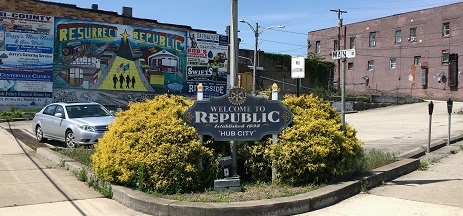 The following year, Patsy was a delegate to a convention held by the United Mine Workers of America. He was quoted in the union's official conference proceedings, saying: "The way I look at it, a miner is a miner whether he works in a captive mine or a commercial mine. It is all the same to them and I don't think there should be any distinction between mines such as commercial and captive." (See Proceedings of the 1934 Convention of the United Mine Workers of America, page 272.)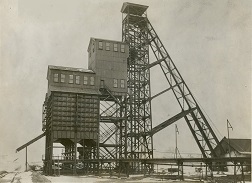 Filbert Mine, H.C. Frick Coke Co.
With a labor bill pending in the state legislature, Patsy and fellow union leaders traveled to the Pennsylvania state capitol in April 1935 to meet with Governor George H. Earle III, a Democrat, in his private office. Patsy's entourage included Tony Puskarich of Continental No. 1, Andrew Ritchie, president of the Filbert local; Nick Kornick of the Bitner local; Julius Bertha of Royal local and W.A. Moody, president of the Royal local. In turn, the governor brought lieutenant governor Thomas Kennedy and attorney general Charles Margiotti into the meeting. The latter individual, Margiotti, a Republican, would prove to be one of Patsy's most formidable political enemies.
(In an interesting twist, one of Patsy's cousins, Mabel "Ruth" Miller, was married to Dauphin County District Attorney Carl Bartram Shelley. Patsy and Shelley were on opposite political sides, and Shelley represented Margiotti when fired by Earle after mounting a rival political campaign for the governor's seat. The case was so controversial that it was profiled in Time [Aug. 8, 1938] and Life magazines.)
That fall, in November 1935, Patsy again ran in the election, pursuing the seat of Sheriff of Fayette County. In a campaign speech, UMWA District 4 President Billy Hynes said: "Our own Wilbert Minerd, courageous president of the Republic local of the UMWA, is the Democratic candidate for sheriff, while opposing him is the anti-labor Republican candidate Thomas R. Aubrey, whose deputy sheriffs participated in the Arnold City riot in 1931 which killed Mike Phillipovich and injured others. What union man, motivated by brotherhood and a desire to aid his fellow human beings in Fayette county, can fail to support Wilbert Minerd on November 5?" These remarks were reprinted in The Independent, the county's labor newspaper, and in the Uniontown Daily News Standard.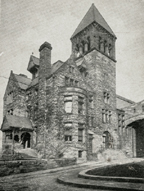 Fayette County Jail
But despite the heavy pro-labor population of Fayette County, Patsy was defeated by Aubrey by some 2,700 votes. Ironically, in the same election, his second cousin Dr. Harold "Daniel" Minerd polled the most votes in the race for county treasurer. In a front-page article in the Daily News Standard, Patsy expressed congratulations to his rival, and thanked his many friends. "I am grateful for the fine support I received," he said, "and for the sakes of the voters who were for me, as well as my own, I regret that I couldn't win. My best wishes to Tom Aubrey." A few weeks later, Patsy chaired a Democratic Victory Parade in Republic, with postmaster Frank Canistra and Daniel Rosenshein, even though he himself was not celebrating. More than 10,000 people were expected to march in the Thanksgiving Day parade.
In the enduring, iron grip of the Great Depression, Patsy left the uncertainty of coal mining income and was named assistant county detective of Fayette County, PA in 1936. His office was in the County Courthouse and Jail complex in Uniontown. The stately stone jail building, covered with ivy, is seen here. At the time of the appointment, his cousin, Dan Minerd, was serving as County Treasurer, with offices in the same courthouse, and may well have had a major influence on the hiring decision. This mid-to-late 1930s era was the high point of political influence for the family at large in Western Pennsylvania.
Book mentioning Patsy
Patsy's world was shockingly turned upside down the wee hours of Sept. 11, 1936. That night, a prisoner was beaten to death in a holding cell in the basement of the Fayette County Courthouse, having sliced the throat of county detective John C. Wall after being arrested for drunk driving. The prisoner -- Frank Monaghan -- had a seedy reputation as owner of the Ritz Hotel and as an once-convicted bootlegger of Uniontown. The following day, Patsy was arrested and charged with murder, as eventually were Fayette County District Attorney James Reilly, Assistant Chief of Police Charles Malik, Assistant District Attorney Harry Burne, Sheriff's Deputy J.A. Hann and Pennsylvania state troopers Stacey Gunderman and Anthony Sanute. The sensational news made daily headlines in the Uniontown newspapers for months. Pennsylvania Attorney General Margiotti, a publicity-seeking Democrat who knew Patsy from their labor negotiations the year before, decided to personally serve as prosecutor of the case.
The trial was moved out of Fayette County and into more neutral neighboring Somerset County, PA. Court proceedings were attended by Patsy's cousin and county treasurer Dan Minerd among many others. During the trial, in Feb. 20, 1937, the Pittsburgh Press published portions of Patsy's testimony, and described him as a "dapper, be-spectacled former United Mine Workers of America organizer." Patsy and his colleagues were exonerated, with only Gunderman found to have inflicted the fatal injuries but only when defending himself when attacked by the prisoner. The tragic affair is chronicled in Tiger At the Bar, a biography of Margiotti by Chester Harris; and Screams in the Courthouse Basement, by Wilford Swimmer and Beverly Peterson.
Restored to his employment in law enforcement, Patsy was promoted to chief county detective on March 6, 1939, as District Attorney James A. Reilly "appealed for a concerned county-wide war on crime," said the Connellsville Daily Courier. Later, he served as a state mine inspector (1960s) and finally was elected as a justice of the peace for Redstone Township.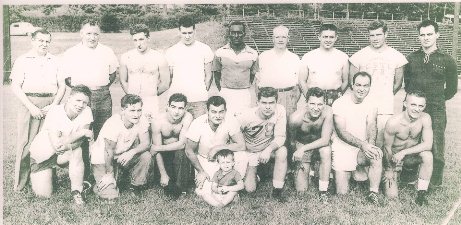 Patsy (back row, 4th from right) with the Republic High School football squad. His son John stands second from right.

Redstone yearbook
With a longtime commitment to public education, Patsy served as a school board director of Redstone Township Schools in the mid-1940s. The Redstone High School yearbook cover for 1946 is seen here. He also was a member of the Lions Club.
Kathryn, nicknamed "Cash," was a longtime school teacher in Redstone Township schools, and taught for 32 years. She is known to have taken classes at California University of Pennsylvania in 1923-1926. She also was postmaster at the Republic Post Office for two years. She was a member of the Pennsylvania State Education Association, National Education Association, Catholic Daughters of America and Ancient Order of Hibernians.
Among the star players he would have followed over the years include Bobby Locke, who pitched for Redstone Township, including two no hitters in the 1952 season. He went on to pitch for nine seasons in the Major Leagues. Another, Fred Mazurek of the Class of 1961, was named Associated Press All State in football and Sporting News National High School All-American. He played with the Washington Redskins of the National Football League for two years.
Patsy died in Pittsburgh's Mercy Hospital at the age of 78 on May 20, 1974. He was laid to rest in Lafayette Memorial Park near Uniontown. At the time, he was survived by 17 grandchildren.
Cash died at the age of 87 in Brownsville General Hospital on Oct. 30, 1988. By that time, the number of their descendants had swelled to 19 grandchildren and six great-grandchildren.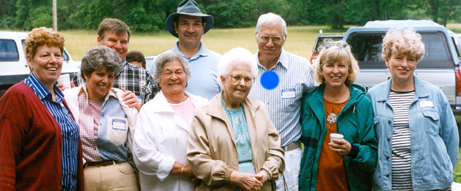 John M. Minerd (blue dot) and his siblings and second cousins at our 1994 reunion in Western Pennsylvania (before the tornado hit).
~ Son John Michael Minerd ~
Son John Michael Minerd (1932-2010) was born Feb. 10, 1932 in Uniontown.
While a student at California University of Pennsylvania, he met Anna "Marian" Mihaly (1930-=2016), daughter of Andrew and Josephine Mihaly of Connellsville. They were wed in 1955.
Marian obtained her teaching degree in 1952 and later taught school after the family relocated to South Carolina.
They were the parents of three daughters -- Leslie Minerd, Laura Kathryn Beaulieu and Kelly Varnadore.
John also obtained a master's degree from Case Western University.
In 1971, leaving his employment as manager of manufacturing for A.O. Smith Corporation's Clark Control Division, John and Ted J. Solomon purchased White Printing Co. in Rock Hill, where John became vice president and treasurer. The Minerds remained prominent in South Carolina business, civic and charitable life for decades.
In 1974, the Minerds founded White Office Furniture in Rock Hill, NCs. John later "bought two neighboring buildings to expand the operation and turn it into a state of the art office furniture showroom and dealership," said the Uniontown Herald-Standard. The expansion not only helped save an old building on Hampton Street, but allowed the company to have 23,000 sq. ft. of warehouse and showroom space. Said the Rock Hill Herald, "The Minerds transformed the barren building into a plush showroom with high ceilings, paneling and carpeting." Marian was considered "a gracious hostess, a wonderful chef and a talented interior decorator," said the Herald.
John was a member of the Rock Hill Chamber of Commerce, Lancaster Chamber of Commerce, York Businessmen Association, Rock Hill Rotary Club and York Tech Foundation board of directors, where he served as treasurer and chairman of the foundation's board. Active in the Saint Anne Parish Council, he was president in 2005-2008 and on the finance council from 2006 to his death.
John passed away at the age of 78, at Carolina Medical Center in Charlotte, on July 2, 2010. He was laid to rest in Forest Hills Cemetery.
Marian survived her husband by nearly six years. She died at home at the age of 85 on May 3, 2016.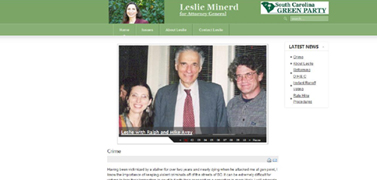 "Minerd for Attorney General" website, 2010, featuring a photo of Leslie with political activist Ralph Nader.

Leslie Minerd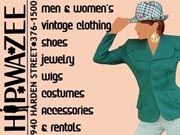 Leslie Minerd's store
Daughter Leslie Minerd ( ? -living) attended Cornell University and the University of South Carolina. She married Lucien Bruno III ( ? - ? ). She is the mother of Lucien Bruno IV and Sessy Minerd. Leslie has owned the Hip-Wa-Zee business in Columbia, SC for more than a decade. The store specializes in men and women's recycled fashions, vintage clothing, accessories, costumes and rentals. In 2010, she was a candidate for state Attorney General on the South Carolina Green Party ticket which included candidate Dr. Morgan Bruce Reeves for South Carolina Governor. According to her campaign literature, Leslie "is known across the state for her dedication to environmental and human rights causes. Clean Air, No Nukes and Social Justice could well be Minerd's tag line. Voted one of South Carolina's most successful activists, Minerd has a long history in the center of South Carolina progressive politics. In 1999 she and two other activists in South Carolina helped re-establish the United Citizens Party. She led the effort to place Ralph Nader atop the UCP ticket in 2000. She is a member of the Five Points Association, serving on their Future 5 Committee and Green Committee, pointing to her commitment to the Green Values of Future Focus and Ecological Wisdom."
Grandson Lucien V. Bruno IV ( ? -living) entered into marriage with Kansas City resident Kelly Gillean on Oct. 26, 2019 at Petit Jean Mountain, AR.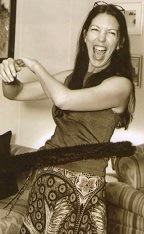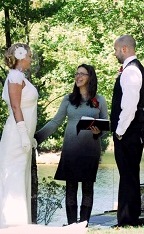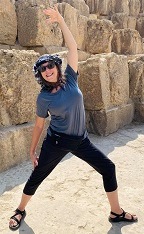 Laura Minerd doing some of her favorite things in a life lived with zest -- heartfelt laughter, officiating a wedding, doing yoga in Egypt. Courtesy Leslie Minerd
Daughter Laura Kathryn Minerd (1960-2021) was born on June 2, 1960 in Cleveland, OH and grew up in Rock Hill, SC. She received her bachelor's degree in 1981 from the University of South Carolina at Columbia. She was joined in wedlock with Michael Beaulieu ( ? -living). The two children born to this union were Jason Michael Beaulieu and Kathryn "Kat" Beaulieu. The couple divorced. Laura's early career was spent as an early-childhood educator with St. Peter's Catholic School in Columbia. She relocated in 1994 to Brevard, NC, where she was a substitute teacher and known by students as "Ms. Beaulieu." She eventually took back her maiden name. Three years after the move to Brevard, in 1997, she established a novelty and costume shop known as 336 Exchange which she later re-named to Penny Lane Exchange. She also learned Hatha Yoga and in 2005 began teaching its principles of restorative health to senior citizens. Reported the Transylvania Times:
Eager to share her infectious smile, she was a woman of remarkable kindness, empathy, wit and humility... Through her yoga practice, attentive care, and loving spiritual and physical guidance, she was able to enrich and better the lives of all who joined her, providing peace and prana... She always put her family first and was a tremendous influence and role model to her children and grandchildren. With a deep reverence for nature, she spent as much time outdoors as life made possible, always giving thanks to the Earth with a childlike wonder. An enthusiastic traveler that took every opportunity to explore both familiar and foreign lands, she lived her life to the utmost fullest, respecting and admiring all people, places and cultures. She was a being of boundless love, care, patience and grace. Her compassion exceeded the limits of most. She was undoubtedly a light in this world and we need to continue shining her light by carrying it with us in our lives... She lived her life standing up for those who faced injustice.
Tragically, on Thanksgiving Day on Nov. 26, 2021, while en route to spend the holiday with family, the 61-year-old Laura was struck and killed by a moving truck as she was walking in a McDonald's restaurant parking lot at the intersection of Highway 74/East Dixon Boulevard and Dekalb Street in Shelby, NC. Interment of the remains was in Carolina Memorial Sanctuary in Mills River. A candlelight vigil was held at Broad Street Plaza several weeks later, followed by a celebration of her life at Brevard Music Center. In an obituary, the family asked that any memorial donations be made to The Innocence Project.
Grandson Jason Michael Beaulieu ( ? -living) received a bachelor's degree in business in 2008 from the University of South Carolina. On Oct. 1, 2011, he was united in wedlock with Alyson Nicole Shipman ( ? -living), daughter of Darrell and Sherri Shipman. His mother officiated their nuptials ceremony. Alyson is a 2005 alumna of Rosman High School. The couple's two chidlren are Kyrra Shipman-Lutz and Gracie Beaulieu. They dwell in Lexington, SC, where he has been employed by the Department of Veterans Affairs.
Daughter Kelly Minerd spent her early years in Los Angeles and then in first grade moved with her family to Lancaster, SC. She studied at York Technical College. She wed Kenny "K.V." Varnadore ( ? -2016), son of James and Laura Varnadore. Kenny was a member of the Catawba Indian Nation and at one time worked for his father in law's furniture company as a lead installer. Kenny "loved playing sports and loved the outdoors," reported a newspaper. "Most of all he enjoyed spending time with his family and friends." The couple produced a son, Cory W. Varnadore, and later divorced. On the fateful day of July 6, 2016, while riding in a motorboat at Lake Wylie, in southwest Charlotte, Kenny drowned when he jumped or fell from the boat operated by a companion under the influence. Joining in the search for his body were the North Carolina Department of Environment and Natural Resources, the Charlotte Fire Department and the York County Sheriff's Office. He was only age 52, and it was the year's sixth drowning in the lake. Funeral services were held at the Catawba Indian Nation's long house, officiated by Rev. Eddie Philip Williams.
Grandson

Cory W. Varnadore

( ? - ? )
Copyright © 2007-2010, 2013, 2021 Mark A. Miner