Joseph L. Miller
(1881-1960)
Joseph L. Miller was born on Aug. 23, 1881 in Uniontown, Fayette County, PA, the son of George B. and Mary Jane "Jennie" (Minerd) Miller. He and his brother Hadden Miller were twins.
In about 1909, Joseph married Margaret Connor (or "Conners") (1885-1956).
They did not reproduce
He earned a living as a plumber in Uniontown, and in about 1910 they moved to New Castle, Lawrence County, PA, to follow his trade. The Millers made their home at 604 Taylor Street in New Castle.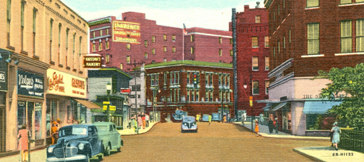 New Castle's East Washington Street
The 1920 and 1930 censuses show the Millers making their residence at 604 Taylor Street in New Castle. In 1920, Joseph's occupation was listed as house plumber. By 1930, Joseph operated or was employed by a plumbing shop that year. Living under their roof that year was Margaret's divorced brother, 34-year-old Raymond Connor, who assisted Joseph in the plumbing business.
In about 1955, his mind failing, Joseph was admitted to the Lawrence County Home in Shenango Township.
Margaret died in 1956, at the age of 71, but the details are not yet known.
Joseph outlived her by four years, burdened with chronic kidney and heart disease as well as the senility. He fell and fractured a hip in the spring of 1960, and his health declined quickly.
He passed away at the age of 78 on June 22, 1960. Following services at the DeCarbo Funeral Home, burial was in St. Mary Cemetery in Union Township. Joseph's obituary was published in both the New Castle News, and a shorter one in the Uniontown Morning Herald. The New Castle version named his parents as "George and Jennie Minard Miller."


Copyright © 2005-2009, 2022 Mark A. Miner