Stewart Minerd
(1846-1919)
Stewart Minerd was born in July 1845 (or 1846 or 1849) in Wharton Township, Fayette County, PA, the son of Daniel and Susan (Stettman) Minerd. His mother's maiden name also has been given as "Mellor."
Stewart could neither read nor write and did not know his birthdate. In 1880, when the federal census was taken, he resided with his mother and brother Howard Minard, and worked as a coal miner near Connellsville.
On Nov. 16, 1887, when he was age 38, Stewart married 37-year-old Eliza Groover (1850- ? ), also a native of Wharton Township, and the daughter of Thomas Groover. Justice of the peace David K. Cramer officiated the ceremony in Dunbar, Fayette County.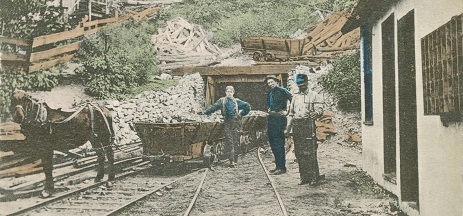 Miners in Fayette County's "Connellsville Seam"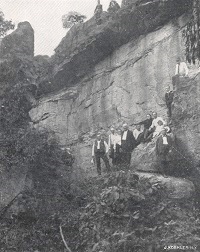 Visitors to the famed White Rocks
Neither of them had been married before. Eliza's exact age is uncertain -- either the same as her husband's (as written on their marriage license) or nine years older than her husband (as appeared on a U.S. census).
The Minerds lived in Connellsville and Oliphant Furnace, Fayette County. They are said to have produced two children, but these identities are not known. They also made a home for their nephew, Harry C. Inks, born in 1889.
In 1898, during the Spanish-American War, Stewart's nephew Howard Campbell Miner was wounded in action in battle in the Philippine Islands. It was only a hand wound, and he survived. However, when the news was telegraphed home to Stewart, it erroneously stated or was interpreted to say that Howard had died. The Uniontown (PA) Daily News Standard reported this in its section, "From Oliphant."
Stewart Minor of this place received word today of the death of his nephew, Howard Minor of the 10th regiment.
When the federal census was taken in 1900, Stewart and Eliza made their home near Fairchance in Georges Township, Fayette County. Stewart's occupation was mining coal. They relocated to Coalbrook, Fayette County early in the decade, and by 1904 had moved back to Oliphant. In a short notice about Oliphant news, the Feb. 3, 1904 issue of the Connellsville Courier reported: "Steward Miner is back with us again, having moved from Coalbrook. Mr. Miner is a coal miner and is pretty well along in life's journey."
In 1910, the Minerds lived next door to Stewart's niece, Della (Firestone) Hilling and her husband William, in Wharton Township.

Record of Stewart's funeral service in the
prayer book of his cousin Rev. D.E. Minerd
Sadly, Eliza died between 1910 and 1919, but her details are not known.
As he aged, Stewart suffered from heart valve problems called "aortic regurgitation" as well as "chronic nephritis" (kidney inflammation). He died from the combination of ailments on June 26, 1919. Burial was at White Rocks Cemetery.
The funeral was conducted by his first cousin, Rev. David Ewing Minerd, who preached thousands of funerals over 60 years in Fayette County. In Rev. Minerd's prayer book, is the following inscription: "Steward Minerd age 74 y." Stewart's brother in law, George Firestone, provided details for Stewart's official Pennsylvania death certificate.
Copyright © 2000-2001, 2005-2006, 2014-2015 Mark A. Miner