Barbara Ellen (Minerd) Firestone
(1853-1937)
Barbara Ellen (Minerd) Firestone was born Sept. 21, 1853 (or 1859) at Wharton Furnace in Fayette County, PA, the daughter of Daniel and Drusilla "Drusan" (Ridenour) Minerd.
Barbara married George E. Firestone Sr. (Nov. 17, 1854-1934), the youngest child of John and Lydia Firestone of Bullskin Township, Fayette County.
Barbara was regarded as "well known throughout the county."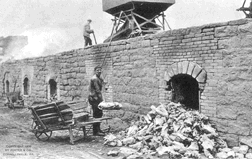 Oven laborer shoveling a load of coke
Their eight known children were William John "W.J." Firestone, William H. Firestone, George E. Firestone Jr., Della T. Hilling, Jesse J. Firestone, Mary Bryner, Joseph Firestone and Howard Marion Firestone.
George was a coke drawer, likely working for the H.C. Frick Coke Company. He often would have been in poses such as the rare postcard image seen here -- loading and unloading tons upon tons of coke from the hot, gassy ovens in preparation for their shipment to the Carnegie Steel mills in Pittsburgh.
The Firestones lived at various coal mining and coke oven towns in Fayette County wherever paying work was available in the up and down cycle of the coal economy. Their places of residence included Georges Township, Broadford, Wheeler and Vances Mills.
George and son William H. are believed to have made news in the Connellsville Courier in November 1896 when they went hunting. Reported the Courier, the pair "were out hunting near Oliphant Furnace last week, when the hammer of the former's squirrel rifle caught on a twig and was discharged, the contents entering the fleshy part of his son's left side, going out at the back. The youth fainted and sustained a great loss of blood before surgical aid could be given him. The boy is improving."
During World War I, sons Joseph and Howard, and son in law George R. Rhome, served in the U.S. Army. They are pictured in the book, Uniontown's Part in the World War. During the war years, George and Barbara lived in the coal mining patch town of Amend No. 2 in Newcomer, Fayette County and at Continental No. 3.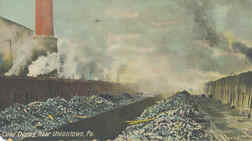 Smoking coke ovens in Uniontown
Suffering from angina of the chest, at age 79, George passed away at home in Vances Mill, Fayette County oon Oct. 15, 1934. He was laid to rest at White Rock Cemetery near Fairchance, Fayette County. Pallbearers were William Stanton, William Reese, Harry Thomas, Amos Dennis, Jasper Wilson and Albert Davis. Son William H. Firestone, who provided information for the official Pennsylvania death certificate, was unable to furnish the names of George's parents.
In January 1935, after just a few months as a widow, Barbara filed a lawsuit against her adult children for her financial support. The case was heard before Judge D.W. Henderson in Uniontown, and he placed a value on how much each should pay -- John ($12 monthly), George ($2 in food), Mary ($2), William ($5) and Howard ($3). Reported the Uniontown Morning Herald, "The Firestones had been unable to agree how much each should pay for their mother's support. Each was released under $100 bail on their own recognizance." Interestingly, some of the children had to pay nothing -- Della Hilling, Jesse Firestone and George E. Firestone Jr.

Oven laborer shoveling a load of coke
Barbara spent her final years in Vances Mill. She was burdened with kidney disease and toward the end of her life became senile. At the age of 77, she died at home on June 18, 1937. She also is buried at White Rock Church cemetery following funeral services held at the home of her son William H. in Uniontown, led by Rev. William H. Clough of the First Brethren Church. The Daily Courier reported in an obituary that her survivors included 18 grandchildren and 13 great-grandchildren.
A listing of burials compiled by Kathryn Cooley Miller, entitled Some Fayette County Pennsylvania Cemeteries, published by Apollo Press, does not include the names of Barbara or George, suggesting that their graves are unmarked today. Their adult children William, Joseph and Jesse are buried at White Rock also, but are listed in the compilation.
Copyright © 2000-2002, 2006, 2012, 2013, 2016 Mark A. Miner